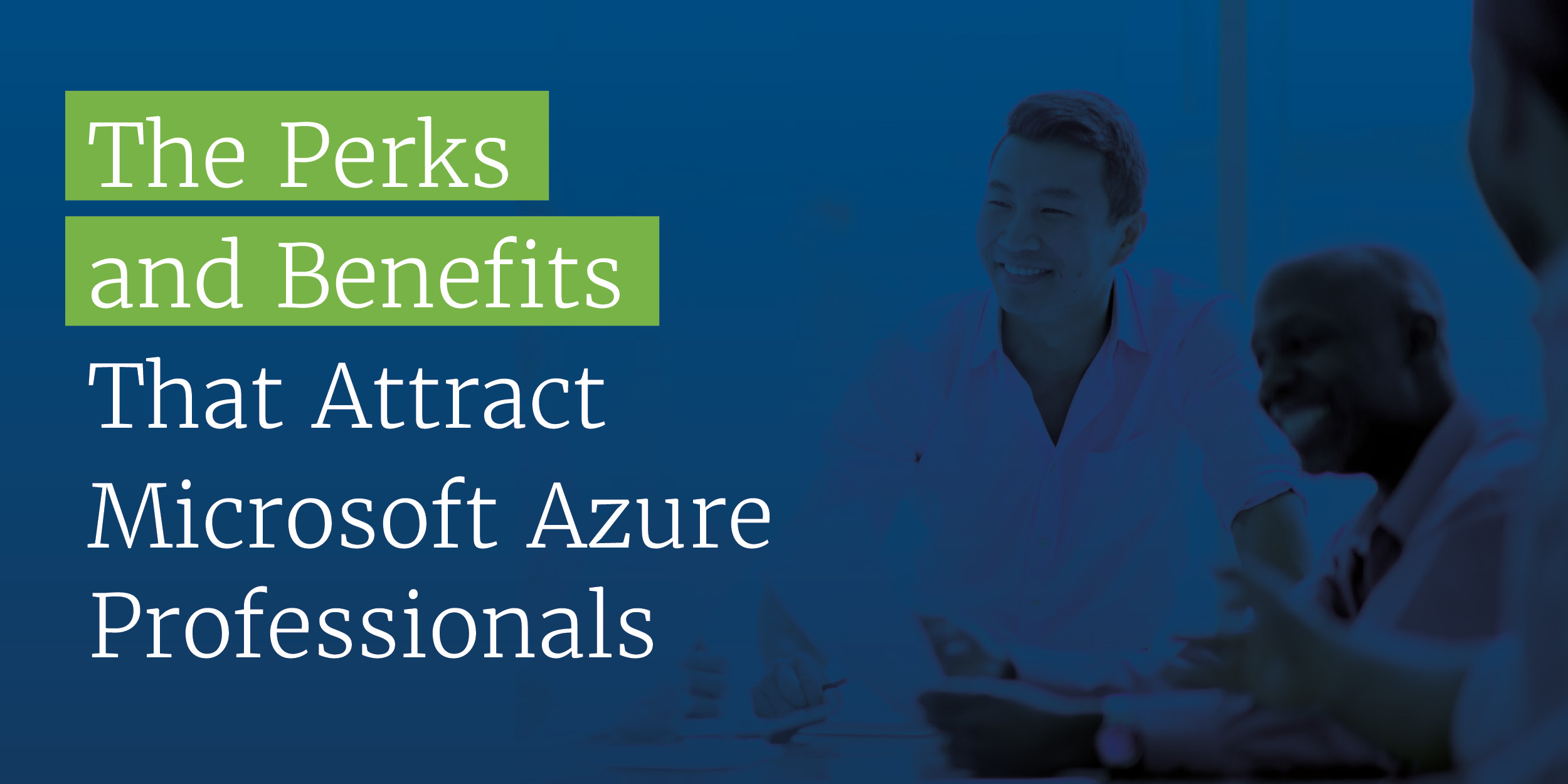 It takes more than a competitive salary to attract great employees to your firm, particularly if you want to hire top industry talent and retain successful teams. Offering employee perks and benefits is essential, but it's important to ensure that your remuneration packages reflect the needs and wants of today's professionals.
When it comes to hiring top Azure professionals, you'll need to have a good understanding of the Azure ecosystem to create enticing job offers that appeal to the best workers in the sector. To compile the Nigel Frank Careers and Hiring Guide: Microsoft 365 and Azure Edition 2021-22, we surveyed 620 Azure professionals across a wide range of industries and backgrounds to get the lowdown on how they feel about the industry. Here, we take a closer look at the perks and benefits that you can use to attract top Azure talent to your company and discover what it takes to retain value-driven Azure teams:
Attracting Azure professionals: Employee benefits
Companies have always used employee perks to attract and retain staff, but the benefits on offer have evolved to reflect society's changes. Even in a relatively short timeframe, (pre- and post-COVID), we can see significant shifts in the types of benefits that are most valued.
Pre-COVID
Prior to the pandemic, 66% of Microsoft 365 and Azure professionals who responded to our survey received a company laptop as an employee perk, while 57% benefited from medical or health insurance. Just over half (51%) enjoyed more than four weeks' paid time off per year, while 42% received home working opportunities, and 39% received some form of bonus.
During COVID
According to 31% of our survey respondents, employee benefits were changed during the pandemic, with both positive and negative modifications present throughout the ecosystem. Unsurprisingly, home working increased, new and extended medical coverage was introduced, and employees had increased access to Employee Assistance Programs (EAPs). In some companies, however, bonuses were reduced, changes were made to 401k/retirement plans, and on-site perks, such as free lunches, were removed.
Post-COVID
The pandemic changed the way we live and work and, despite lockdowns ending, a 'new normal' has emerged. Now, 33% of our survey participants want to work remotely full-time, while 50% want to split their time between home working and visiting the office, with hybrid working arrangements. This shift towards a more flexible working style is evidenced in the perks that Azure professionals value most, including home working, four or more weeks' paid time off, bonuses, health/medical insurance, and flexible working, among others.
What do Azure professionals want?
For Microsoft 365 and Azure professionals working for end users, flexible, hybrid, and homeworking options are paramount. When asked what would entice a candidate to consider or accept a new role, home working was the most significant factor, with 38% citing this as a consideration. A further 22% listed flexible working as a top consideration, which confirms that new working styles could be enough to tempt 60% of end user professionals into a new role.
However, these aren't the only Microsoft and Azure professionals who rate flexibility highly. When asked about the factors that would entice workers to switch from a permanent role to freelancing, 58% cited 'flexibility in lifestyle' as a driving force. Conversely, 47% of freelancers would consider a switch a permanent role if homeworking was available, and a further 47% would view flexible working as an enticing employee benefit.
It's clear that home working and flexible working is a top priority throughout the ecosystem and businesses will need to adapt their working arrangements to meet the expectations of today's professionals if they want to attract top Azure talent.
Location-based perks, such as on-site meals, city center parking, and free or subsidized gym memberships are going to become less relevant as time goes on and workforces become more dynamic. As a result, companies will need to update their range of benefits to reflect an evolving work culture.
Employee benefits and talent acquisition
If you want to attract the best Azure employees, it's vital to offer a remuneration package that incorporates relevant and sought-after employee benefits. 84% of permanent employees maintain that workplace benefits are an important factor when deciding whether to accept a new role, so your ability to attract the best talent could hinge on the perks you offer.
While salary and earning potential remain critical factors for workers, it isn't always the decisive factor when accepting a job offer. In fact, 8% of our survey respondents reported taking a pay cut when changing roles, which highlights how important other factors can be.
New working styles, such as remote teams and hybrid working, are becoming ingrained throughout the Azure ecosystem and savvy employers will ensure that flexible working is available to all team members in order to attract top industry professionals.
However, career development opportunities and professional challenges can also be important factors for Azure professionals. For example, 13% of end user Azure employees cited training and development opportunities as a perk that could entice them to accept a new role. Among those who would consider transitioning to work from a Microsoft Partner to an end user, 54% claim that better career opportunities would encourage them to make the move and 33% maintain that training and learning opportunities are an important factor.
As an employer, you're competing against other companies and organizations, and building a stellar reputation as an Azure employer is essential. When you create employee benefits packages that reflect the changing needs of Azure professionals, you can generate increased interest in your roles and attract high caliber candidates. From upskilling opportunities to homeworking, insurance plans, and performance-related incentives, understanding what's important to Azure professionals will give you the insights you need to craft bespoke employee benefits packages that entice talented team members to join your firm.
Maximizing staff retention with employee benefits
Employee benefits are a critical factor when it comes to attracting and acquiring talent, but they should play an important role in your retention strategy too. Of course, the perks that can entice an employee to stay with your company aren't necessarily the same as those that will attract a new candidate. Due to this, it's important to assess what existing team members are looking for and offer perks that reflect their changing priorities, such as:
Improving company culture
Workplace culture can have a big impact on employee satisfaction, performance, and retention yet only 63% of survey respondents were satisfied with their employer's company culture. Building a strong and supportive culture can maximize your retention rates and increase staff loyalty but companies will face new challenges when it comes to integrating their culture throughout the organization.
As more employees switch to hybrid, flexible, or homeworking, companies will need to modify the way they manage remote teams and secure buy-in from their teams to maintain a culture that motivates and inspires their employees.
Career development
Development opportunities are an important factor for new hires, but they're also critical to your existing workforce. When questioned, just 58% and 53% of respondents were satisfied with their career progression and training and development, while a lack of career and promotional prospects would entice 41% to consider a new role.
If you want to optimize your retention rates, therefore, it's essential to provide staff with transparent career development opportunities. Sponsoring Azure certification or providing on-site training programs can be an effective way to upskill your team and retain your workforce, for example.
New challenges
Many Azure professionals are highly motivated and actively seek out new challenges. If you fail to provide them with the opportunities they crave, don't be surprised when your team members start looking for other roles. Of the 60% of end user employees that would consider working for a Microsoft partner, 76% want to expand their skills, knowledge, and experience with other Microsoft products, 57% want to work on a diverse range of projects and 50% want to tackle different challenges.
Similarly, 53% of Microsoft professionals who would consider transitioning from a permanent role to freelancing would do so to work on different projects, while the possibility to develop new skills across Microsoft products was a decisive factor for 40% of respondents who would consider moving from a Microsoft partner to an end user.
As you can see, employee benefits and perks have a significant impact on where Azure professionals choose to work. Whether you're hiring a contract worker or permanent staff, the benefits package you offer will have a considerable effect on your ability to acquire and retain top talent.
To learn more about hiring the best Azure professionals in the industry, talk to our experienced team today or look at our blog's hiring advice section. Alternatively, you can browse our extensive roster of Microsoft talent to find professionals who are currently seeking a new position.
Looking for fresh talent to join your team?
More choice than any other agency and many candidates ready to start immediately.