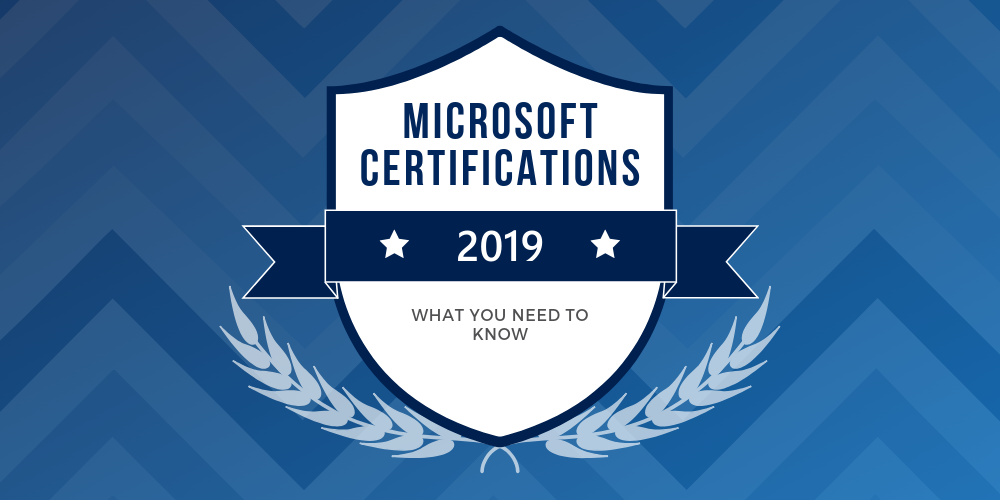 Earlier this year, Microsoft launched its added a whole new string to its certification bow, adding extra, career-focused badges to its stable of product specialist certifications.
The new crop of certifications is intended to equip professionals to take on tech's ever-evolving job roles, with the accreditations aligned to positions—such as administrator, developer, and solution architect—rather than singular products. According to Microsoft, these new certs are designed to demonstrate that the holder is "keeping pace with today's technical roles and requirements".
So, what are the new role-based certifications? What technologies do they cover? And what happens to the older certifications? Strap in friends; here's everything you need to know Microsoft certifications in 2019.

Have the older certifications been replaced?
No. These new, role-based certifications are just another option for those who want to earn a certification. The older MCSE and MCSA certifications are still available for those looking to focus on specific products.
That's not to say there haven't been some changes, however. Some MCSA and MCSE certifications have already been ditched. These three were retired in late 2018:
MCSE: Cloud Platform and Infrastructure
MCSA: Cloud Platform
MCSA: Linux on Azure
And here's what's being retired in summer 2019:
MCSE: Mobility
MCSA: Office 365
MCSA: Windows 10
MCSA: Dynamics 365
MCSA: Machine Learning
MCSA: Data Engineering with Azure
Many of Microsoft's older exams have been retired too, so while you can still earn an older certification, you might have to sit different exams to get them. Most of these retired exams focused on technology that's no longer very up to date, like SharePoint Server 2013.

What are the new role-based certification paths?
The new role-based certifications are grouped into buckets, creating four pathways:
Apps and Infrastructure
Data and AI
Modern Workplace
Business Apps
The Apps and Infrastructure path is where you'll find most of the Azure-focused certifications. This path is built for those who want to validate their skills in building, developing, and securing Azure infrastructure and solutions.
The Data and AI path is geared more towards those who work with data on Azure, like data scientists and business analysts.
The Modern Workplace path is all about fostering operational efficiency and collaboration in today's organizations. This path covers products like Microsoft 365, Office 365, SharePoint, OneDrive, Teams, and Azure AD.
Finally, the Business Apps path features certifications for functional consultants working with various apps within the Microsoft Dynamics 365 family.

How do Microsoft certification levels work?
With the introduction of the role-based certifications, there are now two hierarchies within Microsoft's certification structure.
Both types of certification have the same kind of grading, with an entry-level certification covering basic concepts as the first step, a more technical mid-level cert, and a final, top-shelf certification aimed at experienced pros. The first certification on the ladder isn't a prerequisite for the mid-level cert, but you must achieve a mid-level badge before you can attempt to earn the final certification.
The only difference between the older product-aligned certs and the new role-based certifications is that the role-based badges are titled slightly differently.
| | | |
| --- | --- | --- |
| | Older, role-based certifications | New, role-based certifications |
| Level 1 | Microsoft Technology Associate (MTA) | Fundamentals |
| Level 2 | Microsoft Certified Solutions Associate (MCSA) | Associate |
| Level 3 | Microsoft Certified Solutions Expert (MCSE) | Expert |
MTA/Fundamentals
The first rung on Microsoft's certification ladder, these certs are recommended for those new to technology, MTAs have no prerequisites, and aren't required to sit an exam at the next level. MTAs represent the basics of technological understanding, but they do provide a worthwhile starting point and a solid foundation of knowledge.
Though a useful starting point, passing an MTA exam doesn't qualify you for as an official Microsoft Certified Professional, nor are they a prerequisite for obtaining a higher level cert.
MCSA/Associate
If you're already working with technology, or have a decent understanding of it, you can probably skip over the MTA and head straight for a Microsoft Certified Solutions Associate (MCSA). Recommended for those seeking an entry-level role in IT, an MCSA certification authenticates the basic set of skills you need to hit the ground running. If you want to gain a higher level certification in the future, you need to earn an MCSA first before you can progress on to an MSCE.
MCSE/MCSD/Expert
The Microsoft Certified Solutions Expert (MCSE) is the highest certification awarded by Microsoft and is intended for IT professionals aiming to validate multifaceted technical abilities.
On par with the MCSE in terms of rank is the MCSD, or Microsoft Certified Solutions Developer. Built to validate hands-on skills needed to build modern mobile and web applications and services, the MCSD experienced perhaps the most severe cull in Microsoft's certification reshuffle; where there were once six MCSDs to choose from, there is now only one, but hopefully, we'll see new options made available in the near future.
MOS
Also available, though not set on the same path as the other certifications, is the Microsoft Office Specialist (MOS) certification. The MOS is a separate certification, created to allow Office super-users to corroborate their abilities in an age where the world and his wife has Word and Excel skills on their resumes. Under the MOS umbrella there are three levels; MOS, which verifies general Office skills, MOS Expert, a higher credential for Word and Excel technologies, and MOS Master, available for PowerPoint, Access and Outlook.
Similarly to the MTA and MCSA levels, there are no prerequisites required to sit a standard level MOS exam, or an MOS Expert exam; simply select the exams you want to sit, be it in Word, Excel or another Office app, and pass the required exams to become certified. To take on the MOS Master exam, you must first have passed the three required exams at MOS Expert level, before choosing one further elective exam to obtain your MOS Master.
In short, to achieve Microsoft-certified supremacy you need to:
Pass one exam to obtain an MTA/Fundamentals (optional)
Pass two or three (depending on the subject) pre-determined exams to earn an MCSA/Associate
Choose and pass one exam from a pool of electives to obtain MCSE/MCSD/Expert
Looking for your next great Dynamics job?
More choice than anyone other agency. Browse our jobs and find your dream role today.
Microsoft certification list 2019
Role-based certifications

Fundamental certifications
Microsoft Certified Dynamics 365 Fundamentals
The first step on the Business Applications role pathway, this optional but really useful certification covers all the basics to get you started as a Dynamics 365 professional. As well as basic cloud computing concepts, you'll also be quizzed on Dynamics 365 licensing, onboarding processes, deployment, release options, and support. Expect to see questions on the Power Platform—programs like Flow and PowerApps—come up too.
Microsoft 365 Certified Fundamentals
This certification covers foundational knowledge of Microsoft 365—Microsoft's smart, cloud-based solution package that includes Office 365, Windows 10, and Enterprise Mobility and Security. By earning this badge, you'll verify that you have a good understanding of the benefits of adopting cloud services, the SaaS cloud model, and how to purchase, implement, configure, and secure Microsoft 365.
Microsoft Certified Azure Fundamentals
Again, Fundamentals certifications aren't a prerequisite for earning higher-level certs, but if you're thinking about taking a crack at one of the many Azure Associate or Expert badges available, then the Azure Fundamentals exam will give you a good overview of core Azure services, pricing and support options, and the basics of cloud security, privacy, compliance, and trust.

Associate certifications
Microsoft Certified: Azure Security Engineer Associate
As an Azure Security Engineer, you'll be responsible for implementing security controls and threat protection, managing identities and access levels, and safeguarding data, applications, and networks in your organization. To pass the exam for this certification, you'll need to know how to carry out tasks like configuring Azure Active Directory, creating security alerts, setting up Azure monitor, and encrypting data at rest.
Microsoft Certified: Azure Administrator Associate
Prove you've got the chops to be an Azure Administrator by demonstrating your ability to implement, monitor, and maintain Microsoft Azure solutions. Expect to see questions on compute, storage, and security management, as well as deploying virtual machines, configuring virtual networks, and managing Azure Active Directory.
Microsoft Certified: Azure AI Engineer Associate
This certification validates your abilities to perform one of the newest and most exciting Microsoft jobs around: AI Engineer. Exhibit your skills using Azure Cognitive Services, Machine Learning, and Knowledge Mining to create, train, and deploy Microsoft AI solutions or integrate them with other platforms. This certification covers many types of AI tools, including natural language processing, speech, computer vision, bots, and agents.
Microsoft Certified: Azure Data Engineer Associate
Data is an incredibly valuable commodity in the modern business world, and organizations are increasingly on the lookout for professionals who can help them efficiently store, manage, and protect their information. The Azure Data Engineer Associate certification will test your ability to do just that. You'll need to know how to design and implement solutions to help businesses store their data, and how to monitor databases to ensure maximum privacy and security. Knowledge of Azure SQL Databases, No-SQL, Hadoop, Databricks, and Azure Data Factory will come in handy.
Microsoft Certified: Azure Data Scientist Associate
Data Scientists play an essential part in helping businesses derive valuable insight from enormous banks of data. As an Azure Data Scientist, you'll have Azure's AI and machine learning tools at your disposal to enable you to process big data and solve business problems. To earn this certification, you'll have to prove that you're capable of training, evaluating, and deploying AI models.
Microsoft Certified: Azure Developer Associate
Microsoft Azure Developers are charged with the designing, building, testing, and maintaining of cloud solutions. They'll work in collaboration with cloud solution architects, database analysts, and admins to construct Azure-based applications and services that meet their clients' needs. You'll be quizzed on how best to produce and deploy a range of cloud commodities like storage, AI and IoT services, IaaS and PaaS solutions, as well as how to secure, monitor, and optimize your creations.
Microsoft Certified: Dynamics 365 for Marketing Functional Consultant Associate
One of the newer editions to the Microsoft Dynamics 365 family, Marketing helps customers create, warm, and convert leads and grow brand awareness across a multitude of channels. This certification will verify your skills as a Dynamics 365 for Marketing Functional Consultant, including configuration of the app, handling data, creating forms, segments and lists, managing customer journeys, and generating reports.
Microsoft Certified: Dynamics 365 for Field Service Functional Consultant Associate
Another one for aspiring Dynamics 365 Functional Consultants, this certification focuses on the Field Service app. To earn this certification, you'll need to be able to configure the app, manage the field service lifecycle, and deploy the Connected Field Service (IoT) solution to ensure the efficient processing of work orders and manage personnel and resources in the field.
Microsoft Certified: Dynamics 365 for Finance and Operations, Financials Functional Consultant Associate
Dynamics 365 for Finance and Operations (the suite's successor to Dynamics AX) is a comprehensive ERP software with a massive number of uses. To reflect the wide-ranging functionality of the app, Microsoft offers three certifications, each covering a specific module. The first cert focuses on the financials portion of the app, and will encompass tasks like overseeing global financials, automating workflows, streamlining customer ordering, plus selling, invoicing, and reporting.
Microsoft Certified: Dynamics 365 for Finance and Operations, Manufacturing Functional Consultant Associate
The second certification option for Dynamics 365 for Finance and Operations concentrates on the app's manufacturing features. To earn this certification, you'll need to be able to use the app to integrate digital and physical systems, improve visibility, boost manufacturing efficiency and flexibility, and lower costs. Tasks covered include configuring the app, migrating data, and managing production, lean orders, and batch orders.
Microsoft Certified: Dynamics 365 for Finance and Operations, Supply Chain Management Functional Consultant Associate
The third of Microsoft's ERP-focused certifications, this badge certifies skills relating to Dynamics 365 for Finance and Operations' supply chain features, like cost accounting, inventory management, master planning, and warehouse management.
Microsoft Certified: Dynamics 365 for Customer Service Functional Consultant Associate
Centring on Dynamics 365's customer service app, this certification validates your abilities to craft smart, effective customer experience solutions. You'll be expected to know all the usual app-related stuff—managing data, configuring the platform, upkeeping security processes—as well as how to manage cases, queues, entitlements, and knowledge bases within the solution to anticipate and address customer needs.
Microsoft Certified: Dynamics 365 for Sales Functional Consultant Associate
One for Dynamics 365 for Sales specialists, to pass these exams and earn the cert, you need to demonstrate your ability to implement solutions that maximize sales teams' productivity. That includes anticipating and planning customer connections, managing leads and deals, and helping sales teams make informed decisions using data analytics.
Microsoft 365 Certified: Messaging Administrator Associate
A badge for all things Outlook, the Messaging Administrator Associate certification covers everything you need to know to deploy, configure, and manage a modern email system, including all of its infrastructure, topology, security features, and delivery settings.
Microsoft 365 Certified: Modern Desktop Administrator Associate
One of the more general certifications in the current stable, Modern Desktop Administrator Associate measures the skills involved in deploying, configuring, securing, managing, and monitoring Windows, the applications that run on it (such as Edge and Office 365), and the devices that use it.
Microsoft 365 Certified: Security Administrator Associate
Security professionals are in high demand; this certification was created to validate the holder's ability to secure Microsoft 365 enterprise and hybrid environments, including implementing and managing security and compliance solutions, responding to threats, and enforcing data governance.
Microsoft 365 Certified: Teamwork Administrator Associate
The Microsoft 365 Teamwork Administrator certification verifies the skills needed to configure, deploy, and manage Office 365's collaborative apps and services. You'll need to know how to facilitate efficient and effective collaboration using Microsoft platforms like SharePoint (online, on-premises, and hybrid), OneDrive, and Teams. It's also notable for being the only Microsoft certification that specifically covers SharePoint.

Expert certifications
Microsoft 365 Certified: Enterprise Administrator Expert
Holders of the Microsoft 365 Enterprise Administrators Expert certification will be expected to be able to evaluate, plan, migrate, deploy, and manage Microsoft 365 services. The two exams that must be passed to earn this badge cover, among other things, migrating data, managing domains, designing identity strategies, configuring app access, managing device compliance, and monitoring security.
Microsoft Certified: Azure DevOps Engineer Expert
Azure DevOps professionals are expected to be able to unite people, process, and technologies to deliver great business products and services on a continuing basis, meeting user needs and business objectives in the process. There's only one exam to pass here, and you can expect to see topics like designing a DevOps strategy, rolling out continuous integration and delivery, and implementing dependency management and application infrastructure.
Microsoft Certified: Azure Solutions Architect Expert
Microsoft Azure Solutions Architects are tasked with using Azure to create solutions that solve business issues. They need to be experts across the broad spectrum of Azure fronts, from compute and network, to storage and security. Expect to be quizzed on deploying and configuring infrastructure, implementing workloads, building, deploying, and integrating apps and storage solutions, and ensuring all their creations are secure.
Product-aligned certifications

Microsoft MOS certifications
MOS: Microsoft Office Specialist 2016
Validating your fundamental knowledge of core Office functions, the Microsoft Office Specialist 2016 certification demonstrates that you can help your organization dig deeper into Microsoft's 2016 version of its central app suite.
MOS: Microsoft Office Specialist 2016 Expert
A more advanced certification for those Office users at the next level, the Microsoft Office Specialist Expert certification requires you to pass one exam, focusing on either Word 2016 or Excel 2016.
MOS: Microsoft Office Specialist 2016 Master
Certifying the deepest level of skills needed to competently use Office programs, get to grips with Word or Excel to gain this top-level Office badge.

Microsoft MTA certifications
MTA: Database Fundamentals
Intending to build a career in database administration or business intelligence? This MTA certification is a perfect gateway, covering a wide range of essential relational database concepts, measuring core practical awareness of database security requirements, objects such as tables and views, graphical tools and T-SQL scripts, and boosting your technical street-cred.
Windows Operating System Fundamentals
Covering a wide range of functions within the Windows 10 operating system environment, this cert verifies your understanding of operating system configurations, your ability to install, upgrade, maintain, and manage systems, and that you have a good grasp on how to manage files, folders, and devices.
Software Development Fundamentals
This exam tests essential software development skills like understanding object-oriented programming, databases, web and desktop apps, and general software development knowledge including use of C#, Microsoft Visual Basic, and .NET.
Windows Server Administration Fundamentals
A good option for budding server admins, this MTA covers all things Windows Server and Windows-based networking, Active Directory, account management, and system recovery tools and concepts. You'll be expected to know how to install, manage, and maintain a server, its features and functions, and how to work with Active Directory.
Networking Fundamentals
Networking Fundamentals validates your knowledge of Windows Server's network management tools, DNS, TCP/IP, names resolution process, and network protocols and topologies. You'll have to demonstrate an understanding of network infrastructures, hardware, protocols, and services.
Security Fundamentals
Covering the basics of keeping a system secure, you'll need to know about Windows Server and its related anti-malware products, firewalls, network topologies and devices, and network ports. The exam will feature questions on understanding security layers, operating system security, network security, and using security software.
Mobility and Devices Fundamentals
This certification is all about the basics of configuring and managing devices for maximum productivity and security. Networking, anti-malware, cloud services, firewalls, network topologies, and network ports will all make an appearance in the exam.
Cloud Fundamentals
A good jumping off point for those looking to learn more about Microsoft's huge stable of cloud products and services, the Cloud Fundamentals MTA will test your knowledge of the cloud, how to enable Microsoft cloud services, administer Office 365 and Microsoft Intune, use and configure Microsoft cloud services, and support cloud users.
HTML5 Application Development Fundamentals
If you want to prove your essential HTML5 client application development skills, this is the certification for you. You'll need to know how to use HTML5, CSS3, and JavaScript to develop client applications. That includes managing the application life cycle, building the user interface, format the user interface by using CSS, and coding using JavaScript.
Introduction to Programming Using Block-Based Languages (Touch Develop)
This certification validates your understanding of block-based language development, including algorithmic flow and implementing common program control structures. You'll need to know how to apply strategies to solve computational problems, design algorithms, work with data representation in block-based programming languages, solve computational problems by using modeling and simulation, code programs in block-based programming, assess personal security in internet communications, and examine the software development process.
Introduction to Programming Using Python
Another introductory development certification, this badge covers programming using Python. You should have at least 100 hours of practical Python development experience before taking this one on, as you'll be expected to be able to recognize and write syntactically correct Python code, recognize data types supported by Python, and recognize and write Python code that will logically solve a given problem.
Introduction to Creating Dashboards using Tableau
Data visualization is essential in any business, as it allows you to give a top-level view of information to team members and project stakeholders. This introductory webinar will set you up for connecting data sets with Tableau.
Introduction to Programming Using JavaScript
Covering similar grounds to the Python certification, this JavaScript exam will test your knowledge of JavaScript's' features and capabilities, and your ability to write, debug, and preserve high quality, well-documented JavaScript code.
Introduction to Programming Using HTML and CSS
Another programming fundamentals certification, to pass this exam you'll need to demonstrate your knowledge of HTML and CSS, in particular, how to structure documents, present multimedia, and style web pages using these languages.
Introduction to Programming Using Java
Designed students of software development or entry-level software developers, this assessment will examine how well you understand the basics of Java usage, focusing on Java 6 SE or later. Expect to see questions on Java fundamentals, working with data types, variables, and expressions, implementing flow control, object-orientated programming, and debugging.

Microsoft MCSA Certifications
MCSA: Windows Server 2012
Covering the installation, configuration, administering of Windows Server 2012, as well as some of its more advanced features, this certification validates your abilities to reduce IT costs and deliver more business value.
MCSA: Windows Server 2016
MCSA: Windows Server 2016 focuses on Windows 2016 skills including installation, storage, networking and identity functionality with Windows Server 2016, as well as installation and configuration of Nano Server, creation and management of images for deployment, and local and server storage solutions.
MCSA: Microsoft Dynamics 365
Another relatively new certification for a relatively new technology, this badge verifies your ability to implement, customize, configure, deploy, use, maintain, and support Microsoft Dynamics 365 in your customers' organizations.
MCSA: Microsoft Dynamics 365 for Operations
Focusing specifically on Dynamics 365 for Operations, the more ERP-heavy arm of the application, candidates for this certification will be quizzed on either administering a Microsoft SQL database infrastructure, or the basic technical and developmental tasks required to customize Microsoft Dynamics AX.
MCSA: SQL 2016 BI Development
Intended for current or budding ETL and/or BI developers, this certification looks at your capabilities to create BI solutions that require implementation of multidimensional data models, implementation and maintenance of OLAP cubes, and implementation of tabular data models.
MCSA: SQL 2016 Database Administration
Aimed at database professionals with a working knowledge of deployment models, upgrading and migrating databases, this certification certifies your skills in SQL installation, maintenance, and configuration tasks.
MCSA: SQL 2016 Database Development
Covering both on-premises and cloud-based databases, this MCSA tests knowledge in writing queries, creating database files, planning, creating, and optimizing indexes, and ensuring data integrity among other database-related functions.
MCSA: SQL Server 2012/2014
This certification validates skills in writing queries, administering databases, and implementing data warehouses using Microsoft SQL Server 2012/2014.
MCSA: Machine Learning
This certification establishes your expertise in operationalizing Microsoft Azure machine learning and Big Data with R Server and SQL R Services.
MCSA: BI Reporting
Show off your expert understanding of data analysis using Power BI, along with the skills to create and manage enterprise business intelligence solutions.
MCSA: Data Engineering with Azure
Certify your skills in performing data engineering on Microsoft HD insight, and engineering data with Microsoft cloud services.
MCSA: Universal Windows Platform
This certification demonstrates your expertise at implementing Universal Windows Platform apps, and your ability to provide an engaging user experience across multiple Windows devices. Topics covered include programming in C# and developing mobile apps, HTML5, SQLite, CSS3, JavaScript, ASP.NET and MVC.
MCSA: Web Applications
Rubber-stamp your capacity to build and implement modern web apps. This introduction to web development technologies includes a strong focus on programs and languages used during the web development process, including CSS, JavaScript, jQuery, HTML5, and CSS3.

Microsoft MCSE Certifications
MCSE: Core Infrastructure
MCSE: Cloud Platform and Infrastructure certifies the talents needed to run an efficient data center and implement and manage cloud technologies, as well other cloud skills such as identity management, systems management, virtualization, storage, and networking. This badge is ideal for those in or seeking roles such as cloud administrator, cloud architect, computer support specialist, and information security analyst.
MCSE: Business Applications
This certification verifies your skills in working with the Microsoft Dynamics 365 family of products. Starting off with a broad overview of the features and functions within Microsoft Dynamics 365, you'll have the option to choose one of eight exams to earn the certification, each covering a specific Dynamics 365 app. MCSE: Business Applications is a fantastic choice if you want to build or further a career as a Dynamics 365 developer, implementation consultant, technical support engineer, or system administrator.
MCSE: Data Management and Analytics
This competency demonstrates a broad skill set across SQL administration, building enterprise-scale data solutions, and leveraging business intelligence data both on-premises and in cloud environments. With twelve elective exams to choose from, there are many routes to gaining an MCSE in Data Management and Analysis, but almost all of them involve SQL Server or Big Data.
MCSE: Productivity
Validating your abilities to deploy Microsoft Office cloud and hybrid solutions to enterprise customers, this badge can be obtained via an elective exam focusing on any of the above platforms, depending on your specialism.

Microsoft MCSD Certifications
MCSD: App Builder
Currently the only available MCSD, App Builder certifies that you have the skills needed to build modern mobile and/or web applications and services using tools like Azure, C#, SharePoint, Office Client, Visual Studio, .NET, and HTML5. Elective exam topics include Azure, SharePoint, UWP and Microsoft Visual Studio.

How long are Microsoft certifications valid for?
Once you've passed the required exams and earned your certification, there isn't necessarily a set cut-off point for when a certification becomes invalid or has to be retaken.
That said, those holding top badges like MCSEs and Expert level certifications are expected to "stay current" in order to show that their knowledge and skills are still relevant. Microsoft expects holders to take advantage of the training and information on offer through Microsoft's learning platforms at least once a year to remain upskilled to the appropriate level. Those who don't stay current risk having to recertify.
In the words of Bob Dylan, the times they are a-changin'; particularly for those who work with rapidly-evolving cloud technologies. As a result, for those certified in certain technologies, there will be an optional annual re-certification program, in which you can earn yearly badges to prove that your skills are keeping up with recent developments.
It's worth noting that certifications do get retired. This is because the knowledge, skills, and technologies that the certifications cover can become outdated. If this happens, Microsoft will retire a certification and replace it with a new one that's more relevant and up-to-date.

What happens if my certification has been retired?
If you happen to outlive your certification (and at the rate they're updated, hopefully you will), it won't be scrapped altogether. Retired certifications are moved to the "Legacy" section of your Microsoft Certification Transcript. So even if the technology covered by your certification has become outmoded, it still shows that you've endeavoured to educate yourself and verify your skills, which can't hurt.
If you hold a certification that's now been put out to pasture, Microsoft usually offers transitional exams to help you bridge gaps in your knowledge and earn a new certification at a discount.
Transitional exams for the latest wave of retired certifications will be available until September 2019.

How much do Microsoft certifications cost?
MCSA, MCSE, and MCSD exams usually cost $165 (US) to sit. Microsoft often has special offers and discounts on however, so keep an eye out. MTA exams are a little cheaper at $127 USD per attempt.
If you don't pass the first time, you'll have to pay for the exam again. The good news is that Microsoft provides several exam packages that offer cheaper resits.
The Certify with Confidence package costs $230 USD, and includes one certification exam, plus two retakes. Your other option is the Certify with Confidence with Practice Test, which includes one certification exam, two retakes, and access to one official Microsoft practice test. This package costs $265 USD.
MOS exams, being of a more accessible level, run a little cheaper, with an MTA exam voucher going for around $50 (US) and an MOS exam voucher around $96 (US).
If you're a student, you can get discounts on Microsoft certifications if you verify your student status before sitting the exam. A school-issued email account, school network credentials or International Student Identity Card (ISIC) can all be used to authenticate your student status through your account settings once your exam has been scheduled. If your school is part of Microsoft's Imagine Academy program, you may be eligible for even more discounts.

How do I become a Microsoft Certified Professional?
Once you've earned your first MSCA, you'll automatically be bestowed with the coveted title of Microsoft Certified Professional. Becoming an MCP means you're well on your way to attaining top-flight Microsoft professional status by going on to achieve an MCSE or MCSD, and not only does being an MCP look terrific on your resume, but it also gets you some great benefits.
Microsoft offers MCPs some useful tools to help continue your education, including a Certification Manager and Planner to track your progress and options for completing your certification, promotional offers on training and exams, admittance to the MCP community where you can find job opportunities and connect with your peers, and access to the MCP eStore, (in case having your MCP status on your business card just wasn't enough).

Are Microsoft certifications hard?
The MCSE is one of the most highly valued certifications in the IT world, and with good reason; they're thorough, complex, and earning one is by no means a cakewalk. If every Tom, Dick, and Harry could breeze through a Microsoft certification, they wouldn't be nearly as valued as they are. But how long is a piece of string? Whether or not someone finds a Microsoft certification exam particularly challenging will depend on their experience and existing knowledge.
That said, Microsoft provides a pretty detailed breakdown of what's featured in each exam within your certification, so you can ensure you're covering as much as you can during your revision. Get as much hands-on experience as you can with your chosen technology; although the certification exams are written, the knowledge you need to pass them are rooted in specific, practical understanding.
Although you can purchase practice exams to do at home, it can still be difficult to gauge what the exam entails and how to get ahead on your studying. These exams are designed to be tough, so don't be too disheartened if you don't pass first time. Microsoft often offers free retakes, and even if you're not lucky enough to benefit from such a promotion, you can always purchase one of the aforementioned Exam Replay vouchers.

Why get a Microsoft certification?
Microsoft certifications are among the most highly regarded in the IT field, and in a world where more and more people are gaining degrees, certifications can give you an edge. Not only do they validate your skills with a globally-recognized badge of honor, but they also illustrate your commitment to your profession and your willingness to continually enrich your own knowledge.
Not only can certifications mark you out during your job hunt, but they can also give your pay packet a bump too. Our latest Microsoft Dynamics Salary Survey revealed that 33% of Microsoft professionals enjoyed a pay rise post-certification. Microsoft's own analysis found that Microsoft certified technologists earn on average 15% more than their non-certified peers. Certs can help you climb the professional ladder faster, too; according to a 2012 Microsoft study, 91% of hiring managers view certifications as an essential part of their criteria when hiring senior staff.
Even if you haven't yet made your way into the working world, a Microsoft certification can still be worth getting. Not only will certifications give you an edge when it comes to finding a job after college, but students can get college credit by earning a Microsoft certification. Microsoft has partnered with the American Council on Education (ACE) to have a number of exams and certifications recognized by partner universities and higher education institutions for college credit. Some older certifications are also recognized by similar institutions in the UK and Ireland, and a pilot scheme is currently being hashed out for universities in Europe.
Employers often find certifications an easy way to qualify candidates, says Anastasia Hrebenichenko, Analyst at job board Jooble. "In our experience, employers are interested in the presence of certifications among the candidates, especially for particular positions. For roles such as Web Developer or Database Administrator, certification isn't as important as practical skills, but for other positions like Computer Systems Analyst and Systems Architect, a candidate having an MCSE or MCSD certification is important for 60% of employers. An MCSA or MCSE is required by a majority of employers for a Network Administrator position, and most want to see an MCSE for a System Administrator role.
"Obtaining a Microsoft certification will see you become an in-demand professional in a field that is ever-expanding and full to the brim with career opportunities. According to employers that use Jooble, most are ready to give preference to an applicant with a certification. Also, certified candidates can count on a salary of at least 11% more than the market average. At the same time, the main advantage for employers is a proven level of professional skills, which greatly simplifies the hiring process."

Are Microsoft Certifications worth it?
According to our salary survey, 33% of respondents experienced a pay rise post-certification, and 49% believe cloud certifications are beneficial in increasing employability. Even if you aren't immediately awarded a raise following certification, they're a good bargaining chip to have when you're negotiating a pay increase or changing jobs.
In terms of employability, certifications can help those new to the trade get a foot in the door, demonstrating knowledge and commitment where experience may be lacking. If you've been around the block a few times, however, employers are likely to be more interested in the projects you've worked on that certifications, but they're still useful to have to help mark you out from the competition.
And while many arguments against certifications hinge on the changeability of the IT industry hindering their longevity, with Microsoft's certification structure so recently revamped to ensure their relevance, there's never been a better time to get certified in your field.
The hottest new Dynamics jobs straight to your inbox.

Get the latest hand-picked Dynamics roles via our jobs by email service.