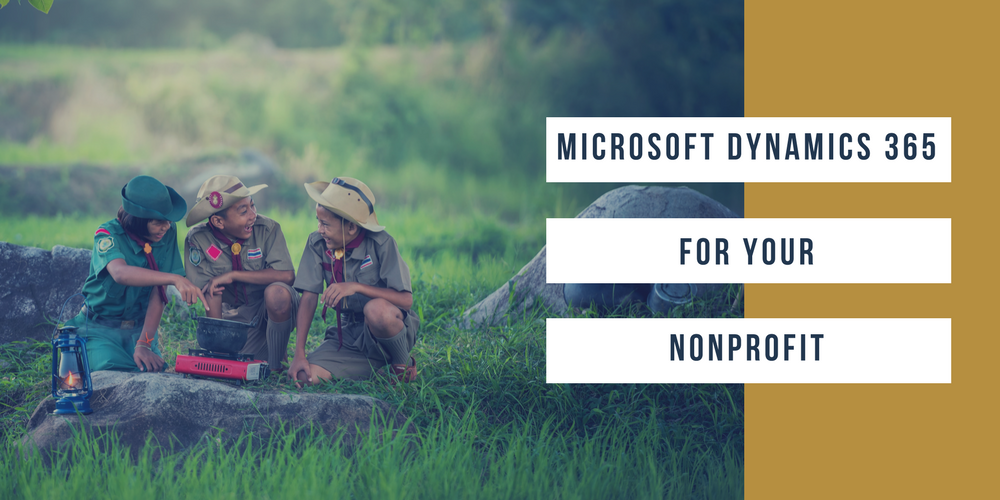 The push toward digital transformation is opening doors for businesses to be more efficient, productive, and profitable, with new ways of working and new technology to facilitate them cropping up almost constantly.
The ceiling of what can be done with enterprise tech is ever-rising, and it's elevating customer expectations along with it; businesses need to up their software game to remain efficient and competitive in a world where processes are continually improving, and it's all too easy to get left behind.
The rise of cloud computing and SaaS software is making digitizing operations more accessible to businesses, especially those who may not previously have been able to shell out capital up front for in-house servers and perpetual licenses.
But when an organization operates a nonprofit model, it can be challenging to make room for even essential tools like relationship management software when resources are squeezed.
Luckily, there are programs in place to help charities and nonprofits get access to platforms that will help them achieve more; including platforms like Dynamics 365.
Microsoft has a long-held commitment to offering its products to nonprofit organizations at heavily discounted rates, and its latest business software suite is no exception. A collection of cloud-based apps for managing every aspect of an organization's back- and front-end processes, Dynamics 365 features tools for sales, customer service, marketing, and operational tasks such as managing finances and human resources.
Dynamics 365's extensive capabilities make it a popular choice across a range of industries, from sales to manufacturing, but it's a particularly good option for nonprofits, and not only because of the hefty markdowns available. Let's take a closer look at what the app can offer nonprofit organizations.
Want the short version? Jump to our infographic.
Why do nonprofits need Dynamics 365?
Nonprofits are a special kind of organization, driven by a belief in a shared, altruistic ideal rather than a bottom line. Nonprofits often operate on tight budgets, and have vastly different metrics for success than businesses motivated solely by earnings.
That said, a nonprofit can only achieve their goals by committing themselves to the same principle that allows for-profit companies to succeed; building relations with people who are going to put money in their pockets, whether those are customers, clients, or donors.
Commercial businesses are using the intuitive analysis and automation features found in modern CRM systems to offer tailored experiences to their customers. Building these personalized, data-driven relationships is allowing businesses to engage with customers in a more significant way, and generating durable revenue streams.
Such software can do the same thing for nonprofits and their donors. For any venture, it's enormously more cost-effective to generate repeat business than new business; you don't want a donor to toss $10 into your bucket but never interact with your organization again.
In today's digital world, nonprofits of all sizes need to engage with many different groups — including corporate sponsors, public donors, and volunteers — across many channels to advance their agenda. The other side of that coin, of course, is carrying out objectives and delivering services to fulfill their mission. Effectively executing both these front- and back-end operations requires a tremendous amount of organization, collaboration, and support, and that's why a robust CRM system is crucial for any nonprofit institution.
Charitable organizations can find it difficult to meet their more-qualitative needs when the bulk of major business software is designed for commercial ventures. However, despite not being produced exclusively and specifically for the nonprofit industry, Dynamics 365 has made something of a name for itself in the sector by offering a range of features that can help nonprofits optimize their processes, boost their efficiency, and cut costs.
Most importantly, the app helps nonprofits achieve their objectives while remaining focused on delivering excellent service, and building relationships with the donors and volunteers whose support is central to their success.
From managing grants, and engaging with donors, to coordinating resources across multiple locations, and managing staff and volunteers in the field, Dynamics 365 gives nonprofits the tools they need to do more.
Many nonprofits find that Dynamics 365 is something of a unicorn; a platform from an accessible, innovative and reliable big-name vendor which also provides the features they need to succeed in an ecosystem with niche, human-driven needs.
How Dynamics 365 can help nonprofits
Microsoft offers a significant discount on its CRM app package for nonprofits. Containing five comprehensive apps — Sales, Customer Service, Field Service, Project Service Automation, and Microsoft Social Engagement — the package includes everything charities need to streamline and optimize their sales, service, and relationships with sponsors and donors.
Here are a few of the features included in the Customer Engagement Plan, and how they can help nonprofits run their day-to-day operations.
Unification of systems
Running a nonprofit is no easy feat; charitable organizations often have a considerable number of plates to keep in their air, and rely on volunteers to keep things moving.
The clearer an overview an organization has of its entire operation, the more productive and efficient it can be. With information siloed across various programs, it can be difficult, if not impossible, to pull together all that data to get a complete picture of everything that's going on.
Dynamics 365 has a home, and a feature, to manage every aspect of a nonprofit's operations; contacts, donations, volunteers, and memberships are all contained within the same app, enabling all departments to operate in the same space, and offering complete transparency into operational processes. This is especially important when an organization has staff working on various projects, often in numerous locations, and an ever-rotating roster of volunteers.
Apps in the Dynamics suite integrate easily with one another, as well as with other Microsoft products such as Office, and Outlook. If there are other third-party services that you need to connect with Dynamics 365, you can do so by using one of a massive number of pre-built connectors, or quickly create a code-free connector yourself using Microsoft Flow.
Grant management
Finding, applying for, and managing grants often represents a considerable chunk of a nonprofit's administrative duties. Some charities may even distribute grants of their own.
Dynamics 365 allows nonprofit employees to manage and track grants, from the initial application through to the award, and can automate reminders and renewals to make sure no opportunity slips through the cracks.
Donor and member management
To maintain a steady stream of donations, nonprofits need to have a solid understanding of where their contributions come from so that they can focus their fundraising efforts effectively.
Dynamics 365 enables users to track and analyze their donors' behaviors to see where they've pledged in the past, and where they're most likely to contribute in the future. There are also features to track and manage standing pledges.
Having a comprehensive view of donor engagement allows nonprofits to spot trends, issues, and find out which campaigns are most effective so that they can achieve greater impact in the future.
Charities with membership schemes can also operate these programs through Dynamics 365, and manage data, such as relationships and previous interactions, as well as processing member subscriptions, orders, and invoices. The platform includes the ability to set up self-service portals, so members can access information, manage their profiles and subscriptions, and make donations directly.
Want more info about the Dynamics market?
Found out how much you can expect to pay for Dynamics talent in your area.
Donation tracking
Users of Dynamics 365 can track and manage donations, and their relation to donors and specific campaigns. Full donation history, information on recurring donations, and pledge amounts are accessible in one easily digestible interface.
The app integrates with many popular ERP systems so transactional data can be synced with external financial systems. It also connects to third-party payment solutions and gateways to process donations made across digital platforms.
Volunteer management
Nonprofits are often powered by volunteers who give their time and effort to support an organization's cause. Volunteers are incredibly valuable, and it's essential that anyone who contributes to a nonprofit should be carefully managed and supported.
Dynamics 365 can help organize and optimize a charity's volunteer force, with rostering and timesheet features, and profile management that allows nonprofits to assign the right volunteers to the right project.
The app can also track school credit for those who are volunteering through an educational institution, and includes tools to ensure compliance with any regulations that you or your volunteers may need to adhere to in the course of their service.
Campaign and event management
Campaigns are a vital part of a nonprofit's fundraising strategy, helping to raise awareness of its cause and, in turn, attract donors.
A great campaign can have a lasting effect on people's perceptions, and greatly impact a nonprofit's revenue stream. Though Dynamics 365 can't come up with the great charity campaign for you, it can help you manage your project effectively by assigning tasks, tracking coverage, and measuring donations.
Users can create custom segments of contacts for individual campaigns, enabling nonprofits to directly target former donors who may be interested in similar upcoming campaigns, or keep supporters of previous campaigns in the loop and let them know how their contribution is being utilized.
If a nonprofit organization hosts events, it can also take advantage of Dynamics 365's event management tools, which allow users to plan events such as conferences and fundraisers. Everything from booking venues, organizing sponsors, managing schedules and tracking attendance can be done from within the app.
Customization
No two nonprofits are the same, and Dynamics 365 makes it easy to customize and configure the system to meet individual business needs.
Microsoft's AppSource store hosts thousands of third-party add-ons and connectors so that functionality can be extended without the need for extensive coding or development.
Fields can be customized, and dashboards can be set up for specific roles to help employees find the information they need quickly.
By harnessing PowerApps, nonprofits can create their own web and mobile apps, using a simple but powerful, drag-and-drop interface; no coding knowledge required. Building and deploying custom, branded apps can help deliver your nonprofit's message, massively boost donor engagement, and make it easier for people to support your cause.
PowerApps can be used to create apps for both internal and external use; you could build an app for volunteers to book in time with your organization, for example, or offer an app that lets users find information on your services, learn about local events, or make a donation via their devices.
Social media management
Social media is an intrinsic part of modern life, and if nonprofits want to spread awareness, and reach as many potential donors as possible, they need to have a strategy for getting the most out of social channels such as Facebook and Twitter, and other content-sharing platforms like YouTube and Tumblr.
Microsoft Social Engagement is a social media management app that enables users to plan, deliver and analyze social media campaigns, deriving profound insights about current trends, issues, and opportunities that could impact nonprofits.
The service comes bundled with any of Dynamics 365's CRM apps, and can be connected to software such as Sales or Customer Service to link the social profiles of donors and contacts so that they can be contacted more easily, and targeted through online campaigns.
Cost-cutting
Before we even get to the discounted rates for licensing the software, Dynamics 365 is already a cost-effective solution due to its serverless deployment. There are no infrastructure costs to account for, and no ongoing hardware costs; everything is managed, patched and updated at Microsoft's end, meaning even smaller organizations without a dedicated IT department can stay online and up to date without forking out on maintenance or repair costs.
Dashboards and reporting
In addition to the holistic dashboards and customizable reporting tools native to Dynamics 365's CRM apps, the programs can also be integrated with Microsoft's Power BI suite of business intelligence tools, for more in-depth insights and data visualizations.
Dynamics 365 for nonprofits pricing
Dynamics 365 pricing for nonprofits is fairly sizable, with eligible organizations receiving a discount of 75% on standard pricing for both CRM plans and individual app licenses.
Nonprofits can opt to purchase the full suite of Dynamics 365 relationship management apps, which include integrated platforms to oversee sales, customer service, field service, and project management, plus additional tools to manage social media, and create custom apps and workflows.
The discounted licenses are issued through TechSoup, an organization that provides digital services and platforms to philanthropic foundations, charities, nonprofits, and libraries.
Included
Standard Price
Nonprofit Price
Customer Engagement Plan
Sales
Customer Service
Field Service
Project Service Automation
Microsoft Social Engagement
PowerApps
Full User: $115 user/month Team Member: $8 user/month
Full User: $115 user/month Team Member: $8 user/month
Individual apps
Any standalone app, plus PowerApps. (Microsoft Social Engagement also included if purchasing Sales, Customer Service, Field Service or Project Service Automation)
Full User: $28.75 user/month Team Member: $2 user/month
Full User: $23.75 user/month Team Member: $2 user/month
Is my organization eligible for Dynamics 365 nonprofit pricing?
Before you apply for Dynamics 365's discounted nonprofit pricing, you need to meet specific eligibility criteria.
These criteria vary from country to country, depending on how particular nations recognize and register charitable organizations. In the United States, for example, organizations must be credited by the Internal Revenue Service as exempt from federal income tax under Section 501(c)(3) of the Internal Revenue Code.
Public libraries without registered charity status may also be eligible for the discount, provided the software will be made available for public use, and only for on-premise products.
In addition to being recognized as a registered charity in their region, organizations must also operate on a not-for-profit basis, and work towards improving their local community. Eligible missions include, but are not limited to:
Assisting low-income communities
Improving education
Developing social welfare
Conservation and restoration of culture or the environment
Supporting human rights
Building a civil society
Certain types of organization are automatically ineligible for the program, including:
Nonprofit organizations that do not possess recognized charitable status in their country
Professional, commerce and trade associations
Political, labor, and fraternal organizations
Individuals
Certain other types, though ineligible, but may still receive a discount through other industry-specific assistance programs. These types include:
Refurbishers — Companies that install donated software on refurbished devices for use by schools or nonprofits contact the Registered Refurbisher Program.
Governmental organizations or agencies — The Microsoft Volume Licensing for Governments program manages subscriptions for government agencies.
Schools, colleges, and universities — Formal educational institutions are eligible for offers through Microsoft academic volume licensing programs.
Healthcare organizations — Health and care organizations can obtain assistance through the Microsoft Volume Licensing for Health program.
How to apply for Dynamics 365 nonprofit pricing
To apply for the discounted nonprofit pricing, you need to register your organization with Microsoft and prove your eligibility by providing documents such as the organization's tax identification number, or registered documentation from an official government entity such as a charity commission.
To verify the organization's eligibility, TechSoup, or a local TechSoup partner, may get in touch within 20 days to obtain more information.
If and when eligibility is validated, Microsoft will send an email with details of available nonprofit offers, and a link to the Microsoft Nonprofit Portal, through which proposals can be accessed, and you can begin your organization's digital transformation.
Want the short version of this blog to take away? No problem; we've summed up the key points from this post into a handy infographic.
Ready to get started with your digital transformation? The key to an effective roll-out is having an expert on your side. Upload your specifications, and we'll find the right Dynamics 365 professionals to make your implementation a success.
Looking for Dynamics professionals for your nonprofit?
We've built the biggest network of talented Dynamics professionals in the world, many of whom have industry-specific experience. Take the first step to hiring the best administrators, developers, and consultants by browsing our database for free.