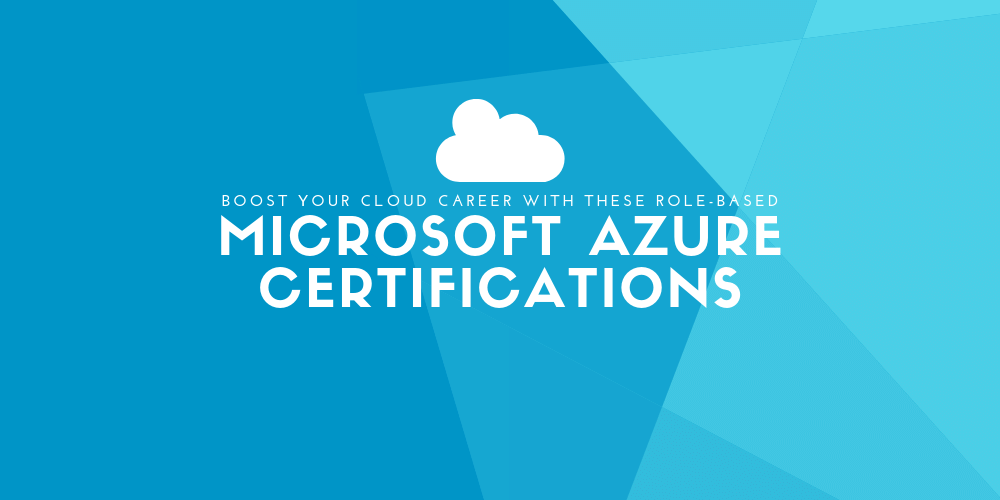 Are you thinking about the next step in your tech career? With Microsoft's new role-based Azure certification paths offering a great way to sharpen and validate your skills, now's the time to get aboard the cloud train.
Although cloud computing has been around for a while, concerns about security and a reluctance to revamp business processes have meant a slow but steady adoption of serverless apps and services.
Now, it looks like the world is finally warming up to the idea of cloud computing, as organizations around the globe utilize managed cloud services like Azure to handle more and more of their operations and processes.
Spending on cloud services is set to exceed $500 billion over the next few years. Businesses are moving on from the limitations of traditional infrastructure—four in every five Fortune 500 companies currently use Microsoft Azure, and companies of all shapes and sizes are catching up fast.
But that money can only be spent if there are professionals ready to fill Azure job roles, and currently, there aren't nearly enough cloud professionals available to take up the positions on offer. That skills gap is only set to get wider as uptake of cloud computing increases, and the products themselves continue to develop.
The upside of this talent shortage is that it's created a candidate's market. With too few professionals to go around, businesses are fighting to get the skills they need on their teams, driving up salaries in the process. This is excellent news for developers, engineers, architects, and anyone else looking to get into the cloud ecosystem.
The number one way to position yourself as an invaluable cloud talent is to get as much hands-on experience in this burgeoning market as possible. But the cloud is still a new concept to many businesses who've been huddled around a roaring in-house server for decades.
That means it's often hard for professionals already in tech to get the experience they need to build a career in cloud. It also means that many cloud customer businesses find it challenging to understand and verify the skills of the people they're looking to hire.
Certification is a great way to assuage both of these issues. You get to develop and validate your skillsets, and even not-technical hiring managers will be able to see that you have the skills they want right away.
With Azure becoming increasingly hot property, Microsoft has modernized its certification structure to better reflect today's cloud-focused jobs, making their exams more role-focused and updating the aptitudes they cover.
Let's take a look at the Microsoft Azure certifications available to help you give your cloud career a boost.

Azure certifications: Fundamental Level
Microsoft's Fundamental certifications are great for anyone either taking their first steps into technology, or considering a career change and adopting a new specialism.
There are no prerequisites for taking one of these certifications, and you only need a reasonable grasp of tech concepts to get started.
Currently, there's only one Azure-related Fundamental level certification. It covers the full scope of Azure basics, giving you a thorough foundational knowledge of the technology that'll enable you to drill down into a more technical area of the platform.
Microsoft Certified Azure Fundamentals
This beginner's badge certifies that you understand basic cloud concepts, know what core services Azure offers and how they're priced, and the essentials of cloud security, privacy, and compliance.
To earn this certification, you'll be expected to demonstrate your understanding of the benefits and considerations of using cloud services in general, the differences between core cloud service types like IaaS, PaaS, and SaaS, as well as public, private and hybrid cloud models.
You'll also be quizzed on your knowledge of Azure services. There are a huge number of services available on Azure, so you won't have to know them all inside-out, but you should be able to describe Azure's key architectural components, some of the most popular products, and the functions of some of Azure's management tools. Pricing and how Azure's subscription model works will come up too.
It'll also cover the fundamentals of network security, identity services, governance methodologies and the platform's privacy, compliance and data protection standards.
Exams: Exam AZ-900: Microsoft Azure Fundamentals
What can you earn as an Azure professional?

Azure certifications: Associate Level
Microsoft's mid-level credentials, Associate certifications require around two years of working experience of the products they cover. It'll probably be helpful if you earn a related Fundamental certification before trying for Associate, but it's not mandatory.
At the moment, there are seven Associate level Azure badges on offer, each aligned to a particular Azure career. So, whether you fancy yourself as a developer, administrator, data scientist, or even an AI engineer, there's a certification for you.
Microsoft Certified: Azure Security Engineer Associate
With data security a hot button topic in today's business world, Security Engineers are some of the most in-demand professionals on the market.
The Azure Security Engineer Associate certification will rubber-stamp your ability to perform the responsibilities that come with the role, like implementing security controls and threat protection, managing identity and access, and safeguarding data, applications, and networks.
Topics covered by this certification include configuring Azure identity management, container security, resource management security, managing security alerts, arranging encryption for data at rest, and managing Key Vault.
Exam: Exam AZ-500: Microsoft Azure Security Technologies
Find Azure Security Engineer jobs
Microsoft Certified: Azure Administrator Associate
Azure Administrators oversee the performance and maintenance of Azure solutions. Admins often wear a lot of hats, and are typically responsible for configuring and monitoring the Azure platform's compute, storage, network, and security.
The Azure Administrator Associate certification will verify your capacity to: manage Azure subscriptions; analyze resource utilization and consumption; deal with backups, imports, exports and storage accounts; deploy and manage virtual machines and networks; manage security features like Active Directory and multi-factor authentication.
Exam: Exam AZ-103: Microsoft Azure Administrator
Find Azure Administrator jobs
Microsoft Certified: Azure AI Engineer Associate
Want to be at the cutting edge of cloud technology? A career as an AI Engineer might be for you. Artificial intelligence and machine learning are pushing the boundaries of what we can do with technology, and Azure AI Engineers are on the front lines.
Using Azure tools like Cognitive Services, Machine Learning, and Knowledge Mining, AI Engineers allow their clients to take advantages of technologies like speech and natural language processing, computer vision, and virtual agents.
The Azure AI Engineer Associate certification will help demonstrate that you have the skills to help businesses revolutionize the way they work.
You'll be tested on your ability to gather requirements, design AI solutions, and integrate, deploy, and manage AI models.
Exam: Exam AI-100: Designing and Implementing an Azure AI Solution
Find Azure AI Engineer jobs
Microsoft Certified: Azure Data Engineer Associate
Data is the lifeblood of any modern business, and it's the job of an Azure Data Engineer to manage an organisation's data and ensure maximum performance and privacy.
Displaying your grasp of Azure storage solutions—from SQL and No-SQL databases to hybrid data scenarios—as well as how to design and implement them will be a core part of earning the certification. Developing and automating big data processing solutions, security and regulation, data monitoring, and disaster recovery will be covered too.
Exam: Exam DP-200: Implementing an Azure Data Solution or Exam DP-201: Designing an Azure Data Solution
Find Azure Data Engineer jobs
Microsoft Certified: Azure Data Scientist Associate
The other side to the big data coin, Azure Data Scientists use the platform's machine learning technology to train, assess, and install smart data analysis models that solve business problems by surfacing valuable insights from huge quantities of information.
The Azure Data Scientist Associate helps candidate your skills with data development environments, prepping data for modelling using approaches like Exploratory Data Analysis (EDA), performing data feature engineering, and developing, coaching, and evaluating algorithmics
Exam: Exam DP-100: Designing and Implementing a Data Science Solution on Azure
Find Azure Data Engineer jobs
Microsoft Certified: Azure Developer Associate
Tasked with designing, building, testing, and preserving cloud solutions, Microsoft Azure Developers work in partnership with solution architects, DBAs, administrators, and clients to implement cloud-based applications and services.
To earn this certification, you'll need to know how to develop cloud storage solutions, create PaaS and IaaS solutions, develop for cloud models, create Azure Cognitive Services, Bot, and IoT solutions, and integrate services with third-party platforms.
Exam: Exam AZ-203: Developing Solutions for Microsoft Azure
Find Azure Developer jobs

Azure certifications: Expert Level
The crème de la crème of Microsoft accreditations, Expert level certifications are highly regarded in the tech space, due to their thorough coverage of deeply technical product knowledge. Those looking to earn Expert badges should have two to five years of practical experience before tackling an exam.
There are two Azure-based Expert certifications to date, and both require a specific Associate level certification as a prerequisite.
Anyone holding this top-level badge will be a sought after commodity by hiring managers looking for cloud talent.
Microsoft Certified: Azure DevOps Engineer Expert
Acting as a bridge between technology, processes, and users, Azure DevOps professionals work to deliver useful products and services that fit the needs and objectives of their clients.
This certification covers areas like designing a DevOps strategy, implementing DevOps development processes, implementing app infrastructure, managing dependencies, and continuously gathering feedback to allow for the improvement of solutions.
Exam: Exam AZ-400: Microsoft Azure DevOps Solutions
Find Azure DevOps Engineer jobs
Microsoft Certified: Azure Solutions Architect Expert
Microsoft Azure Solutions Architects need to possess robust, practical expertise in every area of Azure's function and structure, from compute and networking to storage, and security. Their role is to design solutions that run on Azure and help their users be more productive.
To earn this certification, you need to be a master in the Azure solution architecture field. Because the cert covers so much ground, you need to pass two exams to be crowned an Azure Solutions Architect Expert. These exams cover areas like:
Deploying and configuring infrastructure
Implementing workloads and security
Creating and deploying apps
Implementing authentication and securing data
Developing for the cloud and for Azure storage
Determining workload requirements
Designing for identity and security
Designing a data platform solution
Designing a business continuity strategy
Designing for deployment, migration, and integration
Designing an infrastructure strategy
Exams: Exam AZ-300: Microsoft Azure Architect Technologies and Exam AZ-301: Microsoft Azure Architect Design
Find Azure Solutions Architect jobs

Microsoft Azure certification cost
Each of Microsoft's Azure certifications requires you to sit at least one exam; for some expert-level certifications, you must pass two. The majority of these exams cost $165 USD per attempt, though the exam for the entry-level Microsoft Azure Fundamentals badge is slightly cheaper at $99 USD.
If you don't pass the first time, you'll have to pay for the exam again. The good news is that Microsoft provides several exam packages that offer cheaper resits.
The Certify with Confidence package costs $230 USD, and includes one certification exam, plus two retakes. Your other option is the Certify with Confidence with Practice Test, which includes one certification exam, two retakes, and access to one official Microsoft practice test. This package costs $265 USD.
Ready to get your Azure journey started?
 Take a tip from the global leaders in Microsoft recruitment; register today and let us help you build a career in this booming industry.