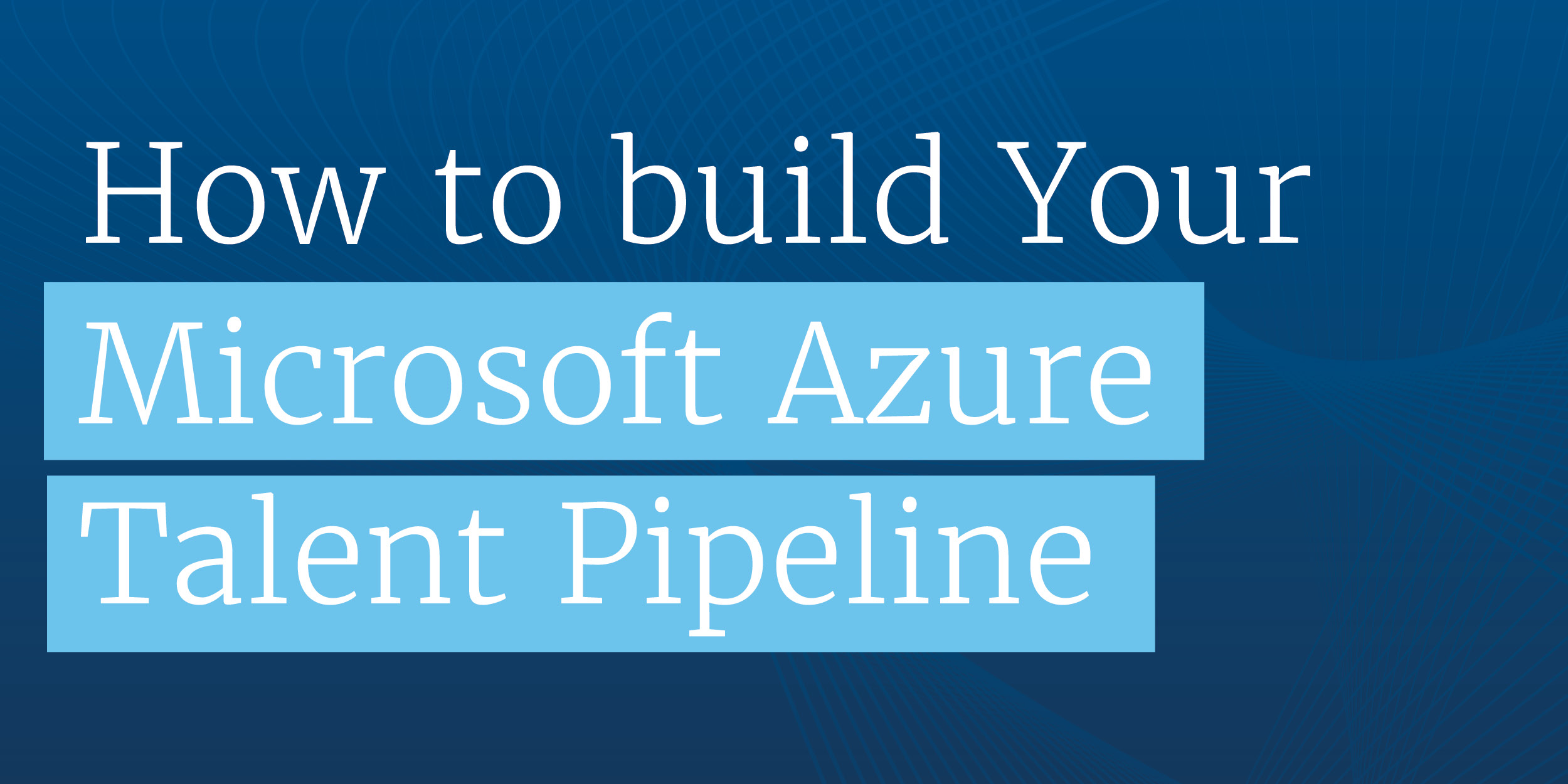 Finding talented Microsoft Azure professionals to join your company is vital if you want to get the most out of the platform, but expanding your workforce isn't always straightforward. Despite pandemic-related disruption, the tech industry is consistently growing, and more than 178,000 tech roles are expected to be created in the U.S. alone throughout 2022.
Although businesses have an increasing need for talented IT professionals, attracting and retaining tech employees can be tricky. Pre-pandemic, the Smithsonian Science Education Center reported that 2.4 million STEM roles were expected to go unfilled, while employers posted around 340,000 unfilled tech roles in January 2022 alone, according to CompTIA.
As IT-related roles continue to go unfilled, it's important to enhance your reputation as an Azure and tech employer and to provide IT professionals with enticing offers. By cultivating an enviable work culture and offering meaningful benefits, organizations can begin to create an environment that meets the needs of today's tech workers.
Impact on productivity and business growth
Companies often begin advertising for new employees or contractors when the need for their skills arises. At this point, however, the organization is already in need of additional, specialized support and any delay in hiring a candidate can have a demonstrable and devastating impact on productivity and performance.
In today's climate, where new tech roles are continually being created and top Azure professionals have their pick of roles, trying to recruit staff quickly can lead to unmanaged expectations and poor outcomes, which further fuels underperformance.
Without the right 'human resources', companies can't reach their full potential, and delayed or disrupted recruitment processes prevent businesses from attracting and retaining the skilled professionals they need. But by re-thinking the way you acquire staff, you can overcome the problems that many tech employers are facing and build robust and dynamic teams to supercharge business growth.
Talent pipelines: What are they and why do they matter?
A talent pipeline is essentially a group of pre-determined candidates that you hire for an upcoming or future role. Your Azure talent pipeline should consist of qualified or certified, high caliber, experienced professionals who can deliver immediate and long-term value to your business.
When you have a talent pipeline in place, you don't have to start your search for new candidates from scratch. If a position becomes available or company expansion means you need to hire an entirely new team, your talent pipeline provides instant access to high quality professionals who can deliver the skills and expertise you need.
A talent pipeline allows you to take a proactive approach to recruitment and gives you the opportunity to develop a talented and diverse Azure team. In contrast to the reactionary approach that businesses often take to recruitment, a talent pipeline foresees your future needs and ensures you have constant access to the talent you need to fuel your business.
Building a talent pipeline
Talent pipelines are a valuable way of expanding your workforce, but how do you go about building and maintaining a talent pipeline that can deliver Azure professionals as and when you need them? Take a look at our top tips and start developing your Microsoft Azure pipeline now:
1. Examine your long-term objectives
Your company's long-term goals will determine what staff you need to fulfil your aims and when you'll need to hire them. For example, if you're planning to transition from a server-based infrastructure to cloud operations in the next 12 months, you'll want to hire Azure professionals to facilitate the project.
Similarly, if the business is going to expand over the next five years, you may be looking for employees to supplement your existing workforce and, if so, you'll need to ensure you have talented candidates to choose from.
When your company's long-term strategy is clearly defined, it is easier to accurately predict your workflow needs and cultivate a talent pipeline to satisfy them.
2. Consider candidate sourcing methods
Businesses that wait for candidates to apply for vacant positions can be disappointed with the caliber of their applicants, which is why proactive sourcing methods are advantageous. Rather than relying on incoming inquiries, establish which candidate sourcing methods you're going to use to fill and re-fill your talent pipeline.
Creating a candidate database can be an effective way to keep track of high-quality Azure professionals that would be a good fit for your team, and social sourcing can be a cost-effective way to increase your reach.
3. Connect with future employees
Potential new hires should be aware that they're part of your talent pipeline, so don't wait until a relevant vacancy becomes available to make contact with them. Instead, initiate contact at an early stage and get to know candidates so that you can assess their suitability for particular roles or projects.
This gives you an opportunity to get to know the people in your talent pipeline and ensures you're well-placed to make future hiring decisions. Furthermore, connecting with talent pipeline candidates early on shows potential future hires that you're interested in their skills, which will motivate them to learn more about your organization and available roles.
4. Deliver value
Creating a talent pipeline generates a lot of benefits for your business, but it's important to deliver value to candidates in your pipeline too. After all, you'll need to motivate candidates to remain engaged and encourage them to interact with you, if you want them to join your team in the future.
Some businesses launch invite-only virtual spaces for pipeline candidates to connect, while others share highly relevant online content that informs and educates users about industry developments. Similarly, you can use this opportunity to showcase your company's culture and give candidates a glimpse of what they can expect when they come on board.
5. Review candidates regularly
As time goes on, candidates may complete additional training or obtain Azure certifications to enhance their skillsets, relocate to a new area, or transition into an entirely new industry. Due to this, it's important to reassess candidates on a regular basis and determine whether any changes affect their suitability as a future employee.
If a candidate gains leadership experience in their current role, you may consider them for more senior positions than you originally matched them with. Alternatively, a contract worker who expresses an interest in joining a team permanently may become a top choice for an upcoming full-time role.
6. Consider in-house professionals
When you're cultivating a talent pipeline, don't focus solely on external candidates. Instead, look to your current workforce and determine how employees can continue to deliver optimal value as your company evolves.
Investing in training and upskilling will not only provide existing employees with career development opportunities, but it also prepares them for future roles within your firm. As a result, you'll be able to offer current staff promotions or cross-product opportunities and generate increased value from reliable employees who are already familiar with your corporate culture and work environment.
7. Prioritize diversity
A diverse workforce can enhance business performance, which is why you should prioritize diversity when building and nurturing your talent pipeline. From gender and ethnic diversity to working styles and cognitive diversity, there are many aspects to consider when building a team that is genuinely inclusive.
You may want to incorporate both permanent and contract staff into your talent pipeline, so that you have access to top candidates for a variety of upcoming roles, for example. Additionally, developing a diverse talent pipeline will enable you to reflect this diversity in your workforce via your new hires.
How can a specialist recruiter help you build a talent pipeline?
Creating and nurturing a talent pipeline requires expertise and experience. What's more – maintaining a talent pipeline can be time-consuming, particularly if you don't usually manage your recruitment processes in-house. While the benefits associated with pipelines are evident, many businesses struggle to implement effective practices when it comes to sourcing and engaging candidates.
By working with a specialist recruiter like Nigel Frank, you can access the Azure-specific services you need to build a custom talent pipeline for your company. With an existing network of over 300,000 pre-screened Microsoft professionals and more than 375 recruitment consultants, we've got the resources, reach, and reputation to help you build effective pipelines and successful teams.
Want to know more? Contact our recruiters today or discover the candidates we have in our roster.
Looking for fresh Azure talent to join your team?
More choice than any other agency and many candidates ready to start immediately.