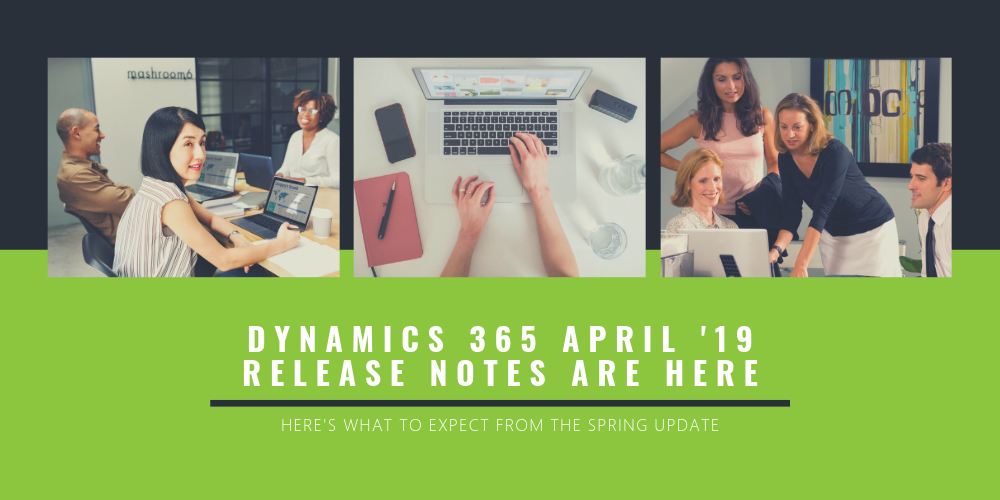 Microsoft has released details of the latest update to its business software app Dynamics 365.
The 315-page document outlines all the fixes and new features that will be rolled out to the software between April and September this year; one of two annual updates, the second of which will begin hitting the product in October.
Promising hundreds of new capabilities, the update—tentatively known as v10 Online—will effect Dynamics 365's CRM and ERP apps, as well Microsoft's Power Platform. Microsoft Layout and Microsoft Remote Assist will also see new mixed reality features.
The first iteration of the release notes touches on updates to Sales, Marketing, Customer Service, Portals, Field Service, Project Service Automation, Finance and Operations, Talent, Retail, and Business Central.
Previews of the new functionalities will be available from February 1st for those who opt into a release preview, with updates available in production environments from April 5th.
The April '19 release is a key moment for Dynamics 365—the update will be the first major release to bring all Dynamics 365 customers onto the same version, and kicks off Microsoft's consistent bi-annual update schedule in earnest.
As well as all the usual incremental improvements, users can expect to see a big push on the AI front. Microsoft has stated that the April update will have a particular focus on machine learning, with Dynamics 365's handful of AI-powered CRM seeing the benefit of the company's continued investment into automation technology.
AI for Sales will enjoy predictive forecasting and beefed-up call-intelligence, while AI for Market Insights will be able to suggest related topics within searches and correlate Bing search results with information pulled from social media.
The update will bring a new AI app into the Dynamics family too, as AI for Customer Insights hits general availability for the first time. Aiming to provide a centralized space for customer service insights, AI for Customer Service will integrate directly with apps like Salesforce, Zendesk, and ServiceNow to offer users a universal dashboard to track and analyze the performance of both human agents and chatbots.
Here's what Dynamics 365 customers can expect to see in each app when the updates hit the platform in a few months' time.
Dynamics 365 for Sales
As Dynamics 365's core CRM app, Dynamics 365 for Sales is the recipient of a lot of new features to help salespeople be more informed and more efficient.
Capitalizing on Microsoft's purchase of LinkedIn, the update will add LinkedIn-driven organization charts to Sales, giving users an overview of LinkedIn profile information without having to leave the Dynamics 365 interface. These intelligence org charts will also display the estimated strength of the user's relationship with the contact and can issue alerts when key people change roles or move companies, making sure sales executives don't miss a beat.
There'll also be improvements rolled out to the playbook feature, introduced in the last update, to help organizations capture knowledge and turn it into scripted lists of tasks for optimal performance. Playbook content will be delivered contextually, and managers can add documents and further reading to playbook activities.
Forecasting dashboards will be getting a spruce up too, with new, user-friendly forecasting features that can pull data from Excel or CSV, and generate straightforward predictions for things like pricing, products, and accounts.
Other updates include new connectors—built on the foundation of the Common Data Service for Apps—to allow Sales to seamlessly connect to the best configure-price-quote solutions, the ability to augment customer data by adding multiple third-party data providers, and a Dynamics 365 app for Microsoft Teams will help sales teams better collaborate on opportunities.
Dynamics 365 for Customer Service
As well as improve general usability, customizability, and building out its integration options,  the update will bring new features like knowledge base templates and analytics.
Also arriving for Customer Service is the new Omni-Channel Engagement Hub, a cloud-based service that enables app users to connect and communicate with customers through additional channels like customer service portals, live chats, text messaging, and an organization's own custom bots.
The service comes with a host of features to boost service agents' efficiency, like dashboards, contextual customer identification, real-time notifications, quick replies, and conversation transfers to help agents solve customer issues and close cases more quickly.
Dynamics 365 for Field Service
Field Service users will see big improvements to the app's IoT capabilities, following on from the app's integration with Azure IoT Central late last year. Going forward, IoT Central will be fully embedded into Field Service, bringing more analytical power to the app to help diagnose and direct work orders and give contextual information and background on the issue.
Dynamics 365 for Marketing
Launched in April 2018, Dynamics 365 for Marketing is one of the newest major apps in the Dynamics stable. After a slow start, adoption of the marketing automation app is spiking, and the new features are coming thick and fast as Microsoft looks to flesh out its offering and claw its way to a greater share of the growing MA market.
In this round of updates, Marketing will see a host of incremental improvements to features like target segments optimization, customer journey building, onboarding, and integration. The app's social marketing functionality will also be enhanced, supplementing its current social insight and analytics offerings.
Enhancements will also roll out to the app's event functionality, boosting event management capabilities and adding features like waitlists for individual sessions, registration for free events, and QR code embedding.
A rich set of new APIs will enable Marketing to connect to a wider range of third-party apps and services, including content management systems, letting users host any or all of their Marketing forms and content on a third-party CMS while still being able to collect and analyze interaction data with Dynamics 365. Personalization features will also be extended, allowing marketers to personalize landing pages based on customer attributes and past interactions.
One of the most exciting all-new features landing in April is Marketing's new mixed reality capabilities. Marketers will be able to add mixed reality content to marketing emails and web pages. Recipients will be able to experience rich 3D content on desktop browsers, and full augmented reality content on headsets like Microsoft's HoloLens.
Dynamics 365 for Finance and Operations
Finance and Operations is set to receive a huge dump of updates and improvements across all of its functional areas, from financial management and product and warehouse management, to sales and procurement, manufacturing, and globalization.
The update will also affect how users implement new features. The persona-opt-in feature will allow individual users to opt-in to new capabilities on a month-by-month basis, letting them roll out and get to grips with updated functionality at their own pace.
The app's core financial management module will see updates to areas like automatic ledger settlements, reverse journal posting, revenue recognition, foreign currency revaluation, and billing schedules.
Inventory and warehouse management features will be tightened up too, and manufacturers can expect incremental improvements to master planning and removal of obsolete data.
On the globalization front, updates will be rolled out to improve the app's usability around the world, like configurable invoices for new regions, improvements to electronic reporting and global tax engines.
Integration capabilities will also be improved going forward, as users will be able to add Finance and Operations data to the Common Data Service for Apps with just a few clicks. There'll also be an option for customers to use their own Data Lake and configure it within Finance and Operations.
Dynamics 365 for Talent
Microsoft is using the April '19 update to significantly strengthen its HCM offerings by bringing a range of rich new features to its Attract and Onboard apps. The company is aiming to push Attract beyond the realms of simple applicant tracking systems and differentiate it from similar solutions.
Updates to Attract include the ability to: post, edit, and remove ads from multiple external job sites; build an engaging career site; track application sources; create customizable job forms, profile forms, and custom recruiting workflows that map to candidate origin; track silver medalists; organize internal candidate pipelines; and allow candidates to apply for a job directly from within LinkedIn.
Onboard will receive significant improvements and new features too, like action-oriented dashboards, rich analytics, new hire reminder emails, automatic 1:1 scheduling, streamlined guide administration, and a Teams app for Onboard to help share best practices across your organization.
Dynamics 365 for Retail
Continuing its quest to disrupt the traditional retail market and bring more personal, integrated shopping experiences to consumers, Microsoft is bulking up its Retail offering around core capabilities, unified commerce, and intelligence and insights.
Enhancements dropping from April include improvements to distributed order management and product discoverability, multi-region cloud scaling, and automatic updates.
Dynamics 365 Business Central
Another relative newcomer to the team, NAV successor Business Central will be rocking a revitalized interface across both desktop and browser versions of the app come April.
NAV's dedicated and passionate user community have put forward a lot of ideas on how to better Business Central since its launch, and the Dynamics development team have listened; many of the updates coming over the next few months have been created as a direct response to user feedback.
Microsoft is implementing a heap of incremental changes to optimize app performance, making it faster, easier to use, and more customizable. There'll also be improvements and new productivity tools for administrators and developers.
What's coming to other apps
The company also is adding more features to the Dynamics 365 Layout and Dynamics 365 Remote Assist mixed-reality apps in this release, including real-time collaboration and editing in Layout; and new annotation, group calling, screen sharing and integration with Field Service for Remote Assist.
PowerApps users are getting incremental platform and tooling updates in the April '19 release. A common unified interface will become the default experience for CDS for Apps with this release. Flow also gets a bunch of incremental new features, including integration with Microsoft Learn, OneDrive for consumers and tighter integration with Teams.
Business intelligence platform Power BI is getting unified access to data between it and Azure Data Lake Storage and better self-service data-preparation functionality. A connector for LinkedIn Sales Navigator and Power BI Desktop is coming in June in public preview form.
Further release notes are set to be released on February 21st covering new features for Project Service Automation and other apps.
Need talented Dynamics professionals on your team? Find the candidates you need in your own time, on your own terms with our free Candidate Search. The best available Microsoft technology professionals in one place.