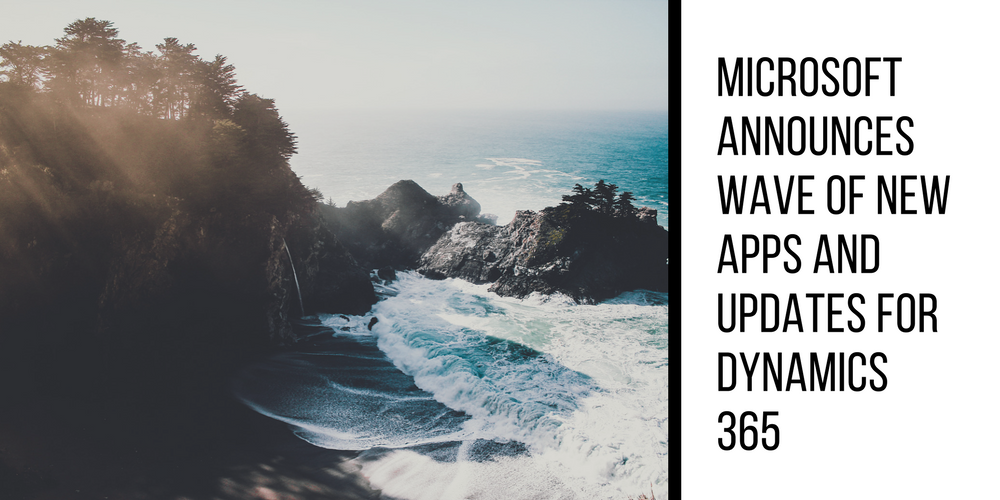 Microsoft has unveiled details of a wave of updates to its Dynamics 365 business application suite, set to go live this Spring, including new apps, new platform capabilities, and deeper intelligence capabilities across the stable.
Part of the updates scheduled to be rolled out shortly is the release of a new sales app. A streamlined version of Dynamics 365 for Sales, Dynamic 365 for Sales Professional will feature capabilities from opportunity management to sales planning and performance management, and aims to optimize sales processes and productivity for businesses that don't require the full functionality of the main Sales app.
Dynamics 365 for Sales Professional will be infused with artificial intelligence to offer guidance and recommendations throughout the sales cycle. Customers will also be able to take advantage of the suite's native integration with LinkedIn by using the app alongside Dynamics 365's LinkedIn Sales Navigator. Like other apps under the Dynamics 365 umbrella, Sales Professional will work seamlessly with Office 365 to help users get more out of their business and email data. The app's analytical dashboards will enable users to make sense of and act upon their sales data.
The release of Sales Professional is further evidence of Microsoft's modular vision for Dynamics 365 in action. Having just announced a release date for its SMB-focused ERP app Dynamics 365 Business Central, Sales Professional would appear to represent the company's efforts to target the small-to-midsize business market by offering a similarly pared-down, accessible product for CRM customers.
Dynamics 365 for Sales Professional isn't the only new app that will be hitting general availability this Spring; the long-awaited Dynamics 365 for Marketing has now been scheduled for an April 2018 release, following three months of public previews.
Further innovations expected to hit the suite, according to an announcement at yesterday's Business Forward event in Amsterdam, include a new range of business intelligence services powered by Azure.
The new Power BI Insights apps promise to deliver insights out-of-the-box, with pre-set dashboards tailored to offer in-depth, intelligent reports into specific aspects of business, including marketing, sales, service, operations, finance, and talent.
This intelligence is delivered by applying AI capabilities to a subset of Microsoft data, with the apps built to allow businesses to get insight into their data as quickly and efficiently as possible. However, customers can also improve the relevancy and accuracy of their BI solution by looping in additional information from across Azure's data services, or third-party sources, or customizing their app.
The first apps from the Power BI Insights family, Power BI for Sales Insights and Power BI for Service Insights, are set to hit public preview this Spring.
Dynamics 365 for Sales users will be able to embed Power BI for Sales Insights into their CRM app to offer a centralized view of their customer relationship data. Power BI for Sales Insight will stitch together vast amounts of data from transactions, emails, and social networks, factoring in other information such as frequency of customer interactions and customer sentiment, to present a relationship health score. This score will help users predict future customer actions, and identify their most profitable leads.
Microsoft will no doubt be hoping that these predictive intelligence updates will help them compete with the likes of Salesforce, which introduced similar features recently with its Sales Cloud Einstein service.
Dynamics 365's flagship apps will also enjoy an AI overhaul when Spring updates are rolled out. New embedded intelligence capabilities in Dynamics 365 for Sales, for example, will include:
Relationship assistant, which will issue alerts and reminders to salespeople to help move relationships forward

Auto capture with Outlook, which will analyze email to find messages relevant to specific accounts and track them in Dynamics 365 for Sales

Email engagement, which will deliver insights from email with customers to help sellers prioritize their most receptive contacts
Microsoft also announced significant updates to Dynamics 365's Common Data Service. Upgrades to the CDS for Apps will make it easier for users to share data across apps, and further facilitate the building of applications using services such as PowerApps.
As James Phillips, Corporate Vice President of Microsoft's Business Applications Group, said in a blog post yesterday, the update will "enable a broad set of capabilities for modeling sophisticated business solutions.
"Combining these new capabilities with PowerApps' existing high-productivity, point-and-click app development approach unlocks new potential for customers to customize existing apps across Dynamics 365 and Office 365, and quickly build new ones."
Further updates to the CDS will also benefit Power BI; Common Data Service for Analytics will be rolled out to Microsoft's business intelligence platform, and will build on Power BI's existing catalog of app connections to help users connect to other cloud apps like Dynamics 365 and Salesforce.
Phillips said of the update: "Common Data Service for Analytics will help reduce this complexity with the addition of an extensible business application schema built on the common data model.
"Organizations will be able to integrate data from multiple sources and empower users with access to business analytics across all data relevant to them."