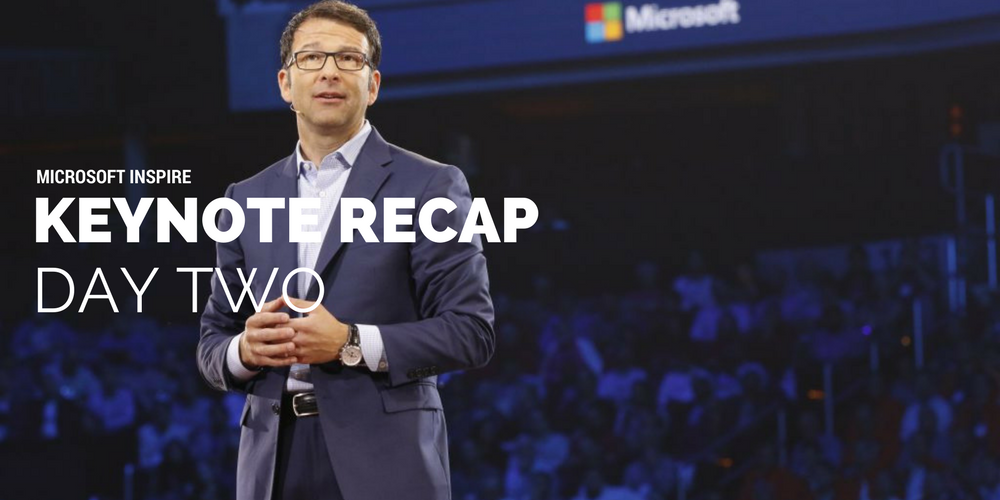 After a stunning performance from composer and conductor Steve Hackman and the Capital Symphonic Youth Orchestra, EVP of Worldwide Commercial Business Judson Althoff took Microsoft Inspire attendees through the company's four-step vision for digital transformation.
In Inspire's kick-off keynote yesterday, Satya Nadella spoke of the $4.5 trillion of opportunity provided by digital transformation, going beyond the IT market. And the way Microsoft says they're going to capitalize on that opportunity is to work together with their partners.
Digital transformation, Althoff stated today, began with empowering organizations to re-imagine their business processes, which would, in turn, allow them to engage their customers, empower their employees, optimize their operations and transform their products. During his day two keynote, Althoff displayed how three partners were helping their customers re-envision their business models and push the boundaries of what they can achieve through digital transformation.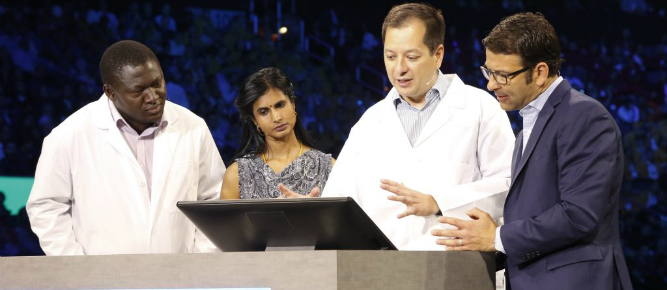 Helping organizations achieve more through digital transformation
First to the stage were Cape Town-based partner BroadReach, a tech consultancy firm that helps health programs in underserved regions develop and employ technology to improve efficiency, and drive positive social and wellbeing outcomes.
In partnership with charity USAID, BroadReach put in place the 90-90-90 Challenge, which uses a data-driven strategy to combat HIV in South Africa.
The program aims to reach the following goals by 2020; that 90 percent of citizens living with HIV to know their status, that 90 percent of people infected to be on antiretroviral therapy, and that 90 percent of those on treatment to be virally suppressed.
To help achieve these ambitious but vital objectives, BroadReach employed the Vantage platform to streamline and improve analysis, workflow and service delivery. Thanks in no small part to Vantage, since its adoption viral load completion rates almost tripled, suppression rates rose from 57 to 81 percent, and 55 person-years were saved by automating data collection and reporting. In the five districts where the program is being utilized, half a million lives are expected to be saved by the end of this year.
To help improve the program's effectiveness even further, the BroadReach team are planning to use Azure, Office 365 and Teams to better connect clinics and their staff. They also plan to roll out machine learning to help predict which patients are at risk of discontinuing their treatment.
Next to show off their business processes was world-leading cosmetics brand Sephora.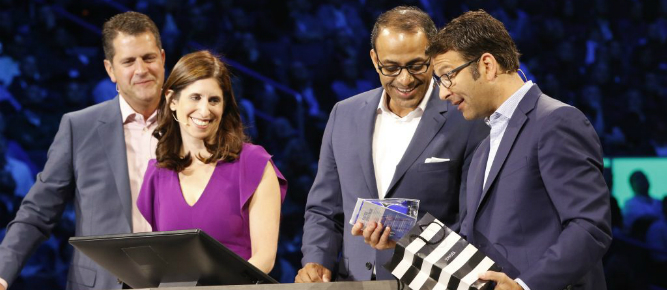 Microsoft Dynamics and Adobe Marketing
After looking for new ways to create smarter, more data-driven ways to engage its customers, Sephora partnered with marketing consultancy SapientRazorfish, which used Dynamics 365's new integration with Adobe Marketing to engage customers by email, direct mail, SMS, and mobile push notifications based on their location, preferences and purchase history.
Abode's marketing platform, hosted on Microsoft Azure, helps provides the brand with a complete view its customers and aligns that data with other factors such as their environment and the time of year to fuel personalization of the customer experience, and build smart, tailored marketing campaigns with ease.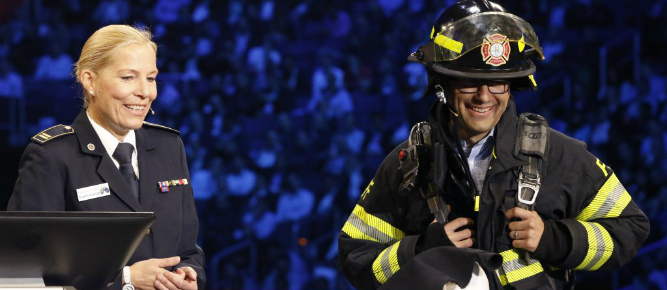 "Together, we will make a difference"
Finally, we saw how award-winning Microsoft partner ProMX have helped safety and engineering firm HHPBerlin's open up new market opportunities through the One System Dashboard; a Dynamics solution that provides simplified workflow management, faster project delivery, and product innovation.
A building information management system built entirely on Azure, One System Dashboard offers a 3D view of progress and real-time project updates, and automatically generates amendments to client quotes, producing a  more harmonized, precise, and detailed project.
Through One System Dashboard, HHPBerlin's FireFramework program uses a 3D building model to predict and simulate potential fire paths, allowing the engineers to put in place measures to combat these scenarios. The system also gave rise to FireBot, which uses Microsoft's cognitive services and vision AI to help citizens report a fire or other emergency by sending a picture from their phone.
The keynote ended on an emotional note, as Dr. Thomas C. Lee of the Los Angeles Children's Hospital came face to face with an Armenian girl he helped save from blindness.
Alongside SADA Systems, and using Skype for Business and OneDrive, Dr. Lee was able to assist surgeons halfway around the world restore sight to premature children suffering from a treatable but devastating form of childhood blindness, showing just what a vital difference digital transformation can make to real lives.
"Together, we will make a difference," Althoff concluded, "and together we will change the world."
Register today and take the first step towards a great career in Microsoft Dynamics.