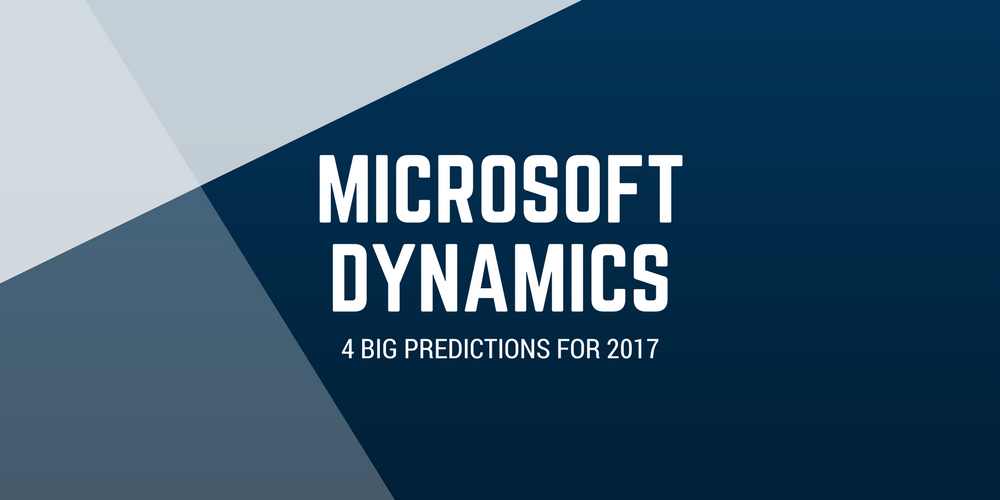 With the release of Microsoft's new cloud business solution suite Dynamics 365, the company's recent purchase of LinkedIn, and rapid developments in the use of AI, 2017 was always going to be a big year for Microsoft Dynamics.
While even the most in-tune tech experts can't predict the future, it was clear that big change was afoot in the ecosystem. So, we thought it'd be a good idea to find out what might be in store for Dynamics in the coming year from people in the know.
This time last year we asked four Microsoft Dynamics gurus to whip out their crystal balls and tell us what they thought was on the cards for Microsoft Dynamics in 2017.
Now that we have the benefit of hindsight on our side, let's take a retrospective look back at our experts' key predictions, and see how they hold up against the massive developments that took place with Microsoft Dynamics throughout 2017.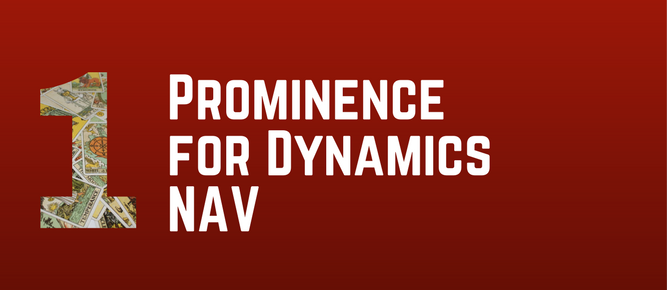 Prominence for Dynamics NAV
Back in December last year, NAV Developer Gunnar Gestsson told us that he believed NAV would be at the forefront of Microsoft's new cloud strategy for Dynamics, and while its adoption would be by no means meteoric, NAV's trusted functionality would lead the charge for users to make the change to Dynamics 365.
"The current release of Dynamics 365 for Financials will not become mainstream overnight, but it will, for sure, reaffirm our conviction and belief in that we're heading in the right direction," said Gestsson. "I expect that, in just a few months, we will all start to look at Dynamics 365 for Financials as an exciting cloud offering for most of the small and mid-size businesses within our region.
It's certainly true that NAV proved a huge part of Microsoft's plan when it came to Dynamics in 2017, and its plans for the future. As well as acting as a foundation for Dynamics 365's central ERP app, later renamed Dynamics 365 for Finance and Operations, at the end of September Microsoft announced it was restructuring Dynamics 365's branding and licensing structure, shelving its SME-targeted Business Edition, in favour of offering a cloud version of NAV as a standalone app.
Currently code-named Dynamics Tenerife, the app will act as both a new ERP app for the Dynamics 365 suite, and the 2018 edition of NAV, and will provide a vital cornerstone for smaller scale users' business processes. Its introduction in the place of Business Edition also massively simplifies the licensing options when it comes to putting together the right package to meet needs.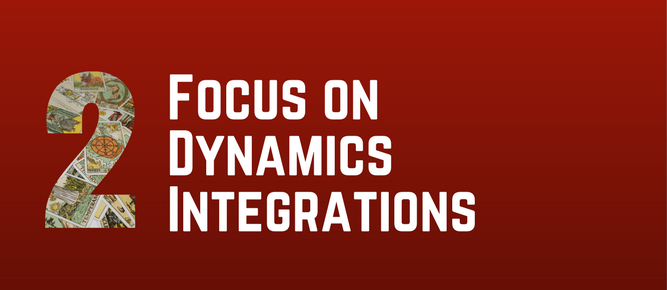 Focus on Dynamics integrations
While integrations have been available for Dynamics products for some time, Gestsson predicted that assimilation not only with third-party products but other Microsoft offerings would become more commonplace, as cloud computing continued to create new ways for products to work together.
"In the last few months we have seen Microsoft start to integrate Dynamics NAV and Dynamics 365 for Financials with other Microsoft cloud solutions," Gestsson said back in December. "In the next few exciting months, we will see this integration become more capable and see software and hardware vendors start to get involved."
Gestsson is certainly correct in his prediction that both Microsoft and third-party integrations will become a larger part of Dynamics NAV; Dynamics NAV does now integrate with other Microsoft cloud solutions such as Office 365, OneDrive and SharePoint.
Microsoft Business Solutions MVP Jukka Niiranen also shared the conviction that app connections would be one of the areas in Dynamics 365 to see the biggest developments in 2017.
"Native connectivity between Dynamics 365 business apps and Azure-based tools like PowerApps, Flow and Power BI will surely see improvement in 2017," Niiranen stated, "thus broadening the range of solutions that customers can design and implement on top of this platform."
Native connectivity has indeed continued to be rolled out throughout the year, with data from PowerApps and Power BI now available directly within Dynamics 365's interface.
Niiranen also predicted Microsoft's move to foster more integration in Dynamics 365.
"Third-party vendors will be better able to create and publish solutions for our ecosystem by utilizing standard integrations and modules; objects that developers had to create themselves in previous Dynamics NAV versions," Niiranen said. "This architecture will improve the tools Dynamics NAV offers as a means to help with integrations such as published web services, consumed web services and data exchange."
In the past month we've seen Microsoft taking steps to encourage integrations and add-ons as standard; part of the plan for the future of NAV includes an ISV version, which will enable third-party vendors to sell Dynamics Tenerife as a white-labelled cloud business solution, packaged with their own products and add-ons and tailored to meet specific customer needs.
Like his peers, Microsoft Dynamics NAV Expert Olof Simren also estimated that Microsoft Dynamics NAV would come into its own as one of the most important tools in the technology's eco-system, and would be more tightly integrated with other products.
"For the new Dynamics NAV 2017 version, I expect to see a closer integration with Office 365 and embedded Power BI, which are both part of Microsoft's efforts to bring their products closer together."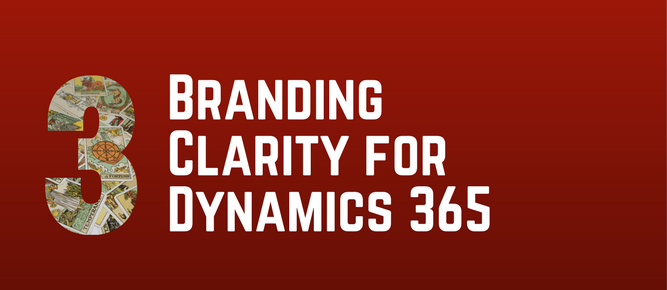 Branding clarity for Dynamics 365
Another thing that our experts called this time last year was the extensive changes that Dynamics 365's branding underwent in its first year of life.
Microsoft Dynamics GP Consultant Mark Polino believed the future for Microsoft Dynamics was very bright, but would not be without fluctuation; "Dynamics 365 is here, but it's still really new. 2017 is the opportunity for Dynamics 365 to put down roots and set the stage for growth.
"I expect Microsoft to refine and clarify their messaging around Dynamics 365, and how it fits in with both existing and new products. There's still a lot of confusion among customers and prospects, so Microsoft is going to have to clarify the sales communication."
While 2017 was truly an exciting year for the Dynamics eco-system, it hasn't exactly been smooth sailing when it came to Microsoft's plan for the licensing and pricing of its new business solutions behemoth.
The original two-edition layout for Dynamics 365 was then splintered down into plans, which gave more users more freedom to choose the functionality they wanted; a theme that has continued further with the upcoming modular licensing model. Outside of the US, Business Edition, the SME version of Dynamics 365, never saw the light of day before being shelved in favor of the mysterious and as yet unreleased Dynamics Tenerife.
The Dynamics 365 for Financials app is now Microsoft Dynamics 365 for Finance and Operations, and several of Dynamics 365 long-promised apps, including Dynamics 365 for Marketing which was set to replace the now-defunct Microsoft Dynamics Marketing service, still haven't made an appearance.
But now that Microsoft seems to have settled on a simpler licensing systems, and have set a Spring 2018 release date for many of its new apps, the Dynamics suite looks to be bedding down and coming into its own.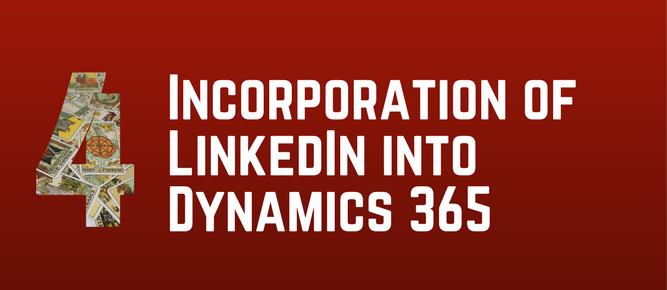 Incorporation of LinkedIn into Dynamics 365
When Microsoft purchased LinkedIn last summer, it was initially unclear what Microsoft intended to do with the platform, and how it would integrate LinkedIn's massive quantities of data into its own services.
Niiranen hypothesized that "the solutions Microsoft will develop as ready to consume apps in 2017 are likely to focus on combining the data assets, usage telemetry and network graphs from Dynamics, Office 365 and LinkedIn."
In the first half of 2017, Microsoft finally unveiled its plans to utilize LinkedIn's Graph, announcing that integrations with the business networking platform would be integral to the functionality of Dynamics 365 for Talent and Dynamics 365 for Sales.
Dynamics 365 was linked up with the LinkedIn Sales Navigator tool, giving users of Dynamics 365 for Sales access to the social network's database of 500 million users.
Later in 2017, the second phase of the integration plan was rolled out with the release of Dynamics 365 for Talent, a tool which allows HR pros to use LinkedIn's Recruiter and Learning solutions to manage the entire employee lifecycle, starting with recruiting new employees using LinkedIn data. The Talent app has since spawned two modular apps, Attract and Onboard, which silo parts of Talent's capabilities for those who don't need access to the full HR functionalities of the original product.
Features resulting from the integration include automatic matching of people within the CRM database to their LinkedIn profiles, giving users access to additional data including shared relationships, previous contact, and file sharing history. LinkedIn messaging also found its way into Dynamics, with users able to send InMails directly from the Dynamics 365 interface.
Use of LinkedIn's Sales Navigator hasn't only been limited to Dynamics. Work is currently underway to allow PowerApps and Power BI to harness the power of the platform's data and features. The marriage of Sales Navigator and Power BI will mean allow users to create advanced reports that will help them get more out of their CRM.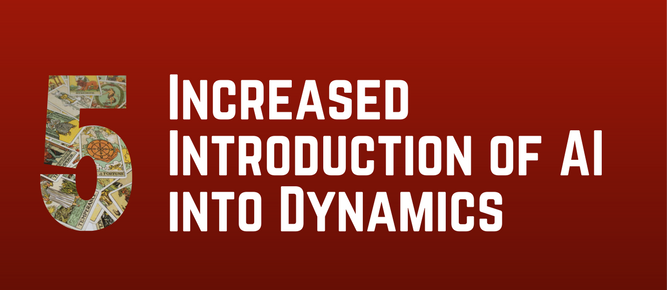 Increased introduction of AI into Dynamics 
Like almost every tech company operating today, Microsoft has been chipping away at the development of artificial intelligence for years. But, in 2017, they laid out a clear strategy to establish themselves as thought leaders in AI innovation.
At the heart of the company's AI approach is the notion that artificial intelligence should be a force for good, bolstering humanity and offering new ways to solve very human problems. It's no surprise then that notion should extend to its business solutions.
"These are the logical showcases for what the new Microsoft AI and Research Group is able to deliver in terms of more intelligent computing," Niiranen remarked last year, "so I'm expecting at least the demo scenarios for Dynamics 365 to gain a big AI boost during the next year."
Just as our experts predicted, the cloud-powered Dynamics 365 suite was imbued with AI capabilities on release, and in September 2017, Microsoft announced new updates that utilized these capabilities in a big way. One of these was the "intelligent virtual agent", a customer service bot which since its launch has been adopted by the likes of HP and Macy's.
The 2017 edition of Dynamics NAV was the first to leverage AI, featuring extensions that could forecast sales and advise on inventory actions by analyzing previous transactions.
On the subject of AI, Olof Simren added; "Microsoft has included features to utilize Cortana Intelligence and improve some previously released technologies, such as the [Dynamics] extensions, and web and mobile clients."
Microsoft has now integrated Cortana Intelligence with Dynamics 365, further illustrating the push to incorporate AI into the Dynamics suite. In addition to the Cortana's backend AI, Dynamics users can now engage Cortana's digital assistant skills to catch up on the latest developments in Dynamics 365.
Users of Dynamics 365 for Sales, Dynamics 365 for Customer Service, Dynamics 365 for Field Service and Dynamics 365 for Project Service Automation users can request the latest sales digests, and account and deal overviews from Cortana, which will deliver reports and even help prep for upcoming meetings.
It's clear that the further application of AI is a huge aspiration for Microsoft, and we're certain to see more of it seeping into Dynamics products in the near future.
Thinking about your next steps? Register today, and we'll get to work finding Dynamics roles that match your skills.