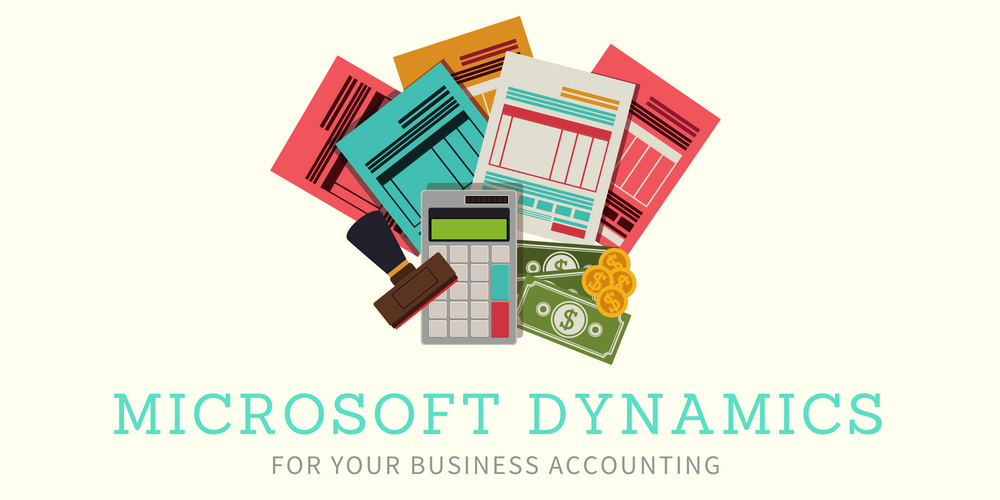 Microsoft Dynamics' myriad of CRM and ERP functionalities make it a great choice across a tonne of verticals; not least business accounting.
Enterprise resource planning software was born out of the need for business to better manage their accounts and finances.  Since digital accounting platforms were first developed in the 1980s, the industry has expanded exponentially, and is today a multibillion-dollar market crowded with hundreds of products.  
At the core of the majority of ERP platforms is arguably the most important functionality for running a business; financial management.  Keeping track of incomings and outgoings is central to proper organizational management, making accounting software an unavoidable necessity for companies of every size and circumstance. 
Today, there are a huge number of platforms that deal solely with accounting, like FreshBooks, QuickBooks, and Sage, but in this hyper-connected age, there's a strong argument to be made for utilizing a comprehensive ERP program to deal with business financials.  
Modern, cloud-based ERPs afford businesses the opportunity to centralize their operations, facilitating the flow of information between otherwise disparate departmental silos. Hosting all your processes, and your data, in one system means you can get an accurate picture of your organization's health, analyze your efficiency, and make faster, more-informed decisions. 
If you're thinking about revamping your business accounting processes, Microsoft Dynamics 365 could be a great choice—here's why.  
Why Microsoft Dynamics for accounting?
The Microsoft Dynamics suite of software has long been a valuable tool for business accounting. The brand launched in 2005 with no less than four established, market-leading ERP programs in its stable, offering solutions for businesses with a variety of individual needs. 
Dynamics GP was an ideal platform for companies who'd outgrown entry-level accounting systems and benefited from capabilities like integrated payroll functionality, and Dynamics SL was the top choice for project-based businesses. Dynamics NAV boasted a wider range of features for manufacturers and international organization, and Dynamics AX offered a comprehensive back-end solution for all financial and operational needs.  
Today, those nomenclatures have been retired, and all of the suite's ERP capabilities are pooled together under one umbrella; Dynamics 365. Many of the areas of functionality found across the stable's legacy products, such as human capital management, and retail, have been siphoned off into their own apps, but the bulk of Dynamics 365's accounting features are contained within two comprehensive ERP apps; Dynamics 365 for Finance and Operations, and Dynamics 365 Business Central, built for large and SME-level businesses respectively. 
Gartner's most recent  Magic Quadrant for Cloud Core Financial Management Suites listed Dynamics 365 for Finance and Operations as a Visionary due to its broad financial functionality, wide geographic coverage, cloud focus and plans for finance line-of-business marketing.  
The software scored above average with Microsoft customers in overall functional capabilities, with flexible GL analysis capabilities, good multi-company features, and strong project accounting. The report also highlighted the app's broad geographical coverage and support available from Microsoft's global partner network, and its innovative use of technology for analytics, with embedded Power BI and real-time, in-memory multidimensional analysis. 
Built on the foundation of decades of experience in the ERP industry, Dynamics 365 is a natural next step for organizations that have outgrown entry-level accounting software, that want to be able to derive more value from their financial management, or that want to bring all of their back- and front-end operations into one centralized system.  
Whichever app you feel is the right fit for the scope of your organization, both options feature extensive benefits for businesses who need sturdy, intelligent accounting tools. 
Dynamics 365 for Finance and Operations
Dynamics 365 for Finance and Operations, built on the foundations of what was previously known as Dynamics AX, is Microsoft's most advanced and extensive ERP system, featuring modules such as financials, manufacturing, and supply chain management. It comes bundled with two additional apps for retail and human resource management. The app is geared towards large businesses of 250+ employees, and carries a 20 user minimum. 
As the suite's most comprehensive ERP program, Finance and Operations boasts all the financial management capabilities you'd expect, plus the benefits that come with an intelligent, cloud-hosted solution.  
General ledger, account payables and receivables, budgeting, account schedules, and bank reconciliation capabilities are all included in Finance and Operations, helping businesses oversee their incomings and outgoings.  
Finance and Operations' general ledger tools allow you to create your own chart of accounts that perfectly meet your company's needs, and map general ledger accounts to custom categories tailored to the structure of your financial statements.  
The app's SSRS-based reporting helps generate analysis that's both in-depth and immaculately presented. Reporting in Finance and Operations is also hugely flexible, allowing you to view and analyze data in real-time, so you don't need to wait until monthlies roll around to see how things are going. Plus, you can add categories and subcategories to GL accounts so you can generate intuitive, practical reports faster.  
Its modern, streamlined Accounts Receivable Collections and Management dashboards can be configured exactly the way your particular business needs dictate. From this interface, you can apply incoming payments to the appropriate customer or vendor ledger entries, close up related sales invoices, and reconcile the bank account once payments are received. No need to manually keep track of overdue invoices either; auto-generated collection letters can be set up to notify customers of past-due balances, and predefined interest codes allow the app to automatically apply late payment charges. 
Integration with bank feeds allow you to carry out online reconciliation of bank transactions without leaving the app. By importing banking information, users can update customer payments automatically based on data received from the bank too. 
Users can also generate vendor payments prioritized by discounts and penalties, export payments directly to a bank file, and make payments using purchasing cards, ACH transactions,  or checks. 
Budgets can be developed, updated and amended in real-time, improving your organization's ability to react to changes and offset cash flow issues by closely tracking budgets against actuals. Keeping tabs on the overall financial progress of your business is easier too. With Finance and Operations, you can create your own key performance indicators that allow you to better monitor margins across departments, product lines, or discrete customer groups. Customizable tags can be placed on customers, individual items, expenses, and other items, so you can track spending and automatically generate reports to find out where your funds are going. 
The app can oversee numerous companies in the same database, on the same subscription license, at no extra cost. Consolidated intercompany reports can even be generated on multiple entities in multiple-currencies, helping you track transactions between your business units. 
Finance and Operations' cash flow forecasting feature lets you visualize the short-term stability of your finances, generating predictions based on data from your general ledger, purchasing, sales and services, fixed assets, and even live budgets.  
How much will Dynamics talent cost you?
Benchmark the latest salaries across a range of Dynamics roles and locations.
Dynamics 365 Business Central
Dynamics 365 Business Central is the suite's flagship ERP for small-to-midsize organizations of roughly 50-250 staff. Unlike Finance and Operations, which is licensed alongside other standalone ERP, and if required, CRM apps, Business Central is designed to be more of a one-stop-shop for smaller businesses who don't need such extensive capabilities.  
Although like all Dynamics 365 apps, Business Central can be synced up with other programs in the suite,  Business Central gives companies a little bit of everything, including finance, operations, supply chain, CRM and project management. There's no user limit for Business Central, so companies of all sizes can utilize its features. 
Hailed as the next step up from entry-level business accounting software, Business Central boasts a wide range of financial management capabilities at the core of its functionality. As a one-stop platform for small-to-medium businesses to manage all their operations, the app features you'd expect from a smart, modern ERP, like managing payables and receivables, overseeing cash flows, preparing VAT reports, and performing year and period closes. 
With Business Central's general ledger, you can quickly set up and start posting to chart of accounts, general journals, and recurring journals. Users can also easily keep track of fixed assets and related transactions like acquisitions, depreciations, write-downs, appreciations, and disposals. The app can also help manage inventory costs as well as operational and departmental budgets in real-time, and surface useful, actionable data quickly with customizable reports and dashboards. 
Business Central makes auditing more intuitive too. The app can automatically assign audit trails and descriptions to every transaction, and users can further bolster their paper trails by defining transactional reason codes to be added to ledger entries. It also supports the amalgamation of financial data from multiple companies, and the integration and automatic reconciliation of bank statements, so that businesses can get a centralized view of all their brands and holdings for financial analysis. 
Companies using more than one bank account can create and manage accounts within Business Central, helping to cater for diverse business needs across a multitude of currencies. The system supports multiple currencies throughout, including in payables and receivables, general ledger reports, and resource and inventory items, and automatically updates currency exchange rates. 
The app also aims to help users get better results from their business intelligence by allowing them to set up "dimensions", which are essentially tags that can be assigned to entries so that they can be easily categorized and tracked. 
Built for the cloud
No matter which solution you choose, there are several advantages that come with using the Dynamics 365 suite in the cloud. 
First, there's the frequent update schedule. Microsoft is investing huge amounts of cash into the development of its business solutions, and is working to bake in cutting edge tech such as machine learning wherever it can. All Dynamics 365 apps benefit from monthly patches and fixes, with new features and more major updates rolling out automatically every six months.  
Secondly, Dynamics 365 is natively integrated with Power BI, Microsoft's best-of-breed collection business intelligence tools. A powerful reporting and data visualization service, Power BI is imbued with machine-learning capabilities, and helps your finance department derive deep insight from financial performance, revenue and profitability reports, capex management, and expense management. 
In Gartner's latest Magic Quadrant for Analytics and Business Intelligence Platforms,  Microsoft emerged as a clear overall leader in terms of the completeness of their vision and the ability to execute that vision within their BI products.  
Dynamics 365 cloud users can also take advantage of Microsoft's Common Data Service, which enables apps to sync and share data with other cloud-based products, including those within Microsoft's productivity suite. Not only does Dynamics 365 in the cloud integrate seamlessly with PowerBI, as we mentioned earlier, but it also works hand in hand with other popular services such as Office 365, SharePoint, and Outlook. 
Being able to connect your Word, Excel, and email data to Dynamics 365 helps build a fuller picture of your business, and increases productivity by breaking down barriers between the programs you use every day. 
Dynamics 365's tight integration means you can so you can go from quote to cash, set up customers or vendors, create quotes, process orders, and submit invoices without leaving your inbox. 
Dynamics 365 apps are easily extensible too; if you want to add extra functionality not native to the solution, you can find a bolt-on with AppSource, Microsoft's online store for third-party add-ons and integrations. These apps can be added to Dynamics 365 in an instant, with no coding or customization necessary. With AppSource, Dynamics 365 cloud users have almost limitless opportunity to modify and extend the functionality of their solution, without having to involve developers or ISVs. 
And if you still have needs to meet, you can build your own apps and workflows with PowerApps and Flow, two incredibly user-friendly services included with Dynamics 365. 
Dynamics 365 for accountants
Dynamics 365 has tonnes of benefits to help businesses of all kinds manage their finances in-house, but it's also a great choice if you oversee accounts on your clients' behalf; even if you don't have Dynamics 365 yourself. 
Dynamics 365 Business Central has a heap of dedicated features for accounting practices, including a service which allows financial consultants to manage their clients' data through an easy-to-use dashboard known as the Dynamics 365 Accountant Hub—all for free. 
Accountants can get access to Accountant Hub by signing into the Accountant Hub, using the business email address you use for your clients, and then add your clients to your dashboard.
Once you're set up, all your clients' details will be available in a dashboard. You can then click into each client to view details such as cash account balances, cash flow forecast, overdue purchase invoices, and overdue sales invoices. You can assign tasks to yourself and others, and others can assign tasks to you. 
Dynamics 365 for accounting pricing
If you decide that Dynamics 365 for Finance and Operations is the best option for your business, you'll need to license it as part of a plan. The app is not available on a standalone basis, and instead comes as part of either the Unified Operations plan, or the Dynamics 365 plan.  
The Unified Operations plan comprises of the suite's core ERP apps—Finance and Operations, Retail, and Talent—and costs $190 per use, per month for a full access seat. Limited access licences, known as Team Members, are also available for $8 per user, per month. 
If your business is looking to overhaul its sales and service operations as well as its backend processes, you can opt for the Dynamics 365 plan. This plan gets you access to every app in the suite (though Dynamics 365 for Marketing is only included if you license 10 or more full users). That means all Dynamics 365's CRM apps are also at your disposal, including Sales, Customer Service, Project Service Automation, Field Service, and Microsoft Social Engagement. 
Full user licences for the Dynamics 365 plan come in at $210 per user, per month, with Team Member seats at  $8 per user, per month. 
If you're more of a Dynamics 365 Business Central type, your path to accounting superstardom is a little more straightforward. Though Business Central will connect to other Dynamics 365 apps, it is not licensed as a standalone solution. Full user licenses are $70 per user, per month for the Essentials edition, and $100 per user, per month for the Premium edition, which will get you access to the app's service management and manufacturing modules. 
Unlike its siblings in the Dynamics 365 stable, Business Central is not available through Microsoft itself, and is instead sold and implemented only though Dynamics 365 partners. 
Need a consultant or administrator to help you get the most out of your digital transformation?
Thanks to our decade-long presence in the Dynamics community, we have access to more Dynamics 365 talent than any other consultancy.