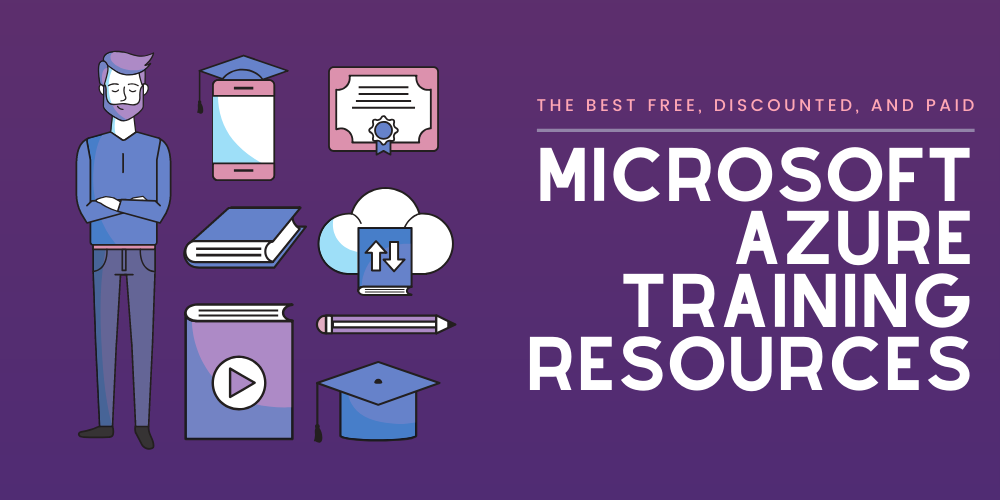 Looking for a new role? Been furloughed and want to use your time to develop your skills? Are you an Azure customer interested in bolstering your users' cloud abilities?
The good news is there's no shortage of Azure training resources out there to suit every budget.
Let's take a look at some paid, discounted, and free Azure training to help you start upskilling right now.
This is by no means a definitive list, so if you've come across any noteworthy Azure training or learning resources, drop us a tweet and we'll add it in!
Free Azure training
Microsoft Learning
Microsoft offers a colossal amount of educational material for free through its Microsoft Learn platform.
If you're looking to tune up your Azure knowledge, there are more than 570 Azure-related modules on Microsoft Learn that you can take at your own pace. These modules are grouped into learning paths, creating logical product or task-aligned routes that you can work your way through to get a broader understanding of a topic.
If you want to test out your new Azure skills, you can sign up for a free account and see the inner workings of the platform first hand. New customers get $200 of Azure credit to spend in the first 30 days, essentially giving you a month to explore, deploy apps, create workflows, and analyze your data to provide you with some hands-on practice.
There's also a considerable amount to be gleaned from Azure's documentation content, in which you can find quick-start guides, code samples, and tutorials.
Udemy
Alongside its paid courses, Udemy offers several free Azure-focused courses. These freebies range from beginner-level overviews to service-specific outlines, as well as certification preparation. Most are relatively short and can be completed in a couple of hours, making them an excellent jumping-off point to get to grips with Azure tools.
Coursera
Coursera courses are free to view, meaning you can read all of the content at your leisure without paying a penny. However, if you require a certificate at the end, or want to take advantage of quizzes, watch videos, or take part in assignments, you'll need to pay.
There are a lot of more general cloud computing courses on Coursera, though the options for Azure-specific content are fewer.
Linux Academy
Linux Academy operates a subscription model, but you can get access to a number of its training resources, such as courses and practice exams, for free.
There is currently one Azure-related course you can take for free:
Gearing up to get certified? You can also take advantage of Linux Academy's five free practice exams and quizzes, which help you prepare for Microsoft's AZ-400 and AZ-401 tests.
A Cloud Guru
There are heaps of fantastic cloud-related courses you can take by signing up for an A Cloud Guru subscription. But if you're looking to dip a toe into Azure or see what kind of learning content you can expect from A Cloud Guru, you can take the Introduction to Azure course for free.
Pluralsight
Pluralsight is (usually) a paid subscription-based learning platform, but if you want to develop your Azure skills, then you're in luck.
Pluralsight has partnered with Microsoft to provide a massive number of Azure courses absolutely free. Pluralsight's Azure courses are aligned to eight different roles, with each of these "Role IQ" pathways aiming to prepare students for specific Azure certification exams.
Students can choose one of the below roles and take a Role IQ test to size up what they already know. Pluralsight will then point them in the right direction as to where to start on the path to becoming an expert in their chosen position.
edX
Founded by Harvard and MIT, edX is an online learning platform that offers courses in partnership with over 100 educational institutions, including many created and delivered by Microsoft itself.
edX courses are free and take up just a few hours a week. You can purchase a verified certificate for $99, but accessing the content and completing the course won't cost you a penny.
Currently, there are 11 upcoming Azure-related courses you can enroll on, with another 58 in the edX archive (meaning the course is no longer active, but you can still review course content). Here are the courses currently open for enrollment to give you an idea of what edX can offer:
Skylines Academy
We'll cover Skylines Academy's paid courses a little further down, but it's worth noting if you're a cloud newbie that they offer an introductory Azure course for free.
Discounted Azure training
Whizlabs
A subscription-based learning platform geared toward prepping students for certification exams, Whizlabs is offering 50% off all of their courses right now, so you can get stuck into one of their 11 Azure-related courses at a discount.
Each of Whizlabs' Azure courses is aligned to a specific Microsoft certification exam, helping students skill up so they can pass their tests with flying colors. You can also test what you've learned during the video-based course by purchasing a set of practice exams.
Udemy
Udemy's paid courses tend to cost around $40, but they're almost always heavily discounted in some way: if you see one you like that's not on offer, it's worth signing up for email alerts, as it likely won't be long before the price comes down. There's also a 30-day money-back guarantee if your chosen course isn't what you're looking for.
Skill Me Up
Skill Me Up offers comprehensive Azure training aligned to a range of cloud job roles from cloud architects and developers to data and security professionals.
Learning content is delivered via on-demand courses, live labs, and live-streamed instructor-led training. Currently, Skill Me Up offers six Azure-based learning paths, each containing a mix of lectures and hands-on labs. Some are explicitly geared towards passing a specific Azure exam, while others take a more task-focused approach.
Subscription to Skill Me Up's learning library usually costs $39.99 per month or $431 if paid in full for the year. Right now, though, they're offering 25% off a monthly or yearly subscription.
Paid Azure training
LinkedIn Learning
Formerly known as Lynda, LinkedIn's wide-ranging training brand LinkedIn Learning has a vast range of Azure courses and videos. To date, there are over 120 courses and more than 3,100 video tutorials designed to help sharpen up users' Azure skills.
Courses are produced by Azure professionals and experts, with options for technical and non-technical cloud users alike. There's a good mix of exam preparation, practical task-based learning for product specialists, role-aligned training, and conceptual overviews for beginners.
Pricing
LinkedIn Learning works on an all-you-can-learn basis, with access to all courses available for $29.99 per month or $299.88 for the year if paid annually.
Top tutors on LinkedIn Learning
As you might expect from such a giant of the professional world, LinkedIn'slearning platform has attracted some of the best in tech training, including many training content creators from Microsoft.
Skylines Academy
Skylines Academy is an online learning provider that aims to prepare budding IT professionals for their Microsoft Azure, Microsoft 365, HashiCorp, and Google Cloud Platform certifications.
Pricing
Skylines Academy content can be accessed either through a monthly subscription or by purchasing the courses individually. Prices vary depending on the complexity of the certification covered, with courses ranging from $29 to $119. Practice questions for Azure exams can also be purchased for $19 a set. A monthly subscription, which includes access to all courses, labs, practice questions, and online support groups, is $22.80 a month or $178.80 for the full year.
Top tutors on Skylines Academy
Skylines Academy courses are authored and delivered by experienced tech professionals, including many former Microsoft employees, with a wide range of specialisms.
Simplilearn
Simplilearn offers a handful of Azure courses: one introductory course and four designed to prepare students for Azure exams:
You can choose to take a course, or opt for a Master's Program, which is a bundle of courses related to a particular role or topic:
There are also some free resources you can grab through Simplilearn, too: the site hosts more than 140 articles, ebooks, and video tutorials on Azure that you can enjoy at your leisure.
Pricing
Courses on Simplilearn are priced individually, ranging from a few hundred dollars for foundational classes to those that cover more advanced skills, which tend to be priced at $1,000+. Most courses can be done at your own pace by reading through the material, but there are also premium versions of many classes that include online instructor-led training too.
Cloud Academy
Cloud Academy is a colossal online library of training courses covering all kinds of hands-on technical skills.
Their training is split up into learning paths, making it easy for you to know where to start and how to progress. These paths don't just cover career-centric routes like skilling up for a specific job role or preparing for a certification, but also practical tasks such as migrating a business to the cloud.
There are currently 77 Azure courses, set along 24 learning paths, that cover all levels from foundational, introductory knowledge to advanced specialisms like security and machine learning.
Most of them are less than an hour long, meaning they're super digestible and easy to squeeze into your day.
Pricing
Individuals can get access to the library, which boasts more than 10,000 hours of training materials and practical labs, for $49 a month.
Top tutors on Cloud Academy
Cloud Academy is packed with experienced Azure experts who're committed to sharing their knowledge with budding cloud professionals. Here are just a few whose content you should look out for.
A Cloud Guru
As well as their free introductory course, A Cloud Guru offers some truly extensive courses geared toward both prepping learners for certification exams and offering deep-dives into some of Azure's most popular services.
They combine fun, hands-on digital learning with video and practical labs that give you real-world experience with Azure products. Right now, there are 11 Azure courses to choose from, ranging from beginner-level intros to advanced concepts like architecture design.
Pricing
Pricing for individuals starts at $49 per month, dropping to $31.58 if paid annually.
Top tutors
on A Cloud Guru
A Cloud Guru was designed by cloud learners who wanted a better, more accessible, and more fun way to learn about cloud concepts. The founders have since put together an impressive roster of Azure pros ready to help you progress your skills. Here are a few to get acquainted with.
Linux Academy
Linux Academy offers over 25 Azure courses, plus more than 150 hands-on labs, and 30+ practice tests for those gearing up to tackle certification exams.
Pricing
Pricing for individuals starts at $49 per month, dropping to $31.58 if paid annually.
Top tutors
on A Cloud Guru
A Cloud Guru was designed by cloud learners who wanted a better, more accessible, and more fun way to learn about cloud concepts. The founders have since put together an impressive roster of Azure pros ready to help you progress your skills. Here are a few to get acquainted with.
---
How much can you expect to be paid after getting certified?
The Nigel Frank Azure Salary Survey provides a unique insight into the Azure community, including insights into certification, professional development, and the latest salaries across a range of job roles. Complete the form below and receive your PDF report in seconds.