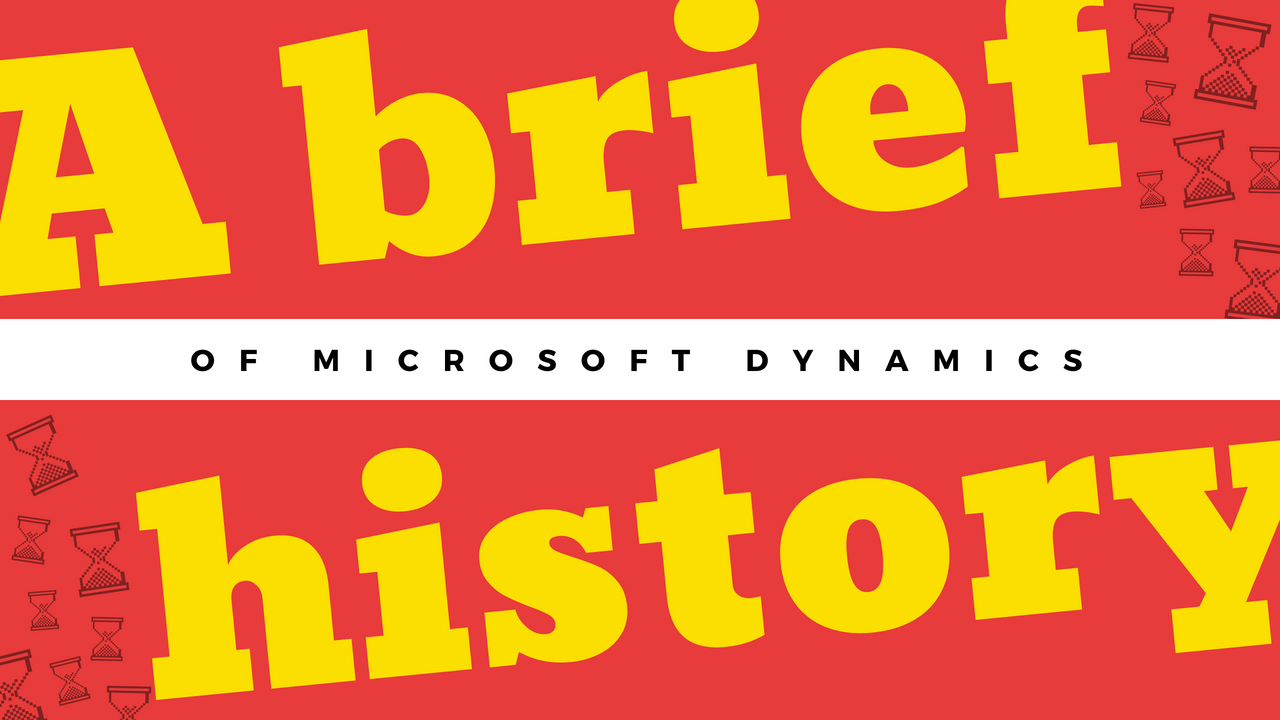 Think software like Microsoft Dynamics just grows on trees? Nope. Microsoft Dynamics has a rich and lengthy history that has helped it become the CRM and ERP powerhouse we know and love today.
Microsoft Dynamics has been a recognizable name in the business solutions industry for what seems like an age. Products like NAV and AX have become synonymous with financial and operational management, as the suite has continued to eke out a growing market share since the products are we now know them were launched in 2005.
But where did it all start, and how did Microsoft go about constructing the most comprehensive stable of enterprise software in the market?
To mark the 10th edition of our industry-acclaimed Microsoft Dynamics Salary Survey, we take a look at the labyrinthine history of Microsoft Dynamics.
The pre-Microsoft history of Microsoft Dynamics
For most of today's Dynamics users, and even many of the IT professionals who work with Dynamics, the suite is inextricably linked to Microsoft. The familiar branding, the steady reliability paired with constant innovation, the integration with other Microsoft staples such as Office and Outlook; it's hard to imagine a time when the pillars of the Dynamics suite were not intrinsically associated with the tech giant.
But the fact is that the well-known and well-loved products that historically make up the Dynamics family were not born under Microsoft's roof, but rather carefully curated to form the foundations of the company's Business Solutions division, and developed over time.
The suite's history begins way back in the early 1980s, years before the organization who would one day make these products known to businesses across the world went public, when it was still developing the first iterations of its famous Windows operating system. The programs which would eventually become Microsoft Dynamics were being carefully constructed by burgeoning software businesses across the country, and across the Atlantic. Each of the products that we now know as part of the Microsoft Dynamics each brand was once independent programs, killing it in their own niche, in their own countries. They all have their individual origin stories, and eventually came together to create something greater; like the Avengers of business management software.
As the 1980s rolled in, personal computing was becoming more accessible, and for the first time, many businesses were able to utilize computers to help them manage their finances and operations.
With the hardware now in place, businesses needed software that would meet their needs, and software companies across the world scrambled to meet demand.
Over 2,000 miles removed from Microsoft's HQ in Bellvue, Washington, TLB, Inc. was working on its first piece of accounting software, Solomon I, in Ohio. Originally built for the CP/M operating system on Z-80 microprocessors, Solomon went through various versions throughout the 1980s, accumulated countless awards and honors in the process. In 1991, TLB, who had since changed its name to Solomon Software, developed Solomon IV, its next-gen software designed specifically for the then relatively new Microsoft Windows operating system.
Over the next nine years, Solomon IV continued to make a big impression on its users and critics alike, who praised its customizability, and high-quality features. In 2000 Solomon Software was bought out by Great Plains Software, who had been developing their own ERP program since the early 90s.
Great Plains, an independent company based in Fargo, North Dakota, released the first variation of what would later become Dynamics GP in 1993. Dynamics Release 1.0, as it was known, was one of the first multi-user accounting programs available in the US.
In 2001, Microsoft purchased Great Plains, and with it came Great Plains' recent acquisition, Solomon Software, bringing both Solomon IV and what was by then Dynamics Release 8.0 under the Microsoft umbrella. In the same year, Microsoft also acquired Virginian software company iCommunicate, the makers of a web-based CRM program known as iCommunicate.NET.
Rumor has it that Microsoft had initially hoped to launch their new Business Solutions arm, and with it, a Microsoft-branded ERP system, based solely on Great Plains' Dynamics software. The word at the time, however, was that the program wasn't quite comprehensive enough to provide this foundation all on its own, and so Microsoft set about scouring for additional systems to acquire to bolster its plans. As it turned out, it would find the missing pieces of the Dynamics puzzle across the pond in Scandinavia.
In 1984, in Copenhagen, software makers PC&C released single-user accounting software PC Plus. Three years later, a multi-user version was developed in partnership with IBM Denmark; this version was titled Navigator. In 1990, the first version of the program bearing the Navision name was released globally, marking the first time the software has been available outside of Denmark, and in 1995, the first Windows-based version, Navision Financials, was unveiled.
Navision continues to be developed over the next several years, with new versions for manufacturing and advanced distribution making appearances at the turn of the century. In 2000, PC&C, now known as Navision Software, merges with its competitor, and fellow ERP-makers, Damgaard Data.
Shortly before its merger with Navision, Damgaard had been working on an ERP of their own. The company released the first version of Axapta, a solution for financial, inventory, and production management, in 1998.
This blissful union lasted two years before Damgaard, and consequently, Navision, was acquired by Microsoft, which bought up the joint company in 2002, bringing the ERP developers into the fold alongside US companies Great Plains, Solomon Software, and iCommunicate.
Say hello to the Business Solutions division
With all these fledgling business management products now firmly under Microsoft's wing, the company had the all the building blocks in place to launch the Microsoft Business Solutions Division.
For the first few years, Microsoft continued to turn out updated versions of its newly-acquired programs, adding role-based interfaces, SQL-based reporting, and SharePoint and Office integrations. In the early 2000s, Microsoft released the first versions of the applications to be fully branded as Microsoft products; Microsoft Business Solutions Axapta rolled out in 2002, Microsoft Business Solutions Navision and the iCommunicate.NET-based Microsoft Business Solutions Customer Relationship Management in 2003, followed by Microsoft Business Solutions Great Plains in 2004.
It was a time of great innovation, that long-time Dynamics CRM Consultant Leon Tribe remembers well.
"In January 2003, I was invited to attend a four-day training session on a new product Microsoft was releasing to the market, still in beta, called Microsoft CRM. While the product was functionally far from its competitors, it was clear to me there was a solid foundation from which a great product would emerge."
Leon Tribe
The division's grand plan, however, involved something more than picking up where the softwares' creators had left off. Microsoft wanted to consolidate all four of its new ERP properties, and its CRM program, into one super-solution with a single shared codebase, an endeavor known as Project Green.
Microsoft began working towards this utopian vision in 2003, not long after the company completed the last of its acquisitions, promising that a beta version of Project Green would be available in late 2004.
Then, Microsoft hit a snag. Amalgamating four disparate systems proved more complicated than it had anticipated, especially for a company who had only recently made their first steps into the ERP industry. While it chewed over the finer details of Project Green, Microsoft gradually adapted their solutions, overhauling the interface to bring them in line with the look and feel of other Microsoft products such as Office and Outlook.
Microsoft Dynamics is born
In 2006 the rebranding went one step further, and the division and its products underwent a name change. Microsoft Business Solutions became Microsoft Dynamics. Navision became Dynamics NAV (en ay vee), Axapta was now Dynamics AX, Great Plains was Dynamics GP, Solomon was Dynamics SL, and Microsoft CRM became Dynamics CRM.
Over the next couple of years, the first Dynamics-branded editions of the division's respective programs were rolled out, with Dynamics NAV, Dynamics GP, and Dynamics AX enjoying updates in 2005/2006. A year later, the first post-rebrand version of Microsoft CRM is released.
The brand-based fusion was as close as Microsoft would get to executing Project Green for the moment; by 2007, Project Green was dead. Implementations of Microsoft's business solutions products had all but dried up—perhaps unsurprisingly—as few businesses wanted to invest in solutions that were essentially on the chopping block. Microsoft officially announced that it would focus on developing its Dynamics platforms as individual solutions to best serve the specific customer bases the products had garnered.
Let us do the searching for you
Register today and our expert Microsoft recruiters will find the right job for you.
A foray into the cloud
With Project Green officially buried, at least in its initial incarnation, the Dynamics division turned its attention to a new frontier; cloud computing.
In 2007, hot on the heels of Dynamics CRM 4.0, the North American market was treated to a glimpse of what would become the future of the enterprise software industry when Microsoft released its first online business solutions client. Dynamics CRM Online was a web-hosted version of the software, and could be accessed either through Microsoft's dedicated CRM Online service, or through a Microsoft partner.
The move was the first step towards a more flexible, accessible future for the Dynamics family, free from the chains of local hosting.
In 2011, Microsoft announced another move towards its new agile approach when it introduced a bi-annual update schedule for its Dynamics products, allowing for faster development and more innovation than the traditional 2-3 year schedule for business software.
In 2012, GP also got a web client, and NAV followed in 2013. Microsoft was gradually moving the suite in-line with the "cloud first, mobile first" vision which would soon become its mantra.
Mobile apps for some Dynamics platforms arrived in 2016, making the programs even more accessible and easy to use on the move, but the greatest leap in Microsoft's design for its Dynamics division was yet to come.
A new era
Five years after Microsoft's ubiquitous Office suite got the cloud treatment with the release of Office 365, Microsoft unveiled the next stage in the evolution of its business solutions; Dynamics 365. A unified suite of CRM and ERP apps, rolled together with new features and a new licensing model, Dynamics 365 sought to bring intuition, intelligence, and mobility to users, and facilitate true digital transformation for businesses of all sizes and circumstances.
Microsoft CEO Satya Nadella announced the revamp on LinkedIn, stating that creating a unified, next-gen business solution had been "a dream of the industry, but also for me personally since 2000 when Microsoft acquired Great Plains.
"I dreamt of doing things for our customers and partners that are now only possible because of widespread adoption of the cloud, proliferation of data, devices, and sensors, and agile development environments."
Satya Nadella
In October 2016, the new suite of apps—some rebranded versions of Dynamics apps like CRM and AX, some segmented versions of existing functionalities—was rolled out, touted by Microsoft as the unified but flexible future of enterprise software.
With its capabilities broken down into several apps, Dynamics 365 was designed so that users could start with only what they needed and grow at their own pace, adding new functionalities as and when they need them.
This move toward a more comprehensive, but simultaneously more accessible, platform is what sets the Dynamics of today apart from its peers, according to Tribe. "Dynamics has moved beyond CRM to be an application platform for business processes," he says. "We are no longer limited to Sales, Service, and Marketing; we now have a true cross-industry, cross-process platform. Combined with a universal, progressive interface, Dynamics is available wherever it is needed."
Natively integrated with Power BI and Cortana digital assistant, the suite also came packaged with Microsoft Flow, and PowerApps, two services to help users connect apps to other services, and build their own web and mobile apps. Dynamics 365 integrates closely with sister-products such as Office 365 and Outlook, and can connect to third-party programs thanks to Microsoft's Common Data Service for Apps.
All of these developments have served to democratize the platform, making it a service reflective of Microsoft's recent move towards technological inclusivity and openness. "The introduction of Microsoft Dynamics 365 has seen Microsoft move from developing competing products—such as Microsoft Dynamics CRM, NAV, AX—to focusing on creating services which can be used by many different applications," says Senior CRM Solution Architect at Capgemini, Ben Hosking.
"This has allowed Microsoft to build supporting services faster and produce richer features, and seen the introduction of Flow, PowerApps, Azure functions, Social Engagement, Power BI, and Cognitive Services."
Ben Hosking
Initially positioned as a SaaS-only product, Microsoft has since expanded Dynamics 365's deployment options, giving users the choice to use the suite in the cloud, on-premise, or a mixture of the two, known as hybrid deployment.
At the same time, Microsoft announced the launch of AppSource, an online destination where users can find SaaS add-ons, extensions, and plugins from both Microsoft and its official partners to help extend Dynamics 365's functionality and allow users to be more productive, without the need for custom coding. At launch, AppSource hosted 200 business solutions; there are now close to 700 available.
Everything about the new solution centered around accessibility, productivity, and centralization, and, industry experts predicted, would help Microsoft better compete with market leaders like Salesforce.
In light of the release of Dynamics 365, Microsoft's acquisition of professional networking site LinkedIn suddenly made a lot more sense. Announced in mid-2016, and finalized shortly after Dynamics 365 went live, Microsoft paid around $26.2 billion for LinkedIn; an acquisition that left many speculating about what Microsoft planned to do with it.
As all CRM users know, a system is only as good as the data contained within it; as the old saying goes, garbage in, garbage out. With LinkedIn now firmly in its back pocket, Microsoft, and by extension, its customers, had a direct line to the data of LinkedIn's 500 million users.
This furnished Microsoft with a massive advantage; its CRM solution would be natively integrated to one of the web's largest communities, through which users could connect with hundreds of millions of people.
What's next?
With Microsoft investing huge amounts of cash into several areas of cutting-edge computing
NAV 2018 will be the last version of NAV to carry the Navision moniker; all future releases, whether on-premise or cloud-based versions, will be known as Dynamics 365 Business Central.
GP users will enjoy another update in late 2018. Currently titled GP Next, the new version will incorporate new features requested by customers. Development of the GP program will continue at least until 2019. Similarly, Dynamics SL got it's 2018 version update in Spring 2018, with SL Next scheduled to roll out in 2019 and beyond. There's no word yet on how long GP and SL will continue to be supported, or whether or not they'll be rebranded and rolled into the Dynamics 365 stable like NAV, AX, and CRM were.
The Dynamics AX brand was officially retired in July 2017, but the software itself will continue to be developed under the Dynamics 365 for Finance and Operations title.
More details on what's next for Dynamics 365 are scheduled to be unveiled in July, but we're pretty certain that future updates will include a few previously teased features. As for the longer-term future of the platform, Tribe predicts that Microsoft will continue to build a unified, innovative future upon Dynamics' foundations.
"In terms of the future, with technologies such as Microsoft Graph unifying all Microsoft web services, and the Common Data Service platform having Dynamics at its core, Microsoft will transition from providing software to providing focused applications on the Dynamics platform," Tribe predicts.
"Distinctions such as CRM and ERP will be left behind. Companies will either add applications from the Microsoft AppStore or build them rapidly through configuration; building a system tailored specifically to their business and unique processes."
More modular apps are certainly on the horizon, with Dynamics 365 for Talent: Gauge, and a streamlined version of Dynamics 365 for Sales, known as Dynamics 365 Sales Professional, scheduled for release in 2018. These releases support the company's vision of a more segmental, customizable Dynamics 365 which will allow customers to start with the smallest group of processes and build on their digital transformation from there.
Another big development the Dynamics 365 team are currently working on is the integration of a digital assistant. Some Dynamics 365 users were party to a preview of a potential Cortana integration shortly after the new apps were released, but that incarnation has now been shelved in favor of a new, more robust solution. The team has promised a new digital assistant experience which will span all Dynamics 365 apps, and multiple channels, including Cortana. The new digital assistant solution will feature machine learning and natural language integration.
Artificial intelligence and machine learning is an area which will continue to be baked into Dynamics 365 in future releases, as Microsoft continues to invest vast amounts of cash into AI research. No doubt integrations with LinkedIn and features using data from the network's 500 million users will also make further appearances in later updates too.
It may have taken a little longer than planned, but the arrival of Dynamics 365 has seen Microsoft achieve its dream of a unified business solutions platform, in which CRM and ERP functionalities exist in harmony. The company continues to build on its success with Microsoft Dynamics, and is continuously developing and updating the suite to ensure that Dynamics 365 is and remains at the forefront of what's possible in digital business management, says Hosking.
"With the common data service, PowerApps and Azure, we can create enterprise solutions which are not limited to just Microsoft Dynamics 365. Future projects will integrate many different services," Hosking predicts, "and use Microsoft cognitive services to process customers' data, and intelligently automate parts of the business. Microsoft Dynamics 365 will be used in the digital transformation of many businesses and industries in the future."
The history of Microsoft Dynamics is a storied one, and with almost two decades of experience behind them, we can be sure that the Dynamics team's most impressive innovations are yet to come.
"For Dynamics professionals, it is exciting times. The expansion into Azure means new technologies to master and every Dynamics consultant is now an expert in Common Data Services. The shift to online means Dynamics professionals can literally work anywhere at any time."
Leon Tribe
"For those looking to get into Dynamics, the Microsoft Dynamics Learning Portal has lowered the barriers for Microsoft Partners to jump on board. I cannot think of a better time to be a Dynamics professional and I am excited about how I can offer more value than ever to my clients using the Dynamics platform."