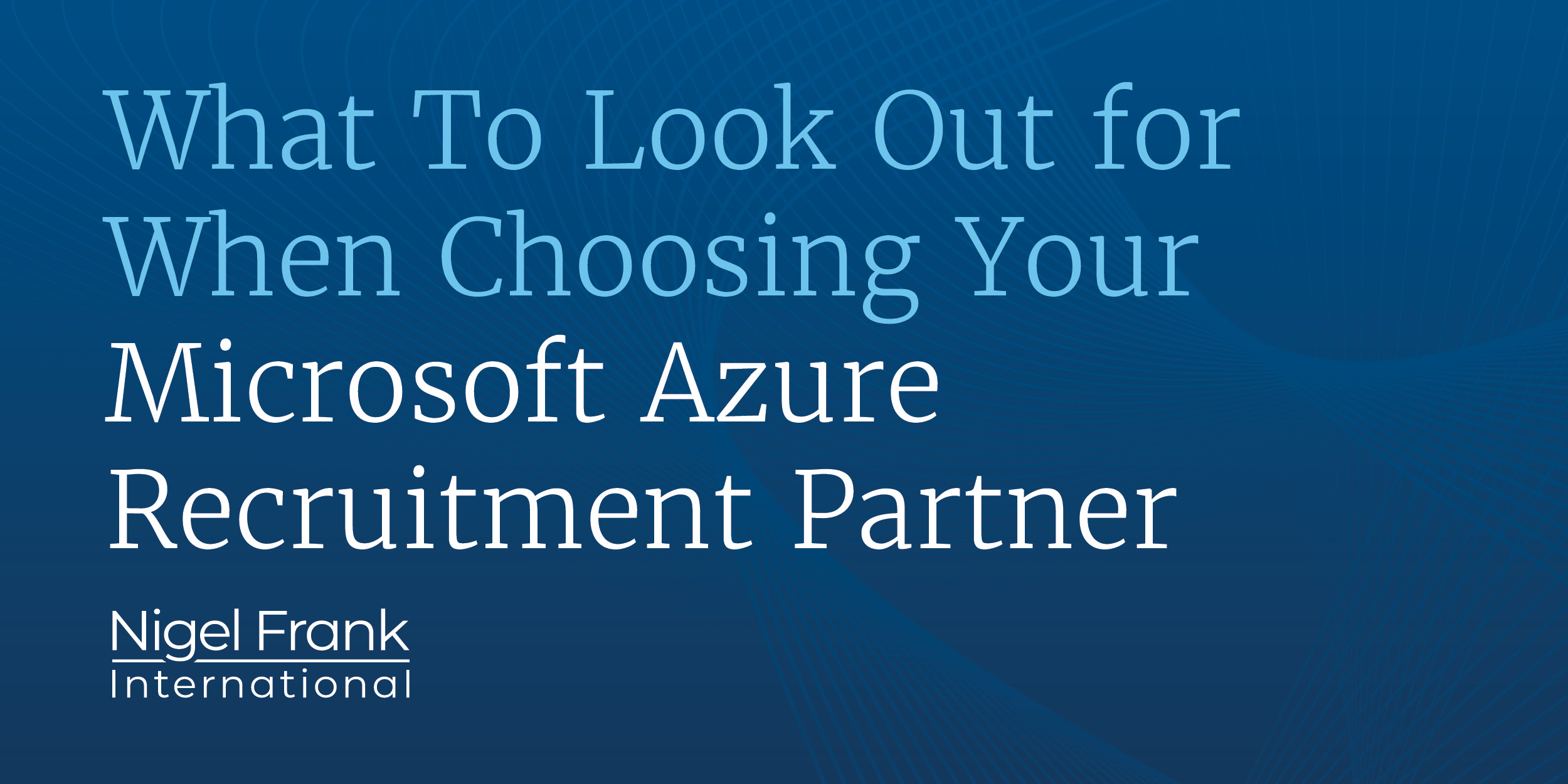 Hiring Microsoft Azure professionals gives you the opportunity to maximize the value you get from your cloud computing platform, but acquiring the right talent is critical to success. The tech skills gap means that many companies are struggling to find high caliber candidates to fill positions, which leaves them at a distinct commercial disadvantage.
Fortunately, working with a Microsoft Azure recruitment partner can give you access to a dedicated network of talented Azure professionals and experienced sector-specific recruiters who can identify the skills you need and help to diversify your team.
Developing a Microsoft Azure team: challenges
Many people assume that recruitment is as simple as placing a job advert and vetting applicants, but effective recruitment is much more nuanced. By taking a specialized approach, you can overcome many of the common pitfalls that arise when you're developing an Azure team, including:
1. Contract vs permanent staff
Contract workers, or freelancers, are self-employed or run their own businesses, which gives them the flexibility to choose which projects they work on. Depending on the project, a contract worker may provide ongoing services for weeks, months, or even years, but they remain independent. Conversely, a permanent hire becomes part of your in-house team and is typically a full-time or part-time salaried worker.
When deciding whether to hire a contract or permanent team member, you'll need to consider upcoming Azure projects and determine which type of team member is right for your business. Working with specialist recruiters who have an in-depth knowledge of the Azure ecosystem can be invaluable when it comes to determining whether a contract or permanent Azure professional is the right fit for a company or project, particularly as they are aware of the skills required to transition, manage, and scale Azure platforms.
2. Limited reach
By 2023, more than 62 million people around the world will work in the ICT industry, which should make it easy to find talented professionals to join your team, right? Not quite.
Microsoft is a sub-sector of the IT industry and Azure is a niche area within this sub-sector. This significantly reduces the number of eligible IT professionals who can deliver the skills and expertise you require. Furthermore, experienced Azure professionals may not be actively looking for job opportunities, so may not see advertisements you place online. Even those who do stay up to date with new opportunities will use a variety of different sites and industry portals to monitor job roles, which means that advertising can be hit and miss.
When you join forces with a specialist recruiter, you will gain instant access to an established pool of talented Azure professionals who are interested in new opportunities. This can accelerate the recruitment process and enable you to find high quality candidates to complete your teams in shorter timeframes.
3. Implementing recruitment processes
Failing to implement effective recruitment processes can lead to skills gaps, personality clashes, and limited diversity, all of which have a negative impact on personal and commercial performance. For businesses, vetting resumes, conducting interviews, and maintaining impartiality can be a resource-heavy and time-consuming process.
With access to external recruitment expertise, however, you can outsource initial vetting and screening to experienced professionals. By implementing blind recruitment techniques, for example, a specialist recruiter can increase diversity within your Azure team and streamline the hiring process to find candidates who have the required skillset to join your team.
General recruiters vs Azure-specific recruiters
Even the best general recruitment firms can struggle to help clients find the IT employees they're looking for, particularly if they have limited experience within relevant sub-sectors. The Azure ecosystem is a relatively small sub-sector within the entire IT industry, and generalist recruiters may have no specific experience in finding or attracting Azure professionals. If so, a generalist recruiter will use many of the same techniques that any business would use to try and recruit candidates, often with little to no success.
In contrast, Azure-specific recruiters have extensive industry knowledge and understand how the ecosystem works in conjunction with the broader Microsoft network. From identifying the certifications staff will need, to knowing what employee benefits candidates value most, an Azure-specific recruiter can deliver the specialized recruitment assistance and services companies need to hire the best Azure professionals.
Additionally, Azure-specific recruiters have access to relevant resources and data that can inform and enhance your hiring processes. The Nigel Frank Careers and Hiring Guide: Microsoft 365 and Azure Edition provides an invaluable insight into how Azure professionals think and what it takes to attract and retain top Azure talent. By leveraging these resources to enhance your reputation as an Azure employer, you can improve the quality of the candidates you are attracting, acquire new Azure hires more easily, and even increase your employee retention rates.
Understanding the Azure community
Managing the recruitment process in-house can seem like a cost-effective way to onboard new employees but, in the long term, it can be costlier than you think. Many companies are forced to re-advertise positions when they fail to attract high caliber candidates, for example. This extends the recruitment process and means that your existing workforce is left at a disadvantage while you are looking for a new hire.
Furthermore, if in-house hiring teams don't have extensive knowledge of the Azure community, they may lack awareness of critical aspects of a role, such as the experience required or the relevant certifications a candidate should hold. If so, the team may be affected by a skills gap, even after your new employee is hired.
As a result, companies can be plagued by inefficiency and reduced productivity due to ineffective in-house or general recruitment. Inevitably, this has a knock-on effect on the financial performance of the team, department, and company as a whole. While in-house recruitment may seem to deliver cost savings at a glance, further analysis could highlight the excess expenditure that's incurred when a non-specialized approach is taken.
In contrast, choosing an Azure-specific recruitment partner allows you to diversify your team, access the skills you need, and accelerate the recruitment process, thus reducing overall costs and increasing the value of your new hires.
Diversifying your Microsoft Azure team
Workplace diversity is a critical issue and something that all employers should aim to achieve. However, diversity, inclusion, and equality encompass a variety of different factors, including racial and ethnic diversity, gender diversity, and cognitive diversity, as well as diversity across religions, sexual orientation, physical abilities, age, and many other categories.
There are many ways that unconscious bias can seep into the hiring process, which results in inequality and a lack of diversity in the workplace. So, it's vital that companies are proactive about eliminating bias when hiring  Azure professionals.
Experienced recruiters are adept at implementing impartial, blind recruitment practices to prevent unconscious bias from unfairly excluding candidates, for example. Additionally, an Azure-specific recruiter can identify the skillsets required in a role to avoid a subsequent skills gap, which enhances the effectiveness of the team and results in better project outcomes.
A diverse team benefits from a range of approaches, thinking patterns, and working styles, which enhances performance and offers meaningful commercial benefits, such as increased efficiency and profitability. By prioritizing diversity and equality when hiring Azure professionals, companies can optimize future performance and develop teams that deliver enhanced value.
Choosing an Azure recruitment partner
With so many benefits associated with using an Azure-specific recruitment partner, it's easy to see why an increasing number of companies are choosing to work with specialized recruiters. But, before you select your Azure recruitment partner, do your research and ensure that your new service provider can deliver the expertise you expect.
As the recognized global leader in Microsoft recruitment, we have an extensive and established network of Azure professionals, as well as a talented in-house team who have an unrivaled knowledge of the Azure ecosystem.
Whether you're looking for a temporary contract worker to supplement your existing team or you want to attract permanent, full-time Azure professionals to help you achieve your objectives, we're on hand to streamline your search, attract high caliber Azure experts and match you to the right candidates.
To find out more get in touch with our friendly team today. Alternatively, take a look at our extensive roster of Azure talent and start your search for your next hire.
Looking for fresh Azure talent to join your team?
More choice than any other agency and many candidates ready to start immediately.