We are thrilled to be a Silver Sponsor at WPC16, and to get to meet thousands from the Microsoft Partner community.
On day one we listened in to the keynote session delivered by Satya Nadella, CEO of Microsoft and his guests. Here are the highlights from day one Keynote Vision by Satya Nadella, Microsoft CEO and guests.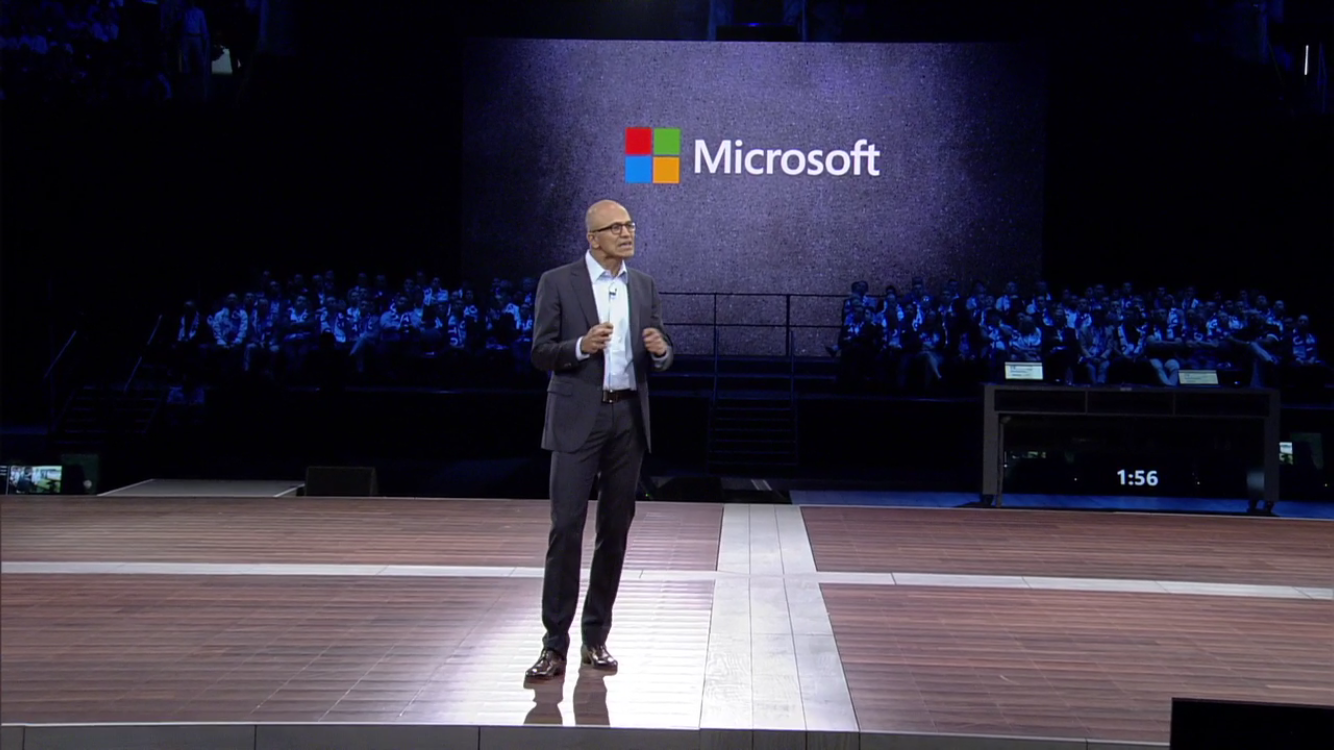 Digital Technology
Satya began by discussing the move to digital and the importance of digital technology in business. Every customer is not only looking to use digital technology but they are building their own. Satya said: "The move to the cloud is transformative. Usage is growing every day. The most salient point is the transformation around data. It's not just a new way of delivering the software as a service but it's fundamentally changing the value."
Dynamics 365
Satya spoke of Business applications and in particular Dynamics 365, stating "Dynamics 365 will allow you to create a digital feedback loop, it will provide limitless opportunities to build new systems and reduce integration costs."  Adding that he was extremely excited about Dynamics 365 – "What you saw with Office 365 is happening with Dynamics 365" Satya Nadella.
Satya explained that Microsoft Dynamics 365 allows companies to Connect Solutions: shown in the image below: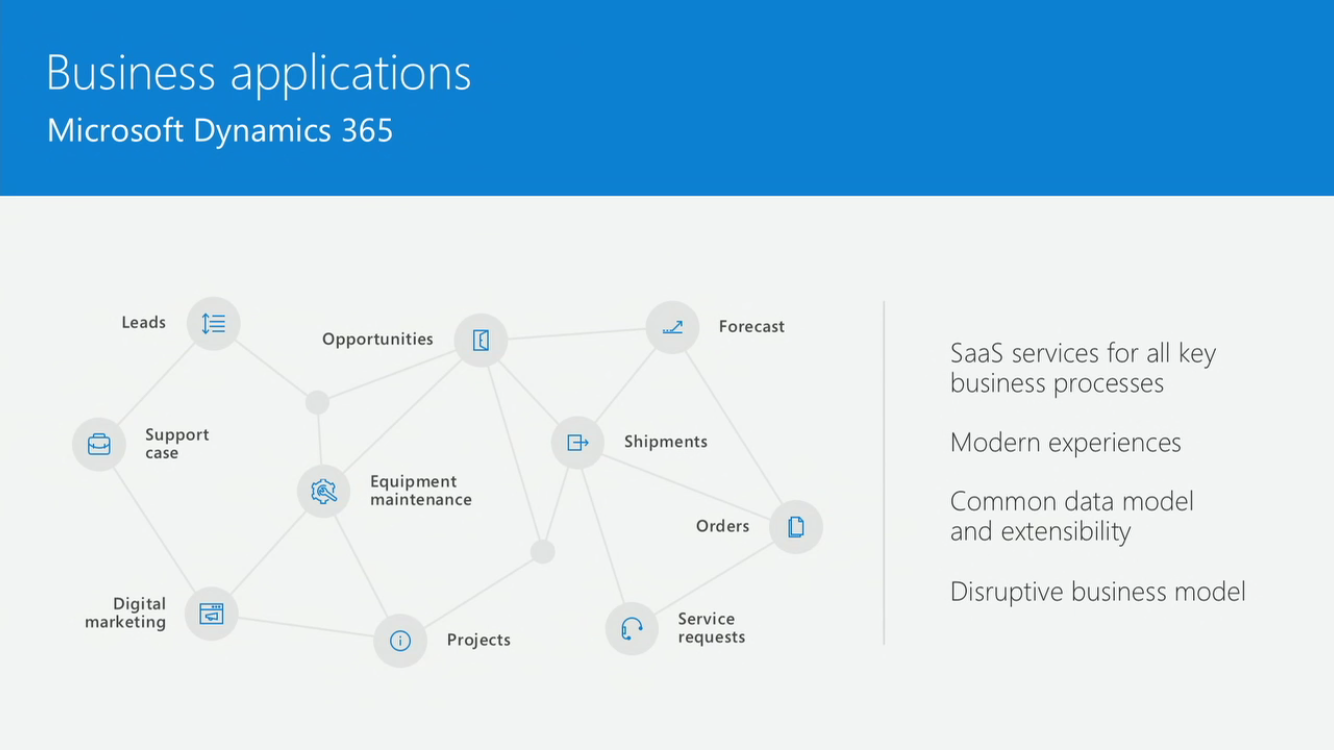 Ecolab Case Study
Satya Nadella then went on to provide a case study on how Microsoft is changing the way companies do business, his example was Ecolab.
Ecolab is a water management company and a Microsoft customer.
Ecolab is using Microsoft and digital tech to build new systems to change outcomes around water management for their customers.
Steve Clayton, Microsoft General Manager then came on to the stage to provide more insights into Ecolab and their use of Microsoft.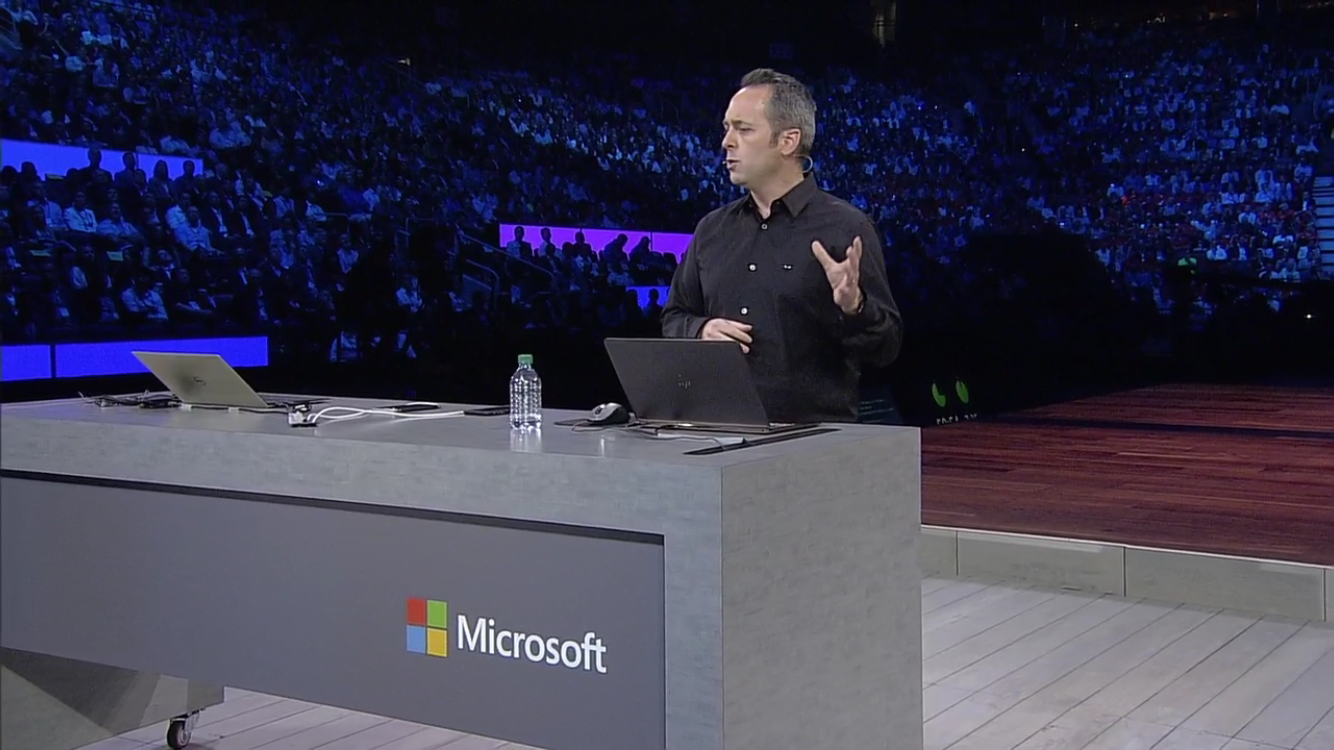 Water is a finite source and Ecolab is managing the company from the boardroom to the boiler room.
Ecolab have a Power BI dashboard which operates in real time, providing live insights across the business i.e. Site Management. They can take immediate action from the dashboard to see where an issue is occurring on site and how it's impacting their bottom line, straight from the boardroom.  A service alert is automatically created within Power BI to create a work order to solve this issue. It's automatic.
Steve Clayton then moved on to discuss Power Apps – how do we build apps, Ecolabs built their app City Power to create connections into multiple systems. From their phone they can see the whole spectrum of the business from KPI's shown in the board room, work orders and current events taking place at a customer level.  Providing the ability to create powerful real time solutions and create connections across multiple systems.
Conversations as a Platform
Satya spoke on Conversations as a Platform "This week we launched Skype bot framework, customer services bots are getting built and our bot framework is getting richer."
Asking the room: "Are you building your bot interfaces? Are you plugging your applications into Cortana?"
Azure
"The most differentiating aspect of Azure is the productivity gain for everyone inside of your organization. With operation management suite, we are talking about the productivity of your developers." Satya Nadella
Jeff Immelt CEO of GE Joins Satya 
Jeff Immelt, CEO of General Electric advised that CEO's have to be willing to drive change, and he did this by profound investments into technology. Creating the Digital Industrial which GE started in 2010 and is accelerating today, adding it was "the single most important change I've driven inside a company."
The relationship with Microsoft is allowing us to grow more rapidly, all over the world, allowing GE to move quickly, going from IT to OT faster.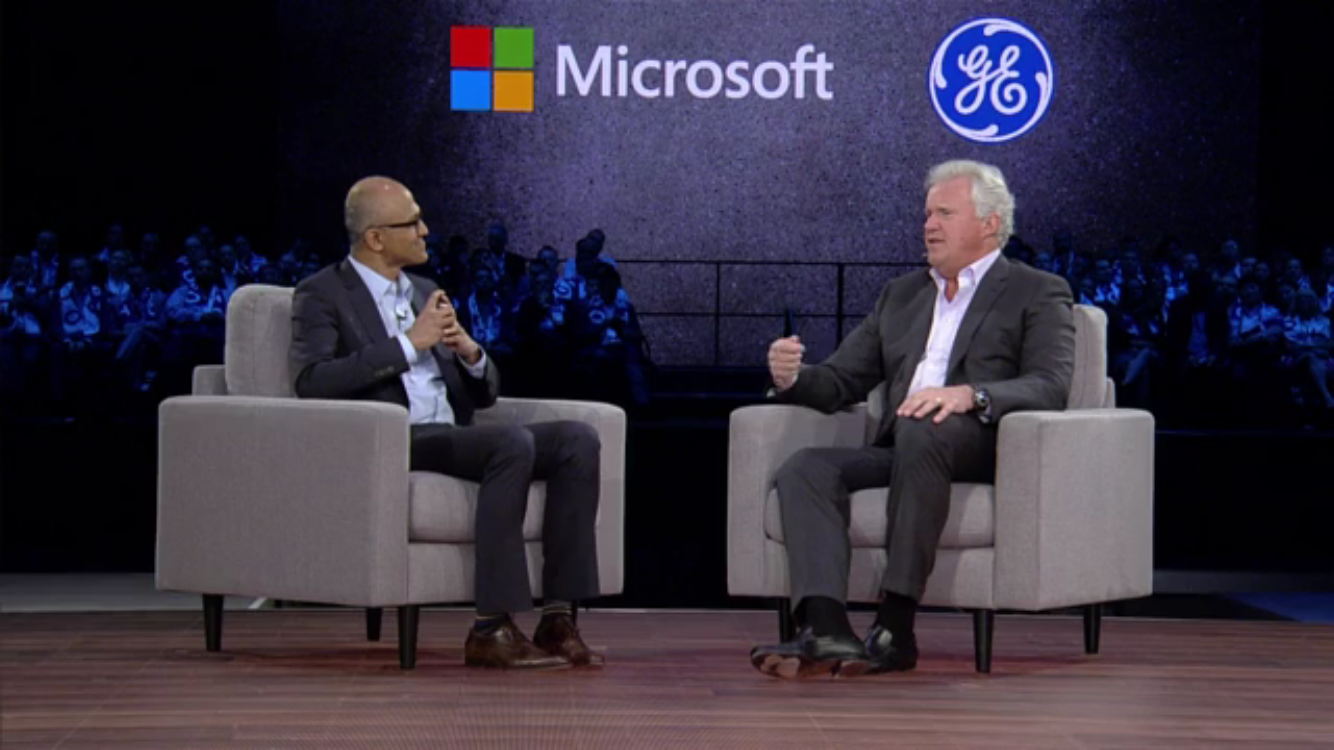 Satya Nadella added "The bridge from IT to OT is what the Microsoft partner ecosystem is allowing us to do."
Jeff explained, "We see solving problems on a local basis, easier – Digital has allowed us to  decouple our supply chain, from multi-thousand factories to 3/400 factories all around the world."
Satya added: "The smallest businesses in an emerging market to public sector organizations are transforming locally through the digital era."
Jeff Immelt's Parting Piece of Advice: You must change!

The CIO has changed dramatically, from a staff function to an operational productivity function.
"Not only must you change, but you can change. It's going to take investments in culture, technology and to change the business model which you interface with customers. You need to dedicate yourself and your organizations to do this" Jeff Immelt, CEO of General Electric.
The Efficiency of the Drive Thru
Satya Nadella then discussed how Microsoft is helping businesses of many kinds. "We've taken decades of research and knowledge and made it available as API's, these API's are being used by developers to infuse into the applications perception and ability to understand."
"We're working with McDonald's – the efficiency of the drive thru is built on get in and get out fast with the order you want." Satya then played audio of what a typical drive thru order sounds like.
Satya explained the future of drive thru order taking is McDonald's recognizing speech and using recognition and precision to place the correct order. Example of voice recognition shown below: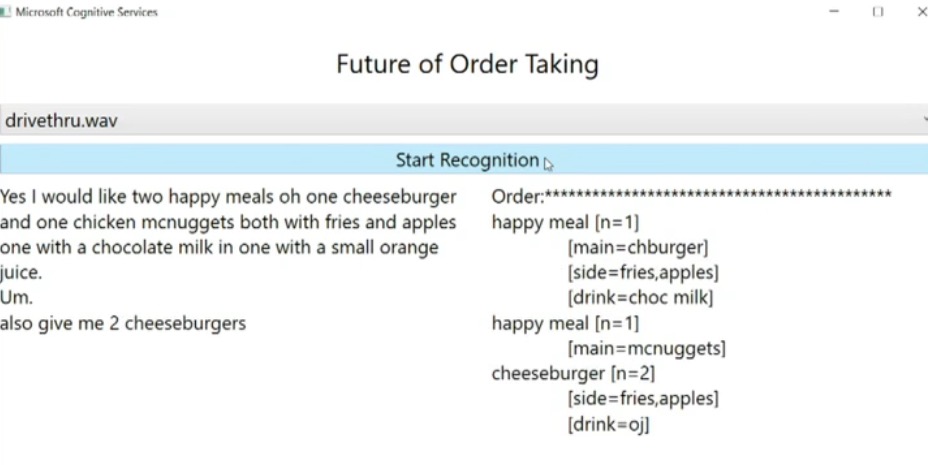 Microsoft HoloLens
Lorraine Bardeen. GM, Windows & HoloLens Experiences Production & Strategy at Microsoft spoke about the uses of Microsoft HoloLens, stating "Employees need to be able to weave their training into their workday. Microsoft HoloLens – saves time and money for a company."
Safety is a huge and important part of training with machinery. HoloLens allows this and even shows hazardous areas.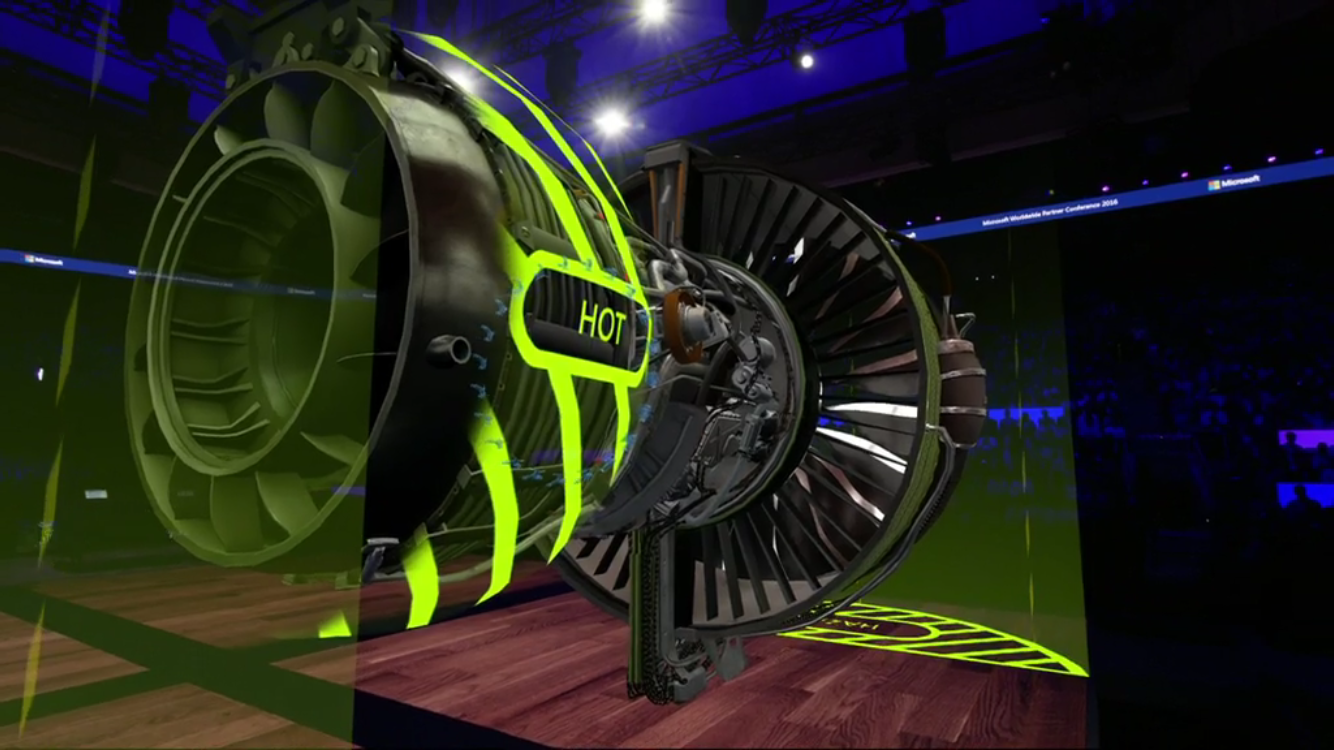 Satya added: "Every time I see these demos I think of when we launched HoloLens a year and a half ago, when you change the way you see the world, you change the world you see."