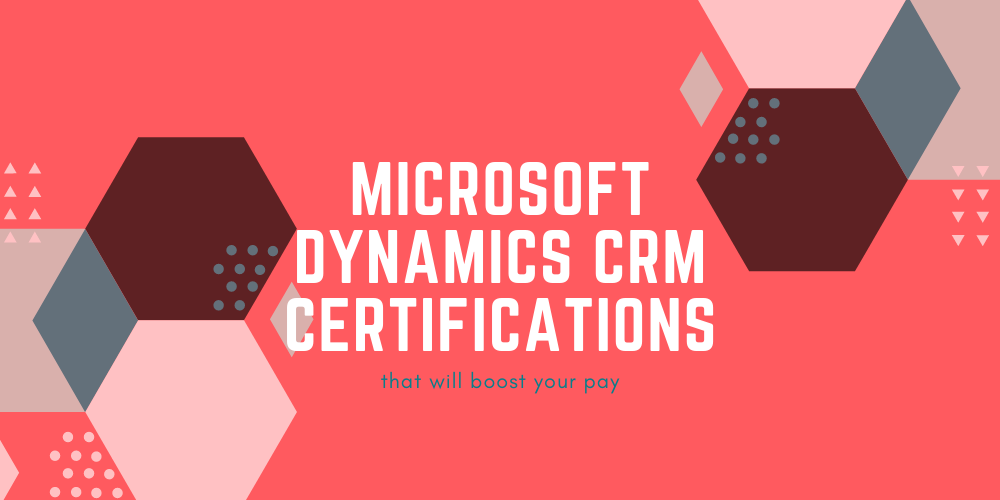 In our most recent Microsoft Dynamics Salary Survey, we asked our Dynamics professionals about certification; which badges they had, what technologies they were in, and perhaps most importantly, if they'd received a pay increase after earning their cert.
Almost a third of our respondents reported they experienced a pay increase after obtaining a Microsoft Dynamics CRM certification.
This is a pretty juicy stat, and certification becomes even more attractive when you consider the wider appeal.
The fact is, even if your current employer doesn't immediately bump up your pay packet post-certification, getting your Dynamics CRM skills officially endorsed can increase your overall worth, leading to better prospects and greater opportunities.
All this, as well as the potential to increase your salary, especially when taking the next step in your career. (And who doesn't want that?)
We've put together a handy guide to the Dynamics CRM certifications that are out there, and how you can get one.
Dynamics CRM certifications: What're my options?
Thinking about getting a Microsoft Dynamics CRM certification? Here's how it goes down.
Microsoft has a huge number of certifications to choose from, and even more elective exams you can get your certifications by passing, meaning you have a fair amount of freedom when it comes to shaping your certification journey.
When Dynamics 365 was released, retired its standalone CRM certification, replacing it with MCSA: Microsoft Dynamics 365.  However, this certification has retired, along with one of the exams you previously needed to take to pass it; MB2-715 – Microsoft Dynamics 365 Customer Engagement and Online Deployment.
But that doesn't mean you don't have other options. Microsoft isn't going to shelve a cert focusing on its flagship CRM and ERP platform without replacing it.
There are now eight brand-new, role-based certifications for Dynamics professionals—one foundational certification that covers all the basics, and seven mid-level certifications that test the skills needed to be an effective functional consultant specializing in one of four core Dynamics 365 apps.
We're going to take a closer look at the certifications that relate to Dynamics 365's CRM apps. You can find out more about the wider stable of Microsoft certifications in 2019 in our comprehensive certification mega-post.
Microsoft Certified: Dynamics 365 Fundamentals
This introductory cert covers a little bit of everything related to Dynamics 365. It's not a prerequisite if you want to go on to try for the Associate-level Dynamics 365 badges, but is a handy starting point. All Dynamics 365 products will be touched on here, both CRM and ERP, as well as the Power Platform. You can expect the exam to cover topics like basic cloud concepts, pricing and licensing, and deployment and release options.
Microsoft Certified: Dynamics 365 for Field Service Functional Consultant Associate
Another one for aspiring Dynamics 365 Functional Consultants, this certification focuses on the Field Service app. To earn this certification, you'll need to be able to configure the app, manage the field service lifecycle, and deploy the Connected Field Service (IoT) solution to ensure the efficient processing of work orders and manage personnel and resources in the field.
Microsoft Certified: Dynamics 365 for Customer Service Functional Consultant Associate
Centring on Dynamics 365's customer service app, this certification validates your abilities to craft smart, effective customer experience solutions. You'll be expected to know all the usual app-related stuff—managing data, configuring the platform, upkeeping security processes—as well as how to manage cases, queues, entitlements, and knowledge bases within the solution to anticipate and address customer needs.
Microsoft Certified: Dynamics 365 for Sales Functional Consultant Associate
One for Dynamics 365 for Sales specialists, to pass these exams and earn the cert, you need to demonstrate your ability to implement solutions that maximize sales teams' productivity. That includes anticipating and planning customer connections, managing leads and deals, and helping sales teams make informed decisions using data analytics.
What about MCSE: Business Applications?
Despite its prerequisite cert, MCSA: Dynamics 365, being retired, this expert-level badge is still available.
However, now that MCSA: Dynamics 365 is a goner, to sit for MCSE: Business Applications you need to have first earned MCSA: Microsoft Dynamics 365 for Operations; which doesn't cover CRM-related topics at all.
Not only would you have to earn a certification that deals with the ERP-side of Dynamics before you can attempt the MCSE, but the handful of CRM-centred exams you can sit in order to earn this MCSE have also all been retired.
So, though MCSE: Business Applications is technically still available, it probably isn't worth it as a CRM professional, as it simply doesn't cover the products you work with or the skills you want to show off. You're likely better off sticking with the role-based certifications, and hoping there'll be one specifically for your job role, or the job role you want, in the near future.
The hottest new Dynamics jobs straight to your inbox.

Get the latest hand-picked Dynamics roles via our jobs by email service.

Microsoft Dynamics CRM certification cost
Each of Microsoft's Dynamics 365 certifications requires you to sit at least one exam. The majority of these exams cost $165 USD per attempt, though the exam for the entry-level Microsoft Dynamics 365 Fundamentals badge is slightly cheaper at $99 USD.
If you don't pass the first time, you'll have to pay for the exam again. The good news is that Microsoft provides several exam packages that offer cheaper resits.
The Certify with Confidence package costs $230 USD, and includes one certification exam, plus two retakes. Your other option is the Certify with Confidence with Practice Test, which includes one certification exam, two retakes, and access to one official Microsoft practice test. This package costs $265 USD.
Why get a Dynamics CRM certification?
The Microsoft Dynamics eco-system is considered a high growth industry, especially after the release of the game-changing Dynamics 365. Demand for Dynamics professionals is set to increase as more and more businesses digitize their business processes, and seek to increase the value they get out of their IT functions.
So, whether you're a Technical Consultant, Functional Consultant, Developer or Practice Lead, when you get a Dynamics CRM certification you essentially increase your worth as an IT professional. Not only will it help you command a higher salary, but it can also help mark you out from other candidates when looking for work, and increase your "curb appeal" with potential employers; according to Microsoft, you're five times more likely to get hired when in possession of a Microsoft certification. In the same study, it's stated that 86% of hiring managers surveyed prefer a job applicant with a Microsoft certification.
And once you've landed that great job, you're more likely to take home a better salary if you have a badge against your name. Microsoft says that employees who hold a Microsoft Certified Solutions Associate (MCSA) certification can earn "up to $16,000 more annually" than their non-certified IT colleagues.
Being certified can also help you keep, and move forward in, your Dynamics CRM role. In a fast-moving industry like IT, demonstrating your skills and making yourself a critical part of an organization is vital. By putting in the time and effort to earn your certificate, you're showing your commitment to keeping up with new developments, and advancing your skillset; which benefits not only yourself but also the company you work for, making you an asset they can't afford to lose.
How should you be earning as a Dynamics CRM professional?
Fill out the form below and download a copy of the full Microsoft Dynamics Salary Survey report, including more information about the Dynamics market and salary data from thousands of professionals around the world.