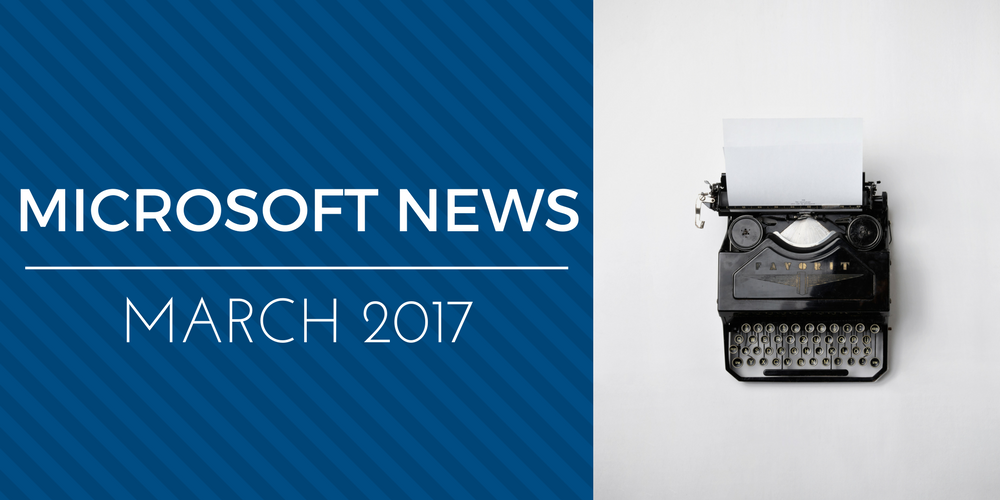 Did you have a busy March?
Didn't get a chance to read up on all of the latest Microsoft Technology news from the last 30 days? No worries! Here at Nigel Frank International, we got you covered! Here's a Microsoft tech news recap of news you may have missed in March.
Microsoft to start previews of on-premises Dynamics 365 for Operations in April
ERP professionals rejoice! The long wait is almost over. In March, Microsoft announced that beginning in April they will finally be previewing the on-premises version of their recently released Dynamics 365 for Operations.
Microsoft Dynamics 365 wins 2017 Customer Magazine Product of the Year Award
Dynamics 365 is continuing to turn some heads since its release last year. In March, Dynamics 365 was able to add another award to its young mantle as it was named the 2017 Customer Magazine Product of the Year, joining their Watchlist Elite Award and Stevie Award.
Report: Microsoft Dynamics 365 overtakes Oracle, SAP maintains ERP dominance in 2016
Microsoft Dynamics 365 has climbed the ranks of Panorama Consulting Solutions' annual report of businesses that implement ERP platforms over the course of a year. Dynamics 365 pushed Microsoft past Oracle for the first time in many years.
How do I synchronize my Microsoft Dynamics NAV contacts with Office 365?
One of the most common questions that NAV users have. This 4-minute video breaks down exactly how to sync up those Dynamics NAV contacts with your Office 365 software.
Microsoft releases multiple fixes for CRM bugs, including Win10 emergency patch KB 4016635
As many of you are aware, there were a couple security issues with Dynamics CRM 2011 and CRM 2013 OnPremises. Fortunately, Microsoft released a vat of patches to resolve those issues.
7 takeaways from Dynamics 365 Tech 2017
n March the Microsoft Dynamics 365 Technical Conference took place in Seattle. Didn't get a chance to make it out? That's okay… here's a great breakdown of seven important takeaways from the big technology event.
The importance of retail assortment in Microsoft Dynamics AX
All of you who work in the retail industry know how vital Dynamics AX's functions can be for day-to-day business activities. This great blog article explores the importance of Dynamics AX in retail and the benefits of using it correctly and to its full potential.
Microsoft updates Dynamics GP 2018 plans, stretches roadmap to 2019
Good news for all of you Dynamics GP fans – it's not going away anytime soon! Microsoft has released informationabout their plans for GP over the next couple of years… and it's looking good.
10 ways Dynamics 365 customers can leverage Microsoft's Insights, Assistants and Analytics to transform their business
Microsoft offers a slew of services for those that compute via cloud technology. If you want to get the most out of Dynamics 365, here are some great tips for you and your business. Definitely a must-read.
Register today and take the first step towards a great career in Microsoft Dynamics.