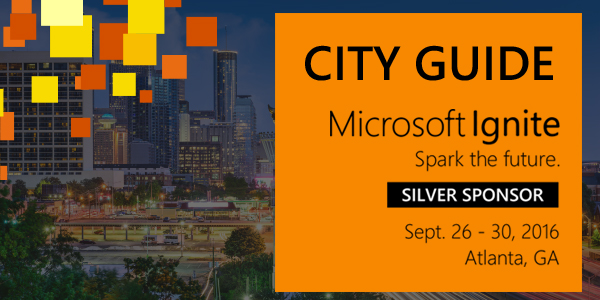 Microsoft Ignite is one of those important tech events where hardcore engineers, senior tech strategists, and even hands-on systems admin get stoked.
The event combines the TechEd series into one major event, its magnetic pull draws in huge crowds of more than 23,000. It's the ideal platform if you're looking to make the right tech moves in cloud and mobile, offering education, vision, and guidance on a full spectrum of enterprise solutions all under one roof. And you will enjoy the city of Atlanta too. Atlanta is hot, and not just literally! The climate in September soars to 27˚C/80˚F with a low of around 15˚C/59˚F.  It's a hot modern metropolis, with a festive nightlife, seven professional sports teams and an abundance of attractions shrouded in its deep Southern roots.
Nigel Frank is proud to be a Silver sponsor at Microsoft Ignite – be sure to meet our Microsoft Recruitment team all week at Booth 152!
If you're planning to 'ignite' your knowledge in Atlanta this September, we've tapped into some of the local networks to bring you some fun facts, made some recommendations on world-class entertainment and how to navigate your way around the city –  from the best restaurants to some pretty amazing attractions plus subdued spots to park your laptop. Time zone: (EST) Eastern Standard Time, UTC/GMT -5 hours.
Fun Facts about Atlanta
Atlanta is only one of two cities in the world to have housed two Nobel Peace Prize winners, Dr. Martin Luther King, Jr. and Jimmy Carter.
Reputedly, Atlanta born and bred resident Pulitzer Prize writer Margaret Mitchell wrote Gone with the Wind, because an ankle injury immobilized her and she was really bored.
There are over 55 streets in Atlanta with the name "Peachtree."
Hartsfield-Jackson Atlanta International Airport is reportedly the world's busiest airport. The terminal is huge and spans 45 football fields.
Atlanta outlawed tying a giraffe to a telephone pole or a street lamp.
Whistling too loudly after 11:00 p.m. Sunday through Monday is prohibited by law in Atlanta.
The fastest baseball game in history ever recorded took place in Atlanta, when the Mobile Sea Gulls beat the Atlanta Crackers 2-1 in just 32 minutes.
Located in Atlanta metro area, BAPS Shri Swaminarayan Mandir is the largest Hindu temple outside of India.
If you fancy some really fast food in Atlanta then try The Varsity, the largest drive-in fast food restaurant in the world!
Coca-Cola was invented in Georgia with their headquarters based in Atlanta.
Anchorman 2, The Hunger Games: Catching Fire, Driving Miss Daisy, The Internship, Identity Thief, and Zombieland were all filmed in Atlanta.
Actress Julia Roberts was born in Atlanta.
Stone Mountain just outside of Atlanta is the world's largest exposed granite monolith with a relief carving of Confederates, Robert E. Lee, Stonewall Jackson, and Jefferson Davis.
Top Attractions in Atlanta
Georgia Aquarium
The Georgia Aquarium is like no other, it has one simple claim to fame: it is the largest aquarium in the world! It boasts a 10-million-gallon playground for all types of aquatic mammals including dolphins, penguins, mischievous belugas, mammoth whale sharks, frolicking otters, ethereal jellyfish, sharks and more. Go underwater and experience a sensation usually reserved only for divers, in a tunnel called the Ocean Voyager exhibit. With over 60 other exhibits that showcase a vast variety of marine life including an Aquanaut Adventure, AT&T Dolphin Tales, and Topical Diver.
World of Coca-Cola
World of Coca-Cola is the attraction for everything Coke and more! Visitors can get involved and go behind-the-scenes experiencing its pop culture, historic advertising campaigns and Trademark brands such as Coca-Cola, Diet Coke, Cherry Coke, Coke Zero. Get immersed in the bottling process, and even create your own Coke art with the "My Coke Art" exhibit. A Taste It Gallery with five tasting stations feature drinks from Europe, Asia, Africa, Latin America and North America where you can sample and taste test more than 100 beverages. World of Coca-Cola is also home to the vault that contains the "Secret Formula."
Inside CNN Studio Tour
The CNN Center is the world headquarters of the international news channel.  The attraction offers a 50-minute guided walking tour that gives you an opportunity to explore behind-the-scenes of CNN's global network, with telling insights into the complexities of news production. Visitors will see the world's longest freestanding escalator, and if you've ever fancied being a presenter, then try your hand at "cold reading" the news in Studio 7E. Other features include watching a newscast as it occurs and a personal snoop into the station's control room, all complete with real-time direction plus an explanation of the techniques and technology used.
Fernbank Museum of Natural History
The Fernbank Museum of Natural History has so much to offer. Surrounded by a 65-acre (26.3 hectares) forest, it boasts an observatory, a planetarium, an IMAX movie theater (which is home to the biggest movie screen in Atlanta), and the largest dinosaurs ever discovered.  Features include Sensing Nature, an experience that helps visitors become aware of their senses and interpret the world around them, a virtual waterfall, and an exhibit known as NatureQuest which lets you see the inside of a mighty red oak tree.
Zoo Atlanta
Spanning almost 40 acres (16 hectares) in Grant Park, Zoo Atlanta is the oldest cultural attraction in Atlanta and a favorite of both locals and tourists.  Its natural habitats include more than 1,000 animals representing some 200 species from around the world, and its one of a few selective zoos in the US to house giant pandas. Features include interactive wildlife shows, a Zoo train, and a petting zoo, but it's best known for its gorillas, more reside at the zoo than anywhere else in the United States.
Martin Luther King Jr. National Historic Site
Completed in 1982, visitors can pay tribute to the late, great Dr. Martin Luther King Jr. at this National Historic Site. The site showcases his important civil rights work where you can hear recordings of Dr. King's sermons and speeches which play inside the church. The King Center also houses a D.R.E.A.M Gallery and the tomb of Dr. King.
Useful Atlanta Knowledge
To get around Atlanta try using the MARTA, their subway system – it's efficient and costs only $2.50 for a one-way trip.
The traffic is terrible around Atlanta due to their very complex infrastructure, however if you need to travel by car, there are over 1600 licensed taxis, Uber, or you can hire a car from numerous operators such as Hertz.  Always factor in extra time for your journey.
If you're looking for a great place to eat plus enjoy a fantastic view of the city at the same time, then try the revolving Sun Dial Restaurant. You can view all 360 degrees of Atlanta atop the Westin Peachtree Plaza Hotel.  The average meal will set you back $31 – $60, cocktails start from around $15.
Situated above W Atlanta-Buckhead, Whiskey Blue, is also one of Atlanta's best trendy rooftop bars, with two roof terraces and a modern art deco design. Be warned they have a dress code of 'smart sophistication.'
Lined with wide brick sidewalks, green benches under perfectly primed and pruned dogwood trees, Tech Square is a very popular haunt. It's a great place to relax and a stone's throw away from some of Atlanta's best restaurants and bars, including Empire State South, Barcelona, Serpas and Krog Bar.
Sister Louisa's Church is notable for its quirky folk art, ping pong, sangria and Tall Boys at a mere $4; and by the way, it's not a real church.
Jackson Street Bridge is a great spot to view Atlanta's skyline by day and night.
Atlanta is infamous for its antique shops or thrift stores, so you're bound to pick up a novel memento.