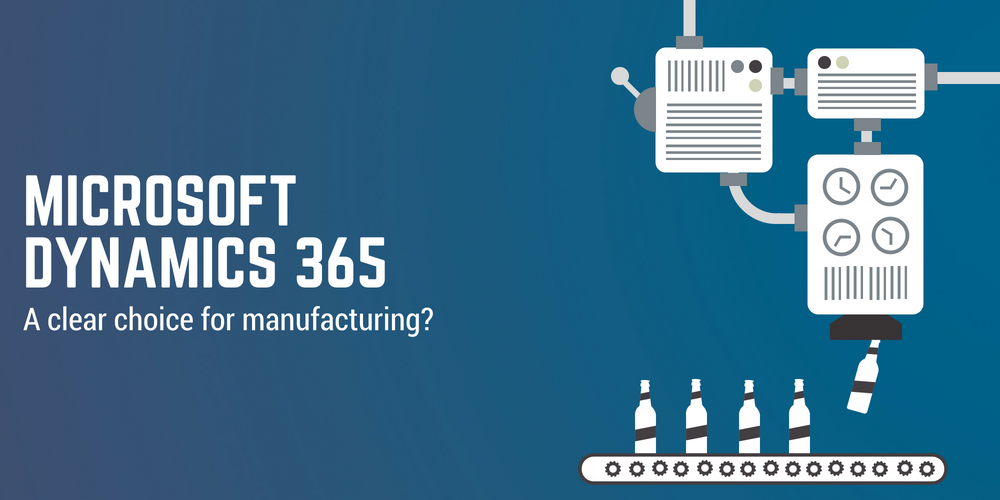 Digital transformation is making waves across every vertical, and the manufacturing industry is no exception; how can solutions like Dynamics 365 help manufacturers take advantage of this new era of innovation?
New processes and new technologies are rolling out continuously, and manufacturers are under pressure to remain at top-level productivity throughout their supply chains in the face of a changing industrial landscape.
Transforming operations and improving efficiency is a top priority for many manufacturing businesses, but if manufacturers are to build an organization which can truly weather such industrial overhaul, they need to have a robust business management solution at their foundation. This is where an ERP program like Microsoft Dynamics 365 can make all the difference.
The Microsoft Dynamics suite has long been a favorite of manufacturing businesses, with ERP solutions Dynamics NAV and Dynamics AX, in particular, offering a range of tools and processes for manufacturers of all types. Nigel Frank's 2017 Dynamics Salary Survey found that manufacturing was one of the highest represented verticals among Dynamics users, with one in 10 Dynamics end-user respondents working in the manufacturing industry.
Microsoft Dynamics has been helping manufacturers streamline and optimize their processes for two decades, and now, in the face of massive digital transformation across the industry, is providing customers with new tools to help them do more.
Digital transformation for the manufacturing industry
Changing customer expectations, the impact of big data analytics, and advances in machine learning are just a few of the factors fueling transformation across industries. In the manufacturing sector, there's also the rise of automation to reckon with. The fourth wave of industrial revolution is upon us, and with it comes the promise of the "smart factory".
Industry 4.0 will see every machine and device throughout the process connected by a common platform; one that analyzes, learns, and derives value from the data produced to improve efficiency and move faster. Previously disparate physical systems, connected through the Internet of things and empowered by cognitive computing, will help manufacturers automate repetitive processes, and collaborate on big-picture issues.
Data, analytics, and machine learning are the driving forces behind Industry 4.0, and how well manufacturers can harness these pillars of digital transformation will dictate how successfully they're able to operate in this new era of industry.
The advancement of artificial intelligence is already changing the way manufacturers harvest data, manage operations, and generate forecasts. Centralizing this data is increasing transparency and helping manufacturers better communicate and collaborate at both ends of their supply chain.
The flipside to putting all of your business data in one "pot" is that, while the potential to gain useful, practical insight and overview into your business is exponentially larger, it can be challenging to properly process that data.
Managing and analyzing the massive amounts of information generated by your operational processes and your customers is a mammoth task, and organizations need access to a sturdy set of business intelligence to make the most of the opportunity that big data represents.
Need a helping hand to make your move to Dynamics 365?
Browse our bank of pre-screened, qualified Dynamics 365 professionals for free today, and find the experience you need to make your switch a success.
Why Microsoft Dynamics 365 for manufacturing?
Though industrial revolution historically tends to happen through a trickle-down effect, cloud computing is digitally empowering manufacturers of all sizes to revitalize their processes through accessible, affordable solutions like Dynamics 365.
Manufacturing is typically a very process-heavy industry, but now more than ever, manufacturers need to work to enhance their customers' experience to be able to excel.
A comprehensive, cloud-based collection of apps which seeks to break down the silos between front- and back-end processes traditionally present in business software, Dynamics 365 helps manufacturers unify their operations, gain better visibility of their processes, and engage with their customers.
The increasing accessibility of digital manufacturing tools, such as cloud storage, software, and IoT sensors, is making it more possible than ever to create "smart factories" where devices, assets, and resources all over the world can sync together to make the industry more productive.
Manufacturers of all types—from process to discrete, batch to repetitive—can all benefit from digitally overhauling their operations. Here's how Dynamics 365 can help manufacturers maximize productivity across the board:
Optimize supply chain operations
With so many organizations involved across a supply chain, it can be challenging to gain a complete, real-time overview of operations end-to-end. Data from sales, suppliers, order fulfillment, product performance, and customer service all need to be factored in when working to improve supply chain processes.
The benefits of employing an intelligent system to manage supply chain operations are extensive. By combining your business data, supply chain data, and public data like maps and weather forecasts together in a system imbued with artificial intelligence and machine learning, manufacturers can better adapt to changes and developments, helping cut down on wasted time and resources.
Implementing a holistic system which acts as a "single source of truth" can help create more accurate schedules, forecasts, and budgets, which in turn power a more efficient business.
A cloud-based, mobile-enabled solution like Dynamics 365 gives the right people—from those working the supply chain up to key decision-makers—instant access to real-time information wherever they are, so issues can be addressed before they significantly impact business.
Streamlining asset management
A manufacturer's assets are a crucial part of their business, and as the idea of the connected factory becomes a reality, companies can better manage their equipment to gain greater value.
Dynamics 365 allows manufacturers to closely monitor their apparatus by processing and gleaning data in real-time. Performance, usage, and machine lifecycle information can be viewed anytime, anywhere, and any issues can be resolved remotely to maximize uptime.
By combining an innovative ERP like Dynamics 365 with IoT-ready parts, manufacturers can keep an even closer eye on their assets, spot broken or inefficient components, and use collected data to develop more efficient equipment.
Enhance innovation
In any type of business, time is money, and manufacturers, in particular, are under constant pressure to shorten production cycles and get products to market more quickly.
Dynamics 365 offers greater insight into business operations, highlighting areas that can be optimized, processes shortened, and costs cut. With product, customer, and performance data being analyzed in real-time, manufacturers have more freedom and scope to improve the way they work, and react to changes quickly.
Having data on hand to able to innovate and reinvent not only empowers employees, but also shortens the time to market. Improved collaborations at the research and development stage, smarter analysis of costings and resources, and streamlined production processes will allow you to turn around new products faster, and capitalize on trends and developments ahead of your competitors.
Improve customer experiences
In recent years, technology has enabled businesses to connect and communicate with their customers—and vice versa—in new ways. As a result, customer expectations have risen, and companies need to be able to meet those expectations by delivering an outstanding service, keeping their customers informed, and deal with any issues in a fast and decisive fashion.
Having all your business and customer data in a single system means that your customer service agents can find the right information easily, and can respond to queries regarding order status or delivery as quickly as possible.
Offering great experiences throughout the manufacturing process cements your competency, and builds loyalty and trust by solving problems before they impact your customers.
Dynamics 365's centralized, intelligent platform allows manufacturers the agility to respond and adapt to changes at any point in the cycle. Users can push through rush orders from the initial sales order, update or edit orders throughout the production process, utilize multi-level production orders to simplify make or buy decisions, and run "what-if" scenarios to better prepare for changes and predict their effects.
According to Gartner's CX Pyramid, predicting the needs of customers, and delivering solutions before they even feel the impact of any issues is the key to taking your customer experience game from good to great.
By using Dynamics 365's predictive analysis and intelligent reporting, you can tailor your services to each customer based on their previous purchases and activity, allowing you to make your customers' lives easier, and become truly invaluable.
Digitize your operations
A report by IDC predicts that by 2020, 60% of all manufacturing supply chains will have benefited from digital transformation, with the remaining half being held back by outmoded business models or operational processes.
Industry 4.0 will change the way things are made across the world by allowing every single cog in the manufacturing machine to connect, communicate, and share information. As the manufacturing industry moves towards a more productive, agile, data-driven future, businesses who embrace this opportunity to revamp their systems will be the most successful.
A report by IDC predicts that by 2020, 60% of all manufacturing supply chains will have benefited from digital transformation.
Though the prospect of throwing out the procedures that have become ingrained in the day-to-day running of the business may seem overwhelming in the short-term, the benefits of digitization can transform manufacturers in a more efficient, profitable, future-proofed organization.
Dynamics 365 is an intuitive, cloud-hosted, intelligent solution which offers users a single platform through which to manage their entire operations, making collaboration easier, processes faster, and reporting more pragmatic, while enabling manufacturers to put customer engagement at the forefront of their business.
Through digitization with Dynamics 365, manufacturers can find automated digital solutions to practical issues, such as inventory monitoring, quality control, and equipment maintenance.
Make better use of business data
The rise of the IoT is not only allowing manufacturers to better sync their equipment and processes, it's also generating monumental amounts of data. How businesses use that data is crucial to their success in the new age of industry.
According to a recent report by Edgewater Fullscope, almost 60% of manufacturers currently use upwards of five separate systems to store and manage their financial data. It's near-impossible to see the full picture when you don't have all the puzzle pieces in one place, and centralizing your business data will help produce a clearer picture of the health of your organization.
Combining this centralized intelligence with Dynamics 365's built-in AI capabilities helps manufacturers derive actionable insights from their data, make predictions based on previous actions and events, and graduate from being reactive to staying one step ahead.
The app enables manufacturers to forecast and plan more accurately, and predict demand depending on data including seasons and market trends. These predictions can be used to optimize output, ensuring levels match customer demand and eliminate wasted resources wherever possible.
Boost profitability
The whole point of improving processes, streamlining workflows, and boosting customer loyalty is, of course, to make your manufacturing business more profitable. By providing manufacturers with the tools and intelligence to make their services better, faster, and more customer-focused, Dynamics 365 enables users to eliminate waste, reduce errors, and provide more value to their customers; all of which will result in higher profits, and a healthier future.
Dynamics 365 apps for manufacturing
The Dynamics 365 suite contains two comprehensive ERP apps for manufacturing businesses. Which one is right for your needs will depend largely on the size and scope of your organization, though due to the cloud-based nature of the apps, they're highly scalable.
Dynamics 365 for Finance and Operations
Modeled closely on Dynamics AX, and built for larger organizations with upwards of 250 employees, Dynamics 365 for Finance and Operations is the Dynamics family's flagship ERP app, and one of the most comprehensive solutions on the market.
Not only does Dynamics 365 for Finance and Operations give manufacturers industry-specific tools to optimize their shop-floor processes, it also includes features which can revitalize operations across the broader business, from accounting to human resource management.
Some of the tools included in Finance and Operations' manufacturing module include:
Production control
Master planning
Material and capacity planning
Resource management
Job scheduling and sequencing
Product configuration
Shop floor management
Inventory management
Master planning
Inventory management
Multi-site warehouse management
Transportation management
Order promising
Distribution planning
Quality management
Direct and indirect procurement
Purchase requisitions
Supplier relationship management
Vendor self-service portal
Dynamics 365 for Finance and Operations costs $190 per user, per month for a full license. The app is also available as part of a wider plan, including a variety of other CRM and ERP apps.
Dynamics 365 Business Central
Dynamics 365 Business Central is a new cloud-based ERP app designed especially for SMEs. Closely based on Dynamics NAV, it features everything a small-to-midsize organization needs to manage their back-end business processes.
Business Central comes in two editions; Essential and Premium. The Essentials license costs $70 per user, per month, and gets users access to features like invoicing, purchasing, opportunity management, budgets, finance, fixed assets, purchasing order management, resource management, workflow, contact management, simple inventory, advanced inventory, and distribution.
To gain access to Business Central's manufacturing and service management modules, users will need to purchase the Premium license, which costs $100 per user, per month.
Some of the features included in Business Central's manufacturing module include:
Production orders
Version management
Agile manufacturing
Basic supply planning
Demand forecasting
Capacity planning
Machine centers
Finite loading
Ready to implement Dynamics 365 in your manufacturing business?
Tell us what skills you're looking to add to your implementation team, and we'll find you the perfect candidate.