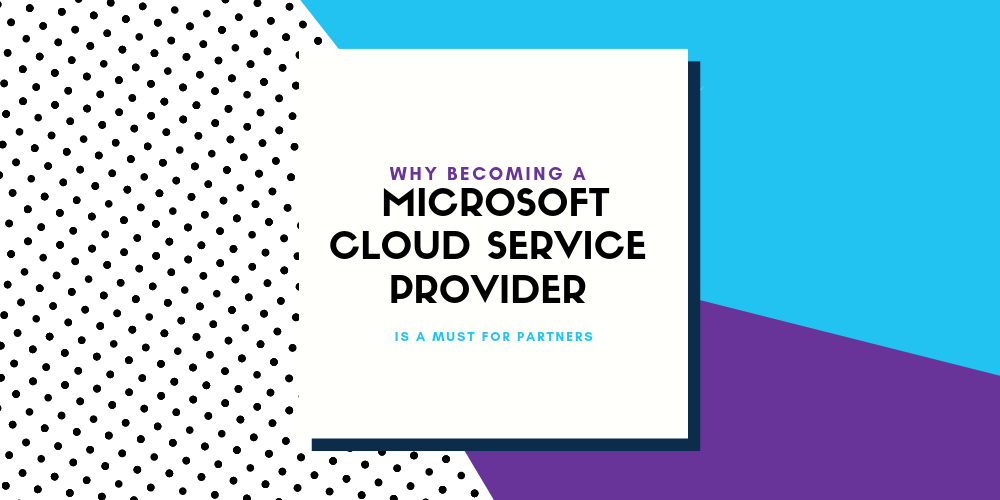 The IT industry is inundated with talk of "the cloud", so much so that it may've started to feel like a bit of a throwaway buzzword.
But the good news is it looks like all that talk is beginning to turn into action.
The cloud is now increasingly replacing traditional infrastructure for many organizations. More and more are overcoming their hesitancy about cloud solutions to move toward digitally transforming their business processes.
With businesses on track to spend over $500 billion on cloud tech by 2020, the ability to deliver these services to clients presents a massive opportunity for Microsoft Partners.
But adding cloud services to your portfolio is a major shift for Managed Service Providers and Value Added Resellers who're accustomed to working with more traditional client infrastructure. That's where Microsoft's Cloud Solution Provider program comes in.

What is the Microsoft CSP Program?
The Cloud Solution Provider program was set up by Microsoft in 2015 to help Partners large and small keep up with (and benefit from) the rapidly growing demand for cloud services. Through the CSP program, Partners can sell and support subscriptions to Microsoft services, and offer their customers full cloud solution services from beginning to end.
Not only are CSPs able to sell and implement Microsoft's most popular cloud solutions, such as Azure, Office 365 and Dynamics 365, but they can be with their clients throughout their entire service lifecycle. That includes offering support and billing services, allowing CSPs to build and maintain stronger relationships with customers.
Managing the entire customer lifespan also enables CSP participants to take advantage of new streams of revenue, with participating Partners able to set their own prices and profit margins for reselling. The program allows Partners to bundle and sell their own products and services alongside Microsoft cloud solutions too.
The program is open to all Microsoft Partners, regardless of size, location or competence levels. Even if a Partner has no previous experience providing cloud solutions, the CSP will help get you started.
With two types of membership depending on Partners' current circumstances, the CSP can benefit Partners who are cloud market-ready, and those who do not currently have end-to-end customer relationship management infrastructure in place.
Participants can elect to become either a Direct or Indirect CSP Partner, depending on the scale and set-up of their current practice.

What types of CSP Partnership are available?
Direct CSP Partnership
If you already have or are planning to set-up infrastructure within your practice to provide sales, billing, and support to customers, then the Direct CSP model might be the right choice for you.
Acting as the middleman between Microsoft and CSP Indirect partners, Direct CSP provide outsourced billing and 24/7 customer support services to practices that don't have their own infrastructure in place to support their customers' entire lifecycle. Direct CSP Partners purchase solutions directly from Microsoft, and resell to their customers at a profit margin of around 20%.
Qualifying as a Direct CSP Partner can take around four months, and requires some initial outlay of expenses. If you're planning on becoming a Direct CSP Partner, make sure you have a strong financial plan in place, and that your potential returns will cover your set-up expenditure. There'll also be minimum sales commitments to meet, and you'll also need to maintain at least one competency at Microsoft Gold Productivity level.
How to become a Direct CSP Partner
To register as a Direct CSP, Microsoft recommends that you already have:
an active Microsoft Partner Network ID valid for the location you're planning on working in
existing customer support infrastructure
existing customer billing infrastructure
capital available to finance technical integration and assist readiness
Indirect CSP Partnership
For Partners who can't offer technical support and billing services, but still want to provide cloud solution services to their customers, there's the Indirect CSP Partner model.
With the Indirect model, resellers can go to market much more quickly, and with less investment required. Under this model, Indirect CSP Partners (also referred to as Indirect Resellers) "buddy up" with an Indirect Provider, from whom Indirect Resellers purchase their SKUs, and who handles the customer support and billing side for the Indirect Reseller.
Partnering with an Indirect Provider allows even small-scale Partners to profit from the burgeoning cloud market with less financial risk and investment. Having an established and experienced Partner in your corner throughout the process allows Partners of any size to progress from offering licenses to building lasting connections with customers by taking control of their complete cloud solution journey. With Indirect Providers handling back-end processes, Indirect CSP Partners can focus on finding new customers and closing deals.
Once you've enrolled as an Indirect Partner, the program enables you to connect with an Indirect Provider in your area. Your new Indirect Provider will then provide training and support, assist with marketing your products and services, and help establish financing and credit terms.
How to become an Indirect CSP Partner
To register as an Indirect Partner, you'll first need to enroll in the program and create a Partner Center account.
You'll need to provide the following information when you sign up:
administrator credentials for your work account (if you don't have one, you can create one when you enroll)
your Office 365, Microsoft Azure, and/or Microsoft Dynamics CRM login details
your Partner Membership Center login details
your practice's legal business name, address, and contact details
And if in the future, your business and infrastructure grow to the point that you can support your own customers' full lifecycle, as well as that of other Indirect Resellers, you can upgrade your CSP status and become a Direct Partner.

What are the benefits of being a CSP?
As we touched on above, both the Direct and Indirect CSP models can provide huge benefits to Partners.
Becoming a CSP allows Partners to handle customers' complete experience; Partners become their customers' go-to IT solution provider, managing subscriptions, renewals and upgrades, and supporting their digital journey from beginning to end.
For customers, buying through a CSP partner as opposed to going directly to Microsoft means they can expect a broader range of purchasing options, customized solutions, and a direct line of support when they need it.
CSP Partners will be the first point of contact for all their customers' needs, offering solutions from a trusted, established company. But they also have the autonomy to own and control their own billing systems and cycles, set custom prices, create unique financing options, offer integrated solutions, and upsell their own products.
CSP Partners also often receive previews of new apps and software, so they can stay informed on developments that can affect their customers, and get to grips with updates before they hit general availability.
With the cloud service market set to continue its spectacular growth, the CSP program offers Partners the chance to establish themselves as a trusted cloud solution provider. With support from both established Partners and Microsoft themselves, Partners can develop their businesses and get ahead of the impending cloud explosion.
According to the aforementioned study on cloud opportunity, Partners who offer cloud services already outperform their peers "by 2.0X on growth, 1.5X on gross profit, and 1.8X on recurring revenue"; further proof that there's never been a better time to join the cloud revolution. 
More Microsoft technology professionals than anyone else.
Browse pre-qualified candidates now and find the talent you need to transform your business.