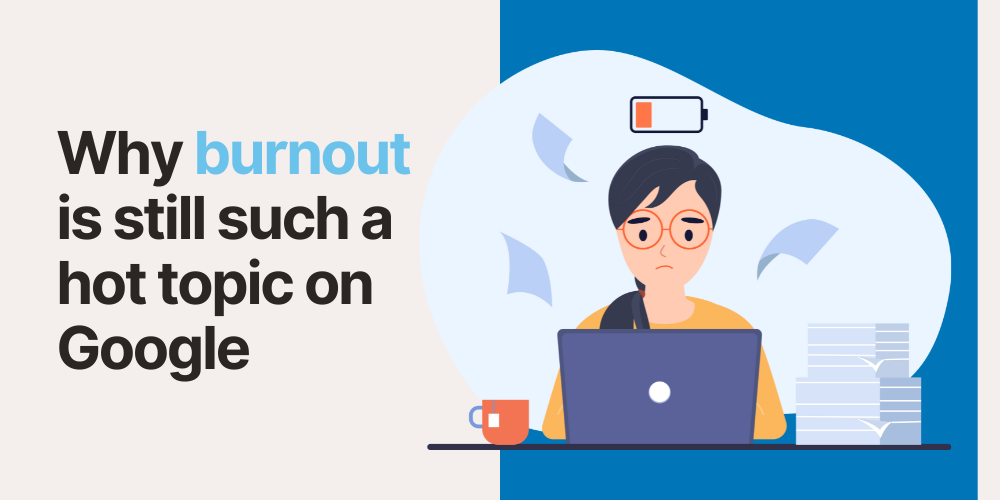 With major news and cultural outlets regularly publishing workplace burnout advice and exploring what a work-life balance can look like in 2023, the topic of work-related stress seems to have achieved some cultural staying power.
Given the current economic landscape, this is hardly surprising. Though the post-pandemic dust may have largely settled, and much of our professional lives have ostensibly returned to 'normal', there are still many challenges facing working people.
How we balance work with the rest of our lives, and how to handle things when that balance gets thrown off, are important issues that we've yet to solve as a society.
To get a sense of how present these topics are in the minds of the population today, and whether that has shifted any over the last 12 months, Nigel Frank International, a Tenth Revolution Group company, has gathered new data on Google search volumes and trends.
Here's what we found:
Google searches around burnout
| | | |
| --- | --- | --- |
| Search Term | Avg. Monthly Search Volume | Trend (Last 12 Months) |
| burnout | 823,000 | 0% |
| burnout symptoms | 74,000 | 0% |
| what is burnout | 22,000 | +22% |
| how to deal with burnout | 8,100 | 0% |
| what does burnout feel like | 3,600 | 0% |
Google searches around work-life balance
| | | |
| --- | --- | --- |
| Search Term | Avg. Monthly Search Volume | Trend (Last 12 Months) |
| work-life balance | 201,000 | 0% |
| work-life balance how to | 201,000 | 0% |
| work-life balance meaning | 12,100 | +22% |
| is work-life balance important | 5,400 | +22% |
| work-life balance examples | 2,900 | +24% |
 Discussing these findings, Nigel Frank International Chairman and CEO James Lloyd-Townshend said: "The stability in how these search terms are trending, with many of them neither up nor down over the last twelve months, is a reminder that burnout has been a critical topic for some time now.
"That's still the case, and it's still something we need to solve at the broader cultural level.
"It would've been great to see these search volumes around burnout trending downwards, but there's obviously still work to do. The upward trend for some of the terms related to work-life balance indicates that we're seeing a broadening of the conversation, which is hopefully a good thing. The more we can normalize the idea of work-life balance, the better."
So how do we deal with these persistently high levels of burnout? How do we make work-life balance something that everyone enjoys rather than something people have to Google to understand?
Prevention is better than cure: we've identified three strategies that employers can implement now to benefit their employees' wellbeing, help them achieve a healthy work-life balance, and shield them from succumbing to burnout.
Flexible work arrangements
Flexible work arrangements like remote working, flexible schedules, and job sharing have become increasingly popular in recent years, and for good reason. Giving employees more flexibility to choose how they work best, and more freedom to balance work with their personal lives, delivers many benefits to employees and businesses alike.
Flexible work arrangements allow employees to better balance their work and personal responsibilities, leading to reduced stress and improved mental health. In fact, a study by the Society for Human Resource Management found that 89% of employees who have flexible work arrangements report better work-life balance.
And naturally, this leads to a lower likelihood of running out of steam. A study by the University of Minnesota found that employees who have control over their work schedules experience less stress and burnout as a direct result of having the autonomy to better manage their workload and avoid situations where they feel overwhelmed or overworked.
Employees may experience lower stress levels due to financial benefits too: remote work can also reduce employee overheads like commuting expenses, while flexible schedules can reduce the need for costly childcare.
These offerings also tend to improve satisfaction and, as a result, retention and loyalty. According to a survey by FlexJobs, 82% of respondents said they would be more loyal to their employer if they had flexible work options.
And all of these benefits add up to better results for employers, with a study by Stanford University finding that telecommuters are 13% more productive than their office-based counterparts. The study theorised that this uptick in productivity is a result of employees being able to work in an environment that fits their individual work styles.
Employee wellness programs
There's been a sharp rise in companies implementing wellness programs focusing on physical and mental health in recent years, rolling out perks like fitness facilities, mental health resources, and group activities like yoga or meditation.
Research by The Harvard Business Review found that employees who participated in a wellness program were more productive and had fewer absences than those who did not, since healthy employees are better able to focus and perform their job duties.
Employee wellness programs can also help improve employee morale by promoting a positive and supportive work environment: according to a survey by the Society for Human Resource Management, 70% of employees said that a wellness program would make them feel more valued by their employer.
Regular feedback and support
Fostering open communication between managers and employees is a vital step in developing a happy, healthy, and productive workforce. Clarifying expectations, addressing issues early, and recognising accomplishments can all help employees better manage workloads and feel that their contribution is appreciated, and their work has purpose.
This can be achieved through regular check-ins, constructive feedback, and recognition of achievements; be sure to consult with your employees to learn what kind of engagement style works best for them.
Encouraging employees to voice concerns and discuss their challenges openly creates a more supportive work environment, where employees know that they can openly address issues like burnout before they become a bigger problem.
Methodology
This data was collected using keywordtool.io, and corresponds to global, English-language Google search volumes over the period June 2022 – June 2023.
Want thousands of Microsoft professionals at your fingertips?
Our candidate search allows you to sort pre-qualified professionals by skills, job title, location and much, much more.