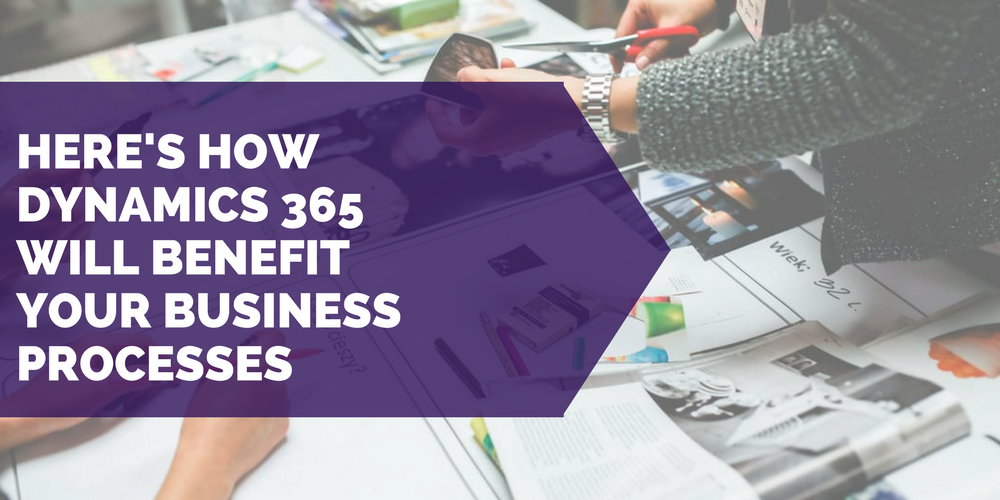 This month, Microsoft unveiled its new flagship business applications platform, Dynamics 365.
A cloud-based umbrella solution boasting a variety of CRM and ERP apps, it's already being heralded as the future of enterprise software, and purports to come with big benefits for businesses. So what's the big deal?
Microsoft already commands a significant portion of the business software market, with its suite of Dynamics apps having been around for 25 years. With Dynamics 365, the company is looking to break new ground, rolling all the functions a business could possibly need into one solution, while freeing organizations from the burden of infrastructure upkeep by housing it in the cloud.
According to the tech giant, Dynamics 365 will be a gateway to digital transformation for organizations across the globe, vowing to turn business processes into business advantages. Let's take a look at what Dynamics 365 brings to the table, and how it aims to drag the world's business processes into the 21st century.
Increased flexibility (and reduced costs)
Dynamics 365's modular licensing model means that users don't need to saddle themselves with a monolithic suite of apps they don't use. Instead, businesses can select the apps they need, and build a tailored solution that best fits their requirements.
Dynamics 365 also has its own dedicated app store, packed with Microsoft-approved extensions and plugins to help you tailor your solution even further to your own, industry-specific needs.
Its cloud-based nature also gives flexibility of access too. With its web-based interface, all users need is an internet connection in order to connect to and work with Dynamics 365, meaning your team can get things done anytime, anywhere.
Intelligent, native insights
Rolling together all your processes into one solution isn't just convenient, it can help you learn more about your business. Dynamics 365 comes with Microsoft's AI-infused business intelligence tool Power BI built in, bringing near limitless reporting and analytical power to your business data.
Power BI's dashboards are natively integrated with the Dynamics 365 apps, so you can get all the insight you need from within one interface. Analyzing data from across your entire stable of Microsoft products, Power BI is able to give cohesive, actionable feedback, make predictions about new opportunities, and visualize your data in ways limited only by your imagination.
Boosted productivity
Breaking down data silos and allowing business apps to share information creates a centralized system, giving your team access to all the data they need in one place. Having a complete picture of your organization and its workflows will help users work more productively. Having one consolidated data bank as a foundation for your apps also negates the need for time-sucking duplicate data entry.
Microsoft has made artificial intelligence a big focus in recent years, and now they're feeding back that technology into their Dynamics 365 products. With inbuilt automation functions, Dynamics 365 can help take care of the repetitive tasks, while pointing you in the right direction on big picture actions.
Improved security and compliance
With all the product infrastructure based off-site, keeping Dynamics 365 up to date, functional, and secure no longer falls to you and your IT department. Microsoft handles all of the back-end frameworks at their end, so you can sleep soundly without worrying that you missed out one of the office computers when installing the latest security patch.
The platform's security model also helps ensure the integrity and privacy of your data. Firstly, you'll never lose your data, as it is safely backed up in Microsoft's secure cloud. Secondly, you have full control over the data that users have access to, meaning your users are never party to any information they don't need to know to do their jobs.
With Microsoft data centers now located around the world, your data will not only be secure, but fully compliant with local laws.
A simpler, unified way of working
Dynamics 365 offers a unified, user-friendly interface which provides your team with everything they need to do their job; no more flitting between apps, or transferring data across programs. Its familiar, Microsoft-esque interface can also help boost user-adoption when it comes to rolling out your new solution.
A boon for Citizen Developers all over the world, Dynamics 365 also makes it easier for users to customize their solution and create new apps with programs like Microsoft Flow. A cloud-based program that helps users to quickly integrate other solutions into your Dynamics apps, Microsoft Flow can even help you create workflows based on those third-party interactions. Say you want to implement a social listening strategy as part of your marketing plan; by integrating Twitter with Dynamics 365, you can set up a workflow to create a new lead in your Sales app every time someone tweets a certain word or phrase.
Also included in the 365 package is Power Apps, a new tool that enables users to build mobile apps that meet their individual needs. The drag-and-drop nature of the app builder means users can build apps without the need for complex code, empowering users to customize their solution and ensure they get the most out of its functionality.
Unsurprisingly, Microsoft is super keen on all of their products playing nicely together, and Dynamics 365 is the epitome of hyper-connected software. Dynamics 365 not only has a similar look to its Microsoft brothers and sisters, it also incorporates their features, meaning you can create documents and track emails from within its interface.
With all of your apps able to talk to each other and share information, Dynamics 365 can do helpful little things like show previous contact and relationship information when you receive an email, or remind you to add an appointment in your calendar if a customer asks to be contacted on a specific date. Dynamics 365 also boasts native features which previously required third-party add ons, such as tracking email opens and click-throughs.
With Dynamics 365 so fresh on the scene, it'll be sometime before we see to what extent it can deliver on such big promises. In the meantime, keep an eye on our blog for the latest news and updates on Microsoft Dynamics.
For more on what the release of Dynamics 365 means for the Microsoft community, download our new whitepaper.