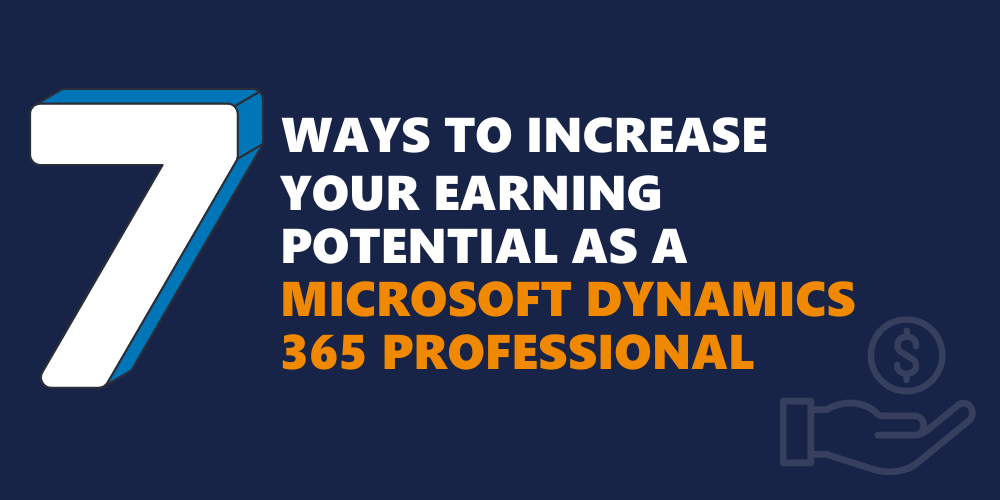 If you're a Microsoft Dynamics 365 professional looking to up your earning power, you're in the right place.  
Whether you're a developer, an admin, a consultant, or an architect, there are plenty of ways to boost your value in the Dynamics jobs market, and make a little extra money in the process. To find out which ones are the most effective, we asked Dynamics professionals what factors they believed would increase your earning potential based on their own experience.  
Every year, we survey thousands of professionals from the global Microsoft Dynamics 365 community to get their thoughts on the ecosystem: what's working, what's challenging, and where it's headed.  
Using data from our most recent Careers and Hiring Guide: Microsoft Business Applications Edition, we've broken down the community's top tips on landing a bigger paycheck as a Dynamics professional.  
#1 Say yes to things
When it comes to making yourself more valuable as a Dynamics pro, experience is king. Since we began conducting this research over a decade ago, years of technical experience with Microsoft Business Applications has been unchallenged as the most vital aspect of boosting your earning potential.  
There are no shortcuts to experience. There's a reason experience is considered to be so valuable: it's earned, it's indelible, and it can't be convincingly faked.  
Experience takes time to build. You can't gain the wisdom and steady nerves of a veteran Dynamics professional any other way than getting stuck into your work and taking on as many challenges as possible. But you can set yourself up for success by opening yourself up to as much experience as you can whatever stage of your career you're currently at.  
For developers in particular, gaining experience of the full software life cycle was highly recommended by our respondents.  From planning and coding to testing, deploying and ongoing management, having practical experience working at every step of the development life cycle will give you a big advantage. 
Getting to grips with every phase of application life cycle management will help you see the bigger picture, give you an overview of the challenges and obstacles that can occur throughout the process, and allow you to design more effective solutions in the future. This kind of expertise will be especially useful if you have ambitions to become an architect. 
#2 Branch out
The second-highest-ranking factor that our respondents ranked high on the list of things that will build your earning potential was exposure to large projects. Again, this is partly about experience; the more large projects you're involved in, the more you're going to learn from them. But it's also about broadening your skill set. 
"A broad range of knowledge and skills beyond just one focus" was another element cited by a high number of respondents. Of course, specializing in one particular app or industry isn't a bad thing. Because every sector uses Dynamics 365 differently, industry-specific knowledge in particular can make you a highly sought-after professional.  
However, it never hurts to have a few extra tools in your toolbox. The Dynamics 365 product family is already substantial, and new apps are being developed and released all the time. Given the wide range of functionality the apps cover, it's likely that a Dynamics 365 customer will use more than one product from the suite.  
We're not suggesting you try and become an expert in all things Dynamics 365; most likely you'll tend to focus on either the customer engagement side (that's all the functionality that used to make up Dynamics CRM) or the finance and operations side (the ERP-aligned products).  
But given that there are a number of apps in each of these pillars, there is plenty of scope for you to learn more about other Dynamics 365 apps that fall within your purview, or get certified in additional products. If you're a wizard with Dynamics 365 Sales, get to know Dynamics 365 Marketing or Dynamics 365 Customer Insights, for example, to multiply your knowledge and make yourself more valuable to potential employers.  
#3 Work on your soft skills
Soft skills are vital for getting ahead in any industry, but their importance is often overlooked in tech. The reality is that technical know-how will be worth a lot more when it's bolstered by essential skills like good communication, organization, and problem solving.   
Implementing a great solution is only half the battle. The most valuable Dynamics 365 pros are the ones who are also able to communicate how it works, what benefit it will bring, and how others can get the most out of it.  
No matter how sharp your technical skills are, having strong soft skills to go with them will make the whole process smoother, faster, and more effective; things that employers will be keen to see and reward.  
Organizations put a lot of stock into soft skills because they're far harder to instill in people than technical information. It's far more likely that an ambitious Dynamics professional will be able to learn about a new app or pass a certification, for example, than learn how to empathize with colleagues.  
So don't forget to keep your people skills up to scratch as well as your product knowledge, and celebrate and document your non-technical achievements to cement your profile as a multi-talented, indispensable all-rounder.  
#4 Mentor others
Taking on more responsibility or managing a team are a few obvious ways to command a higher salary. But even if you're not particularly interested in leading others or overseeing projects, brushing up your leadership skills can make you a more constructive addition to your team. 
As well as marking you out as a team player, imparting your knowledge to your colleagues can actually help strengthen your skill set too. Teaching others reinforces your own understanding, gives you a chance to review and improve processes, and helps develops soft skills. 
The transfer of knowledge works both ways too; others on your team might have experience you can learn from, or knowledge of a particular Dynamics 365 app that you're not so familiar with.  
Plus, mentoring others enables you to build your professional network—something that can be very useful when looking for future opportunities.  
#5 Get certified
Certifications are a useful way of showcasing your skills to colleagues and employers, giving give assurance that your skills and knowledge in a particular area meet a universally recognized standard. 
Having certifications on your resume not only shows that you know your stuff, but it also highlights that you're enthusiastic and dedicated to keeping your skills up to date (another of those non-technical attributes that employers want to see). 
We asked the certified Dynamics professionals we surveyed what they'd gained since earning a Microsoft Business Applications accreditation—29% of them believed their salary had increased as a result.  Those that reported earning a salary increase received an average raise of 20%. 
There are currently 19 Dynamics 365-related certifications available, spanning various products and difficulty levels. Naturally, the more challenging the certification is to achieve, the more likely you are to see a pecuniary benefit after earning it.  
If you want to use certification to increase your earning power, our survey respondents cited the below as the badges most likely to get you a higher salary: 
Microsoft Certified:  Dynamics 365: Finance and Operations Apps Solution Architect Expert

 
Microsoft Certified: Dynamics 365 Finance Functional Consultant Associate

 
Microsoft Certified: Power Platform Solution Architect Expert

 
Microsoft Certified: Power BI Data Analyst Associate

 
Microsoft Certified: Dynamics 365 Fundamentals (ERP)

 
#6 Get familiar with Power Platform
Microsoft's Power Platform has become an increasingly big part of its Business Applications suite in recent years, and for good reason.  
Using the building blocks of Power Platform, organizations are able to do more with their Business Applications products than ever. This is all thanks to the platform's low-code components, users can build custom apps, automate processes, and harness artificial intelligence services without the need for complex code or machine learning models.  
Power Platform is currently made up of four components:  
Power BI for business analytics

 

Power Apps for application development

 

Power Automate for process automation

 

Power Virtual Agents for intelligent chatbots

 
With Power Platform, Dynamics 365 professionals can automate, extend, and customize Dynamics apps even if they have little to no coding experience. Using a Graphical User Interface, so-called citizen developers can build solutions that address their business' unique challenges, taking advantage of cutting-edge capabilities like AI and automation in the process.  
And what employer isn't going to appreciate that? 
#7 Make a move
Investing in your professional development will always pay off in the long run, but if you're looking for a more immediate way to boost your earnings, looking for a new role might do the trick.  
When we asked our respondents whether they'd received a salary increase when they last changed jobs, almost three-quarters (73%) said they had, with the average rise coming in at 19%. 
In a competitive and talent-short market, Dynamics 365 professionals are in high demand, putting you in a strong position to land a better-paying position.  
Find out what you should be earning in the Dynamics industry
Our annual Business Applications Careers and Hiring Guide examines salaries, benefits, skills, motivations, sentiments, and movements across the global Microsoft Dynamics partner, ISV, and Microsoft Dynamics customer communities.