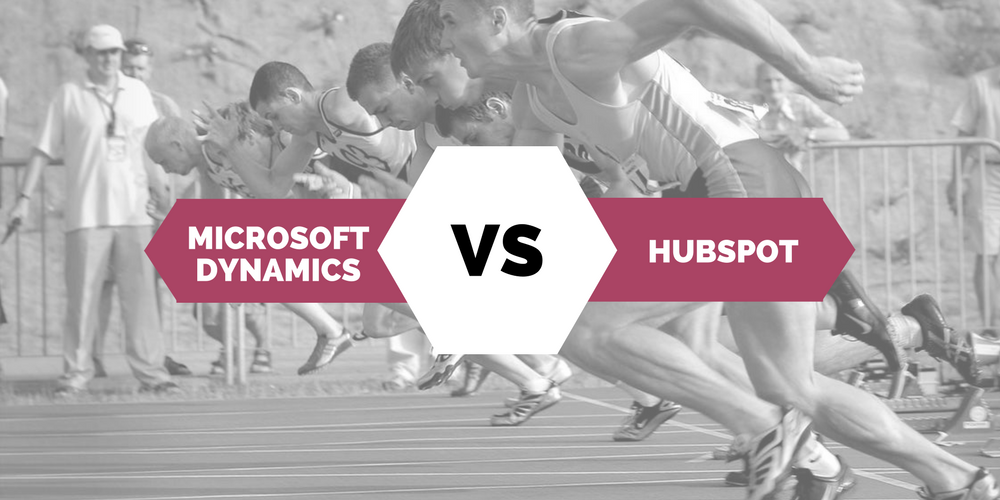 On the lookout for the right CRM software?
If you've decided that your business could benefit from a CRM solution, the next step is to find out which one will best fit your needs. With so many CRM products on the market, however, that's no mean feat.
Even if you're new to the business software world, there are probably a handful of products that you've come across already. Though the advent of cloud-based solutions has allowed the industry to diversify, there are still a few vendors that command significant shares of the market.
If you're struggling for a place to start on your software selection journey, taking a closer look at some of these popular, proven vendors could be a good idea.
To help you find the perfect software vendor for your organization, we've put together a series of guides comparing some of the largest and most popular CRM products available today.
In this edition, we'll be comparing two cutting-edge, cloud-based CRM vendors; Microsoft Dynamics and HubSpot.
Microsoft Dynamics vs HubSpot
Launched in 2002, inbound marketing and sales platform HubSpot has long been a key player in the contemporary, second-wave internet software world. Over the past 15 years, HubSpot has made many acquisitions, and padded out its CRM offerings to include sales and marketing modules. In 2017, HubSpot acquired AI software company Kemvi, in an attempt to catch up with other business software vendors already utilizing machine learning in their products.
Microsoft Dynamics 365 was released in 2016, as a revamped, cloud-based consolidation of its prominent Dynamics CRM and ERP programs. Since 2003, Microsoft's CRM products have been some of the most popular and robust CRM systems in the ecosystem. Now delivered as part of Dynamics 365's complete business software platform, Dynamics CRM remains at the forefront of the market.
Microsoft Dynamics vs HubSpot: features
In a market dominated by long-standing software companies and enterprise customers, HubSpot has made a name for itself as a more accessible, user-friendly option for organizations of all sizes looking to dip their toes into business software. Primarily thanks to its free customer database software, HubSpot has become a major player in the CRM field. But in a multi-billion dollar market, can a free platform really offer the functionality that growing businesses require?
HubSpot
There are three elements to HubSpot's customer relationship management platform:
HubSpot CRM Free
Marketing Hub
Sales Hub
HubSpot CRM is a free customer information management platform, which serves as a foundational database for its paid Marketing and Sales integrations.
HubSpot is well-known for its inbound marketing strategies, and much of its functionality focuses on things like content creation, social media management, and optimizing websites. Its Sales Hub app was initially released in 2013 as an add-on feature, and has grown into a standalone set of tools for salespeople.
At the moment HubSpot does not offer any tools to manage customer service, but will be releasing a new app, Customer Hub, to fill this some time in 2018.
Module
Features include:
HubSpot Marketing Hub
Email marketing
Marketing automation
Lead management
Analytics
Website management
Blogging
Landing page management
Social media management
Social listening
SEO
Ad management
HubSpot Sales Hub
Email management
Document tracking
Meeting scheduler
Live chat
Call queuing
Sales automation
Reporting
Dynamics 365
Dynamics 365 currently features three primary CRM-focused apps, with another due for release in early 2018. Each app can be used as a standalone service, or in conjunction with any of the other apps from the Dynamics 365 suite. All of Microsoft's products, including Dynamics, Office and Outlook, share the same data model, and can utilize and learn from data from across all products.
The apps that make up Dynamics 365's CRM service are:
Dynamics 365 for Sales
Dynamics 365 for Customer Service
Dynamics 365 for Retail
Included with both Sales and Customer Service at no extra cost, Dynamics 365 also offers a social media management and social listening app, Microsoft Social Engagement.
Module
Features include:
Dynamics 365 for Sales
Customer data management
Opportunity and funnel management
Partner Relationship Management
Task management
Sales performance management
Contract management
Quote and order management
Marketing automation
Customer service
Knowledge base management
Reporting and analytics
Dynamics 365 for Customer Service
Cross-channel customer case management
Self-service portals
Knowledge base management
Service intelligence
Incident routing
Dynamics 365 for Retail
Payments
Purchase orders
Sales tax
Call center
Channel setup and management
Modern Point of Sale (MPOS) and Cloud POS
Order fulfillment
Monitoring and analysis
Discounts and price adjustments
Products and merchandising
Loyalty scheme management
Inventory management
Human resources
Retail tasks
Retail development and administration
Dynamics 365 for Marketing
Confirmed features:
Customer journey management
Landing pages
Email marketing
Multi-channel campaign management
Event planning and management, including event portals
Lead management
Webinars
Marketing analysis with Power BI
Need talented Dynamics professionals to help you execute your digital transformation vision?
Browse the best candidates in your own time, on your own terms with our free Candidate Search.
Microsoft Dynamics vs HubSpot: pricing
HubSpot
HubSpot offers a free, cloud-based CRM platform for businesses that want to dip their toes into the world of CRM without financial commitment. HubSpot's free plan has no time limits, and has no limit on the number of users who can access it.
HubSpot Free includes basic contact storage, pipeline management, task management, email marketing templates through Outlook or Gmail integration, and calling.
Though HubSpot's contact management especially is relatively robust, other features in its free version — such as call minutes, templates, and outbound emails — are limited, and require users to purchase Sales Hub and Marketing Hub integrations for full usage.
Plan
Price
Includes
Marketing Hub
Starter
$50 /month

+ $600 one-time onboarding fee

Lead analytics dashboard
Lead flows
Collected forms
Contact activity
Contact management
Contact & company insightsHubSpot branding removed
Custom form fields
Phone & email support
Basic
$200 /month (up to 100 contacts)

+ $600 one-time onboarding fee

As above plus:
Blog & content creation tools
SEO & content strategy
Mobile optimization
Social media
Email marketing
Calls-to-action
Landing pages
Analytics dashboards
Standard SSL certificate
Subdomain availability
Professional
$800 /month
(up to 1,000 contacts)
+ $600 one-time onboarding fee
As above plus:
Marketing automation
Goal-based nurturing
Salesforce integration
Smart content
Attribution reporting
User roles
A/B testing
Enterprise
$2,400 /month

(up to 1,0000 contacts)

+ $600 one-time onboarding fee

As above plus:

Custom revenue reporting

Custom event reporting
Custom event triggers
Predictive lead scoring
Contacts reporting
Company reporting
Event-based segmentation

Sales Hub
Starter
$50 /user/month

+ $600 one-time onboarding fee

Gmail and Outlook integration
Contact management
Contact & company insights
Companies
Deals
Tasks
Email scheduling
Email tracking & notifications
Email templates
Documents
CallingMeetings
Canned snippets
ReportingProspects
Live chat
Email sequences
Phone & email support
Professional
$80 /user/month

(Minimum 5 users)

+ $600 one-time onboarding fee

As above plus:

Teams
Multiple deal pipelines
Sales automation
Predictive lead scoring
Required fields
Products
Smart send times
Smart notifications
Salesforce integration
There are some less obvious costs to be aware of when it comes to HubSpot. HubSpot prices its paid integrations according to the number of contacts users have in their CRM database. While the free version supports up to 1,000,000 contacts at no cost, if users implement the premium Sales and Marketing Hub services, they will be charged per one thousand contacts.
Marketing Hub's Basic Plan, for example, starts at $200 /month for up to 100 contacts. For every additional 1000 contacts, the monthly cost increases by $100. For the Professional and Enterprise plans, the cost increases by $50 and $10 per 1,000 contacts respectively. HubSpot also offers some additional product bolt-ons and services, including:
Features
Website builder — $300 /month
Custom reporting — $200 /month
Ad management — $100 /month
Dedicated IP — $500 /month
Transactional email — $1,000 /month
Custom SSL — $600 /month
API — $500 /month
Premium Services
Priority access (monthly sessions with inbound marketing consultant) — $350 /month
Ongoing consulting access (up to five hours per month with an inbound marketing consultant) — $800 /month
Designated technical support (up to five hours per month with a support engineer) — $500 /month
Premium access (up to five hours per month each with an inbound marketing consultant and a support engineer) — $1,200 /month
Dynamics 365
With Dynamics 365, users have the option to purchase CRM functionality as standalone modules, or opt to license several apps together at a discounted rate through one of two plans.
Dynamics 365 allows users to bundle their ERP and CRM operations together in one product if they require software to run both front and back-end operations, but for those looking only for CRM functionality, there's also a sales and marketing-aligned package.
The Dynamics 365 Plan is a full set of both ERP and CRM apps, giving users access to every module in the suite. The Customer Engagement Plan focuses on CRM functions, and does not include ERP apps. It should be noted, however, that as Retail is an e-commerce app it could be broadly classified as both an ERP and a CRM solution. Microsoft has chosen to align it to its ERP arm, and therefore is not available as part of the Customer Engagement Plan.
Microsoft Dynamics vs HubSpot: pros and cons
It's clear that HubSpot's focus on modern, inbound marketing techniques, and its unusual pricing model make it a unique product in the market. But is that enough for it to truly compete with the more robust CRM offerings like Dynamics 365? Let's take a look at the benefits and drawbacks of each solution:
Pros: Dynamics 365
Created in partnership with Adobe, Dynamics 365's new Marketing app is a new product, developed with today's marketers in mind. New features will give users new options to generate inbound leads, such as webinar creation and event management.
Dynamics 365 has native integration with LinkedIn. Dynamics 365 for Sales and LinkedIn Sales Navigator roll together to create Microsoft Relationship Sales, which uses LinkedIn data to identify leads and help build relationships through personalized engagement.
Dynamics 365 also benefits from seamless integration with other Microsoft products, such as Office 365 and Outlook, which improves both productivity and user adoption.
Pros: HubSpot
HubSpot's free version is available with no time limits, and no cap on the number of users who can access it. Though there are constraints as to how much of the app is available to non-paying users, it's an excellent way for users to get to grips with the interface in their own time.
The platform's user-friendly and straightforward design makes marketing automation intuitive for businesses that lack in-house technical skills.
HubSpot hosts a vast library of easy-to-digest, user-friendly learning tools and training resources to help get your team up to speed.
Cons: Dynamics 365
Although Dynamics 365 for Sales does feature some marketing automation capabilities, Dynamics 365 does not currently have a purpose-built marketing model. Dynamics 365 for Marketing will be released in early 2018.
Having been released in late 2016, Dynamics 365 is still very new; although it is growing in popularity, some businesses are still wary of investing in such a green product.
Dynamics 365 can be customized, but organizations may find the customization process challenging to master if they don't have access to internal coding knowledge.
Cons: HubSpot
HubSpot's pricing structure is not as simple as it might first appear, with a steep increase triggered by the number of contacts, as well as additional charges for certain features such as custom reports, transactional emails, and priority support access.
Though the sliding pricing model makes it scalable in theory, HubSpot's simple features are unlikely to meet the needs of more substantial or growing businesses, and it does not currently have a module for customer service.
Due to its comparative lack of features and non-customizable platform, users may find that they need more functionality than HubSpot natively offers. Additional features can be added through third-party integrations, but HubSpot does not currently provide broad support for other software bolt-ons without paying extra for API.
Next steps
Both HubSpot and Dynamics 365 have their advantages, but whether either is the right match for your business will depend mainly on its type (and size), the features you need, and your budget.
If you think either of these products could be the one, then you should get in touch with the vendors to ask for a proper business proposal, and a personalized quote.Users can get a feel for HubSpot by signing up to its free CRM service, and Dynamics 365 offers demos and free trials to help you decide whether its CRM tools will suit your team.If you want to see how Microsoft Dynamics compares to other giants of the business software world, we've stacked it up against Oracle, NetSuite, and Salesforce to help you make the right choice.
Ready to get started with Dynamics 365?
The key to an effective roll-out is having an expert on your side. Upload your specifications, and we'll find the right Dynamics 365 professionals to make your implementation a success.