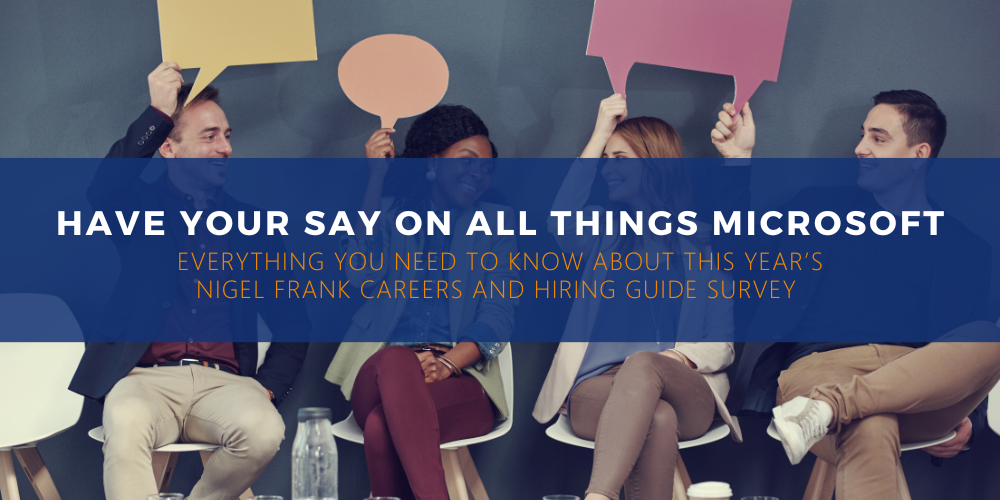 Our famous Nigel Frank Careers and Hiring Guide is back—and we want to hear your thoughts on working and hiring in the Microsoft space.
The largest independent studies of their kind and recognized by Microsoft itself, our industry-acclaimed Careers and Hiring Guides have provided annual insights into the Microsoft ecosystem for 15 years.
And this year we're shaking up the format to give you a bigger, better, more in-depth look into the Microsoft technology ecosystem.
Thanks to the tremendous growth of its cloud ecosystem, the Microsoft technology space is more unified than ever, offering end users and professionals alike a smarter, more connected suite of products to meet their every need.
To reflect this evolution of the Microsoft ecosystem, we're bringing together our previous guides to create one single resource for all things Microsoft Cloud.
The new Career and Hiring Guide will cover all the usual topics across Microsoft's three key pillars: Intelligent Cloud, Modern Workplace and Business Applications.
And as always, we want to hear from you. Here's everything you need to know about contributing to the ultimate guide to careers and hiring in the Microsoft world.
What?
The Nigel Frank Careers and Hiring Guide 2024 survey gives you the opportunity to share your views on everything Microsoft—from salaries and certification to product developments and hiring tips.
Open to Microsoft professionals, job seekers, and hiring managers, the survey aims to collect the thoughts of the Microsoft community on a range of topics including:
The digital skills gap
The top perks and benefits other professionals are getting
Employee attraction and retention
What diversity, inclusion and equity currently looks like in the ecosystem
Leading market trends and the future of work
Salary benchmarks
Certifications and training
Expert advice and tips from other Microsoft professionals and MVPs
The data from this survey will inform the results of our guide, alongside data from our own Microsoft job placements. As well as allowing Microsoft professionals to benchmark their salaries, it helps organisations across the ecosystem to identify issues and opportunities to make this fantastic field an even better place to work, innovate, and grow.
Why?
Make your voice heard
When you take Nigel Frank's 2024 Careers and Hiring Guide survey, you're sharing your thoughts, opinions, and experiences to the wider discussion about the state of today's Microsoft landscape.
You'll be doing your bit to make the community better for everyone by speaking up about what works, what needs to change, and how professionals and employers alike within the Microsoft industry can work smarter and do better.
The survey is a convenient and effective way of getting your voice heard, contributing to discourse around key issues, and influencing change where it's needed most. From celebrating successes to highlighting concerns, your knowledge and experiences are incredibly valuable.
Get insight into the ecosystem
The greater the quantity and quality of responses we receive, the better insights the Nigel Frank Careers and Hiring Guide can offer—something that can be instrumental to both organizations and professionals finding success.
Our report provides extensive data and advice for any professional working or looking for work within the Microsoft community, equipping you with the info needed for career success. From the value of certifications, to skills, perks, salaries, and hiring trends, our guide is the go-to resource for any Microsoft professional looking to understand their market value and learn more about the opportunities available to them.
And there's never been a more important moment to make your voice heard. From growing digital skills gaps to redundancies in tech, to the potentially world-changing rise of AI and machine learning, there's a real need to accurately showcase the state of the community right now. A thorough understanding of the landscape has arguably never been so crucial to equip us all with the best chance of navigating the path ahead.
Prizes!
To say thanks for their contribution, all respondents will be in with a chance to win one of two $500 eGift Cards of their choosing.
The first winner will be drawn at random from the early bird respondents who complete the survey within the first six weeks of its opening. The second will be drawn when the survey closes.
By contributing to our new Microsoft Cloud guide, you will also be among the first to receive a copy of our findings in your inbox when it's published in January 2024.
When?
The survey is now open, and will close on 11th September 2023.
The report will be released in January 2024.
Where?