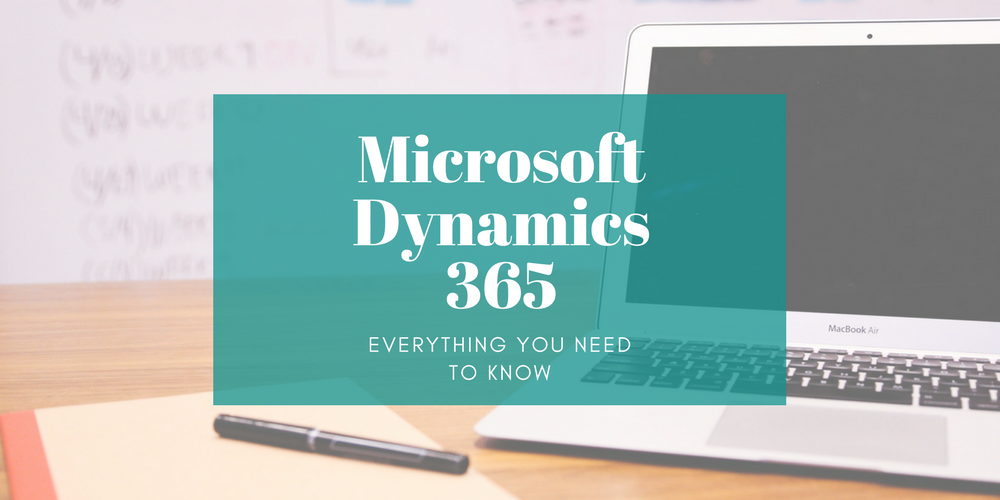 In November 2016, Microsoft finally unveiled its new business applications product.
The long-speculated-upon solution, once codenamed Project Madeira, was introduced to the world as Dynamics 365.
A sleek new edition to the Dynamics suite, Dynamics 365 promises to deliver a new way of managing business processes, and unlock potential for businesses of all sizes. Want to get up to speed on this ground-breaking new product? Here's your Dynamics 365 cheat sheet.
What is Dynamics 365?
Dynamics 365 is a new, cloud-based enterprise software platform, bundling ERP, CRM and HCM products alongside Power BI reporting functions in one streamlined, unified package.
With its ERP and CRM capabilities broken down into several apps, Dynamics 365 is designed so that users can start with what they need, and grow at their own pace, adding new apps and functionalities as and when they need them.
The solution will be based on Azure, Microsoft's cloud computing technology service hosted on data centres around the world. It will be provided as a Software as a Service platform, meaning it will be accessed through a web browser rather than installed on individual computers. This will not only mean that any updates or fixes will be managed by Microsoft and applied automatically, but also that Dynamics 365 will be accessible from anywhere with an internet connection.
Dynamics 365 integrates closely with existing Microsoft products such as Office 365 and Outlook, and will be able to connect to third-party programs. It's also likely to significantly incorporate Microsoft's recent acquisition LinkedIn in as-yet-unannounced ways.
Due to its extensive capabilities and scalable nature, Dynamics 365 is already being positioned by industry-insiders as a direct competitor to major players in the CRM and ERP world, such as Salesforce and Oracle.
Though many of Dynamics 365's apps are based closely on previous Dynamics products, these new apps are not a replacement for Dynamics AX, NAV, GP, SL, or CRM, which will all continue to be available for the foreseeable future. Dynamics 365 is simply an alternative way to license and utilize business applications, albeit one with significant additional functions.
Microsoft CEO Satya Nadella recently spoke about revolutionizing the Dynamics Suite on LinkedIn, stating: "This has been a dream of the industry, but also for me personally since 2000 when Microsoft acquired Great Plains.
"I dreamt of doing things for our customers and partners that are now only possible because of widespread adoption of the cloud, proliferation of data, devices, and sensors, and agile development environments."
What can Dynamics 365 do?
Dynamics 365 is comprised of a number of apps covering a wide variety of business processes; customer relationship management, financial planning and reporting, logistics, and human resource management functions are contained within one uniform program.
What sets Dynamics apart, as well as hosting all these processes under one roof, is its common data model, which allows these apps to share data.
Where data was previously siloed in monolithic suites of applications, Dynamics 365 apps use and integrate that data to help users get more out of their business data, deriving new insights and presenting new opportunities.
The inaugural edition of Dynamics 365 will feature six apps:
Sales, which enables users to build and track relationships with their customers, get in-depth insight, generate leads, and close sales more quickly.
Customer Service aims to drive engagement with customers, and help users deliver fast, personalized service to meet customer expectations.
Operations covers all aspects of financial and operational planning and reporting, manufacturing, and supply chain management.
Marketing, in partnership with Adobe Marketing Cloud, connects sales and marketing services to help drive revenue.
Field Service helps users optimize their mobile workforce, with intelligent scheduling, remote assist monitoring and contract and inventory management.
Project Service Automation enables users to manage projects from beginning to end, including functions for resource management, handling contracts and budgeting.
With intelligence built into all of these apps, Dynamics 365 will offer users predictive, actionable insights within a user-friendly, scalable platform.
Dynamics 365's flexibility will provide users with the freedom to license only the apps they need, customize them to their particular organization's way of working, and build on that foundation as their business grows.
When will Dynamics 365 be released?
Dynamics 365 has a general availability release date of November 1, 2016.
How much will Dynamics 365 cost?
Upon release, Dynamics 365 will be sold at a flexible pricing range, with two editions available depending on the size of the customer's business. Within these packages, customers purchase licenses for each user who will need access to Dynamics 365.
Register today and take the first step towards a great career in Microsoft Dynamics.