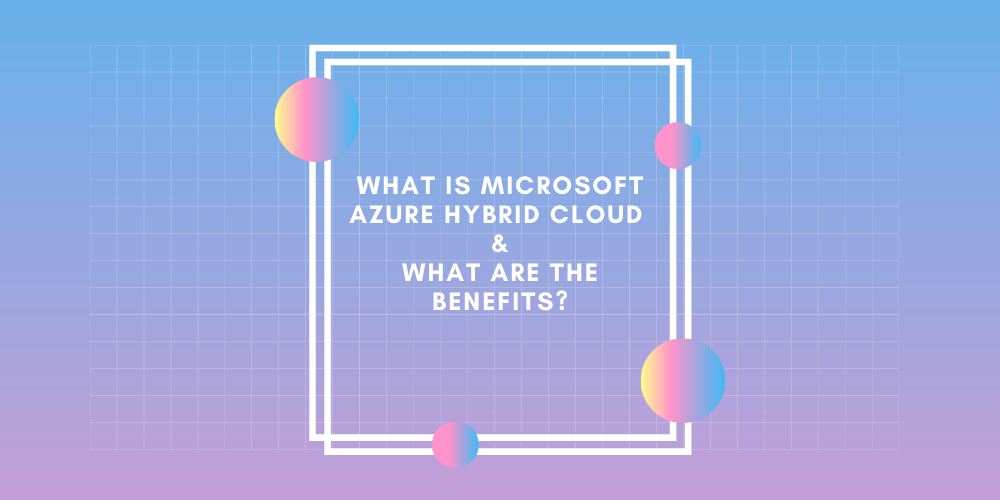 There has been a rapid adoption of cloud services for businesses in recent years, with more managers realizing the usefulness of hosting services and applications on the Azure platform. While the move is well worth it, it can be tricky to migrate to the cloud when there are on-premises services and applications that make up part of your business' IT strategy.  
There are a lot of things that business owners will need to take into account and challenges they'll need to overcome before they can successfully migrate to the cloud. This includes acknowledging which applications need to be included in the switch over, the order in which they will be transferred, and how the on-premise environment will collaborate with the newly commissioned cloud environment. The simple answer? Adopt a hybrid cloud architecture that allows you to reap the benefits of both public and private cloud environments.  
In this blog, we will be looking at what Microsoft Hybrid Cloud is the benefits it can have for businesses looking to migrate to the cloud. 

What is a hybrid cloud?
A hybrid cloud is a cloud computing environment that is made up of one or more private or public cloud providers (like Azure). These host data, applications, and workloads that can be shared between clouds to create a streamlined system that efficiently works together to solve the common issues that arise from migrating to cloud environments.  
Hybrid clouds also allow you to scale up your workload, while providing an overspill into the public cloud when you reach what would've previously been full capacity. As well as this, hybrid cloud architecture allows businesses to segregate how and where their data is shared, meaning you can avoid holding all your important information hosted on one public cloud, adding an extra layer of security.  
Perhaps the biggest advantage of using hybrid cloud architecture is the agility it lends to your IT strategy. With things changing direction so quickly within the digital landscape, it's important that businesses are able to adapt quickly. Imposing a hybrid cloud environment offers that opportunity, giving you a competitive advantage in today's market. 

How can Azure Hybrid Cloud help you?
There are several ways you can use Azure Hybrid Cloud. This includes being able to run applications seamlessly across different cloud environments. Specifically speaking, one of Azure's biggest and best features is to run applications as they are, or to restructure and take advantage of cloud scalability and portability. Plus, it provides you with the access to create new, cloud-native applications.  
By using Azure hybrid cloud, you can support your applications in a multitude of ways, including: 
Running hybrid apps on-premise: 

If you're looking to use hybrid cloud in-house, you can use Azure Stack HCl to do so. This allows you to run apps in virtualized environments and experience the usual cloud benefits, while remaining connected and compliant. 

 

Migrating apps to the cloud:

 Azure gives you the tools you'll need to safely and securely migrate applications to the public cloud. This includes the Azure Hybrid Benefit program that allows you to transfer existing licenses for both SQL and Windows servers.

 
Implementing edge and disconnected scenarios: 

By utilizing the edge software Azure provides, you can ensure everybody is still connected regardless of their internet connection. 

 

Enabling DevOps pipelines:

 Azure provides cloud-native tools for managing DevOps workflows. This means you can integrate many of the tools you already use, allowing for a gradual, and continuous integration and delivery experience. 

 

The 6 top benefits of using Azure Hybrid Cloud
No matter what cloud provider you're working with, adopting a hybrid cloud approach will be beneficial in a number of ways. This is especially true if you add Microsoft Azure into the mix. Here are some of the rewards businesses can reap by using Azure Hybrid Cloud. 
1. Move and manage your data with ease 
Azure gives you the access to the resources, security and availability that every great business needs to thrive. As well as a toolkit for advanced analytics and automated migration. These make the moving and management process run much smoother, saving you time and money in the long run.  
2. Construct secure hybrid networks quickly 
Creating an Azure hybrid cloud environment grants you access to one of the largest networks in the world. Where you can benefit from a range of features, including using Azure ExpressRoute to optimize connections, securing them with Azure Firewall, and plenty more that can take your IT strategy to the next level. 
3. Own enterprise-level security measures to your whole organization 
Azure infrastructure is protected by enterprise-standard security measures that you can take advantage of for encrypting, monitoring and accessing control across your cloud environments.  
4. Support secure single sign-on 
Azure supports the use of secure single sign-on across on-premise, public, and private environments.  
5. Take advantage of the performance and scalability public cloud offers 
Microsoft Azure has a unique advantage over other cloud providers when it comes to the deployment and management of a hybrid cloud architecture. Microsoft is used widely by organizations to run their on-premise infrastructures, and so Azure has been designed to extend your on-premise environment, meaning you can benefit from the performance and scalability of the public cloud.  
6. Improve efficiency and reduce costs 
A hybrid cloud model is the most flexible approach to cloud computing, allowing you to benefit from both an on-premise and cloud environment at the same time.  
Azure can take your hybrid cloud model to the next level. With extensive functionality, migration and networking tools, and many more features, your business' IT strategy is sure to benefit from this cloud platform. 
Want to learn more about Azure implementation? We have plenty of helpful blog posts that can help build your confidence around using this cloud provider. So, whether you want to learn more about a multi-cloud strategy and its benefits or you're keen to know how the cloud can help your business overcome problems and succeed, we have the answers you're looking for.  
More Microsoft technology professionals than anyone else.
Browse pre-qualified candidates now and find the talent you need to transform your business.