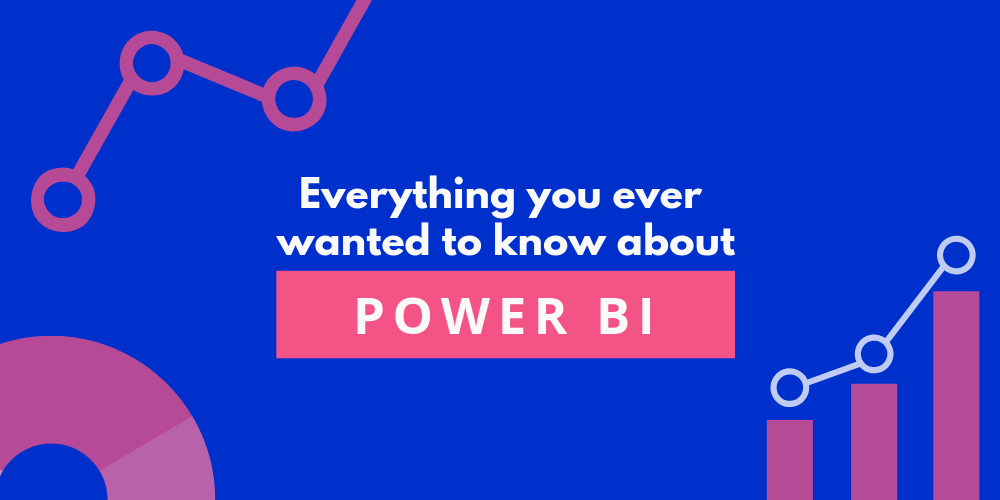 Data is the lifeblood of modern businesses, and we're generating more of it than ever.
But amassing mountains of digital information isn't much use unless organizations are able to make sense of it. That's where business intelligence software comes in.
Thinking about implementing a platform to help you pluck useful, actionable insight from your data? You're in the right place. In this post, we're going back to basics to find out exactly what Microsoft's flagship BI software Power BI does, how much it costs, and what it can do for your business. Strap in.

What is Power BI?
Power BI is the collective name for an assortment of cloud-based apps and services that help organizations collate, manage, and analyze data from a variety of sources, through a user-friendly interface.
Business intelligence tools like Power BI can be used for a multitude of purposes. 
Primarily, Power BI pulls data together and processes it, turning it into intelligible insights, often using visually compelling and easy-to-process charts and graphs. This allows users to generate and share clear and useful snapshots of what's happening in their business.
Power BI connects to a range of data sources, from basic Excel spreadsheets to databases, and both cloud-based and on-premise apps.
Power BI is something of an umbrella term and can refer to either a Windows desktop application called Power BI Desktop, an online SaaS (Software as a Service) service called Power BI Service, or mobile Power BI apps available on Windows phones and tablets, as well as for iOS and Android devices.
Power BI is built on the foundation of Microsoft Excel, and as such, the learning curve from Excel to Power BI is not that steep; anyone who can use Excel can use Power BI, but the latter is far more powerful than its spreadsheet counterpart.
What does Power BI do?
Microsoft Power BI is used to run reports and surface insights based on a company's data. Power BI can connect to a wide range of data sets, and "tidies up" the info it's fed so that it can be better digested and understood. The reports and visuals generated from this data can then be shared with other users.
Power BI helps users see not only what's happened in the past and what's happening in the present, but also what might happen in the future. Power BI is infused with machine learning capabilities, meaning it can spot patterns in data and use those patterns to make informed predictions and run "what if" scenarios. These estimates allow users to generate forecasts, and prepare themselves to meet future demand and other key metrics.
Why do people use Power BI?
For businesses who want more reporting power and analytical muscle than that offered by Excel, Power BI is the next level in business intelligence. With Power BI, businesses can assemble, scrutinize, and visualize data from across the company, giving them greater insight into their operations and performance, and allowing them to make more informed decisions based on real data.
Here are some of the key benefits of using Power BI:
Businesses can input huge quantities of data into Power BI that many other platforms would struggle to process
Built-in machine learning features can analyze data and help users spot valuable trends and make educated predictions
Information can be visualized using powerful templates to allow businesses to better make sense of their data
Power BI is cloud-based, so users get cutting edge intelligence capabilities and powerful algorithms that are updated regularly
Powerful personalization capabilities allow users to create dashboards so they can access the data they need quickly
Alerts can be set up on KPIs to keep users up to date important metrics and measurements.
Power BI has an intuitive interface that makes it far more user-friendly and easy to navigate then complex spreadsheets
The platform integrates with other popular business management tools like SharePoint, Office 365, and Dynamics 365, as well as other non-Microsoft products like Spark, Hadoop, Google Analytics, SAP, Salesforce, and MailChimp
With data security a massive talking point for modern businesses, Power BI ensures data is safe, offering granular controls on accessibility both internally and externally
Who uses Power BI?
Though business intelligence products tend to be mainly the remit of business analysts and data scientists, thanks to its user-friendly nature, Power BI can be used by a range of people within a business.
How you use it depends on what your role is; Power BI can generate custom dashboards depending on what data is relevant, and what information you need access to.
It's primarily used by business intelligence professionals, who use it to create data models and reports which are then shared throughout their organization. Not all businesses will have the scale or the need to support a full-time data whiz, however, so Power BI is often used as a self-service tool by various branches of the business to check up on progress and turn up insight into their team's performance.
Power BI works with whatever data you tell it to, so you can report on pretty much anything. It's often most popular with departments like finance, marketing, sales, human resources, it, and operations.
In terms of the product's popularity, Microsoft doesn't typically release user numbers, but in 2016 the number was around five million.
What components make up Power BI?
The Power BI product is made up of a number of apps, each with their own features and uses. These include:
Power Query: a data connection tool that lets you transform, combine, and enhance data from several sources

Power Pivot: a data modeling tool for creating data models

Power View: a data visualization tool that generates interactive charts, graphs, maps, and other visuals

Power Map: another visualization tool for creating immersive 3D visuals

Power Q&A: a question and answer engine that lets you ask questions about your data in plain language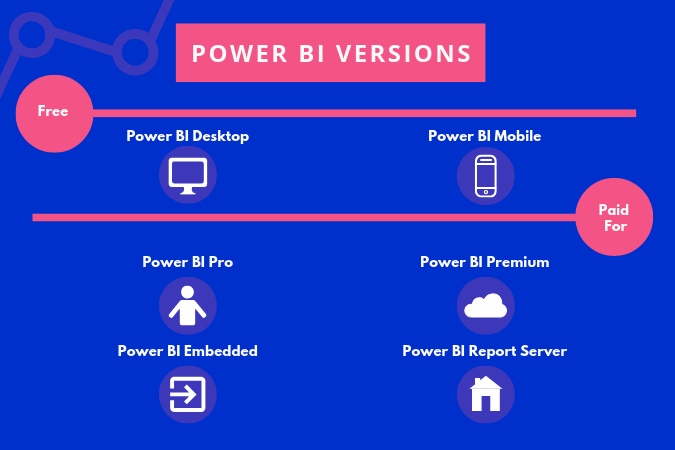 What versions of Power BI are available?
There are a handful of versions of Power BI to choose from, depending on your budget, your needs, and how you want to deploy it. These versions range from light use to comprehensive features, free to premium, so users can select the one that best meets their requirements.
You can opt for a Windows desktop application called Power BI Desktop, an online SaaS (Software as a Service) service called the Power BI service, a mobile Power BI app available on iOS and Android phones and tablets, or an on-premise version known as Power BI Report Server. There's also a white-label service for software developers.
Here's a quick overview of the different versions, before we drill down further into each one:
Power BI Desktop — Free, intended for small to midsize businesses

Power BI Service

Power BI Pro — Paid per-user license, needed to get access to advanced features and the ability to share reports

Power BI Premium — Licenses by scale, intended for large businesses and enterprises

Power BI Mobile — Device-based app for phones and tables

Power BI Embedded — A white-label version of Power BI which Independent Software Vendors can embed in their own apps, rather than build their own analytical features

Power BI Report Server — An on-premise version of the Power BI Desktop app for businesses that need to keep their data and reports on their own servers

What is Power BI Desktop?
Also known as Power BI Free, Power BI Desktop is a free desktop application you can install right on your own computer. Power BI Desktop works cohesively with the Power BI service by providing advanced data exploration, shaping, modeling, and report creation with highly interactive visualizations. You can save your work to a file, and publish your data and reports right to your Power BI site to share with others.
Power BI Free is included in all Office 365 Plans, and you can sign up for Power BI Free any time you like.
So what do you get with Power BI Desktop? Just like paid versions of Power BI, Desktop allows you to connect to data sources to Power BI, with no limits or restrictions other than the total amount of data you can feed in, and how much you can upload at a time. Desktop users get 10GB of total storage in the Power BI cloud, and can upload data 1GB at a time.
Desktop will cleanse and organize data, and you can create as many visualizations as you want; Desktop gives you full access to Power BI's library of visualization templates. You can also export data and reports to Excel. Using Power BI Desktop, you can refresh your reports up to eight times every day, either on the hour, or the half-hour.
The "catch" with Power BI Desktop is that you can't share anything with your peers. You can publish reports to the web, but these reports will then be made public, which isn't ideal when you're dealing with proprietary business data.
What is Power BI Service?
Power BI Service (usually known simply as Power BI) is the full version of Power BI, and is hosted on Azure, Microsoft's cloud platform. There are two ways to license Power BI Service; Power BI Pro and Power BI Premium.
What is Power BI Pro?
Power BI Pro isn't hugely different to Power BI Desktop. They have the same visualization options, the same limits on storage and file upload size, and the same report refresh allowance. The key difference is that with Pro, you can share your data, reports, and dashboards with others privately—provided they also have a Power BI Pro license.
There are a few other extras that come with the Pro license too. For example, with Pro you can create app workspaces, where you can put together collections of related dashboards and reports and create easily accessible content packs.
What is Power BI Premium?
Power BI Premium is an alternative way to get access to Power BI. Rather than purchasing licenses for individual users like you would with Power BI Pro, with Premium, you pay for the amount of space and processing capacity you want to carve out for your business. There are six capacity models, each one with varying amounts of memory so users can choose the amount they need to run their Power BI platform.
Premium is intended for enterprise-level businesses that generate huge amounts of data, and require extensive access to the app. Shelling out for Premium means you get a dedicated portion of capacity to process your BI workloads, with all the necessary infrastructure supplied and supported by Microsoft.
Premium isn't a license as such; instead, you're paying for exclusive use of a predetermined amount of computing power. For those users who need to create and publish reports, share their dashboards, and collaborate with other users in app workspaces, a Power BI license is required in addition to Power BI Premium. For those who just need to access and consume Power BI content, though, no additional license is required; Power BI Premium will cover read-only use.
There are a few other features exclusive to Premium too, such as the ability to store BI assets on-premises using Power BI Report Server (more on Report Server later), up to 100 TB of data storage, and a 50GB cap on dataset size.
What is Power BI Report Server?
Power BI Report Server is an on-premises server product that ships with Power BI Premium. Report Server allows users to take advantage of Power BI on-premise. For some businesses, uploading their data to the cloud isn't an option. This could be because there are data regulation laws applying to their particular industry, or maybe they don't have the necessary infrastructure or connectivity where they are to be able to reliably access SaaS platforms.
Power BI Report Server can be deployed behind a firewall, and is compatible with Power BI in the cloud so that businesses have the freedom to move a cloud-based version of Power BI when they're ready.
Report Server packs has similar functionality to Power BI Service, though it's largely focused on report generation, and there are a number of key features that are exclusive to its cloud-based sibling. Report Server users must use the Power BI Desktop app, and cannot work in a web browser. They also don't get access to dashboards, real-time streaming, content packs, app workspaces, natural language queries, the ability to analyze data in Excel, email subscriptions, or data alerts.
It also has a sparser update cycle, with new features and fixes rolled out to Report Server every four months, rather than once a month.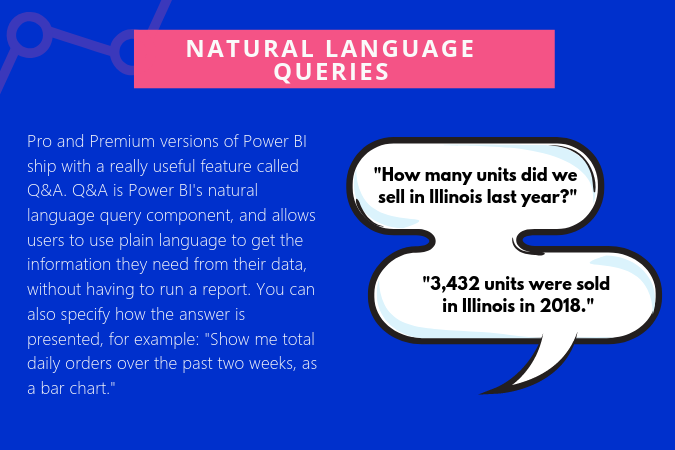 What is Power BI Embedded?
Power BI Embedded allows Independent Software Vendors (ISVs) and developers to embed the functionality and capabilities of Power BI into their own apps on a pay-as-you-go, "white-label" basis. So, rather than building their own reporting features, they can simply add Power BI into their products, and Power BI will take care of all the reporting and data analysis needed. End users of the app won't even know that the app's analytics are powered by Power BI; it will just look like part of the app.
What is Power BI Mobile?
Power BI Mobile is (unsurprisingly) Power BI's native mobile app and is available for Windows, iOS, and Android devices.
Through the app, users can get secure access to real-time dashboards and reports, whether that data is stored in the cloud, or on-premise in SQL Server. Mobile users can also create and share reports, submit natural language queries, and set up push notifications to get personal data alerts sent to their device.
What other Business Intelligence products does Microsoft offer?
Power BI is part a larger stable of BI products created by Microsoft, which include:
Azure Data Services
Azure Data Services enables users to quickly build intuitive apps with artificial intelligence built-in, using a range of tools, technologies, and deployment options.
Machine Learning Server
Microsoft Machine Learning Server is a flexible service for analyzing big chunks of data, creating AI-powered apps, and surfacing insights using Python and R.
Analytics Platform System
Microsoft Analytics Platform System is a data platform built for data warehousing and Big Data analytics. The service offers users extensive data integration, super-fast query processing, scalable storage, and easy-to-use maintenance tools through SQL Server Parallel Data Warehouse.
SQL Server
SQL Server is Microsoft's relational database management system. It's used to store and manage data in large quantities in rows and columns, like a spreadsheet. SQL Server uses SQL, a standardized programming language, organize and retrieve data as requested by other applications. Recent versions of SQL Server include features like performance tuning, real-time analytics, and data visualization.
More Power BI professionals than anyone else
Take a look at our database of pre-screened professionals and take the first step toward landing the best administrators, developers, and consultants in the market.
What is the Microsoft Power Platform?
Power BI is part of what Microsoft called its Power Platform. This group includes Power BI, PowerApps, and Microsoft Flow.
Powered by Dynamics 365's Common Data Service for Apps, PowerApps allows organizations to create their own responsive business applications with the click of a button. Employee engagement surveys, cost estimators, budget trackers, to-do lists, booking apps; these can all be created for web and mobile without the need for coding knowledge or input from developers.
PowerApps' drag-and-drop interface enables anyone to build and launch richly functional, professional apps without writing a single line of code. The apps can be easily integrated with Office 365 and Dynamics 365 to gather and utilize business data, and help engage customers.
A sister-service to PowerApps, Microsoft Flow uses the same Common Data Service for Apps to help users build automated workflows that take care of repetitive administrative tasks.
There are already thousands of ready-made workflows—digital sequences that trigger predefined actions when certain activities occur—for users to take advantage of, from creating CRM leads when someone tweets a particular word or phrase, or tracking Outlook emails in an Excel spreadsheet, to sending an email to a group when a data alert is triggered in your analytics.
These workflows can be used to connect your Microsoft services to third-party apps and programs, without the need for complex custom integrations.

Is Power BI available on-premises?
The Power BI service isn't available as a private, internal cloud service. However, Power BI Report Server is the on-premise solution for reporting today, with the flexibility to move to the cloud tomorrow. It's included with Power BI Premium so you have the ability to move to the cloud on your terms.
Does Power BI support mobile devices?
Yes. Power BI has native apps for Android phones and tablets, iOS devices, and Windows 10 devices. Download one of the Power BI mobile apps from its respective store:
Apple App Store

Google Play

Windows Store

What are Power BI's main competitors?
Google Data Studio

Qlik Sense

Amazon QuickSight

IBM Cognos

Elasticsearch

SAS Visual Analytics

Jet Reports

TIBCO Spotfire

MicroStrategy Analytics
Power BI market information
According to Datanyze, Power BI commands around 12% of market share for business intelligence products, falling just behind Tableau and FactSet.
It's been recognized as a leader in the analytics and BI market by Gartner for the past 11 consecutive years, and is often touted as the platform with the most complete vision in Gartner's Magic Quadrant reports.
In 2018's Magic Quadrant for Analytics and Business Intelligence Platforms report, Gartner mentioned Power BI's significant user base growth in the past year, attributing high levels of customer adoption to Microsoft's "clear and visionary product roadmap that includes vertical industry content."
Power BI users cited the product's reasonable licensing cost, ease of use and visual appeal, customer experience, and product vision as some of its strengths.
What kind of jobs are available working with Power BI?
With businesses now fully acknowledging the importance of a great data analysis strategy, demand for business intelligence professionals on the rise. Here are a few of the exciting, lucrative roles on offer working with Power BI.
Business Intelligence Architect
BI Architects handle databases, data warehouses, and other storage infrastructure, and develop data structures to help platforms organize and use data more efficiently. By managing and analyzing a company's data, the BI Architect can come up with strategies to help them make better, more effective decisions and support more successful outcomes.
Business Analysts
The role of a Business Analyst is partly technical, partly business-based. The position requires an understanding of business requirements, and the data skills to be able to model and analyze data accordingly. The goal of a Business Analyst is typically to develop and suggest new business intelligence solutions to help organizations get more out of their data. Report writing is also often a big part of the role.
Data Analysts
A Data Analyst's job is to generate reports, and model data and analysis, translating it into insightful, comprehensible information that can be used to generate actions for the business.
BI Developer
A BI Developer is like any other kind of software developer, in that they design and developing tools and solutions for apps and services. They translate business needs into specifications, and work to improve and extend business intelligence platforms to help them better meet the needs of their users.
What Power BI certifications are available?
If you're looking to add some value to your resume, a certification is a great place to start. Getting certified can even bump up your salary. Techies looking to become Power BI certified should kick off with either the MCSA: BI Reporting certification or the MCSA: SQL 2016 BI Development.
The MCSA is Microsoft's mid-level certification, and is intended for people who seek entry-level jobs in an information technology environment. There are no prerequisites to attempt an MCSA, but the MCSA must be achieved before moving on to the next and final level, the MSCE.
The MCSA: BI Reporting validates skills in using, modeling and visualizing data, as well as configuring dashboards using Excel and Power BI. The MCSA: SQL 2016 BI Development certification validates extract, transform, and load (ETL) and data warehouse skills, along with those for implementing BI solutions using multidimensional and tabular data models and online analytical processing (OLAP) cubes.
To earn the MCSA: BI Reporting, entrants must pass two exams. The first one is Exam 70-778—Analyzing and dVisualizing Data with Power BI. Candidates for this exam should have a good understanding of how to use Power BI to perform data analysis. Candidates should be proficient in connecting to data sources and performing data transformations, modeling and visualizing data by using Microsoft Power BI Desktop, and configuring dashboards using the Power BI service. Candidates should also be proficient in implementing direct connectivity to Microsoft SQL Azure and SQL Server Analysis Services (SSAS), and implementing data analysis in Microsoft Excel. Candidates may include BI professionals, data analysts, and other roles responsible for creating reports by using Power BI.
Candidates must also pass Exam 70-779—Analyzing and Visualizing Data with Microsoft Excel. Candidates for this exam should have a strong understanding of how to use Microsoft Excel to perform data analysis. Candidates should be able to consume, transform, model, and visualize data in Excel. Candidates should also be able to configure and manipulate data in PowerPivot, PivotTables, and PivotCharts. Candidates may include BI professionals, data analysts, and other roles responsible for analyzing data with Excel.
Those wishing to go down the MCSA: SQL 2016 BI Development route must also pass two exams; Exam 70-767—Implementing a SQL Data Warehouse, intended for ETL and data warehouse developers who create business intelligence (BI) solutions, and Exam 70-768—Developing SQL Data Models, intended for business intelligence (BI) developers who focus on creating BI solutions that require implementing multidimensional data models, implementing and maintaining OLAP cubes, and implementing tabular data models.
Once this MCSA has been achieved, MCSA holders can then go on to earn the MCSE: Data Management and Analytics certification, which demonstrates broad skill sets in SQL administration, building enterprise-scale data solutions, and leveraging business intelligence data, both on-premise and in cloud environments. There are five other MCSAs that serve as prerequisites for MCSE: Data Management and Analytics that focus more intensely on Azure, Machine Learning, and SQL.
To achieve MCSE: Data Management and Analytics, entrants must pass one of their choice of thirteen exams:
Exam 70-473: Designing and Implementing Cloud Data Platform Solutions Exam 70-339: Managing Microsoft SharePoint Server 2016

Exam 70-475: Designing and Implementing Big Data Analytics Solutions Exam 70-334: Core Solutions of Microsoft Skype for Business 2015

Exam 70-464: Developing Microsoft SQL Server Databases Exam 70-332: Advanced Solutions of Microsoft SharePoint Server 2013

Exam 70-465: Designing Database Solutions for Microsoft SQL Server Exam 70-342: Advanced Solutions of Microsoft Exchange Server 2013

Exam 70-466: Implementing Data Models and Reports with Microsoft SQL Server

Exam 70-467: Designing Business Intelligence Solutions with Microsoft SQL Server

Exam 70-762: Developing SQL Databases

Exam 70-767: Implementing a Data Warehouse using SQL

Exam 70-768: Developing SQL Data Models

Exam 70-773: Analyzing Big Data with Microsoft R

Exam 70-774: Perform Cloud Data Science with Azure Machine Learning

Exam 70-775: Perform Data Engineering on Microsoft Azure HDInsight

Exam 70-777: Implementing Microsoft Azure Cosmos DB Solutions
Each exam costs $165 USD per attempt, so attaining an MSCA would cost $330 USD, and an MSCE a further $165 USD. This cost is for a single attempt, and retakes must be paid for again.

How much does Power BI cost?
Due to the wide range of versions and plans available for Power BI, there's a price point for every user. Power BI Desktop and Power BI Mobile are free, Power BI Embedded is a pay-as-you-go service, and Power BI Pro and Power BI Premium are priced according to how many users will be accessing the platform, and how much they'll use it.
Power BI Pro Pricing
Power BI Pro costs $9.99 per user, per month.
Power BI Pro is also included with Office 365's Enterprise E5 plan, which costs $35 per user, per month.
Power BI Premium Pricing
Power BI Premium gives you a dedicated resource for your organization, and as such, is priced by capacity. The minimum capacity level available is "P1", which costs $4,995 per month.
This model will appear largely to bigger organizations with more users and greater analytical needs. Premium is really only a sensible option for businesses with more than 500 active Power BI users.
Power BI Embedded Pricing
Unlike Power BI Pro, which is costed by user, or Premium, which is costed by capacity, Power BI Embedded is priced by "render". A render is any kind of activity within Power BI Embedded. So, if an app's end user loads a page with Power BI visuals on it, refreshes that page, or interacts with the reports in any way, that counts as a render.
How much Power BI Embedded costs on a pay-as-you-go basis depends on which "node" you choose to use. A node is a connection point between a system or device and the network it's connected to. Power BI Embedded's pricing structure offers a range of nodes, each with a different level of processing power; the more power the node has, the more expensive it is to use.
For example, if you choose an A1 node type, you'll be paying $1.0081 per hour of usage, and for that price, you'll get 3GB worth of RAM, which can process 300 renders per hour.
For a node with a little more power and capacity, you'll pay a little more; an A4 node has 25GB of RAM, can process 4,800 renders, and costs $16.13 per hour.
These cost-per-hour fees are the only things you'll pay for with Power BI Embedded; there's no upfront cost and no termination fees.

What are the system requirements for Power BI?
Minimum requirements to run Power BI Desktop:
Windows 7 / Windows Server 2008 R2, or later

.NET 4.5

Internet Explorer 9 or later

Memory (RAM): At least 1 GB available, 1.5 GB or more recommended.

Display: At least 1440×900 or 1600×900 (16:9) recommended. Lower resolutions such as 1024×768 or 1280×800 are not recommended, as certain controls (such as closing the startup screen) display beyond those resolutions.

Windows Display settings: If your display settings are set to change the size of text, apps, and other items to more than 100%, you may not be able to see certain dialogs that must be closed or responded to in order to proceed using Power BI Desktop. If you encounter this issue, check your Display settings by going to Settings > System > Display in Windows, and use the slider to return display settings to 100%.

CPU: 1 gigahertz (GHz) or faster x86- or x64-bit processor recommended.
Does Power BI integrate with other products?
Power BI Pro integrates with both Microsoft products, and third-party platforms, so users can pull data from wherever they need to.
Some popular Microsoft solutions you can connect Power BI to include Exchange, Office 365, Dynamics 365, SharePoint, Excel, Cortana, and Teams. Users can extend Power BI's native connectivity to new data sources using Custom Connectors for Power BI, or Microsoft Flow.
Some of Power BI's components can be used directly within Excel, bringing the analytical power of the app to your spreadsheets. Power Query, Power Pivot, and Power View's availability with Excel mean users can merge and prepare data sources, create reports, and generate visualizations within the traditional Excel interface.
Power BI can also be connected to other services, such as Salesforce, GitHub, QuickBooks, ZenDesk, Marketo, Facebook, and Google Analytics, with more connections being added all the time.
Can Power BI be customized?
Power BI is highly customizable, with users able to personalize dashboards and interfaces. Custom reports are also easy to create. Visualize data your way, with our rich library of fully-customizable, open-source data visualizations. With the custom visuals SDK, you can create stunning visualizations, based on well-known JavaScript libraries such as D3, jQuery, and even R-language scripts. Test and debug on the fly, and package into redistributable custom visuals that can be used across all Power BI products. You can share custom visuals you've created within your organization, deliver them to your clients and customers, or share them with the world on AppSource.
Looking for top BI talent? We make it easy.
Tell us what you're looking for and we'll put together a job spec that'll attract professionals with the skills and experience you need.