If you're headed North this Summer to WPC 16, you've probably got it marked in your calendar that the event is being hosted in 'Boomtown' Toronto, so Nigel Frank has put together a Toronto City Guide to help you have an even better experience at WPC 16.
Nigel Frank International are excited about being Silver Sponsors at the 2016 Microsoft Worldwide Partner Conference (WPC) and we look forward to the prospect of greeting over 15,000 visitors.
At WPC you will find the leaders and the visionaries of the IT industry all coming together to spur innovation and growth to new heights. Interact, network and meet with industry leaders from around the globe.
Visit Nigel Frank at Booth 623 in the Dynamics area!
_________________________________________________________
If you're headed North this Summer to WPC, you've probably got it marked in your calendar that the event is being hosted in 'Boomtown' Toronto, and features a great line-up of sessions. Toronto is currently remodeling itself as Canada's largest premier modern city and is a fascinating place to visit. A favorite destination for both national and international travelers, Toronto is soaked in cultural history, stunning architecture and beautiful, natural outdoor surroundings. The real allure of WPC is its business partnership opportunities where thousands of IT experts and Microsoft Global Partners congregate to disseminate the latest solutions and shed light on Microsoft's future vision and roadmap. Its networking and deal-making at its best, a truly unmissable event.
We'd like to help you strike the right balance between business and pleasure in a city blessed with Northern nights and city lights and there's a myriad of ways to do this.
Whether you prefer to explore different aspects of Toronto's cultural heritage or spend time checking out the local parks, infamous paths and gardens there's a lot to see. In addition to experiencing the amazing attractions the city has to offer, there's a plethora of cool cafes and delicious restaurants. Toronto is hot in July so be prepared as temperatures soar to around 31˚C/87˚ F. The time zone is (EST) Eastern Standard Time, UTC/GMT-5 hours. Here's our City Guide highlighting some options to keep you occupied when you're away from the hustle and bustle of the Convention Centre.
Fun Facts
Canada stretches 9.985 million km², and amazingly one-quarter of Canada's total population lives within a 160 km² radius of Toronto.
Locals are known at Torontonian's.
According to the Guinness Book of World Records, Yonge Street in Toronto is the longest in the world, stretching an amazing 1200 miles long, starts in Toronto and ends North of the Minnesota border.
Toronto Island situated South of downtown Toronto, lies on top of a 900-acre floating sandbag! Centre Island is infamous for being the location where Babe Ruth hit his first professional home run!
Launched in 1976, The Toronto International Film Festival (TIFF) is the second most prestigious film festival in the world, only second to Cannes.
Toronto boasts over 8000 restaurants.
Tourists regularly flock to see exactly half a semi-detached house in St Patrick Street, situated in downtown Toronto.
There are 50 public skating rinks in Toronto alone.
PATH, is the largest underground shopping complex in the world, located underneath Toronto.
Actor Jim Carey was born in Newmarket, North of Toronto.
Top Attractions
CN Tower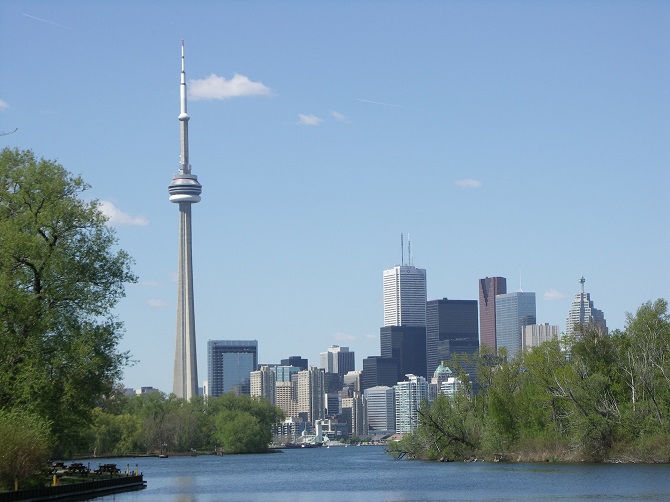 A modern architectural marvel, the CN Tower is a 553.33 m-high communications and observation tower situated in downtown Toronto. You can enjoy Toronto's most spectacular views by day or night. There are two observation levels to explore of up to 1,136 ft./346 m, a world famous glass floor at 1,122 ft./342 m with an outdoor Sky Terrace. Edgewalk is CN Tower's most extreme attraction. It is the world's highest full circle hands-free walk on a 5 ft. (1.5 m) wide ledge enclosing the top of the Tower's main pod, 356 m/1168 ft. (116 storeys) above the ground.
Officially opened in March 1914, and known as ROM, The Royal Ontario Museum is the museum for art, world culture and natural history in Toronto. It is the largest museum in Canada, and attracts over one million visitors every year. Exhibits range from dinosaurs, to ancient Egyptian artifacts, Canadian history and includes a biodiversity gallery.
Casa Loma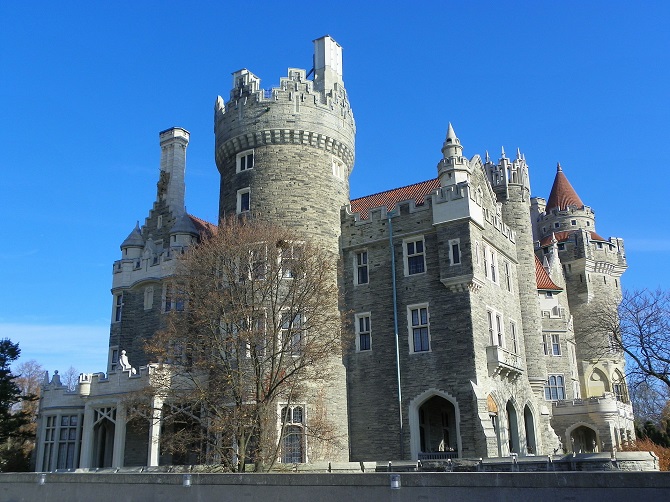 Casa Loma is an impressive Gothic Revival style castle and gardens, constructed around 1911 and located in midtown Toronto. It is now a famous historic architectural landmark and museum where you can experience the elegance and splendor of the Edwardian era, tour through stables, secret passages and tunnels and witness spectacular city views from its unique towers.
Toronto Zoo
Toronto's premier zoo is famous for its interactive educational experiences and conservation exploits. Award-winning exhibits include the Giant Panda Experience, where you can see the only two giant pandas in Canada, the Great Barrier Reef and Eurasia Wilds.
The iconic Ontario Science Centre's mission statement is to "delight, inform and challenge visitors through engaging and thought-provoking experiences in science and technology" A must-see cultural attraction with over 500 exhibits, live demonstrations, and Toronto's only public planetarium and IMAX® Cinema located in its dome theatre.
Niagara Falls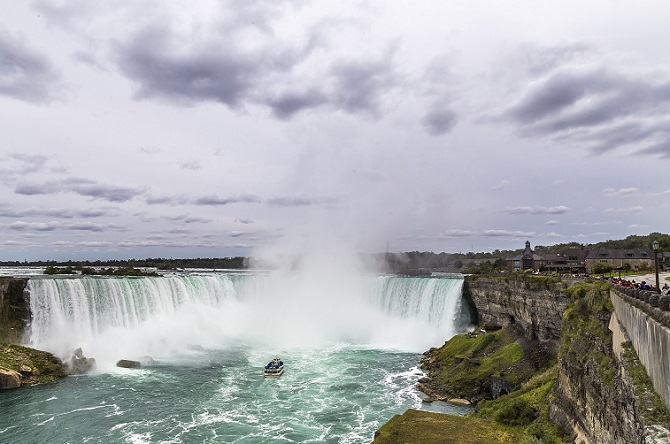 Towering a staggering 51 m in height across the Rainbow Bridge and Whirlpool Rapids Bridge with close to 750,000 gallons of water a second hurtling down its curved cliffs is Niagara Falls.  From Toronto, it will set you back 90-minutes by car, but Niagara Falls is well worth the trip! It's an absolute show stopper and definitely an attraction that should be on your bucket list. Get up close and personal and take in views from the top of the Falls, the Table Rock site lets you stand barely a metre from the edge of Horseshoe Falls, or enjoy the thrill of heading into the Falls themselves with an experience called Journey Behind the Falls, descending 38 metres through solid rock in a lift to stand up close and personal to the curtain of water. If flying is your thing you can take a helicopter excursion and soar to picturesque heights over the Falls.
Useful Local Knowledge
The local currency is the Canadian Dollar ($ CAD).
Torontonian's are super friendly, speak English and French and not shy to offer advice.
Streetcars are the mode of transport in Toronto – one of the largest networks in North America.  You need a ticket, token, pass, transfer or exact cash. Operators do not sell fares or carry change. Hop on for as little as $8.70.
Buses, taxis are also available, and you can also use Uber or hire a car from local operators Avis.
The Distillery District, with its Victorian exterior, boasts some of the best pubs in Toronto. Formerly the largest distillery in the world, it's now a bustling pedestrian neighborhood, full of 'chi-chi' shops (antique furniture to futuristic fashion, and gaudy jewelry boutiques), art galleries, restaurants and a labyrinth of patios.  A pint costs between $2.92 – $4.38.
For great restaurants and places to eat head for Chinatown, Little India, and Little Italy or you can sample fusion cuisine at the Hungary Thai. Budget prices range from $7.30 – $12.41, top eateries can cost up to $37 – $60.
Dance the night away in The Entertainment District of Toronto, with upwards of 30,000 clubbers on any given Saturday night. The Hoxton on a Friday or Saturday night is a sure bet (admission $15 – $20), or check out the Uniun (admission $25 – $30) a combination of electro and techno music with huge LED displays.
_____________________________________________________________
Stay tuned for more content from us ahead of WPC 2016 and be sure to follow along with us on social media.