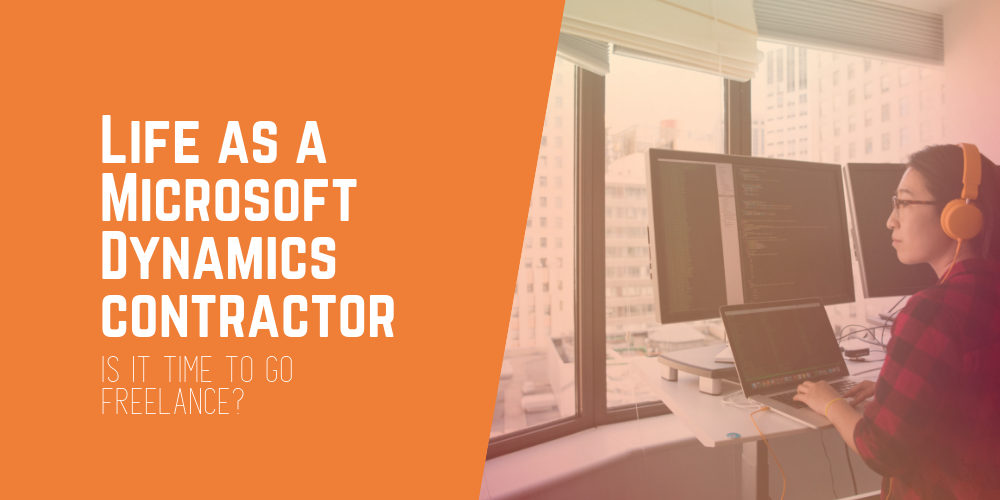 Ever find yourself sitting at your desk, daydreaming about being your own boss?
Well, if you work with Microsoft Dynamics, it might be more achievable than you think.
The draw of freelancing is a big one for Dynamics professionals; according to our latest Dynamics Salary Survey, 11% of Dynamics professionals are contractors.
If working for yourself sounds like something you'd like to try, let's take a look at the pros and cons of freelancing as a Dynamics professional.

Microsoft Dynamics contracting: the benefits
Higher Pay
As a contractor, the only limits to what you can earn are the ones you set yourself. You're in control of how many hours you work, and how much you charge.
According to our salary survey, a mid-level Technical Consultant working with Dynamics AX makes on average $55 an hour, whereas a Dynamics CRM contractor working the same hours (eight hours a day, five days a week) can routinely make upwards of $75 an hour.
Similarly, a freelance Dynamics CRM Functional Consultant can make between $70 and $126 an hour, while the average hourly wage for a permanent Functional Consultant is around $48.
And freelance Dynamics NAV programmers pull in between $75 and $120; roughly double the average hourly wage of their permanent counterparts.
Of course, how much you can bill out as a contractor will depend on your experience, location, and the market you're working in, but as a rule, IT contractors are known to pull in around double the wage of a permanent employee in the same role.
Looking after your own schedule
Having the freedom to dictate your own hours and manage your own time is another massive draw for those who are used to being governed by the 9-5, fitting everything around work, and having to submit a formal proposal every time you need to leave early for a doctor's appointment.
As a freelancer, you're no longer clocking in and out at a certain time; your potential working hours are now 'round the clock, but which of those hours you choose to work is up to you. You can fit your projects around other commitments, and create a working pattern that suits you. Not a morning person? Work in the evening. Need to do the school run? No need to hire a childminder. Tired of sitting at your computer? Take in an afternoon matinee at the movie theatre.
The key, however, is self-discipline, as with no one standing over you asking for a progress report, it's up to you to make sure everything gets done on time.
Change between on-site and remote work
If you're the sort of person who likes to change up the scenery every now and then, freelancing is a great option; not only can you choose to work from anywhere – your yard, your favorite coffee shop, on the road – but you can experience a variety of working circumstances depending on the project you're working on.
Maybe you're getting a little stir-crazy working from home. You don't want to go back to being a permanent employee, but maybe hanging out in an office would be nice for a while. You can choose to take a job that requires on-site work, or client visits. And when that job is over, you're free to go back to remote working; no long-term commitment required.
Again, the real advantage here is autonomy. You get to decide what works for you, and you get to change your mind.
New challenges and variety of work
Another of the big lures of freelance working for our survey respondents was a variety of work. While you'll no doubt have a specialism which you'll sell to clients, as a freelancer you'd have the independence to flit between a variety of projects, meaning you're less likely to get bored with the work you're doing.
Not only will the type of jobs you're doing differ, but you'll also work for all sizes and shapes of clients, with a variety of cultures and ways of working, so you'll always have something new to experience.
After all, why would you visit the same restaurant five days a week when you could eat at a buffet of global cuisines?
Manage your own career path
Working for yourself means you manage your own career path, following the road that best suits you and your business, rather than the needs of a company. The direction in which you decide to take your practice, and the skills you choose to build, are entirely at your own discretion.
Without being shackled to the budget and vision of an employer, you're free to spend time building new skills and getting to grips with new technologies, however, and whenever, you choose.
When a new technology emerges in your market, as we've seen recently with the release of Dynamics 365, freelancers are in a much better position to adapt to market changes than a big business. Demand for professionals with Dynamics 365 knowledge and experience is set to explode in the near future, and those who have the flexibility to react to the constant changes in the 365 suite will be one step ahead of traditional consultancies right out of the starting block.
We've taken the pulse of the Microsoft ecosystem.
Get the inside track on the latest salaries, trends, and sentiments in your community with our salary surveys.

Microsoft Dynamics contracting: the challenges
We've already explored the benefits of being a freelancer, but that's not to say, of course, that freelancing doesn't have potential pitfalls, otherwise the world and their wife would be contracting. Let's take a look at the things to look out for as a contract Dynamics professional.
Lack of security
For many people, the main drawback of being a contractor is the absence of a paycheck landing on your doormat like clockwork every month. Being a freelancer means it's your job to squeeze the money you're owed from clients, which can be a big job in itself.
Even the most well-meaning and appreciative client can take their time paying up, especially if it's a larger company with their own invoicing and accounts procedures. But, while there's always going to be a degree of "feast and famine" to freelancing, as we mentioned earlier contractors out-earn their permanent counterparts on average. So with a bit of financial planning, you can manage your earnings to make sure you're covered each month; especially if you're earning more than you would be as a permanent employee. And though things might take a while to settle when you first go freelance, once you start to build a reputation and relationships with clients, your incomings should become more steady.
Plus, the flexible nature of freelancing means you can start to build up a client base before you cut the apron strings of permanent work completely. Although taking on freelance projects on top of a full-time role can seem daunting, dipping a toe while still working the 9-5 means you can do a little research into your market, and gives you a good base to build on if you decide to take the plunge.
Lack of benefits
The other side of the coin to being your own boss is having to go without a traditional benefits package. As a contractor, you'll need to purchase not only the hardware you need to do your job, but any kind of health or life insurance that employers might normally provide.
Also, you won't receive holiday or sick pay, so you'll need to manage your earnings carefully to account for things like taking a vacation, or being unable to work.
You may also need to take out Professional Liability Insurance to protect yourself from any claims made against you.
Finding work
No one particularly enjoys job hunting, and the notion of having to actively seek new freelance gigs every few months can be off-putting. However, much of a contractor's bread and butter comes from repeat business; do a good job for a client and the likelihood is they'll hire you again when another opportunity arises. Plus, they're also likely to recommend you to other businesses. As a contractor, you're constantly up for sale, so making sure you have an up-to-date (and professional) online presence can go a long way.
With an estimated 80% of contract work coming through agencies, hooking up with a good recruiter can also do wonders for your workflow. Find someone who knows your market and appreciates your skill-set, and they can help line up jobs and introduce you to new clients, meaning there's less pressure on you to tout your services.
Another bit of good news on the job-seeking front is that advances in remote work capabilities have thrown the areas you can look for work wide open. Though some jobs may require occasional site visits, 100% remote work roles can be done from anywhere in the world, meaning you're not restricted to taking jobs a bus ride away.
Negotiating contracts
Another aspect of selling yourself as a freelancer is negotiating your terms. Not only are you the star of the show, but you're also the agent, the manager, and the personal assistant. An integral part of representing yourself is making sure you get the right compensation for the work you do.
You can decide on a rate that's fair for the job at hand, but this doesn't mean the client won't try and get you to budge. This kind of professional haggling is not something everyone will be comfortable doing. Shooting for the top end of the client's range, without pricing yourself out of a job, can be a tricky dance.
Be prepared to throw together a pitch in order to get the rate you're asking for. A little research into the market, offering examples of the value you've provided on past projects, and having your own well-defined terms can help give you good footing when it comes to negotiating payment.
Managing your own taxes
Another admin-related snag is having to manage your own taxes.
Of course, there's always the option to employ an accountant to manage your returns for you if you operate as a limited company, or you can opt to work under an umbrella company, which can take the leg work out of contracting for a fee.
Umbrella companies act as an intermediary between the contractor and the client, and manage all payroll and tax issues for you via an online portal. Many of these umbrella companies also offer benefits such as health and income insurance, and can provide professional and public liability cover in-house.
So, if you want more freedom (and more money), and are willing to take on the additional responsibility that comes with contracting, going solo could be the right step for you.
Of course, working for yourself doesn't mean you'll be completely alone. Getting on board with a specialist IT recruiter can mitigate a huge amount of the uncertainty that can come with freelancing.
Building and maintaining a relationship with a recruiter who can put their understanding of the market, the needs of potential clients, and your skills to work, and help transform your contracting career.
Think contracting might be for you?
As the global leaders in Microsoft Dynamics recruitment, we can help with promoting your services to clients, lining up your next job, and negotiating your contract. If you're ready to start life as a Microsoft Dynamics freelancer, drop us a line today and find out how we can help you get the most out of contracting.