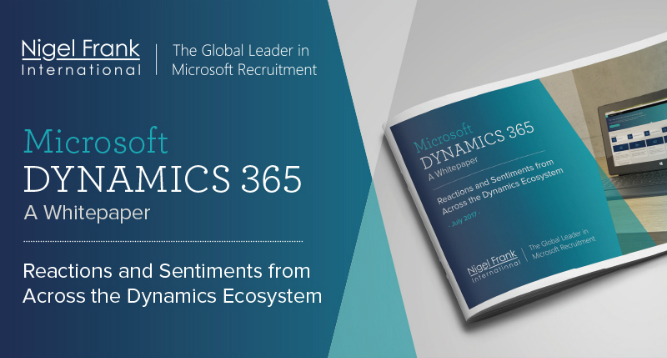 Since Dynamics 365 was released late last year, Nigel Frank International has been working diligently to gather the initial thoughts and feelings from the Microsoft technology community about Microsoft Dynamics 365.
We spoke to partners, experts, and end users to find out the ecosystem's first impressions of Microsoft's latest business solution, what their expectations are, any concerns they might have, and ultimately, what the release will mean for both end user and partner business in the near future.
We conducted a survey to compile the thoughts, sentiments and opinions about the highly anticipated release of Dynamics 365 from our clients and candidates. Based on the key feedback we received, we are excited to share the results of this survey, in the form of a special Dynamics 365 whitepaper. This whitepaper will help Microsoft users and professionals understand the implications of this revolutionary technology release.
Our whitepaper is designed to help answer any questions that you may have about Dynamics 365. It will also serve as a guide to help you make the best decisions regarding the implementation of the platform within your business, or place of employment.
Is it worth the investment? Does it bring anything new? How do I implement it within my business? These questions and more are answered in our brand new whitepaper: Microsoft Dynamics 365: Reactions and Sentiments from Across the Dynamics Ecosystem.
We take a look at:
What is Dynamics 365? Does it offer anything new?
Migration and Adoption What are the benefits of Dynamics 365 migration? And how quickly are users looking to adopt?
Microsoft and Adobe How will Microsoft's partnership with Adobe affect Dynamics 365?
Functionality of the Cloud Can users expect limitations on functional capabilities or customization on a cloud platform?
Licensing Options What are Dynamics 365's licencing options? Which version is right for your business?
Training and Skills What skills do you need to carry out a successful Dynamics 365 implementation?