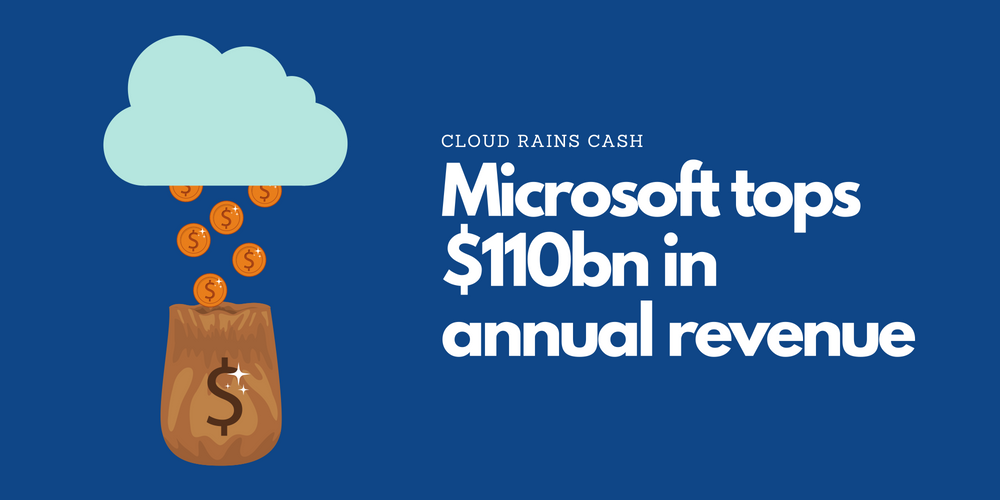 Microsoft has surpassed $100bn in annual revenue for the first time in its history.
The tech giant has posted its earnings for Q4 2018, revealing colossal takings up 14% on 2017. Total revenue for its 2018 fiscal year came in at $110.4bn, marking the first time Microsoft's annual earnings have surpassed $100bn.
The company's total revenue for its fourth quarter came in at $30.1bn; a 17% increase on the previous period, and almost a clear billion ahead of the $29.21bn forecasted by Wall Street analysts.
Microsoft CEO Satya Nadella accredited the boom in revenue to two factors; Microsoft's dedication to its customers, and the company's ongoing investments in cloud technology. "We had an incredible year, surpassing $100 billion in revenue as a result of our teams' relentless focus on customer success and the trust customers are placing in Microsoft," said Nadella.
"Our early investments in the intelligent cloud and intelligent edge are paying off, and we will continue to expand our reach in large and growing markets with differentiated innovation."
The report showed considerable gains in all three of the company's key reporting areas; Productivity and Business Processes, Intelligent Cloud, and More Personal Computing, with Microsoft's public cloud service Azure enjoying an enormous 89% growth on the same period last year.
Productivity and Business Processes, which encompasses Microsoft's Dynamics business application suite and Microsoft Office, climbed 13% on last year with revenue rising to $9.7 billion.
On the commercial side, revenue from Microsoft Office products increased 10%, with an increase in earnings driven largely by a 38% growth in Office 365 subscriptions taken by business and enterprise customers. Takings on Office consumer products and services was up 8%, with Office 365 consumer subscribers now standing at 31.4 million; up 4.4 million on this time last year.
One of Microsoft's most recent and high-profile acquisitions also continued to see significant growth. Revenue from LinkedIn increased by 37%, and user engagement with the platform also grew, with sessions on the site up 41%. This is a considerable step-up from its pre-acquisition growth, which came in at 23% in Q4 2016, shortly before it was absorbed by Microsoft. The networking site has also bagged 108m new members under Microsoft's rule, providing additional value and opportunity for customers of LinkedIn-connected services like Dynamics 365.
Continued adoption of Microsoft's cloud-led CRM and ERP product Dynamics 365 helped push revenue for the Dynamics suite up by 11%, with Dynamics 365 itself generating 61% growth on last year.
Though the company has shifted its focus away from hardware and operating systems in favor of a cloud-led strategy in recent years, its More Personal Computing division is still making gains. The branch, which includes Windows, Xbox, and the Surface family of products business, brought in $10.8bn in FY 2018, delivering a 17% increase on the previous period.
Revenue from Windows OEM grew 7% on last year, while Windows' commercial revenue faired even better with an increase of 23%. Xbox software and services were up 36%, and the Surface division generated 25% more revenue compared to this time last year; an increase likely driven by new hardware releases such as the Surface Laptop, and boosted by poor takings for the Surface branch in FY 2017.
The big winner for Microsoft this fiscal year, however, was its Intelligent Cloud division. Since Nadella first unveiled Microsoft's new cloud-first, mobile-first mantra in early 2014, the company has invested massive amounts of time and money into positioning itself as a leading in cloud and edge computing, and safeguarding its dominance in an increasingly XaaS-based world.
In the past year, revenue for the Intelligent Cloud division, which comprises of the Microsoft Azure cloud computing platform and its related technologies and services, increased by 23%, bringing in a total of $9.6bn. Earnings generated by Azure itself ballooned by a massive 89%—though Microsoft does not disclose exact revenue—with commercial cloud services and software such as Office 365 swelling by 53% to $6.9bn.
Amy Hood, executive vice president and chief financial officer of Microsoft touted the contribution of commercial cloud revenue to the company's overall success in FY 2018, stating: "Exceptional sales execution delivered double-digit revenue growth across all segments and strong progress against our strategic priorities, anchored by commercial cloud revenue growing 53% year-over-year to $6.9 billion."
The triumph of Microsoft's Intelligent Cloud unit is reflective of both general growth of the public cloud services market—predicted to grow by 21% in 2018—and Microsoft's ascendancy in that arena. Since 2016, Microsoft has sat ahead of Google in terms of public cloud dominance; currently only Amazon commands a greater portion of the market, holding its 33% share steadily since 2015. In the past three years, both Microsoft and Google have eked out a more-significant chunk of the market, with Microsoft's share rising from 7% to 13%, and Google's doubling to 6% according to recent figures.
A recent five-year deal to provide supermarket colossus Walmart with cloud services could see Microsoft close the gap between itself and Amazon further.
Microsoft's continued push into the cloud market is especially impressive, considering both of its key competitors were born and made on the web— the Redmond tech giant had to undergo a massive transformation in order to move away from its legacy business strategy of hardware and operating systems, overcoming many unproductive ventures (such as its foray into mobile) in the process.