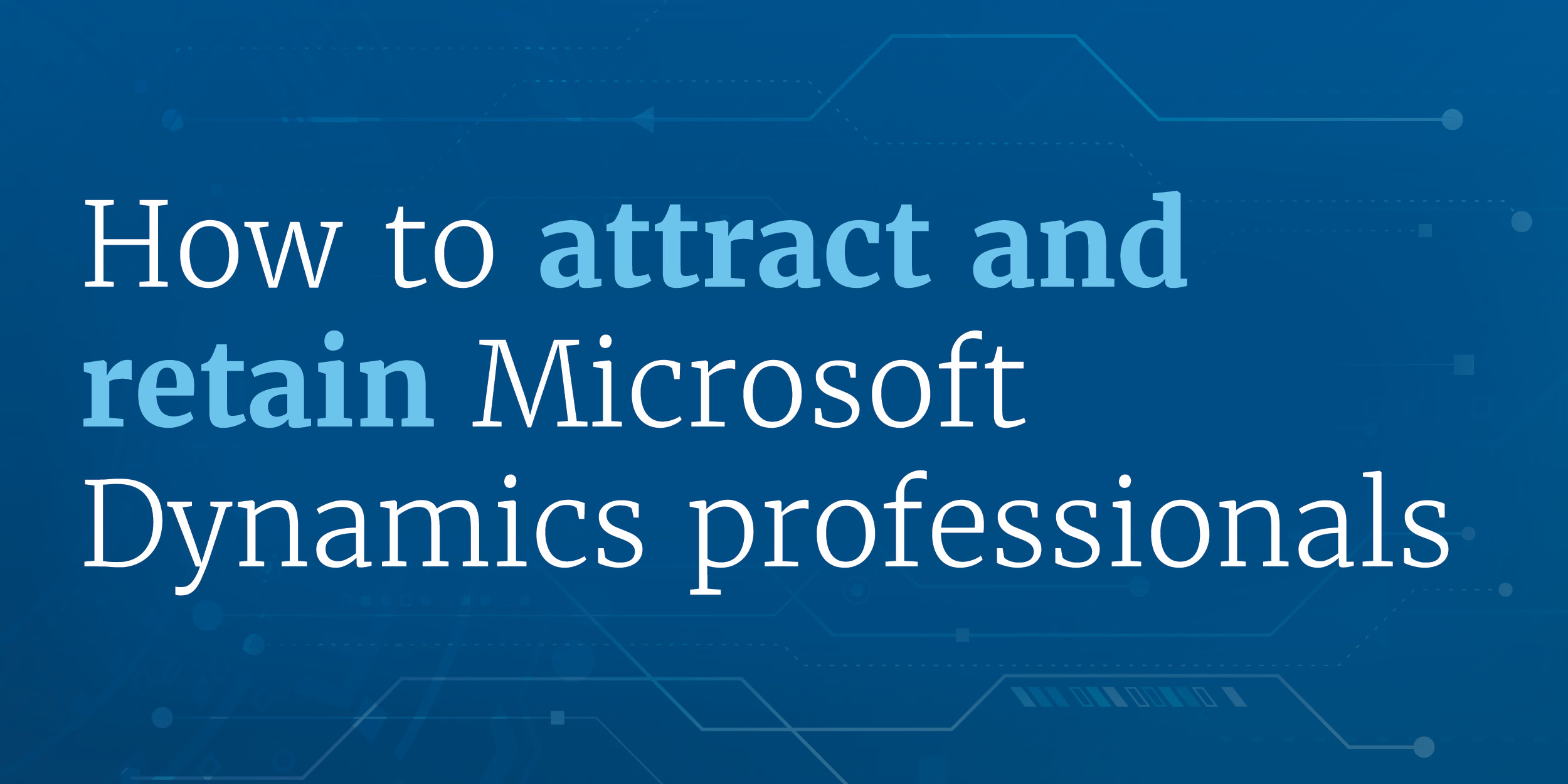 Competition for tech talent has always been fierce, with these highly skilled professionals playing a key role in keeping a company's IT infrastructure in top condition. But when the Covid-19 pandemic hit in 2020 and The Great Resignation saw many people resigning from their current roles to pursue new ventures, finding tech professionals became even more challenging.
And even more so for tech workers who specialize in working with the cloud, as many businesses had to operate completely online when lockdowns happened, and restrictions were put in place to work from home.
And with Microsoft Dynamics products and cloud services more in demand than ever following a 33% increase in revenue during Q4 2021 and an overall revenue growth of 38% in 2020, you would be right to assume that the Dynamics hiring market is tougher than before.
Despite these novel issues employers and hiring managers must contend with, the good news is that with the right know-how, genuine care and a friendly and supportive company culture, you can attract the right Microsoft Dynamics professionals and keep them within your business—saving you time, resources, and money.
So, what can you do to get Dynamics professionals interested in joining your company in the first place? In this blog, we will be exploring in greater detail the current barriers in technology recruitment, as well as sharing our top tips for attracting and retaining Dynamics talent.
Top challenges in technology recruitment
Hiring tech talent is more difficult than ever before. A 2021 iCIMS report found that it takes longer than 60 days to fill an in-demand tech role, such as computer research scientist or software developer. Non-technology roles, on the other hand, take about 42 days to fill.
What's more, the effects of the pandemic and The Great Resignation outlined above has driven up expectations from talent. More often than not this means companies are having to outbid each other to offer incredibly high salaries to secure talent. But with the priorities of the jobs market shifting over the past two years to focus on an improved work-life balance and increased flexibility, driven by the needs and desires of job seekers and employees across the globe, you now have to offer much more than just a big pay packet.
In fact, according to the Nigel Frank Careers and Hiring Guide: Microsoft 365 & Azure Edition 2021-22 38% of permanent employees said they would consider a new role if it offered homeworking, while 37% would be enticed by a new role if their company offered 4 weeks or more paid time off. This was in comparison to 9% whose motivation to move could be driven by an employer offering commission—this shows that monetary rewards and offers aren't always the best way of attracting talent, and particularly not for Microsoft professionals.
Although there have been some signs of improvement over the past few years, an issue with diverse representation is still a pressing issue within tech, and one that impacts the hiring process. Many organizations are still failing to appreciate the benefits that people from diverse, and commonly underrepresented backgrounds, can bring. Within the tech industry, women, people from ethnic minority backgrounds are commonly victims of discrimination, with a report from mthree finding that 68% of business leaders state having a lack of diversity in their companies. By discounting specific groups of people from your recruitment efforts, you miss out on adding value through different perspectives and ideas.
On top of all of this, the cost of hiring has risen considerably as the competition gets fiercer and managers are having to try attract candidates through a range of means.
With that being said, you need to put in the time and effort to build a game-changing talent strategy. For starters, here's what you should know about hiring and retaining Microsoft Dynamics staff —and how to increase your chances of success.
1. Create a candidate persona
First things first, gather your team and create a candidate persona. Try to determine what kind of person would fit the job—and how their skills will benefit the organization. Take into account the following aspects:
Demographic data (e.g.: age, location, and current employment status)
Skills, qualifications, and areas of expertise
Professional and educational background
Measurable accomplishments
Career goals
Work experience
Consider the motivation behind their career choices, as well as their expectations regarding the work environment, too. Review the job applications submitted by previous candidates so you can identify what they have in common and whether their work ethic is similar to those already on your team.
A good starting point is the latest edition of Nigel Frank's Careers and Hiring Guide. Our team compiled over 115,500 data points and surveyed thousands of Microsoft professionals to learn more about their career paths, skills and certifications, job expectations, and other aspects.
For example, we found that nearly one-third of full-time employees would consider going freelance. The most widely cited reasons were the ability to work on different projects, earn higher revenue, or enjoy more flexibility.
Surprisingly, just as many contractors would move to a permanent role to have greater job stability and career growth opportunities. Almost 50% of freelancers would choose this option in favor of a stable income. Others simply want to make an impact through their work or join a company whose values align with their own.
2. Look beyond degrees and certifications
University degrees, certifications, and other credentials matter to some extent, but there are other more important factors to consider when hiring top talent.
A growing number of employers, including global organizations like Accenture, Google, and IBM, have begun to remove college degree requirements from their job adverts to allow them to diversify their talent pools and hire faster (CNBC).
Similarly, Harvard Business Review reports that organizations worldwide reduced degree requirements for more than one-third of high-skill positions between 2017 and 2019. This is testament to the fact that in today's digital era, college degrees are no longer as relevant as they once were.
Just think about the growing number of freelancers and independent contractors in the IT sector. Many of these professionals are self-taught and may use alternative ways to develop their skills. Courses, webinars, workshops, and seminars can be just as valuable as a university degree, especially when paired with hands-on experience, even if it was voluntary.
Our survey revealed that only 45% of Microsoft professionals hold a bachelor's degree. About 4% have an associate's degree, while 30% have a master's; further proving that a rich education background isn't necessary for success in the tech industry.
3. Hire based on skills and expertise
Shifting from degree-based to skill-based hiring doesn't have to be difficult—you just need to know what to look for.
Nigel Frank's Careers and Hiring Guide identified several skills that some of the best Dynamics professionals have in common. For example, Microsoft Dynamics 365 Functional Consultants should meet the following criteria:
In-depth knowledge of SQL, Microsoft Power Platform, and relevant practices, such as data migration
Strong understanding of Microsoft Dynamics 365 products
The ability to conduct gap analysis and provide solutions
Project management and documentation skills
Excellent communication and interpersonal skills
A creative mind and strong problem-solving skills
Familiarity with end-user testing
Most professionals who pursue this career path have a background in IT infrastructure and experience in a similar role, such as business analyst or ERP administrator.
Dynamics 365 Developers, on the other hand, may have a background in software testing, programming, quality assurance, or other technical roles. This role requires a good working knowledge of HTML, JavaScript, C#, SQL Server Integration Services, Microsoft Azure, and application programming interfaces.
4. Focus on the candidate's experience
Last but not least, strive to deliver a stellar candidate experience from start to finish.
For starters, seek ways to reduce your time-to-fill. The most qualified professionals are often off the market in just 10 days. Don't leave candidates hanging or ask them to go through endless rounds of interviews. With this approach, you might end up losing them. Instead, prioritize making the steps of the recruitment process as clear as possible from the beginning—whether there's just two interviews, or also a task to complete, by being upfront about the requirements, candidates will feel better-informed and able to prepare better, too.
Second, try to figure out what attracts people to Dynamics roles and what makes them stay. Research the market to determine what candidates expect and how to make your offer stand out.
If, say, you're looking to hire a Microsoft Dynamics 365 functional consultant, see our Careers and Hiring Guide to get a better idea of the salary range in this sector. Let's see a few examples based on the candidate's experience level and area of expertise:
Germany: €45,750-€89,750 per year
Ireland: €32,500-€74,500 per year
Spain: €25,750-€3,500 per year
Switzerland: €80,000-€36,500 per year
United Kingdom: £40,750-£82,000 per year
United States: $90,750-$160,000
These numbers don't include bonuses, incentives, and benefits. Plus, there are major differences in base salaries across countries and regions, so looking to third-party sources such as Glassdoor reviews for similar roles in your local area may help. If you'll be hiring remotely, bear in mind discussing salaries that are in line with the cost of living in the location where each applicant is from.
Offering competitive pay can make it easier to hire tech talent, but it takes more than that to retain employees. That's why you need to look beyond the numbers and offer attractive employee perks, such as:
Flexible/hybrid work arrangements.
Paid time off
Parental leave
Professional development opportunities
Employee training sessions
Childcare options
Gym memberships
Subscriptions to wellness apps
Flexible benefits
Weekly or monthly team outings
Tuition reimbursement
Subsidized/free transportation
A work culture that promotes diversity and inclusion
For example, more than 50% of the professionals surveyed by Nigel Frank said they would pursue a certification program if their employers paid for it, with 58% of those holding one or more certifications having had their training paid for by an employer. On top of this, nearly 40% would take this step if they knew it could lead to higher pay.
As a manager or business owner, it's in your best interest to retain top talent. This will not just reduce overhead costs but also reflect positively on your brand.
In the long run, high retention rates can increase your competitive advantage, improve employee morale, and contribute to business success. Plus, your organization will become more appealing to potential hires and gain a reputation as a place where people feel valued.
Need help sourcing the right Dynamics talent for your organization? We can help.
Simply, get in touch or browse our roster of Dynamics candidates, many of which can start immediately.
Looking for fresh Dynamics talent to join your team?
More choice than any other agency and many candidates ready to start immediately.