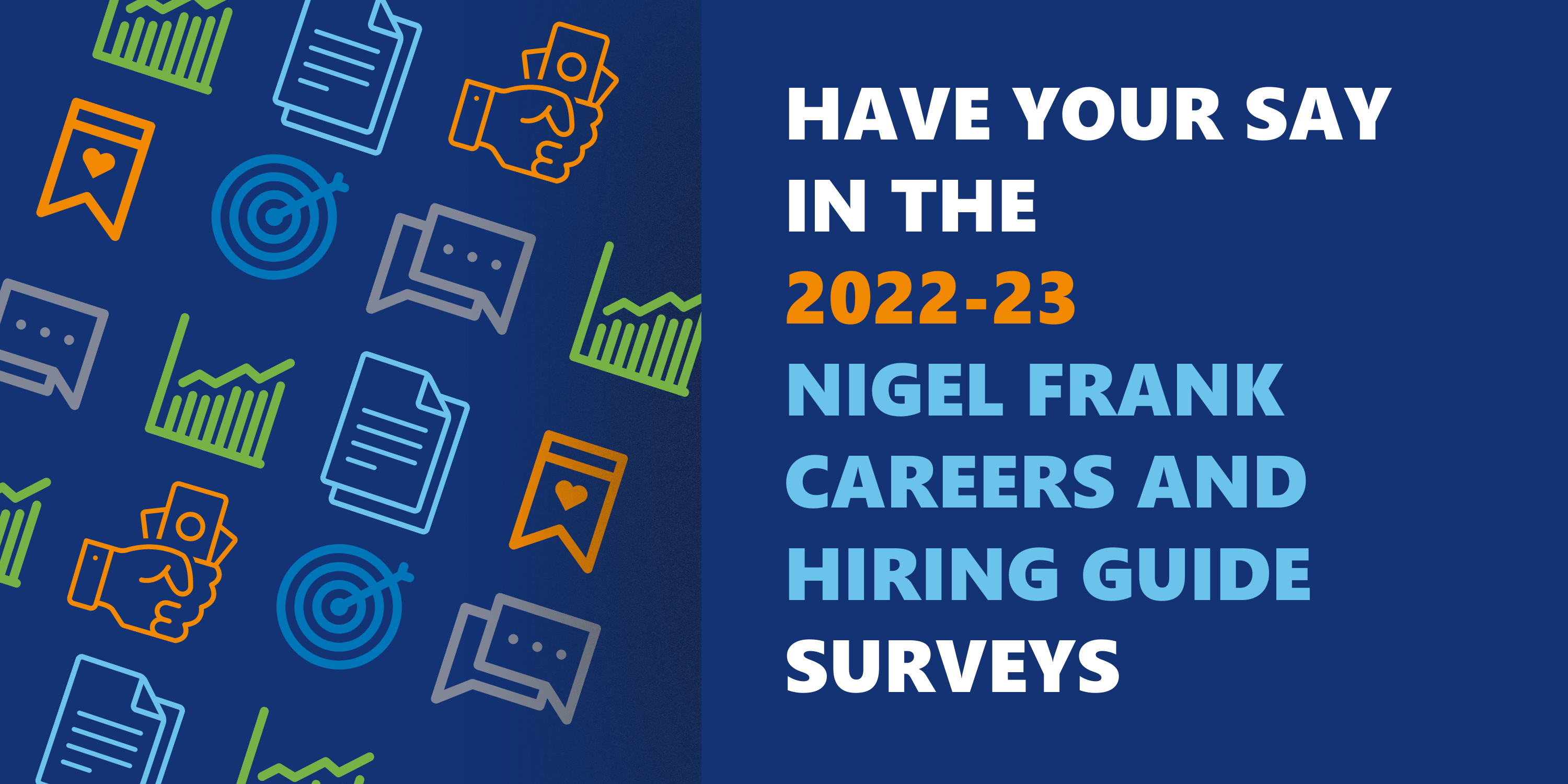 Our Nigel Frank Careers and Hiring Guide annual surveys are back, and this year they're bigger and better than ever! As the largest independent studies of their kind and recognized by Microsoft itself, our industry-acclaimed Careers and Hiring Guides provide annual insights into the Microsoft ecosystem that help us make it a better field to work in.
But in order to gather all this great information, we need your help! If you work in, or with the Microsoft Azure and 365, or Business Applications ecosystem, we'd love to hear from you. By filling out the survey associated with your line of work, you enable us to put together our fantastic guide, to help professionals to navigate the industry and get more out of their career in Microsoft, and hiring managers create the best working environment for their employees to thrive in.
Plus, when you take part in our survey, we'll send you a free digital copy of the published guide, directly to your email once it goes live in 2023—so you can be one of the first to be in the know.
This year, you can expect to find more information about more topics than ever before inside the survey, including:
The digital skills gap
The top perks and benefits other professionals are getting
Employee attraction and retention
What diversity, inclusion and equity currently looks like in the ecosystem
Leading market trends and the future of work
Salary benchmarks
Certifications and training
Expert advice and tips from other Microsoft professionals and MVPs
….and plenty more!
We have two surveys available for you to take, depending on your Microsoft specialism.
Nigel Frank's 2022-23 Careers and Hiring Guide survey: Microsoft 365 and Azure Edition
Our Microsoft 365 and Azure edition of the survey aims to explore what the current Microsoft 365 and Azure ecosystems currently look like and the predictions for what the future might hold for these incredibly fast-growing cloud computing services.
We're looking for Microsoft 365 and Azure professionals, job seekers, and hiring managers to share their thoughts on a range of topics that will help others to identify the issues and opportunities for further development in the industry—so that we can all work in a field that is innovative, diverse and fair.
Take the Microsoft 365 and Azure survey now!
Nigel Frank's 2022-23 Careers and Hiring Guide survey: Microsoft Business Applications Edition
Whether you're a Microsoft Business Applications professional, job seeker, or hiring manager—your insights are worth their weight in gold to us. Through our Microsoft Business Applications survey, we want to take a deep dive into the current Microsoft Business Applications ecosystem. With this invaluable information, we can view a snapshot of the industry currently, and even make predictions for what the future might look like in a sector that's inarguable evolving at such a rapid pace.
This is your opportunity to make your opinion heard and help us pinpoint any issues and opportunities within your industry—so that together we can build a better industry that champions innovation, while safeguarding diversity, equity, and inclusion, too.
Take the Microsoft Business Applications survey here!
Both Nigel Frank Careers and Hiring surveys are open for responses until August—while the reports will be issued later next year. If you'd like to get a better idea of what the final version will look like, why not look at our 2022 edition of the reports? Our current Microsoft Business Applications Edition 2022, as well as our Microsoft 365 and Azure Edition 2022 are available to download for free.
Don't miss out on this chance to make a difference—share your thoughts on the Microsoft ecosystem today!