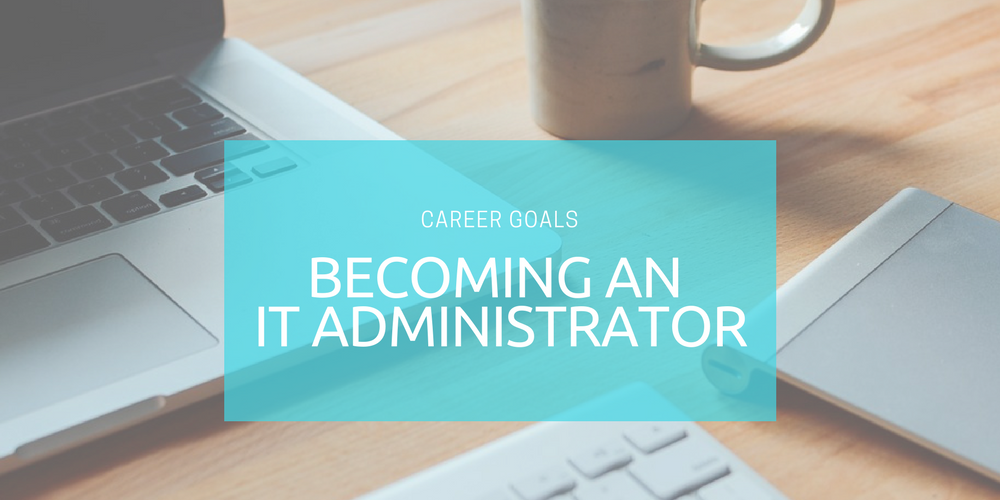 If you're tech-savvy with great attention to detail and a knack for problem-solving, an IT Administrator job could be a great choice for you.
Even in the face of rapidly changing technology, and the slow creep of automation, the demand for IT administrators continues to grow; the more organizations come to rely on technology for their processes and operations, the more people are needed to keep that technology up and running.
IT administration jobs come in many forms, from managing an organization's networks, and building and operating databases, to running collaborative platforms, or specializing in a particular business application. Whichever route you choose to take, IT administration can offer a varied, challenging and rewarding career.
We recently covered what you can expect to earn in some of the most popular IT Administrator jobs out there today, and now we're going to take a closer look at what skills you need to develop your IT career.
Jump to:
How to get a SharePoint Administrator job
Due to the specialist knowledge involved, SharePoint Administrator jobs are among the highest paid in the IT administration field.
There are many routes to becoming a SharePoint administrator; you might have worked with SharePoint in the past and want to learn more about it, or maybe you're already an IT Administrator interested in a more specialized career path. Either way, first-hand experience with the platform is the essential starting point on the road to becoming a SharePoint Administrator.
SharePoint integrates with other Microsoft products such as Office 365, and relies on Windows Servers and SQL Server to run properly, so a general understanding of other Microsoft products and services will also be advantageous.
Although Microsoft released SharePoint Server 2016 recently, the new offering is a more pared-back version, with Microsoft having shifted some of its functionality over to Office 365. For this reason, and because adoption of new versions is often slow, most SharePoint users will still be working with SharePoint 2010 or SharePoint 2013, so they're good places to start to learn SharePoint.
SharePoint Administrator training and certifications
Once you have experience with the platform, you can qualify your skills by becoming certified. According to our latest Technology for Business Salary Survey, 33% of respondents, including SharePoint administrators, reported an increase in earnings since being certified.
Microsoft has recently shelved their previous SharePoint certifications in favor of their new, streamlined qualification path. Microsoft certifications are now split into four levels: MOS: Microsoft Office Specialist; MTA: Microsoft Technology Associate; MCSA: Microsoft Certified Solutions Associate; and MCSE: Microsoft Certified Solutions Expert.
The new path for SharePoint culminates in the MCSE: Productivity certificate, which is an umbrella qualification covering SharePoint and Office skills. According to Microsoft, this accreditation validates your cloud, user productivity, and data management and security abilities.
Becoming SharePoint certified used to mean taking two exams, but those have now been rolled into one: Exam 70-339. Microsoft Certifications are highly regarded in the IT industry, largely because not just everyone can get one, so while there's now only one exam to sit rather than two, you can bet on it being pretty challenging.
To take the MCSE: Productivity, you'll first need to obtain an MCSA certification, either MCSA: Office 365, MCSA: Windows Server 2012, or MCSA: Windows Server 2016.
These certifications require resits of the exams every 2-3 years to remain valid. Undertaking these refresher exams means your knowledge will always be up to date, and shows you to be dedicated to keeping on top of developments; making them a valuable and desirable asset.
How to get a Database Administrator job
If job security is high on your list of career requirements, Database Administrator is a top pick. In an increasingly digital world, data is king, and the demand for people who can take care of it is only set to increase in the coming years.
Database Administrators are responsible for – drumroll please – administrating an organisation's database. Loosely, the role entails maintaining the database, ensuring the data housed within is secure, accessible and up to date.
To get your foot in the data administration door, you'll need to be proficient in at least one Regional Database Management System (RDBMS). An RDBMS is a program that allows users to create and manage a relational database, and in 2017, the most popular RDBMS products include Oracle Database, Microsoft SQL Server, Oracle's MySQL, and IBM's DB2.
If you're new to databases, Microsoft Access is a good place to start. An easy-to-use tool for creating browser-based databases, Access is free with Microsoft Office Professional editions and higher, and is a platform to build your database skills before graduating to other programs.
Once you're ready to tackle a bigger, more complex system, many database companies offer light versions of their products for free. Decide where you want to focus, then download a program such as Oracle Express, SQL Server Express or MySQL and build your experience.
A degree in management information systems, computer science, or a related field is always helpful, and many database administrators start out in more general IT jobs such as working on help desks before moving on to a more specialized role.
Database Administrator training and certifications
Voluntary certifications can also boost your job prospects, with most major database technologies offering certification opportunities along a number of paths. Certification exams usually cost between $100 – $300 to sit (meaning you'll have to pay out again if you don't pass first time) and can increase your earning power throughout your career.
The certifications most commonly desired by employers in 2017 are MCSA: SQL Server 2012/2014, Oracle 12c Database Administrator, and SAP HANA.
MCSA: SQL Server 2012/2014 does not require any prerequisite certifications, though you can take the MTA: Infrastructure or MTA: Developer courses first if you feel you'd like more experience. Once you've got your MCSA: SQL Server, you are also eligible to sit the exam for the MCSE: Data Management and Analytics certification; the highest level of Microsoft certification for SQL professionals. There are a number of paths you can go down to get your MCSE: Data Management and Analytics; other MCSAs that make you eligible for MCSE are SQL 2016 Database Administration, Database Development, BI Development or Data Science.
A little less streamlined than Microsoft's certification path, Oracle offer database certifications in three main areas: Database Application Development, MySQL and Oracle Database, and their certification hierarchy is split into four levels Oracle Certified Associate (OCA), Oracle Certified Professional (OCP), Oracle Certified Master (OCM), Oracle Certified Expert (OCE).
With a number of different versions of Oracle Database available to date, each certification is aligned to a certain edition, so you can pick a certification that accurately reflects your skills and experience. Oracle's latest version, 12c, has its own specialized path of certifications, as this edition has been significantly retooled for cloud computing.
SAP also offers a huge number of certifications, with accreditations available specifically for both your chosen program edition and industry.
How to get a CRM Administrator job
A crucial tool to help track and improve customer relationships and maximize leads, most businesses that are in the sales or service realm will have a CRM system in place. Packed with data on clients, communications, and transactions, a CRM system is only as good as the data that's inputted into it, and this is where CRM Administrators come in.
A CRM Administrator will act as a bridge between the CRM system and its users, ensuring the integrity of the data, extracting valuable insights and helping other system users get the most out of it.
There are a huge number of CRM systems available today, with the market leaders including Microsoft Dynamics, Salesforce, Oracle, and Sage.
If you're organized, tech-savvy and a great communicator, a career in CRM Administration could be for you. Most CRM Admins will have used a CRM system at some point, and then decided to make that the focus of their career, but there are many other routes into the channel.
If you're new to CRM or want to improve your skills in a certain technology, there are some free courses you can take on sites such as Udemy. Salesforce also offers free training via its Trailhead program. Most CRM Admin positions will require a couple of years of experience with a particular technology, so if you're not working with your chosen CRM in your current role, these programs are a good way to get some frontline familiarity.
CRM Administrator training and certifications
Like the other administration roles discussed previously, there are many options when it comes to getting certified as a CRM Admin.
With last year's release of Dynamics 365, now is a great time to get on board with Microsoft's new CRM solution. Microsoft Dynamics 365 for Sales is likely to become extremely popular in the near future due to its exclusive integration with LinkedIn, so administrators skilled in this new system will be in high demand.
While Microsoft may release more tailored certifications in the future, at the moment there is only one certification available that covers Dynamics 365; MCSE: Business Applications.
To get your MCSE, you first need to earn an MCSA in either Microsoft Dynamics 365 or Microsoft Dynamics 365 for Operations. These certificates provide the foundation for Dynamics 365 developers, consultants, and administrators, but if you're looking to work in the CRM realm, you're best going to the Microsoft Dynamics 365 MCSA, as the Dynamics 365 for Operations MCSA is angled more towards ERP professionals.
Like Microsoft's CRM certification path, Salesforce certifications are split into two levels; Salesforce Administrator and Salesforce Advanced Administrator. There are no prerequisites required to sit the exam (ADM201)  for the Salesforce Administrator certification, but you must first have passed the Administrator level exam to move on to the Advanced Administrator exam (ADM211).
Sage also offers a Certified Consultant (CC) Program which is designed for software consultants, whether independent or employed by a Sage Partner, and validates skills required to implement and support Sage's CRM software. You can train to become a CC by attending one of Sage's classroom courses, and passing a certification exam.
How to get a Network Administrator job
In the modern workplace, everything is connected. In order for an organization to be truly effective, all their hardware needs to be able to communicate effectively. And just as vital to ensuring the right doors are open between users is safeguarding against anything undesirable coming through.
Network administrators are responsible for configuring and maintaining an organization's networks, so experience with or at least an interest in things like firewalls, telecommunications and various types of networks is essential.
At a higher education level, a degree in information science, network administration, or electrical engineering can all help start you on the path to network administration. A degree in a relevant field, along with some experience either with your own home networks, internships or work placements, can help you get on the first rung of the ladder. It's worth noting though that not all entry-level positions require a degree, instead favoring hands-on experience, so don't let the lack of a degree put you off applying for a role if you think you have the right skills.
Depending on the job market where you are, you may not be able to walk straight into an entry-level network admin role, but similar jobs in general IT administration or support will also help you gain the experience and skills you need to take the next step into a more specialized field.
Network Administrator training and certifications
Certifications can help prove your skills and get you noticed when it comes time to advance your career, especially if you want to progress but don't hold a degree in a relevant field.
If you're just starting out on your network admin journey, and are looking for a foundation from which you can verify and improve your IT skills, CompTIA's certifications are a good place to start. CompTIA is a non-profit which has provided trusted, vendor-neutral accreditations to the IT industry for over three decades.
CompTIA's A+ certification is a good place to start if you're totally green on the IT front, covering computer repair, software and operating systems, network administration, information security, cloud computing, and troubleshooting of both desktops and mobile devices.
From there, you can move onto the Network+ certification, which verifies your abilities in managing, maintaining, troubleshooting, installing and configuring basic computer networks. CompTIA recommends you have around 9 months of networking experience under your belt before sitting the Network+ exam.
Once you've got your Network+, and a year or two of networking experience, you could also consider gaining CompTIA's Mobility+, which demonstrates your understanding and troubleshooting skills with wireless devices and technologies, or Security+, which focusses on best practices in securing both wired and wireless networks and managing risk.
The majority of network administrator roles will see you working with either Microsoft technology or Cisco technology. Whether your current job relies on one or the other, or you just have an inherent preference, it's a good idea to choose one to focus your certification path on, to further specialize your skill set.
Following the company's newly revamped accreditation path, a network administrator can become Microsoft certified at two levels; Microsoft Certified Solutions Associate and Microsoft Certified Solutions Expert.
The MCSE badge is one of the most highly respected and valued certifications in the IT industry, and there are now six different areas in which you can gain an MCSE certification. For network admins, the ultimate goal is MSCE: Mobility.
To get an MSCE: Mobility, budding admins must first gain their MCSA: Windows 10 badge, by passing two exams that test your expertise in the configuration, management and maintenance of a Windows 10 enterprise system. Once you've nailed these, you need to pass one more exam to gain your MSCE: Mobility, which qualifies you for a number of roles, in not only network administration, but also desktop support and enterprise management of BYOD devices and apps.
How to get a Systems Administrator job
As we mentioned in our recent blog about IT administrator salaries, the role of Systems Administrator can be pretty fluid, depending on the type and size of the company you work for. That said, the basic responsibilities of a Systems Administrator usually involve overseeing internal servers, installation of hardware and software, setup and management of user accounts, performing backups and recoveries and most importantly, trying to anticipate and tackle system issues before they occur.
In terms of education, a good place to start would be gaining a degree or diploma in computer science, information systems, computer engineering, or electrical engineering. When you're ready to enter the wide world of work, an entry-level position usually involves some sort of helpdesk or support work.
Of course, having some paperwork to back up your skills can help enormously, but just as important when it comes to IT positions is hands-on experience. Learn by doing; set up a home lab, tinker, read and get your hands dirty in as many areas as possible. In an ever-evolving field like IT, a genuine curiosity and a life-long commitment to learning new things are crucial. Internships can also help bolster your experience and earn you extra credit with potential employers.
A degree might not have an expiry date, but it doesn't let employers know much about your specialist knowledge, or how relevant your skills are in terms of specific technologies.
Systems Administrator training and certifications
This is where certifications come in. Most certifications can be done on your own time, and at your own pace, and if you're really lucky your employers might even pay for you to get certified out of their own pockets.
When it comes to employer desirability, Microsoft's MCSE badge tops the list of most sought-after credentials, with CompTIA's Server+ and RHCE also ranking highly.
Open-source software giant Red Hat's Systems Administrator Certification is another great option for showing off your skills, with 84% of Red Hat Certified Professionals vouching that their certification has helped or will help them in their current job. The RHCSA is an entry-level certification that focuses on real-world scenarios and proficiencies, including installation and configuration of Red Hat systems and the running of network services. There is no prerequisite for taking the RHSCA, but you can take a Red Hat Systems Administration course (RH124 or RH134) if you want to boost your skills before taking on the exam.
CompTIA's Server+ is a vendor-neutral accreditation which covers some of the most frequently-used server and storage systems. With the rise of virtualization changing the face of many IT departments, this certification also verifies your skills in this growing facet of the industry. Server+ does not have an expiry date, so once you've passed, it's good all throughout your career. Of course, it's always a good idea to keep up with new developments, so you can take a look at CompTIA's continuing education program.
CompTIA's Security+ is also a handy one for SysAdmins to have under their belts. Covering security, compliance, threats and vulnerabilities, and application, data and host security, Security+ is US government approved and compliant.
CompTIA recommends that you obtain a Network+ badge before taking on Security+, and have at least two years of experience in IT Administration, preferably with a focus on security. Unlike Server+, Security+ needs to be renewed by amassing credits which show you're keeping your knowledge up to scratch. These Continuing Education Units (CEUs) can be earned by engaging in training and activities, or completing higher certifications. You'll need to earn fifty every three years to keep your Security+ cert valid.
Under Microsoft's new certification structure, there is no one system administration certification, which makes sense when you consider how many administrative tasks often fall under the SysAdmin umbrella. So which MSCE you choose will depend largely on the strengths required in your current position, or what area you'd like to advance in in the future.
The two key certificates from the company's new stable most applicable to SysAdmins is the MSCE: Productivity. According to Microsoft themselves, the MCSE: Productivity validates your ability to increase user productivity and flexibility, reduce data loss, and improve data security for your organization, as well as help move your organization to the cloud.
Often touted as the globally recognized standard for IT professionals, the MSCE is the top level in Microsoft's certification structure, so to get yourself one, you first need to obtain an MCSA in either Office 365, Windows Server 2012, or Windows Server 2016. With a number of paths available within Microsoft's training structure, having an MSCA in Windows Server also opens the door to sit the MSCE: Cloud Platform and Infrastructure certification; a great badge to have if you want to branch out into cloud administrator, cloud architecture, support, or information security analysis.
Be the first to know about the jobs you want.
Get the latest hand-picked roles direct to your inbox with our jobs by email service.