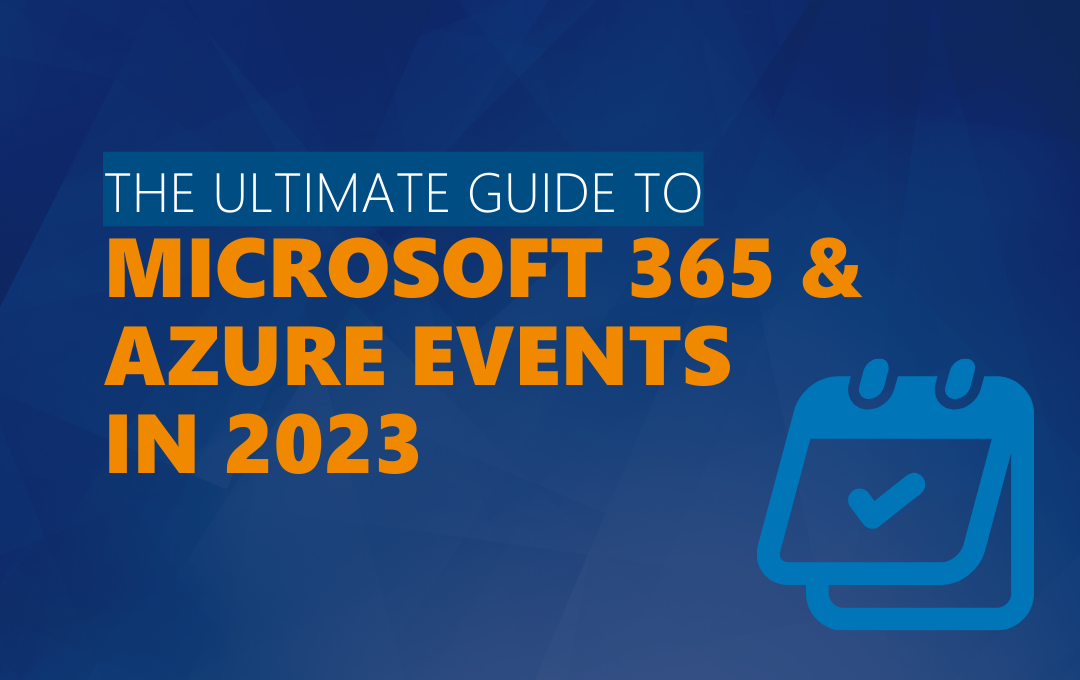 Ready to brush up on your skills, find out the latest developments, and rub shoulders with your peers in the Microsoft ecosystem? Great news: tech events are back.  
Tech events and meet-ups are great places for Microsoft 365 and Azure professionals to get together, share their expertise, and learn new things. 
If you're looking to take a break from Zoom webinars this year and do it the old-fashioned way, here are a few upcoming events where you can hear from experts and catch up with your Microsoft 365 and Azure peers in person.  
DEVNEXUS
April 4th-6th 2023
Georgia World Congress Center, Atlanta, GA 
The largest Java platform event in the USA, Devnexus takes place over three days, beginning with a full day of hands-on workshop sessions. The next two days are packed with presentations and live demonstrations on the industry's hottest topics, delivering unparalleled opportunities for learning about the latest technology trends. 
CloudNativeCon
April 18th-21st 2023
RAI, Amsterdam, Netherlands 
Cloud Native Computing Foundation's flagship conference brings together adopters and technologists from leading open source and cloud-native communities. The event takes place alongside sister event KubeCon and features speakers from top tech companies like Apple and Spotify.  
Dotnetdays
April 20th 2023
Agora Events Center, Iași, Romania 
This .NET & Software Architecture conference brings together the .NET community for in-depth talks and workshops from a line-up of .NET and Microsoft Azure expert speakers.  
RSAC 2023
April 24th-27th 2023
Moscone Center, San Francisco, CA 
Featuring more than 500 talks and interactive sessions, RSA Conference is a leading cybersecurity event that gathers together leaders to share knowledge and discuss the future of digital safeguarding. 
Microsoft 365 Conference 2023
May 1st-2nd 2023
MGM Grand, Las Vegas, NV  
Covering all things Business Applications, this year's Microsoft 365 Conference features 150 sessions and 18 workshops over two days, giving attendees the chance to learn about the latest collaboration tools and AI capabilities that are transforming the workplace. 
The European Identity and Cloud Conference
May 9th 2023
Berlin, Germany 
The European Identity and Cloud Conference brings you insights across 180 sessions and welcomes over 1,000 cloud experts to discuss the future of digitization. 
OS Summit
May 10th-12th 2023
Vancouver, Canada 
Open Source Summit is a must-attend for open source developers, technologists, and community leaders. Featuring a number of specialist tracks, Microsoft professionals may be particularly interested in CloudOpen, which focuses on cloud-native and cloud infrastructure technologies.  
European Collaboration Summit
May 22nd– 24th 2023
Düsseldorf, Germany 
The largest Microsoft 365 event in Europe, European Collaboration Summit covers all things Modern Workplace and Digital Transformation; a must for professionals working with products like Microsoft 365, Teams, SharePoint, and Power Platform. It's an extra special one this year, as the event celebrates its tenth anniversary! 
INTEGRATE 2023
June 5th-7th 2023
London, UK 
As the biggest Microsoft Integration Tech Conference in the world, you can expect big things from this three-day event. Hear from industry leaders, network with your peers, and learn about the latest trends and updates from the Microsoft Product Group and the Global Integration Community.  
aMS Berlin 2023
June 15th 2023
Hubraum, Berlin, Germany 
Centered around the Microsoft 365 platform, this free one-day event runs sessions and workshops across several parallel tracks, allowing you to find out about new solutions for Microsoft 365 that are relevant to you, and exchange ideas with experts. 
Commsverse
June 21st-22nd 2023
Mercedes-Benz World, Surrey, UK 
A dedicated Microsoft Teams community conference, Commsverse is hyper-focussed on improving the use of Microsoft Teams technologies within the workplace.  
Visual Studio LIVE!
July 17th-21st 2023
Microsoft Conference Center, Redmond, WA 
Launched in 1993, VSLive! has been a staple in the calendars of Developers for years. Dedicated to offering training to developers, software architects, engineers, and designers, the event takes place over five days and features in-depth training, networking, and fun. It's a great choice for those working with Microsoft Visual Studio 2022, .NET 6, DevOps, MAUI, JavaScript, TypeScript, Angular, and Blazor. 
TechMentor
July 17th-21st 2023
Microsoft Headquarters, Redmond, WA / Hyatt Regency Bellevue 
Now in its 25th year, TechMentor is an IT training conference that delivers five days of in-depth training and networking for professionals working with such platforms as Microsoft 365 Admin Center, Cyber Security, Microsoft Teams, Active Directory, Windows 11, and PowerShell 7. 
VMware Explore
August 21st-24th 2023
Venetian Convention and Expo Center, Las Vegas, NV 
This flagship multi-cloud event hosts a community of technology professionals and leaders, coming together to learn how to build a better multi-cloud world. Expect hands-on training for new and popular technologies, plus leadership sessions on topics like enterprise applications, cloud architecture, infrastructure, networking, and security. 
SaaStr Annual 2023
September 6th-8th 2023
San Mateo County Events Center, San Francisco, CA 
The largest cloud and SaaS community event in the world, SaaStr is a unique conference held outdoors in the beautiful San Francisco Bay Area. Held across three days, the event welcomes over 12,000 cloud enthusiasts for hundreds of workshops and thousands of mentoring sessions under the Californian sun. Top tech leaders come together to share their knowledge and learnings, discuss best practices, and deliver team training events.  
South Coast Summit 2023
October 13th-14th 2023
Farnborough International Exhibition & Conference Centre, Farnborough, UK 
South Coast Summit is a cloud technology community conference designed for IT professionals and end users. The event covers the entire Microsoft stack from Business Applications and Modern Work to Security and Compliance and Microsoft Azure. 
VMware Explore
November 6th-9th 2023
Fira Gran Via, Barcelona, Spain 
This flagship multi-cloud event hosts a community of technology professionals and leaders, coming together to learn how to build a better multi-cloud world. Expect hands-on training for new and popular technologies, plus leadership sessions on topics like enterprise applications, cloud architecture, infrastructure, networking, and security. 
PASS Data Community Summit 2023
November 14th-17th 2023
Seattle, WA 
PASS Data Community Summit is the next evolution of the PASS Summit, bringing over two decades of expertise as a leading data conference. Centering on new trends and innovation through learning and networking opportunities, attendees will hear from industry-leading experts, make connections to advance their careers, and discover cutting-edge products and services for a variety of database platforms. 
Microsoft Ignite
November 15th-16th 2023
Location TBA 
Microsoft's annual conference for developers and IT professionals is back. Taking place in November in an as-yet-undisclosed location, expect to hear from Microsoft's top brass and catch up on the latest industry innovations. 
ESPC23
November 27th-30th 2023
RAI, Amsterdam, Netherlands 
The European SharePoint, Office 365 and Azure Conference returns, delivering talks and training to help you master all things Microsoft 365 and Azure.  Last year's event featured keynotes from top Microsoft figures including President of Collaborative Apps & Platforms at Microsoft Jeff Teper, and Scott Hanselman, Partner Program Manager at Microsoft. 
European Cloud Summit
December 4th-6th 2023
RMCC Wiesbaden, Germany 
European Cloud Summit is one of Europe's leading Microsoft Azure and Cloud Technologies conferences. More than 100 industry-leading speakers will take the stage over three days, offering insights into cutting-edge technology. Topics include cloud security, data and AI, cloud infrastructure, app modernization and cloud platform governance.  
Microsoft Azure and AI Conference
December 5th-7th 2023
Walt Disney World Swan and Dolphin Resort, Orlando, FL 
This three-day learning event will feature keynotes from Microsoft leaders such as EVP Scott Guthrie and CVP Charles Lamanna, plus over 200 sessions on the future of Microsoft technologies. Expect informative talks and workshops that will give you a deep dive into the new technology releases including .NET Maui, .NET 6, C# 10, Visual Studio 2022, Azure, and more. 
Keep up with the latest Azure news and Microsoft events on our Nigel Frank blog. We also frequently share career and hiring advice, so no wonder what you need help with, you're sure to find it here.
Want more insights from the Microsoft ecosystem?
Our annual Microsoft 365 and Azure Careers and Hiring Guide examines salaries, benefits, skills, motivations, sentiments, and movements across the global Microsoft landscape.