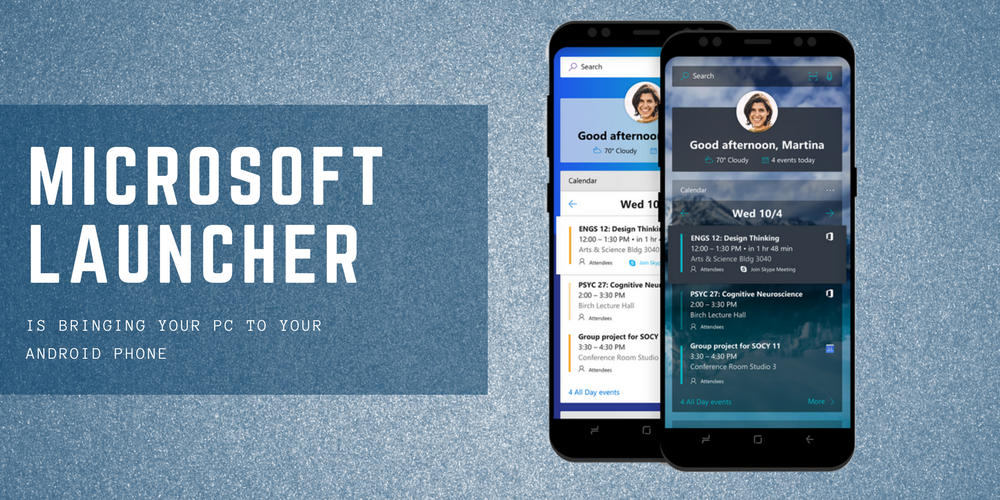 In early October, Microsoft quietly gave one of its old pet projects a reboot, rolling it out to new users.
But what is Microsoft Launcher, and what kind of impact will it have for Microsoft's unsteady presence in the mobile market?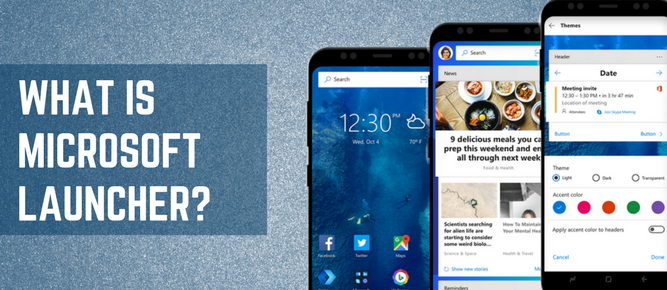 What is Microsoft Launcher?
Essentially a digital bridge between Android phones and Microsoft PCs, Microsoft Launcher syncs a user's phone and PC in real time, allowing users to switch seamlessly between phone and computer; sending images from your phone's camera directly to your PC screen, switching between two devices while editing a document, or carrying on reading that long-form article you were halfway through on the train (without trying to remember where you were up to).
While iPhones don't allow customization of their "launcher" function, which dictates what you see on your device's home screens, Android gives their users more freedom, meaning the Android launcher function can be overlaid with something else.
In this case, users are able to overlay their Android launcher with an alternative, Microsoft-centric interface.
Launcher isn't actually a brand-spanking new feature; originally built two years ago by a Microsoft employee as part of the company's Garage sandbox, Launcher was previously known as Arrow Launcher. Last week, however, it got a big overhaul, a rebrand, and a wider roll-out.
If you're a Microsoft fan who uses services such as OneDrive, Office or Outlook, Launcher is a great development, turning your phone into a handy mirror of your PC and creating your own personal cloud portal.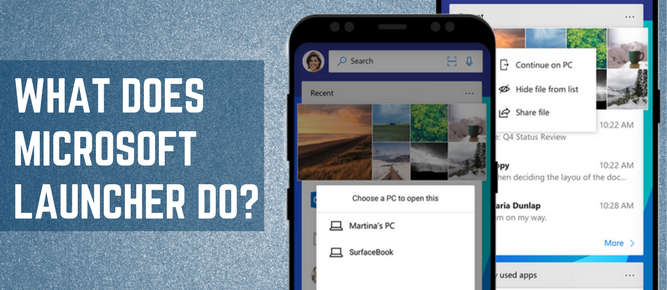 What does Microsoft Launcher do?
Microsoft Launcher for mobile brings all your Microsoft data to the forefront while you're on the go, giving you synchronized and simple access to reminders, calendar appointments, and files. As well as giving easy access to shared documents, Launcher provides a timeline of events including images, messages, and important news. It also has Bing integration for web searches and an image feature which allows users to snap a picture on their phone and see it instantly appear on their PC.
Launcher replaces the feed widgets you might have on your standard Android home screens containing news, weather, recent contacts etc. with your latest Microsoft account activity. Swipe through the feed's columns to see the latest news, recent activity, favorite apps, and upcoming calendar appointments and reminders.
Intrinsically linked to your PC, Launcher has a number of features that make it easy to continue what you're doing on your computer; super handy for when you're working on the go. Once you hit the office, hit the "continue on PC" button and you can instantly pick up right where you left off. Or, you can set a file to "continue later", adding your file or document to all your devices' action centers, so you don't forget to pick it up when you're next at your computer. Got a tight deadline and can't afford to waste any loading time? By tapping a file on your Launcher home screen, you can open that file on your PC, or tablet, so it's ready and waiting.
Another feature of Microsoft Launcher that'll be familiar to Windows 10 users is the ability to pin contacts to the main screen, giving speedy access to that contact's full details, and the ability to call them right from the Launcher interface. In time, Microsoft will roll out notification support for pinned contacts, similar to that currently available in Windows 10 on desktop.
Something that will no doubt please users who value the freedom to personalize their phones, Microsoft Launcher for Android is also highly customizable. Just like in Windows 10, there are several Fluent Design themes to choose from and adjust to your preference, shrinking the gap between phone and PC even further. Launcher allows users to change app icons, conceal apps you don't want anyone to see, and includes a Bing-powered design feature that adorns your phone in striking wallpapers that refresh daily.
Existing Arrow Launcher users will be automatically upgraded to Launcher, but if you're a Microsoft user and you don't already have Launcher, now would be a good time to embrace it.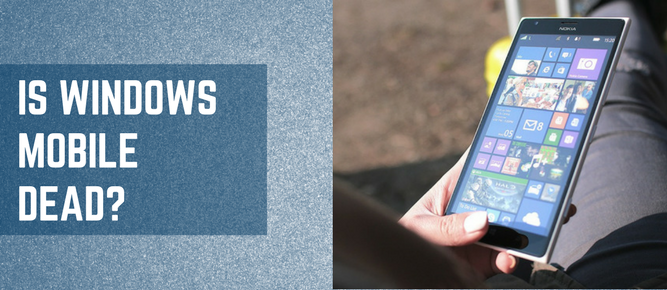 So is Windows Phone dead?
Pretty much. Joe Belfiore, Microsoft's corporate VP for Windows, confirmed recently that although current Windows phone users will continue to be supported through bug fixes and security updates, the company would not be working on new hardware or features for their current Windows mobile platform.
Belfiore attributed the slow death of the Windows Phone to a lack of available apps, stating that despite extensive efforts to incentivize app developers to create for the Windows platform, a lack of options had ultimately caused users to turn their backs on their Windows phones.
So with Windows for Mobile effectively going nowhere, it makes sense that Microsoft would take advantage of Android's open attitude to customization and help Microsoft users get more from their services on mobile; indeed in a statement following Belfiore's comments the company detailed that it was "focused on the mobility of experiences and bringing the benefits of Windows to life across devices to enable our customers to create, play and get more done."
And there's evidence of that plan in motion, not only with Launcher, but with Microsoft Edge's new mobile app for Android and iOS. Known for its clean interface, and massive efficiency and speed on desktop, Edge's mobile app is currently in preview form, but has already proved hugely popular for mobile users. Similarly to Google Chrome, Edge will allow users to sync their history, bookmarks, and passwords across mobile and desktop. Edge boasts several features that could make it a big hit with mobile users, including the ability to draw directly on top of web pages, native e-reader mode and built-in AI voice assistance with Cortana.
There are currently other ways to Windows-ify your Android phone too: Core Office productivity apps are available on mobile, as well as other offerings such Microsoft To-Do, Planner, Skype for Business, and Teams; Google Assistant can be replaced with Cortana; OneDrive can back up files and photos from mobile; and Microsoft's SwiftKey keyboard can be employed in place of Google's standard keyboard.
So while the Windows Mobile platform itself may be being left behind, Microsoft still seems committed to bringing the Windows experience to other mobile devices.
Itchy feet? Register today, and we'll get to work finding Microsoft roles that match your skills and requirements.