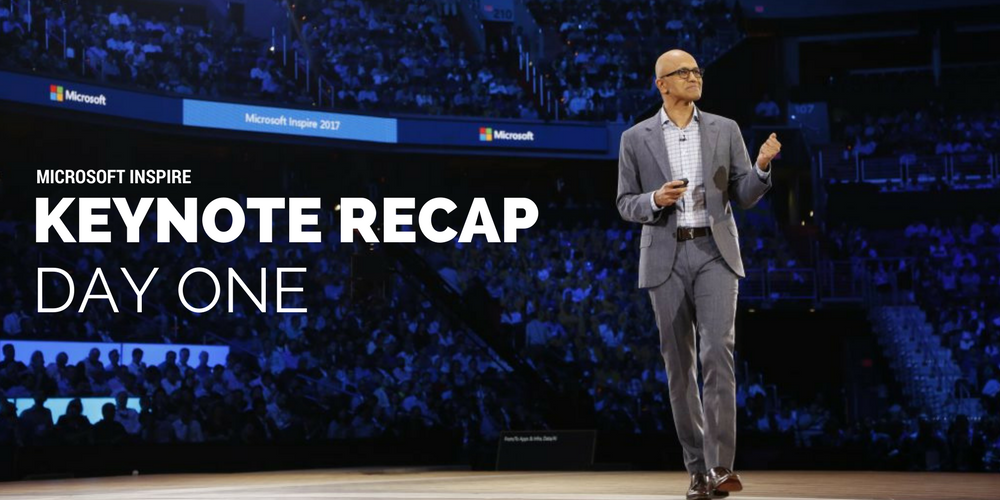 Microsoft CEO Satya Nadella kicked off this year's Microsoft Inspire in earnest yesterday with an exciting keynote speech about digital transformation.
With some help from Corporate Vice President of Enterprise Partner Ecosystem Ron Huddleston, and demonstrations from several department leaders, Nadella demonstrated some key new Business Application features which the company hopes will continue to propel its partners and customers into a new digital era.
With over 17 million people employed in the Microsoft ecosystem worldwide, Nadella stressed how partners are crucial to delivering its vision of a cloud first, mobile first digital revolution, stating that the "ethos of being partner-led will be there in everything we do".
Nadella detailed the four pillars of digital transformation of digital transformation; modern workplace,
business applications, applications and infrastructure, and data and AI.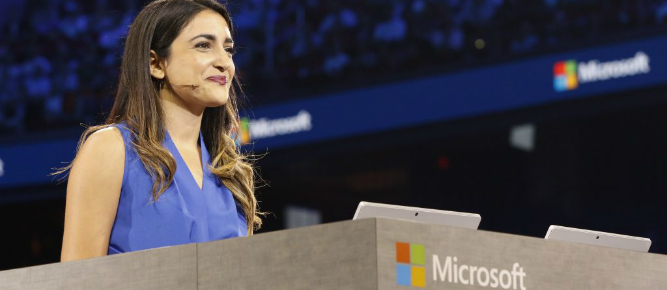 Microsoft and the modern workplace
First in Microsoft's four-part digital revolution plan, stated Nadella, is the modern workplace. Creating a  modern workplace, he hypothesized, meant empowering employees to foster innovation at all levels. How do you bring out critical thinking and creativity in the workplace? How do we create dynamic teams that come together to service a customer in different ways?
Microsoft's answer to these questions is Microsoft 365. A complete, secure, intelligent solution to empower employees, Microsoft 365 rolls together Office 365, Windows 10 and Enterprise Mobility and Security into a complete package, along with AI, to help end users be more productive.
Available in two packages – Microsoft 365 Enterprise and Microsoft 365 Business – depending on the size of a customer's organization. Aiming to support improvements in creativity, teamwork, simplicity, security, Microsoft 365 in infused with AI to deliver more functions and automation.
During the keynote, Microsoft demonstrated how Microsoft 365's AI functionality helps improve readability in Word, easily turns data into visually represented insight in Excel, and offers smart design ideas and creates 3D images within PowerPoint presentations.
We also saw how Windows 10's device camera allows you to drop images into the real world with augmented reality and photograph them.
On the collaboration front, we saw how Microsoft Teams provides a modern chat interface, enabling team members to communicate with memes, stickers, and emojis. Teams also integrates with other apps, allowing tools such as PowerBI dashboards and productivity bots to be viewed and worked with straight from the chat UI.
Also boasting new features is Yammer, which now allows live captioning and translation of streamed videos such as conferences. With the live reaction feature, similar to that seen on Facebook Live video, Yammer can also analyze viewership and feedback, mapping viewer sentiments against an event's timeline to show what they liked and when.
Microsoft 365 also has a keen focus on security; with Azure information protection, users can classify, label and protect documents based on content. These protections stick with the document wherever they're shared, and watermarks and security measures can be added automatically as the system reads and judges needed measures based on what's featured in the document.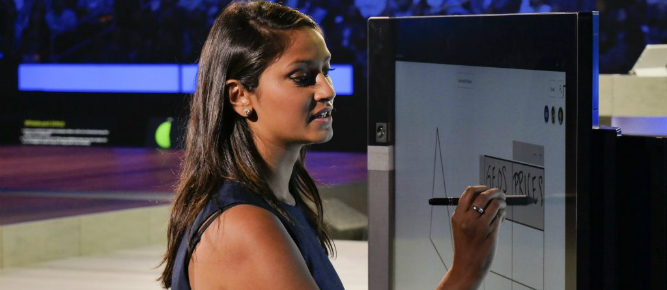 The future of Microsoft Dynamics
Second of Nadella's key mainstays of transformation is business applications, and for Microsoft, this means its Dynamics suite.
According to Nadella, monolithic business application suites are standing in the way of the automation and analytical power required for true digital efficiency. To improve their business processes, businesses need more contemporary, modular applications, connected data graphs, and a common data model, allowing them to break free from silos of data that hinder the accessibility needed for automation.
Released in 2016, Microsoft's cloud-based, sectional business solution Dynamics 365 aims to provide this common data model, and during the keynote, we were treated to a preview of features from its upcoming sales and human resources modules.
Much has already been made of Dynamics 365 for Sales and its integration with LinkedIn, and here we got to see it in action, as it pulled LinkedIn profile and contact data directly through to the Sales app, allowing the user to scope out new routes to contacts within a potential client company. Using LinkedIn's PointDrive document feature, Sales users can not only share data and presentations with contacts but also see who these documents were shared with and who engaged with them.
Dynamics 365 for Sales can be used from within Outlook, allowing the fast and simple addition of leads and contacts into the app, and also displaying client engagement history in a handy Outlook side panel.
Dynamics 365, said General Manager of Business Applications Alysa Taylor, gave users the ability " to take a variety of data sources and surface it in a way that is meaningful for a seller, making them more proactive, more efficient and more productive, and helping them to save time."
Also upcoming is Dynamics 365 for Talent. This HR-focused app delivers a connected experience across the employee life cycle, with LinkedIn integration allowing job profiles to be matched up with candidates directly from LinkedIn itself. Its connectivity with Office 365 pulls both candidates' and recruiter's availability, allowing them to easily schedule interview time and avoid clashes. The app also integrates backend processes, helping with onboarding by providing easy access to paperwork, and showing new team members at all levels.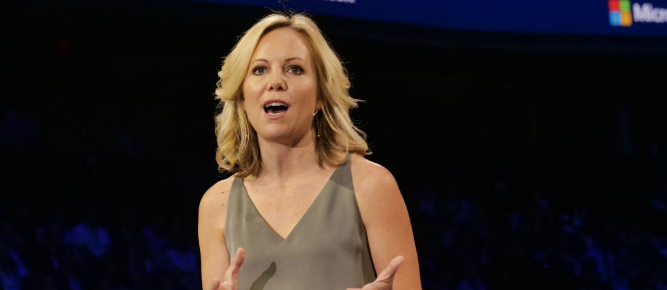 Applications, infrastructure, data and AI
Lastly, Nadella covered applications and infrastructure, and data and AI. The cloud, he stated, was the foundation on which the digital transformation would be built, enabling cohesive data estates that bring together distinct technologies in perfect harmony.
With Azure, Microsoft hopes to make AI accessible, allowing every company of every size to these capabilities to automate solutions and improve productivity.
Julia White, corporate vice president, Cloud and Infrastructure, demonstrated how AI can help companies by showing how an insurance company uses a bot to help customers purchase car insurance. Using biometric facial and voice recognition, the bot improves security, automatically detects and replies in the customer's language, and even uses sentiment analysis to recognize and react to facial expressions.
"Whether it's helping a 50-year-old insurance business modernize their line-of-business application," Nadella detailed in his closing statement, "or growing a new business from scratch, Microsoft is betting on the future for our collective customers.
"And while there is tremendous growth opportunity, we are not building solutions solely to support conspicuous consumption. We are also working to make a positive impact in the world and continue to be encouraged by the enormous potential for partners to have a local impact that ultimately has a profound global impact."
Register today and take the first step towards a great career in Microsoft Dynamics.