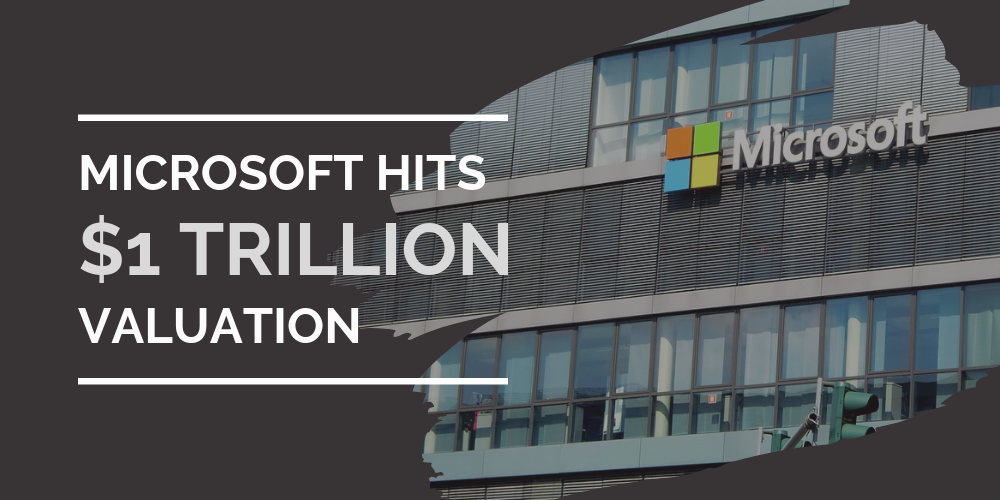 After dazzling the stock market with its latest financial results, Microsoft has achieved its highest ever valuation, briefly passing a market capitalization of over $1,000,000,000.
Shares in company leaped 4% yesterday, peaking at $130.66 during the day's trading.
The new valuation officially makes Microsoft the most valuable company in the world today, beating out previous title-holder Apple.
The $1tn club
Microsoft briefly took the crown last November, when it was named the world's biggest for the first time since its Windows heyday almost two decades ago. Since then, it has jostled with Apple for the top spot.
Both Apple and Amazon hit the $1tn last year, but shares in both have since slipped. After becoming the first two companies to reach the mammoth valuation, Apple is currently worth around $976bn, with Amazon coming in close behind at $940bn.
Microsoft is now only the third company ever to have been valued at $1tn.
A three-pronged approach
The ground-breaking valuation comes after Microsoft posted profits of $8.8bn for the first three months of 2019. That's a 19% hike in net income, beating sales and profit expectations.
This success is fueled largely by a 41% increase in cloud computing revenue.
The company's three main pillars of business are roughly neck and neck in terms of revenue production, each contributing around 30%. Windows, Xbox, and Surface earned the most, bringing in $10.7 billion in revenue.
Office, LinkedIn, and Dynamics were close behind at $10.2 billion, while Azure cloud, server products, and enterprise services supplied $9.7 billion.
Cloud still soaring
Microsoft's big push into cloud computing is clearly paying dividends, though Azure remains in second place in the race for cloud domination, a step behind Amazon, but ahead of Google.
Though Microsoft doesn't break down its Azure revenues or user numbers, the company did say that its cloud platform's performance had been stronger than expected.
The service is continuing to attract new big-name customers, and saw an increase in larger, longer-term Azure contracts in the last fiscal quarter.
Other news from the Q3 financial report included Office 365 Commercial surpassing the 180 million user mark.
Users of Outlook's iOS and Android apps also rose to more than 100 million too, and, for the first time ever, more than half of Dynamics' revenue came from cloud users, demonstrating yet more validation for Microsoft's cloud-first approach.
Need talented Microsoft professionals to help you execute your digital vision? Browse the best candidates in your own time, on your own terms with our free Candidate Search.