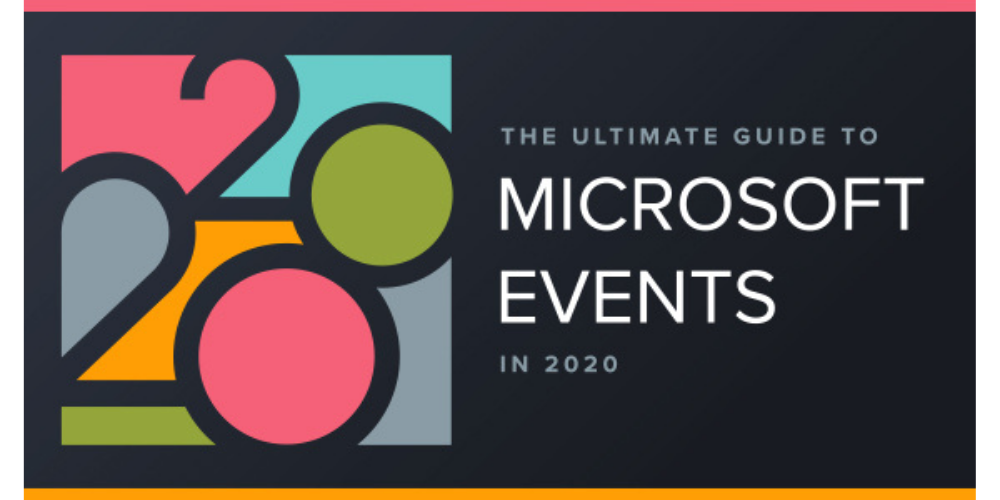 A new year means a new list of Microsoft and industry-relevant events, forums, and training days, and in 2020, that list is longer and more varied than ever before.
From flagship conferences, to countless user groups, there's a gathering to suit your needs this year.
We've rounded up some key dates to look out for over the next 12 months, so you can start sorting out your diary. Once again, if you work in Dynamics, Azure or one of Microsoft's enterprise technology fields, there's no shortage of opportunities to learn, network, and develop new skills.
January, February, March and April also include the continuation of Microsoft's Ignite Tour, with the industry-leading conference breaking with the norm and hitting the road to bring the event to a location near you.
After landing in cities such as Paris, Tokyo, Sao Paulo and Beijing in late 2019, the travelling tour will take in the likes of Dubai, Madrid, Sydney and Chicago over the coming months, and you can discover a complete list of locations and how to register by clicking here.
We'll be adding events to this list as and when they're announced, so keep an eye out for new, updated information.
If you know of an event that you think should be included, drop us a tweet @NigelFrank and we'll add it to the list.

Applied AI Summit
30-31 January
Hotel Nikko, 222 Mason Street, San Francisco, CA
New to this popular Re·Work-hosted summit, which brings together ways to implement and apply AI, are deep dive sessions to facilitate interactive discussions, practical workshops, technical labs and an event app. Confirmed speakers include Piero Molino from Uber AI, and Facebook AI Researcher Viswanath Sivakumar.
Deep Learning Summit
30-31 January
Hotel Nikko, 222 Mason Street, San Francisco, CA
Alongside the Applied AI Summit, the theme of this Deep Learning event will be tackled via talks from the likes of Professor Dawn Song (UC Berkeley) and MIT Researcher Lex Fridman, plus topic coverage across Machine Learning, Robotics, Reinforcement Learning and more.
Microsoft Ignite The Tour
30-31 January
Sandton Convention Centre, 161 Maude Street, Johannesburg
Microsoft's box office tech conference tour continues with a two-day event in South Africa's largest city and Gauteng province capital, Johannesburg. A host of hands-on sessions are on offer, as well as the usual networking opportunities.

Dynamics 365 Training Day
4 February
Microsoft Seattle and Microsoft Minneapolis
Running in two separate venues on the same day, this Dynamics-focussed, hands-on training programme is completely free to IT professionals, business analysts, power users, and developers. The day includes training on how to establish connected sales and marketing and modernize finance and a supply chain, amongst other things.
Developer Week
11-16 February
Oakland Convention Centre, 550 10th Street, Oakland CA
The first of five Developer Week events taking place in 2020, the Oakland showcase welcomes more than 8,000 developers, engineers, software architects, dev teams, managers and executives from over 70 countries to the San Francisco Bay area. The week includes a conference and expo, a tech hiring expo and America's largest challenge-driven hackathon. Further Developer Week events are set for Seattle, New York, Washington DC and Austin later in the year.
Microsoft Envision
13 February
Sheraton Grand Sydney Hyde Park, 161 Elizabeth Street, Sydney
Much like Ignite, Microsoft Envision is hitting the road this year, with Sydney on the list of locations in early 2020. Targeted at senior executives, the event offers attendees the opportunity to connect with their peers, hear from global thought leaders and take part in innovative sessions on digital transformation and much more
SPTechCon
18-21 February
Hyatt Regency SFO, 1333 Bayshore Highway, Burlingame CA
Billed as a training, problem solving, and networking event for those working with SharePoint, OneDrive, and Office 365, SPTechCon includes sessions from industry experts and speakers ranging from company presidents and CEOs to cloud architects and senior field engineers.
D365 Dubai Summit 2020
29 February-2 March
Dubai Mall Hotel, Sheikh Mohammed Bin Rashed Boulevard, Dubai 31166
The largest Dynamics-focussed conference in the Middle East and Africa hits the United Arab Emirates at the end of February, with the Microsoft community gathering in downtown Dubai for deep-dive sessions in Dynamics 365, the Unified Operations Plan and Power Platform.

ChannelPro SMB Forum
5 March
Hyatt Regency North Dallas, 701 East Campbell Road, Richardson TX
This full-day event features presentations from some of the top SMB resellers and managed service providers in the US, all of whom will share their insights on the hottest tech solutions influencing the SMB market today.
HP Enterprise Technology and Solutions Summit
9-13 March
Hall 7, Expo Porte de Versailles, Paris 75015
Although not strictly Microsoft, Hewlett Packard Enterprise's largest technical and solutions knowledge transfer event carries enough cross-over to warrant a place on this list. Since launching in 2006, its reputation as a renowned training initiative has swelled–so much so that the annual gathering is now attended by over 3000 technically qualified presales consultants and solution architects.
Power Platform Seattle
21 March
Microsoft Campus, 3007 156th Avenue SE, Seattle WA
365 Saturday is heading to Seattle, offering an entire day of deep dive learning with Dynamics 365 and Power Platform for Microsoft Business Applications. Sessions of a practical nature will showcase approaches to solving organisational challenges with the Power Platform by the world's leading Microsoft MVPs.
Microsoft Ignite The Tour
25-26 March
Kinepolis, Calle Edgar Neville, Madrid 28223
Microsoft's industry-leading conference continues its global tour with a two-day event in the Spanish capital, Madrid. Expect a wealth of sessions and networking opportunities, alongside the very latest in cloud technologies and developer tools with guest speakers and experts.
SQLBits
31 March-4 April
ExCeL London, 1 Western Gateway, Royal Docks, E16 1XL
The largest Microsoft Data Platform conference in Europe returns to London in 2020 with a new five-day format. Expect a marathon of top quality training from global specialists and the opportunity to learn about new paradigms in data platforms at a time of extraordinary change.

Microsoft Azure + AI Conference
6-9 April
Walt Disney World, Swan and Dolphin Resort, Orlando FL
Microsoft is positioned to be a key player in AI over the coming years, providing services through the Azure platform. The Microsoft Azure + AI Conference will bring together the best and brightest from Microsoft and the broader cloud and AI industry in late spring, and look at cross-over technologies including vision systems, voice interaction and machine learning.
HardwareCon
16 April
Computer History Museum, 1401 North Shoreline Boulevard, Mountain View CA
Over 600 industry leaders from the hardware ecosystem attended this event in 2019, alongside 80-plus speakers and more than 30 exhibitors. This year, at a museum dedicated to preserving and presenting the stories and artifacts of the information age, the very latest technology and business trends in AI, machine learning, robotics, IoT and much more will be the main event via some of the world's leading hardware and software companies.

Midsize Enterprise Summit
3-5 May
Gaylord National Resort and Convention Centre, 201 Waterfront Street, Oxon Hill MD
Join senior, midmarket IT decision-makers and top technology suppliers looking to make connections and garner current market intelligence to accelerate their business goals. This three-day event offers lessons in the latest technology trends from thought leaders and seasoned analysts and is a chance to establish and strengthen important relationships to maximize ROI.
Microsoft Business Applications Summit
5-7 May
Kay Bailey Hutchison Convention Center, 650 South Griffin Street, Dallas TX
Starting with pre-day workshops on Tuesday, May 5, this summit will look at how Microsoft business applications work together to unify your data, offer hands-on opportunities to explore some of the new capabilities across Microsoft Power Platform, and allow you to rub shoulders with likeminded users, analysts, and architects.
Gartner Tech Growth and Innovation Conference
11-13 May
Manchester Grand Hyatt San Diego, One Market Place, San Diego CA
Hosted by global research and advisory firm Gartner, this conference will provide a uniquely informed update on the most pressing challenges facing technology providers today, as well as the technology trends that are impacting your business. Discover new approaches to optimize sales and marketing efforts and drive product innovation for business growth and market expansion.
Microsoft Build
19-21 May
*Venue TBC, Seattle WA
Join leading architects, developers, start-ups, and student developers, focus on the latest tech trends and innovate for the future through hands-on demos, interactive experiences, and assisted troubleshooting. Expect a keynote from CEO Satya Nadella, amongst many others.
Directions North America
31 May-3 June
Hyatt Regency Grand Cypress, 1 Grand Cypress Boulevard, Orlando FL
Advertised as the Microsoft Dynamics 365 event driven by partners, for partners, Directions North America is designed to help organizations serving the SMB market, allowing attendees to build new business contacts, learn about best practices, discover valuable tools for execution and success, and enhance relationships with other partners, ISVs, service providers, and Microsoft.
More Microsoft technology professionals than anyone else.
Browse pre-qualified candidates now and find the talent you need to transform your business.

Women in Analytics Conference
3-5 June
Greater Columbus Convention Center, 400 North High Street, Columbus OH
One of the largest events of its kind, the Woman in Analytics conference brings together a global community of industry leaders, technical experts, entrepreneurs, and academia while providing a platform for women to lead the conversations around the advancements of analytical research, development, and applications.
Lenovo Transform
16-18 June
The Wynn Las Vegas, 3131 South Las Vegas Boulevard, Las Vegas NV
As a multinational company, Lenovo are strongly placed to offer expert advice and user-friendly solutions on some of the biggest data issues perplexing the industry at the start of a new decade. This event aims to use meaningful, cohesive storytelling and cross company collaboration to help navigate some of the tech's biggest challenges.
DeveloperWeek New York
16-18 June
Brooklyn Expo Center, 72 Noble Street, Brooklyn NY
Billed as New York City's–and the East Coast's–largest developer conference and expo, DeveloperWeek welcomes over 3000 developers, engineers, architects, dev managers and execs for a series of events covering the cutting-edge innovation enveloping the developer technology industry. Expect summits and workshop tracks, partner events, a hiring expo and a hackathon.
.NEXT Conference
30 June-2 July
McCormick Place, 2301 South King Drive, Chicago IL
Enterprise cloud conference .NEXT reaches out to visionaries, developers and IT leaders from across the world to share the very latest in enterprise data center and cloud technologies. Packed with a number of speakers, educations courses, and hand-on labs, the event even offers you the chance to leave Chicago with a brand new certification to add to your resume, with technical exams free to .NEXT attendees.

Microsoft Inspire
19-23 July
*Venue TBC, Las Vegas NV
As you've no doubt noticed, July can be a quiet month on the conference and events front–with one notable exception. Inspire is Microsoft's largest, cross-border, partner-to-partner networking event, and returns to fabulous Las Vegas for the third year running in 2020.
The 2019 showcase saw the introduction of extended networking time, a more simplified schedule, housing blocks organized by region, and a hugely popular centralized meeting place labelled The Hub–all of which helped to make last year's event the biggest yet.
Registration is not yet open for July's headliner, with details due to be revealed soon, but the buzz is already building for what promises to be another packed five days of content-rich sessions, keynotes, workshops and one-to-one opportunities.

TechMentor
3-7 August
Microsoft HQ, One Microsoft Way, Redmond WA
A five-day conference at the mothership–Microsoft's Redmond headquarters–gets underway in early August with the tagline "2020: a tech odyssey". Promising out-of-this-world training, the hands-on event will cover a myriad of topics, with in-depth technical content on DevOps, infrastructure, security, cloud, Windows administration and much more.
Visual Studio Live!
3-7 August
Microsoft HQ, One Microsoft Way, Redmond WA
Staying at Microsoft HQ, and running alongside TechMentor, Visual Studio Live! is one of the most respected, longest-standing developer conferences on the circuit, bringing together likeminded people for intense developer education on Microsoft Stack, knowledge sharing and networking.
SharePoint Fest
24-28 August
Washington State Convention Center, 800 Convention Place, Seattle WA
To round out what will no doubt feel like a month-long residency in Washington State in August, SPFest opens the door to the world's leading SharePoint, Teams, Azure, OneDrive and Office 365 experts over a three-day conference and optional two-day workshops. Expect a varied selection of focussed sessions and plenty of insight into Microsoft's current and future strategies.
NDC TechTown 2020
31 August-3 September
Magazinet Conference Center, Chr. Augusts gate 1, 3611 Kongsberg, Norway
NDC TechTown is a software-intensive product development conference held across four days, with two days of high-quality workshops followed by two-days of conference sessions. Though smaller in scale to its sister events in Oslo, Sydney and London, there's no lack of expertise and insight. If you have an idea for a talk or session on software development for products, please click here.

Interop
21-24 September
Austin Convention Center, 500 East Cesar Chavez Street, Austin TX
Interop takes a comprehensive approach to the business of IT by focusing on the key technology, process and talent issues that are vital to maximizing your value and lead digital transformation within your organization. Their programme is developed by vetted experts who demonstrate cutting edge skills that can be applied immediately.
Microsoft Ignite
21-25 September
*Venue TBC, New Orleans LA
Widely lauded as the most comprehensive technology conference of the year, Microsoft Ignite offers attendees the ideal opportunity to learn from the experts, connect with the community and get up close to the latest tech influencing the industry. For a comprehensive look at the headlines that sprang from 2019's event, which was attended by a crowd of over 25,000 in Florida, please click here.
GlueX
27-29 September
The Westin Kierland Resort and Spa, 6902 East Greenway Parkway, Scottsdale AZ
The cornerstone brand experience of IT Glue–the award-winning IT documentation platform–GlueX is your once-a-year opportunity to engage directly with various leaders working in the IT services industry. There's also an impressive line-up of speakers that you won't want to miss.

Hosting and Cloud Transformation Summit
5-7 October
Aria Resort and Casino, 3730 South Las Vegas Boulevard, Las Vegas NV
Under the banner "delivering outcomes using cloud: better, faster, more valuable", HCTS is one of the premier forums for executives in the hosting, cloud, datacenter and managed services sectors. The three-day agenda is carefully crafted by 451 research analysts and industry experts and also factors in a number of networking opportunities.
 .NET Developer Days
19-22 October
Expo XXI, Warsaw, Poland
The biggest event in Central and Eastern Europe dedicated exclusively to application development on the .NET platform, this four-day gathering is designed for architects, developers, testers and project managers using .NET in their work, as well as those who wish to improve their knowledge and skills in this field. Conference content is 100 per cent English to appeal to an international audience.
European Cloud Summit
20-22 October
Rheingoldhalle Conference Center, Mainz 55116, Germany
As the name suggests, this major technology conference concentrates solely on cloud computing topics and, specifically, Microsoft Azure. Broader elements, such as AI, machine learning, IoT and Industry 4.0 will also be covered at the three-day event, with world-class experts and speakers on hand from Microsoft and the wider community.

European SharePoint, Office 365 and Azure Conference
9-12 November
RAI Amsterdam Convention Centre, Europaplein 24, Amsterdam, Netherlands
Over 150 live, expert-led sessions form the backbone of this popular event in the Dutch capital, alongside a unique 'Ask the Experts' area populated by over 70 of the industry's leading service providers. Attended by over 2500 IT pros, developers and decision makers, this is an ideal opportunity to get up-to-speed on the latest practices and trends influencing SharePoint, Office 365 and Azure.
IT Nation Connect
11-13 November
Hyatt Regency Orlando, 9801 International Drive, Orlando FL
This three-day event is aimed at business owners and leaders looking to build their company towards long-term success. In-depth breakout sessions allow attendees to learn more about latest industry trends, while keynotes from business and industry thought leaders provide valuable insight into where the industry is heading.

Women of the Channel Leadership Summit East
7-8 December
New York Hilton Midtown, 1335 6th Avenue, New York NY
A meeting place for leaders looking to advance organizational diversity and promote women from across the channel, The Women of the Channel Leadership Summit East offers best-in-class thought leadership, motivational keynotes, channel trends, stimulating workshops, interactive peer panels and numerous networking opportunities.
Gartner IT Infrastructure, Operations and Cloud Strategies Conference
7-10 December
The Venetian, 3355 South Las Vegas Boulevard, Las Vegas NV
If last year's conference was anything to go by, attendees at this Gartner event will be presented with information on how to accelerate innovation and agility in a hybrid world and enable their organization's digital future. Interact with more than 3500 peers to share implementation lessons learned.
Ready to take your career to the next level?
Check out our latest Microsoft technology job roles and make your move.