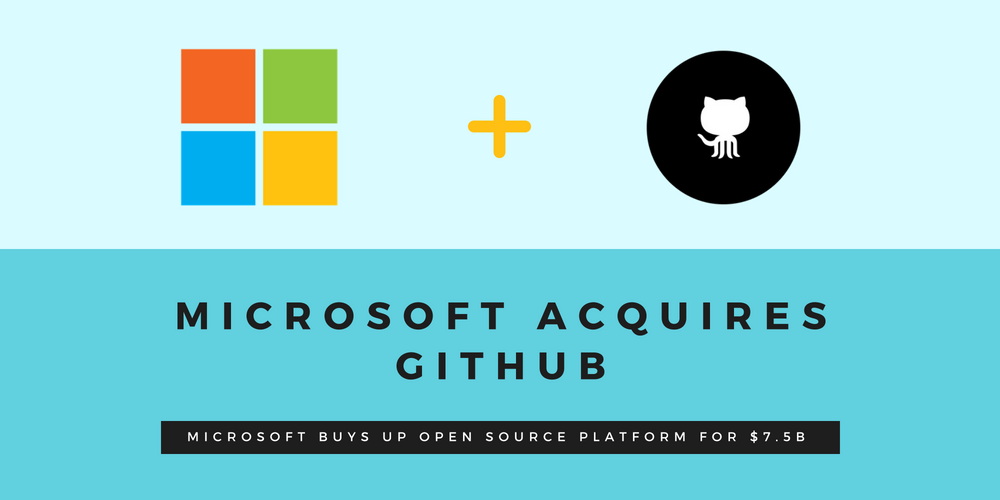 After several days of speculation, Microsoft has confirmed its acquisition of world-leading software development platform GitHub.
Microsoft reportedly shelled out $7.5 billion worth of its own stock in the deal, which is expected to complete later this year.
On completion of the takeover, GitHub CEO Chris Wanstrath will become a Microsoft technical fellow and will work on strategic software initiatives for the company. Microsoft Corporate Vice President Nat Friedman will become the new GitHub CEO.
GitHub began in 2008 as a platform on which hobbyist developers could store and share code. Ten years later, the site now hosts more than 85 million code bases, both public and private, and is utilized by every type of user from citizen developers to teams from huge companies such as Apple, Amazon, and Google. In fact, more than half of the 50 largest companies in the United States already use GitHub.
Despite concerns from the developer community that Microsoft would somehow undermine the neutrality of GitHub, the tech giant assured users that GitHub will retain its independent operating model, and will continue to accommodate all operating systems, tools, and languages.
"Microsoft is a developer-first company," said Microsoft CEO Satya Nadella, "and by joining forces with GitHub we strengthen our commitment to developer freedom, openness and innovation."
"We recognize the community responsibility we take on with this agreement and will do our best work to empower every developer to build, innovate and solve the world's most pressing challenges."
Microsoft is already the most active organization on GitHub, with over two million updates being made to Microsoft-related projects. Part of the aim of Microsoft's "stewardship" the company stated, was to drive that innovation even further, and "accelerate GitHub's growth and advance Microsoft services with new audiences."
This goal will likely see Microsoft bring its own development tools and services to GitHub's 28 million users, who largely use open source platforms.
The company also laid out plans to help enterprises make better use of the opportunities that GitHub offers. "We will accelerate enterprise developers' use of GitHub with our direct sales and partner channels and access to Microsoft's global cloud infrastructure and services," Nadella said
Like Microsoft's 2016 acquisition of professional networking site LinkedIn, the GitHub purchase will help Microsoft claw ahead in an increasingly valuable, and highly competitive, cloud service market. With GitHub in its corner, the number of languages developers can use with Microsoft cloud services increases vastly.  
By Wanstrath's own admission, the idea of a corporate business supporting, let alone owning, open source development may have been alien when GitHub launched 10 years ago—former Microsoft CEO once went as far as to call Linux "a cancer", and in 2007, Microsoft sued GPS company TomTom for IP infringement due to its use of Linux.
The backlash from developers suspicious of Microsoft's motives in acquiring GitHub has already prompted huge numbers of users to port their repositories over to rival platform GitLab.
However, Microsoft is not the same company it was a decade ago, said Wanstrath. Under Nadella's leadership, Microsoft has warmed to open source's inclusive approach to development, and has embraced open source platforms as a mutually beneficial way to drive software innovation at every stage of development.