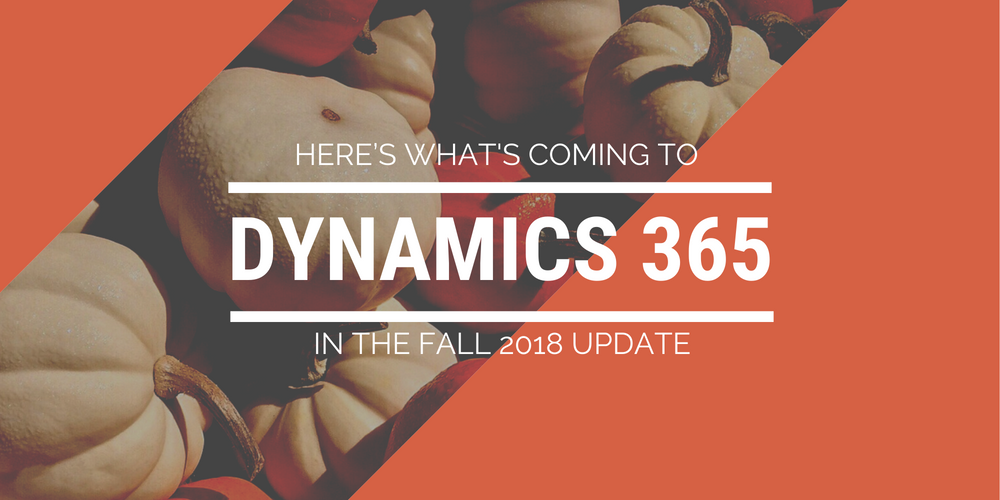 Microsoft has revealed the official release notes for Dynamics 365's Fall update. 
The 238-page document details more than a hundred incremental updates to the suite's 10 core apps, plus further tweaks to supporting services such as portals and Social Engagement. 
The updates, which will be made available between October 2018 and March 2019, include a public preview of a new app, Dynamics 365 AI for Sales. The app, which Microsoft demonstrated during its Business Applications Summit keynote speech earlier this week, is designed to help sales teams utilize intelligent features like call sentiment analysis, and alerts about deals being at risk, to keep on top of customer lifecycles. AI for Sales is the first in a new class of Dynamics 365 apps that will use machine learning to deliver data-driven insights and help organizations make more informed, proactive decisions.  
Other updates reflect the company's ongoing plan to tighten links between Dynamics 365 with other Microsoft services like Azure, Office 365, SharePoint, and Outlook. Integration between Dynamics 365 for Sales and Teams will hit public preview in October, as will LinkedIn InMail relationship analytics and predictive lead scoring for Dynamics 365 for Marketing. Dynamics 365 for Talent users will be able to utilize Skype video streaming during the hiring process, and provide mobile feedback.  
Dynamics 365 customers who incorporate Power BI will see new capabilities from October, helping all users work from the same data platform, and leverage vast quantities of data quickly to derive new and compelling insights. 
The release notes also lend some clarity on the long-speculated-upon use of mixed reality with Dynamics 365. The document mentions investments into mixed reality which will help frontline and remote workers be more productive while keeping their hands free. More information is slated to arrive in coming months, but the notes do outline new details of two apps designed for business use with Microsoft's HoloLens headset.  
Layout will allow users in industries like manufacturing, retail, and professional services to design spaces and visualize designs in the real world by importing 3D models, and converting them into high-quality holograms. These holograms can then be reviewed, moved, and edited in real-time by multiple users sharing the same view. 
The Fall release will also see updates to Microsoft Remote Assist. Initially released for public preview in May, Remote Assist enables remote workers to use heads-up, hands-free video calling, image sharing, and mixed reality annotations via the HoloLens, and share their view with colleagues through Microsoft Teams. 
Supporting Dynamics 365 services like Microsoft Flow and PowerApps will also benefit from a wide array of updates and enhancements, both for front-end users and admins.  
The update will be the first since Microsoft announced that Dynamics 365 would be put on the same bi-annual update schedule as its cousins Office 365 and Windows 10. Major feature updates will be rolled out in April and October, with release notes issued several months in advance to help admins prepare for the updates. 
Microsoft has promised that these future updates will be backward compatible, so there should be no issues with customizations post-update. Starting with the April 2019 update, admins will be able to test updated features in their sandbox environments to ensure compatibility. However, users will not be able to defer these bi-annual updates, which must be scheduled to go live within the production environments within a prescribed timeframe. By the end of March 2019, Microsoft plans to have all Dynamics 365 users running the same, up-to-date version.  
Here's an overview of the new features you can expect in each Dynamics 365 app: 
Dynamics 365 for Finance and Operations
Finance and Operations' financial management module will receive the lion's share of Fall updates, with features like dual currency, vendor and customer approvals for specific fields, IBAN validation, change cash discounts, automatic ledger settlements, reverse journal posting, enterprise credit management, and revenue recognition. 
Planned features for the app's operations module include master planning performance improvements, consolidation of planned orders during parallel firming, sealed bidding, and public sector enhancements. The app will also enjoy improved integration with Field Service: Inventory and Projects, plus the ability to pin Power BI dashboards to workspaces, and access real-time embedded Power BI reports. 
Dynamics 365 Business Central
Following the Fall update—the first since Business Central's release in early 2018—the NAV-based app will be available on-premise and via hybrid deployments for the first time. Users of Dynamics GP, Dynamics SL, or older versions of Dynamics NAV will also be able to connect to the cloud through Business Central, giving on-premise users access to intelligent cloud services like Power BI, Microsoft Flow, PowerApps, and machine learning. 
The update will see the Dynamics NAV title officially retired, as all on-premise versions of NAV become Dynamics 365 Business Central on-premises. 
End users will see improvements to the embedded Power BI experience, with the ability to customize reports as part of the Business Central homepage.  
The roll-out will also introduce customer portals for Business Central partners to help customers manage their application. 
Dynamics 365 for Retail
Dynamics 365 for Retail is another app which will be available on-premise for the first time post-Fall update.  
The release will introduce the Retail Cloud Scale Unit, a feature to improve serviceability and reliability for retailers, and new distributed order management capabilities. 
Other features will enjoy major enhancements, including end-of-day processing capabilities, a more comprehensive omnichannel payment solution, and core business processes such as inventory management and visibility, data distribution, POS offline capabilities, shifts, receipts, returns and exchanges, and embedded business intelligence capabilities in HQ. 
Dynamics 365 for Talent
In the Attract module of Dynamics 365 Talent, users will see increased visibility of the sourcing pipeline, with the ability to push prospective candidates from LinkedIn and creating a unified, 360-degree candidate profile using data from numerous sources. The new talent pools feature allows recruiters to organize and maintain their candidate lists and better track applicants, video integration with Stream and Skype for Business, and offer management with Adobe and DocuSign further optimize the interviewing and onboarding experience.  
Among the massive number of new features in Dynamics 365 for Talent: Onboard, users can now customize welcome emails, export data to Excel, schedule the sending of onboarding content, and create tailored onboarding teams for each role.  
New core HR features and enhancements include simplified benefits configurations, leave and absence management, and more flexibility in defining company roles and positions.  
Dynamics 365 for Sales
The biggest news in the Sales department is the announcement of Dynamics 365 AI for Sales. As well as being able to proactively and prescriptively float actionable insights from sales data, the app helps provide managers with fast answers regarding their team's performance via a natural language processing-based Q&A system, lead and relationship prioritization and scoring, pipeline analysis, and richer analytics. It also features tools to help call center-based organizations drive conversions, and gain greater insight into processes to assist with coaching. 
In addition to the preview roll-out for Dynamics 365 AI for Sales, Dynamics 365 for Sales core app will also receive a number of updates. A new feature called Playbooks aims to help sales teams automate repeatable activities and automatically respond to external events. 
Tighter integration with Microsoft's flagship collaboration tool Teams will also rolled out, helping salespeople to connect with each other and share key information. The new Who Knows Whom capability lets teams easily identify connections to leads and prospects, increasing the number of warm introductions, and with it, the likelihood of a conversion.  
Another new AI-powered feature, Quick Actions examines interactions with customers and suggests actions for salespeople to take to help close the deal. Teams can also get a more comprehensive and accurate view of the health of an opportunity, now that the app's relationship analytics will be extended to LinkedIn InMail.  
Dynamics 365 for Marketing
Another recent addition to the Dynamics 365 stable, Dynamics 365 for Marketing will receive its first round of platform tweaks when the Fall update is released. Major new features include account-based marketing, and deeper integration with LinkedIn. The app will also be rolled out to new markets, in additional languages. 
Other new capabilities like reusable content blocks, social listening, marketing calendars, richer segmentation, custom analytics, and video content features through Microsoft stream will also be available post-update.  
Dynamics 365 Service apps
Dynamics 365's core service apps will also inherit some new enhancements later this year.  
Dynamics 365 for Customer Service's updates focus on optimizing user productivity, delivering actionable intelligence, and enhancing operational efficiency. 
The app's powerful new service scheduling solution enables customers to work with existing constructs such as service activities, and utilize Universal Resource Scheduling capabilities including resource search and resource sorting. The knowledge article recommendation feature helps customer service agents access relevant and contextual articles to find the right information to close cases quickly. For admins, the new One Admin Center provides a centralized place to view info on network bandwidth, network latency, app reliability, and performance measures, allowing admins to oversee everything they need to ensure they're providing the best service possible. 
In Dynamics 365 for Field Service, users will be able to define and schedule work orders with multiple resources, ensure customer expectations are established and met through service level agreements, make more precise estimates by basing predictions on actual historical results, and use accurate cost tracking based on roles or other attributes. 
New Dynamics 365 for Project Service features include adjustments to approved time, expense, and journal lines, support for time unit on role price line, the ability to make copies of price lists by adding a markup percentage, and configurable unit of time for project work estimation to match business unit settings.