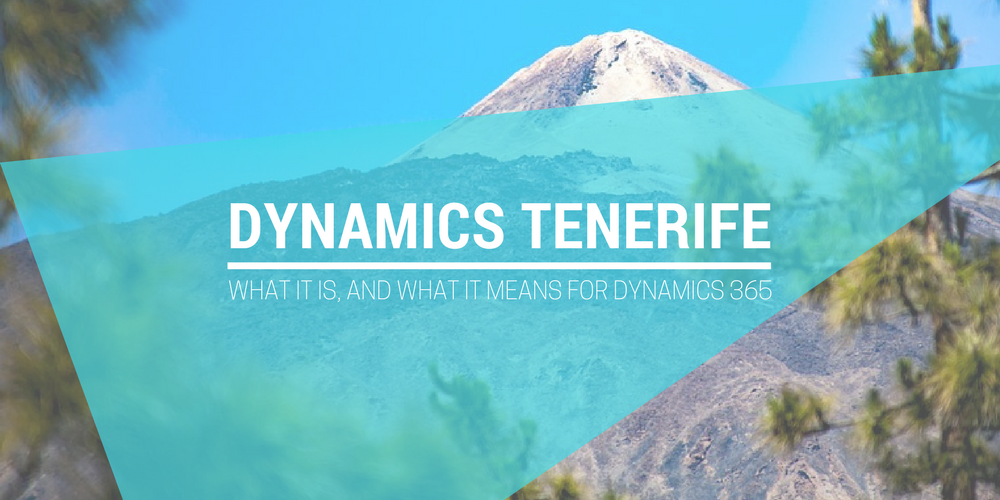 Dynamics 365 Business Edition, we hardly knew ye.
It seems like every other month we're hearing new updates about Dynamics 365's structure and licensing, and now the winds of change are once again blowing through the 365 stable.
At the end of September, at Directions 2017, Microsoft announced that Dynamics 365 Business Edition was being shelved.
The slighter of the two licensing options, designed for small-to-medium-sized businesses, Business Edition was aimed at companies that had outgrown start-up account software like QuickBooks.
Though at launch Business Edition featured only the Dynamics 365 for Financial and Operations app, alongside Microsoft PowerApps, a full plan including long-delayed new apps Dynamics 365 for Sales and Dynamics 365 for Marketing had been on the cards. (In the USA at least; even the barebones release version of Business Edition still hadn't landed in the UK, almost a year after it was announced.)
So what's happening with Dynamics 365 Business Edition?
Dynamics 365 Business Edition will be killed off, in name at least, in favor of a new Dynamics 365 solution codenamed "Tenerife".
Shortly after the announcement at Directions, Microsoft issued some clarifications via their blog, with Alysa Taylor, General Manager, Business Apps & Strategy offering more details on the simplification of the Dynamics 365 product family structure.
The new structure tows the line pronounced at September's Ignite business customer conference, where Microsoft CEO Satya Nadella stressed the need for more sectional, contemporary business apps that are role and workflow specific, rather than mammoth suites of applications.
As part of that new vision, going forward Dynamics 365 will no longer be split into editions; instead of its composite apps being available in predetermined packages, users will soon be able to build their own solution to meet their needs, by selecting the apps they want from a single stall.
Doing away with the editions opens the door to organizations of any and all sizes being able to choose the right apps, and the right price point, for them, without being shackled to a set plan.
It's also good news for current and potential Enterprise Edition customers, who, thanks to the new single pool of Dynamics 365 apps, will presumably obtain access to Dynamics 365 for Marketing, which had previously been penciled in as a Business Edition exclusive.
What is Dynamics Tenerife?
Not only one of Spain's largest islands, and home to its tallest peak, Tenerife is now lending its name to Microsoft's latest Dynamics 365 product; a creation reportedly built from parts of Navision and Dynamics 365, and hosted in the cloud. So Tenerife is both the next iteration of Dynamics 365, and the next version of Navision, which was originally scheduled for a Fall 2017 release.
Touted as "a new end-to-end business management cloud solution", Tenerife will feature an expansion of the Dynamics 365 Finance and Operations Business Edition functionalities, combined with the full capabilities of Dynamics NAV.
It was initially reported that Tenerife would not sit directly under the Dynamics 365 umbrella like Enterprise Edition and its comprising apps, but rather be branded, separately and marketed as being "powered by Dynamics 365". Microsoft has since confirmed that Partners will not be required to rebrand the product. How the new product will be marketed, and what it's new moniker will be, remains to be seen.
What we do know is that two editions of Tenerife will be made available through Microsoft's partner channel; a standard cloud version, and an ISV version, which vendors can use as a building block as part of custom-made cloud solutions.
How will Dynamics Tenerife be sold?
With the cloud application, partners who're part of Microsoft's Cloud Solution Provider (CSP) Program can deliver Tenerife to customers as a standalone business management solution to run their sales, financial, operational procedures, and manage projects.
The ISV version offers Tenerife as a business solution platform for software vendors, enabling partners who qualify for the Microsoft ISV Cloud Embed program to create and sell customised, white-labeled cloud solution packages to customers, built to meet their industry-specific needs.
Tenerife's ISV option is another clear sign of Nadella's modular ideal in motion. The option to parcel Tenerife as part of a wider solution aims to help partners verticalize their offerings to meet the needs of specific industries; something some partners have been reluctant to do in the past for fear of putting all their eggs in one basket.
Offering Tenerife as a modular part of a larger, more customizable package means partners can put together a cloud solution that meets the particular needs of a specific vertical, without tying themselves to an industry-specific product. Tenerife is a wheel; entirely useful on its own, but also able to become part of a more specialized vehicle.
When will Dynamics Tenerife be released?
The new pricing model for Dynamics 365 is set to be announced in Spring 2018, with the finalized iteration of Tenerife likely to arrive around the same time. Spring 2018 is already shaping up to be a busy time for the Dynamics family, with now only Tenerife slated for general availability, but also new CRM app Dynamics 365 for Sales. Dynamics 365 for Marketing is also currently in preview, but has no estimated release date as yet.
For those sticking to the on-premise variety of NAV, however, Microsoft has brought forward the release of Dynamics NAV 2018's on-premise version from Spring 2018 to later this calendar year.
On the lookout for a great new Dynamics NAV job? Browse the latest NAV jobs here.