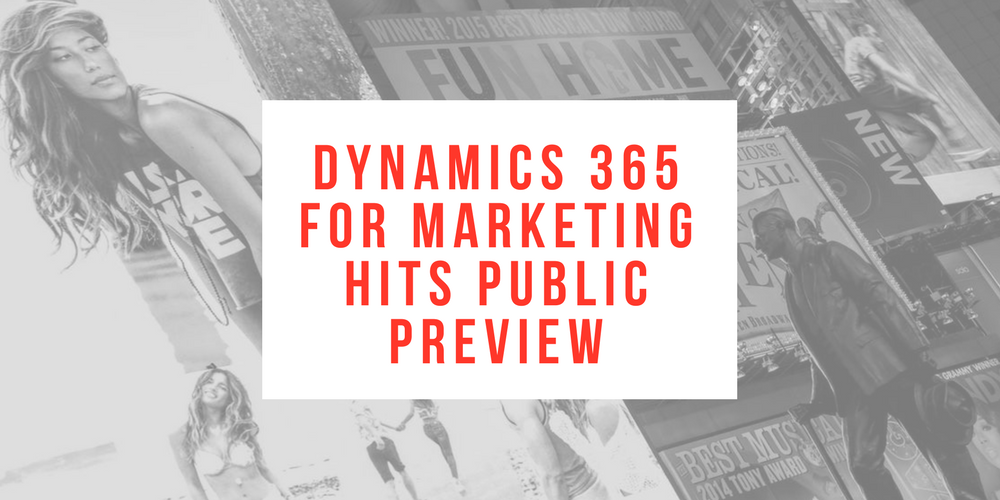 Dynamics 365 for Marketing has finally been made available as a public preview.
The module, aimed at providing marketing functions for small-to-midsize businesses, has been in the pipes for some time. Initially penciled in for release in Spring 2017, Dynamics 365 for Marketing is now likely to hit general availability in April 2018.
Dynamics users have been eagerly awaiting a firm ETA on the new app since Microsoft confirmed the retirement of its existing Dynamics Marketing platform in late 2016. Since the program was shelved, enterprise customers have been steered toward Adobe Marketing Cloud, which the company hosts, along with its Creative and Document Clouds, on Microsoft Azure.
Businesses can try out the new app's features — including multi-channel campaigns, lead management, event management, and marketing analytics — for free during the public preview period. Dynamics 365 for Marketing also includes integration with Dynamics 365 for Sales, and LinkedIn.
Principal PM Manager for Dynamics 365 for Marketing Kishan Chetan claims that the app will give growing businesses "more than basic email marketing tools," and help companies generate and foster more leads by aligning their sales and marketing strategies.
Here are some of the features users can expect from Dynamics 365 for Marketing:
Multi-channel campaigns across platforms such as email, landing pages, webinars, calls, events, and LinkedIn
Customizable email and landing page templates, and a dedicated email marketing service
Personalization of the customer journey that helps guide leads through your sales funnel based on their previous contact and activities
Embedded intelligence functions such as dynamics list segmentation, lead scoring models, and automated insights for tracking lead engagement
Event management capabilities including self-service portals and webinar management integration
Native customer survey tools
Built-in dashboards
Dynamics 365 for Marketing is not the only long-awaited Dynamics 365 module expected to be released in the coming months, with a NAV-based ERP app, codenamed Tenerife, due for release in early 2018 as a permanent replacement for Dynamics 365 Business Edition.
The preview is currently available to users in the US, Australia, Canada, Japan and several European countries.