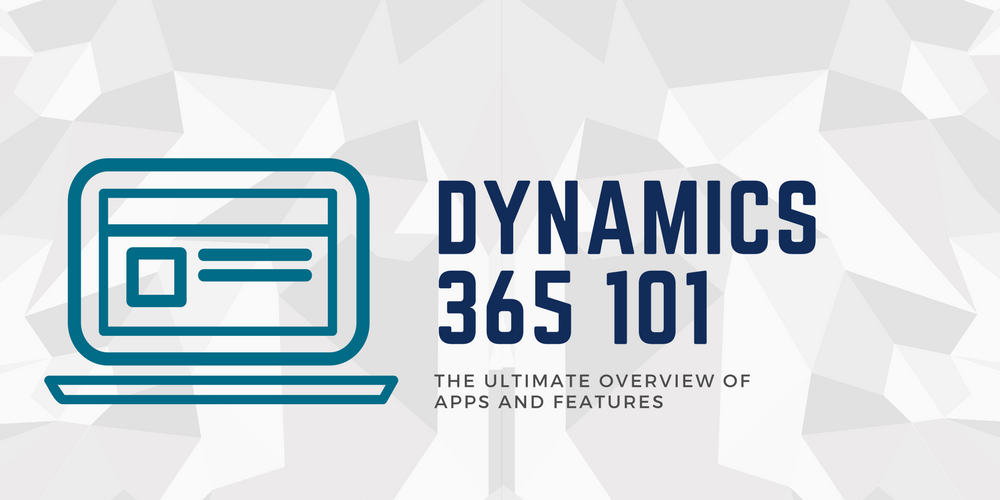 Since its initial launch in late 2016, Microsoft's groundbreaking business application suite, Dynamics 365, has undergone a raft of changes and updates, with new apps and services still being added.
With so much going on, it can be tricky to get a clear and up-to-date overview of what Dynamics 365 actually offers, the modules available, and the features included. In this guide, we take a look at the whole suite of products to help you decipher what each app actually does, and decide whether Dynamics 365 could be a good fit for your business.
Want the crib notes? Check out the infographic.
Dynamics 365 overview
Dynamics 365 is the latest offering in Microsoft's long line of business management software, and the first iteration to deliver its vision of bringing CRM, ERP, and supporting business applications together under one digital roof.
This new approach to business software delivery is the result of years of development and innovation on Microsoft's part, having been a prominent vendor in the business application space for almost two decades.
Microsoft launched the first product in what would become an expansive, and well-known stable of software in 2001, when it acquired Great Plains and Solomon, two existing ERP programs. The following year, Microsoft purchased two more ERP products, Axapta and Navision, and officially launched its Business Solutions division. In 2003, the division released its first homegrown software, a CRM program known simply as CRM 1.0.
After briefly considering using these acquisitions as a basis to develop their own, entirely new ERP product, Microsoft eventually decided to develop the products instead. Having equipped them with a similar role-based user interface, SQL-based reporting and analysis, a SharePoint-based portal, Pocket PC-based mobile clients, and integration with Microsoft Office, Microsoft rebranded the four ERP platforms, along with their own CRM product, under the Microsoft Dynamics umbrella. Dynamics NAV, Dynamics GP, Dynamics AX, Dynamics SL, and Dynamics CRM 3.0 were rolled out in 2005.
In 2016, Microsoft released the next phase of its business software products. Rolling together the functionality of all existing Dynamics products into one umbrella solution,  Dynamics 365 was launched to offer both CRM and ERP capabilities in one streamlined product.
Dynamics 365 breaks its functionality down into apps which can be used individually, or in connection with others in the Dynamics 365 suite.
Dynamics 365 apps and modules
There are currently eight primary Dynamics 365 apps, with several more scheduled for release in the near future.
Each app ringfences an area of CRM or ERP functionality, and can be used in conjunction with a wider package of apps, or on its own.
Originally delivered via one of two plans, depending on the size of your business, Microsoft decided in 2017 to rethink the way Dynamics 365 is licensed. It opted to offer the apps as standalone entities, with some broken down into even smaller, modular chunks, as opposed to being delivered in pre-determined packages.
The idea behind the shake-up was to give customers more freedom to create a solution that meets their needs, and reduce potentially wasted costs on unnecessary or underused apps.
With digital transformation currently top of Microsoft's mission statement, the reshuffle also aims to help organizations take advantage of business management tools no matter their circumstances, enabling them to start small and build their solution as and when required.
Let's take a look at what each of these apps actually does, and which of Dynamics 365's building blocks you need to start your digital transformation.

Dynamics 365 for Finance and Operations
Dynamics 365's flagship ERP app, Finance and Operations is heavily based on Dynamics AX, and features everything an organization needs to manage, plan, and analyze its financial and operational processes. The app unifies financial management and operational processes, making it especially useful for businesses in the retail, fleet management, and professional services industries.
Though generally pitched as the best Dynamics 365 ERP choice for larger organizations, Finance and Operations boasts extensive production capabilities, so is also a good option for discrete, lean, and process manufacturing businesses, regardless of size. It also features more-robust capabilities for public sector companies.
Finance and Operations features more-extensive financial management capabilities than Business Central, and is apt to run economic analysis, as opposed to general business accounting.
The most extensive and robust ERP app in the suite, Finance and Operations covers massive areas of business processes and operations.
Finance and Operations is packed with in-depth financial management tools — including accounts payable, accounts receivable, budgeting, cash and bank management, asset management, and general ledger —  to help users control every aspect of their ins and outs, as well as intelligent analysis and reporting features to gather actionable insights.
There are also tools to ensure regulatory compliance and public sector requirements across 34 countries.
Finance and Operations helps oversee, analyze, and optimize supply chain and warehousing operations, with capabilities including cost management, inventory management, procurement and sourcing, product information management, and transportation and warehouse management. The app also helps streamline and automate processes throughout the supply chain, from picking to delivery.
By utilizing SQL Server's forecasting algorithms, the app's demand forecasting features also help improve product availability, minimize inventory costs, and reduce procurement costs by automating procure-to-pay processes.
Providing a platform through which to connect operations throughout the production lifecycle, Finance and Operations offers a number of order type options, so users can select the best manufacturing processes for their needs, or create their own mix from discrete, lean, and process in a single, unified solution to support your processes across the supply chain.
Finance and Operations also offers tools to manage your human capital, including creating and managing benefits, deductions, and compensation plans, overseeing employee development and training, delivering employee questionnaires, dealing with payroll, and recruiting new hires.

Dynamics 365 Business Central
When Microsoft announced in 2017 that it would be shelving Dynamics 365 Business Edition, its ERP offering for small-to-midsize organizations, customers and partners have waited patiently for more information on the app that would replace it.
In Spring 2018, they finally got an answer, when the company unveiled Dynamics 365 Business Central. Heavily based on Dynamics NAV, Business Central is a cloud-based end-to-end business management solution, targeted at organizations with fewer than 250 employees.

Business Central includes functionalities for financial management, warehousing and supply chain management, sales and customer service, and project and budget management. Business Central is also particularly suited for the wholesale industry.
Positioned as the next step up for businesses that have outgrown their entry-level accounting software, Business Central features an intuitive, easy-to-use interface to help organizations get a clear overview of their finances.
Like the Dynamics 365 family's other major ERP app, Finance and Operations, it also features manufacturing capabilities, though works best for discrete manufacturing; companies in the lean or process manufacturing industries may find their needs better met by Finance and Operations.

Dynamics 365 for Sales
According to Gartner's CRM Application Functionality Starfish, a CRM app should encompass sales, customer service, marketing, digital commerce, and field service functionalities. In Dynamics 365 modular structure, those features are represented by self-contained apps. Unsurprisingly, Dynamics 365 for Sales represents the sales point of that starfish, with Dynamics 365 for Marketing, Dynamics 365 for Retail, and Dynamics 365 for Field Service covering the other areas.
Dynamics 365 for Sales allows users to manage their sales processes from beginning to end, from lead generation and pipeline management, to account management and reporting.
The app centralizes all an organization's sales leads into one place, helps collect data, and automates repetitive areas of the cycle, so salespeople can focus on building relationships and nurturing opportunities.
The system is able to automatically score, qualify, and assign leads, and provides real-time analysis at every stage of the process to help users focus their efforts in the most profitable areas.
All sales and marketing activity is logged in a single view, so salespeople get a complete picture of their organization's relationship and previous contact with a customer, making it easier to deliver great service, and spot up- and cross-selling opportunities.

The app can also issue intelligent, automated reminders and actions to keep leads moving through the pipeline, and make sure no customer falls through the cracks.

Extensive, AI-infused reporting capabilities help highlight successes and opportunities, and with the in-built gamification feature, organizations can encourage productivity, user adoption, and boost employee engagement.
Want more info about the Dynamics market?
Found out how much you can expect to pay for Dynamics talent in your area.
Modular Sales apps
Dynamic 365 for Sales Professional
Part of the updates scheduled to be rolled out shortly is the release of a new sales app. A streamlined version of Dynamics 365 for Sales, the app will feature capabilities from opportunity management to sales planning and performance management, and aims to optimize sales processes and productivity for businesses that don't require the full functionality of the main Sales app.

Dynamics 365 for Sales Professional will be infused with artificial intelligence to offer guidance and recommendations throughout the sales cycle. Customers will also be able to take advantage of the suite's native integration with LinkedIn by using the app alongside Dynamics 365's LinkedIn Sales Navigator. Like other apps under the Dynamics 365 umbrella, Sales Professional will work seamlessly with Office 365 to help users get more out of their business and email data. The app's analytical dashboards will enable users to make sense of and act upon their sales data.
Microsoft Relationship Sales Package
Microsoft's acquisition of professional networking site LinkedIn has proved a massive boon for its CRM users, and nowhere is this more evident than in Dynamics 365's Relationship Sales package. Relationship Sales is essentially a bundle containing Dynamics 365 for Sales and LinkedIn's Sales Navigator Enterprise service.
The integration of these two sales solutions connects salespeople with LinkedIn's 500 million users, and offers a platform through which businesses can unify their social outreach and sales strategies to develop relationships and generate new leads.
Relationship Sales enables salespeople to make more effective connections by giving them access to data that helps them personalize their outreach, and highlights existing connections that can assist in warming the lead.
Finding key decision on LinkedIn, get contextual relationship information data from across Dynamics 365 and Office 365, and identify the best way to reach and connect with them through connections with peers that they know and trust.
There's also a predictive lead scoring feature to help salespeople focus their time in right areas, and recommended actions and reminders to keep leads moving through the pipeline. Interactions can also be tracked so that users can see how well their pitches are performing.

Dynamics 365 for Customer Service
Microsoft Dynamics 365 for Customer Service aims to help users deliver excellent, personalized customer service to their customers, at any time, on any channel. Offering a mixture of assisted service management, and self-service opportunities such as customer portals and peer-to-peer support, Customer Service provides agents with the tools and resources they need to add value to their customer interactions, no matter what medium they're working through.
Through a centralized interface, Customer Service enables agents to create cases, record all customer interactions, and solve queries through the customer's preferred channel.
Shared knowledge bases within the app mean agents are always clued up on customer case histories and preferences, and can offer accurate information on company policy and entitlements.
Performance and productivity can be easily overseen and managed through reports and dashboards, so organizations can make sure they're delivering high-level, consistent service across the board.


Dynamics 365 for Field Service
In this mobile-enabled era, businesses need to be connected to their work and to their customers wherever they are in the world. Dynamics 365 for Field Service gives users the tools they need to operate and offer outstanding service in the field.
In order to successfully deliver in the field, organizations need to have a tight handle on their operations, access to necessary resources, and clear channels of communication with on-site workers, contractors, and customers.
The Field Service app enables users to automate the scheduling and assignment of resources, and optimize routes to maximize efficiency.

Field Service records are aligned with Sales, Marketing, and Customer Service apps, so being in the field doesn't mean working in the dark. The app also provides a central, accessible repository for resources such as manuals, documentation, and training materials.

Work orders can be generated from customer services cases, through customer portals, or emails, and assets, inventory, and equipment can be managed and re-ordered in real-time.

Like all apps in the Dynamics 365 family, Field Service is highly mobile-friendly, with mobile and tablet apps available across Android, iOS, and Windows devices.


Dynamics 365 for Talent
Microsoft's first dedicated human capital management app, Dynamics 365 for Talent is designed to bring everything you need to optimize your human resource management together in one app.

One of the newer Dynamics 365 applications, Dynamics 365 for Talent was first made available in July 2017, and helps its users manage and engage with their employees throughout their entire working journey.

Dynamics 365 for Talent's road to optimized human capital management can be boiled down into five steps; attract, onboard, engage, learn and optimize, and licensing the full Talent app will get you access to all of those features.

As well as seamless assimilation with other Office 365 services like Outlook, Dynamics 365 for Talent also has a secret sauce that sets it apart from other HCM apps. After months of global head-scratching following Microsoft's acquisition of professional networking site LinkedIn, the company revealed that it would be putting this new tool to work in the Dynamics 365 suite, with Dynamics 365 for Talent the first to utilize data from LinkedIn's 500 million registered users.

As any switched-on company will tell you, there's more to building a great, productive team of people than just the hiring process. Companies that make a long-term commitment to employee engagement are most likely to enjoy maximized productivity and minimized staff turnover.

Dynamics 365 for Talent aims to make finding, acquiring, and keeping the best talent simpler and more efficient by fostering a culture of excellence where both your operations and your employees can be at their best.

The app not only helps users find, hire and set up new employees, it also allows managers to better guide and support their employees' professional development, by offering a channel for continuous feedback, performance tracking rewards, and clear pathways to progression.

With the help of Dynamics 365's inbuilt AI, Talent can automate routine HR tasks, help minimize compliance risk, and improve planning through tracking and analyzing core operations.
Modular Talent apps
Dynamics 365 for Talent: Attract
Dynamics 365 for Talent was the first app in the suite to generate these segmented spin-off apps, with the arrival of Dynamics 365 for Talent: Attract and Dynamics 365 for Talent: Onboard in 2017.
Sectioning off all the features organizations need to find, collate, and hire the best talent for their business, the module enables users to streamline and optimize their search for new employees, without shelling out for the whole Talent app. This is particularly useful for businesses that want to improve their recruitment processes or initiate a more-competitive talent acquisition strategy, without throwing out their existing HCM system.  

Attract provides a single interface from which businesses can manage the entirety of the hiring journey. Headhunting, gathering applications, booking interviews; it can all be orchestrated from within Attract, eliminating the need to hop between programs to get things arranged. Each job role has a defined pathway, with actions and information laid out cleanly at each stage. The app streamlines communications between the hiring manager and candidates, offering a one-stop portal for job descriptions, candidate messaging,  assessments, and interview scheduling, so managers will never again be plagued by corrupted documents or missed voicemails.

Attract also utilizes the Dynamics suite's connection to LinkedIn, allowing users to headhunt candidates via the professional networking site from within the app. Vacancies can also be published to external job sites and boards straight from Attract.

Candidates can log in to Attract to see how their application is progressing, schedule interviews, upload additional documents, and correspond with the hiring company. The app also takes the sting out of arranging interviews by generating suggested interview slots based on the schedules of the interviewers. Interviewers can then submit feedback, accept or reject applications,
Dynamics 365 for Talent: Onboard
The other modular HCM app available through Dynamics 365, Onboard which helps hiring managers build personalized onboarding guides, trackable workflows, and to-do lists mapped to make sure new team members not only hit the ground running, but are left with a long-lasting, positive impression of their new company.
The app identifies which co-workers your newbie needs to get acquainted with, and helps them get to grip with their individual responsibilities, as well as using data from LinkedIn to point out colleagues they may already know. Onboard also gets them up to speed on company culture information such as details of work social groups, activities, and clues them up on any perks or benefit schemes they should get involved in..

To help get things moving fast, Onboard can be accessed with a personal email, so you can get all the relevant paperwork completed, and all your HR boxes ticked before your new starter even walks through the door. Onboard's work doesn't stop there, though; it also includes monitoring features so you can track the success of your onboarding program through real-time dashboards.

Dynamics 365 for Retail
Though it is packaged with more ERP-aligned apps as part of Dynamics 365's Unified Operations plan, Dynamics 365 for Retail contains features to manage both front and back-end retail operations.
Designed as an all-encompassing solution for retailers, Dynamics 365 helps organizations deliver their products across multiple channels while efficiently managing their inventory, organize their merchandising efforts, and meet customer demand.
Whether a store is bricks and mortar or e-commerce, the app optimizes processes across the board, from enabling retailers to build a robust and personalized online store, to managing discounts, promotions, and loyalty programs.
Real-time inventory reports, employee schedules, customer order histories, and modern Point of Sale services are all available across a wide range of devices, so retail staff can always get access to the information they need.
Customers can be reached wherever they are, and however they choose to shop, and grows brand loyalty through great service. In-built AI capabilities also enable companies to predict and capitalize on new opportunities by analyzing business data and customer buying trends.
The app also helps retailers reach new customers through effective marketing campaigns, driven by personalized customer insight, and connects businesses with the right audience through mobile, web, and social media communications.


Dynamics 365 for Project Service Automation
Project Service Automation is an app built to help project-based organizations deliver on time and on budget with a series of tools to plan, resource, and execute billable work, and help keep all of those plates spinning.
The app covers the entire span of the project lifecycle, centralizing teams and offering features to optimize opportunity management, project planning, resource management, time and expensing, team collaboration, customer billing and collection, and includes thorough analytical dashboards to help businesses further improve their processes.
Building on the foundation of Microsoft's work breakdown structure planning software, Microsoft Project, Dynamics 365 for Project Service Automation ties together all aspects of project delivery, looping in other crucial aspects of the business such as salespeople.
Its project-based contracting feature helps generate accurate quotations, based on real-time information from across the business such as project plans, financial estimates, and labor pricing, and considers factors like profitability and feasibility.
Project Service Automation also comes with the Project Resource Hub app, which allows field workers access to all the information they need, and gives them a channel through which to effectively collaborate with colleagues on any device.
Built-in intelligence automates key processes such as assigning tasks based on skills, availability, and forecasting metrics. The results and financial impacts of all projects — such as costs, unbilled revenue, and invoices — are fed back into the app's analytics, and shared with the business's financial systems and ERP software.

Dynamics 365 for Marketing
Dynamics 365 for Marketing, a purpose-built marketing automation app aimed at SMBs, has been long-anticipated by Dynamics users since Microsoft retired its Dynamics Marketing software in 2016.
Dynamics 365 for Marketing aims to give companies the tools they need to generate and foster more leads, by aligning their sales and marketing strategies, and automating many of their fundamental marketing processes.

The app equips businesses with the ability to create, run, and manage multi-channel campaigns and events, as well as scrutinize the effectiveness of their efforts with in-depth marketing analytics.

No matter what channels businesses are utilizing to deliver their messaging, the app supports communications across platforms such as email, web landing pages, webinars, calls, in-person events, and social media.
One of the Marketing's core functions is the creation of personalized, targeted email campaigns, based on customers' previous contact and activities, through its dedicated email marketing service. Customizable, easy-to-use templates are also available to help businesses get started.
The app's native intelligence allows a business to effectively target the right customers for their communications with dynamic list segmentation, lead scoring models, and automated insights for tracking lead engagement.

Event management capabilities are also included, so businesses can deliver self-service portals for conferences in events, and manage and deliver webinars.

Though Dynamics 365 for Marketing contains more than ample features for small-to-midsize organizations, enterprises with more extensive marketing needs may find the Azure-hosted Adobe Marketing Cloud more suited to their requirements.


Other services included in Dynamics 365
Power Apps
Powered by Dynamics 365's Common Data Service for Apps, PowerApps allows organizations to create their own responsive business applications with the click of a button. Employee engagement surveys, cost estimators, budget trackers, to-do lists, booking apps; these can all be created for web and mobile without the need for coding knowledge or input from developers.

PowerApps' drag-and-drop interface enables anyone to build and launch richly functional, professional apps without writing a single line of code. The apps can be easily integrated with Office 365 and Dynamics 365 to gather and utilize business data, and help engage customers.
Microsoft Flow
A sister-service to PowerApps, Microsoft Flow uses the same Common Data Service for Apps to help users build automated workflows that take care of repetitive administrative tasks.
There are already thousands of ready-made workflows — digital sequences that trigger predefined actions when certain activities occur —  for users to take advantage of, from creating CRM leads when someone tweets a particular word or phrase, or tracking Outlook emails in an Excel spreadsheet, to sending an email to a group when a data alert is triggered in your analytics.
These workflows can be used to connect your Microsoft services to third-party apps and programs, without the need for complex custom integrations.
Microsoft Social Engagement
Social media is now a crucial part of not only finding and selling to customers, but also delivering great service, and generating brand loyalty. Microsoft Social Engagement is an auxiliary CRM app that connects to Dynamics 365 to help you do all of those things.
Social Engagement provides a platform from which Dynamics 365 users can deliver, monitor, and analyze their social media interactions, and keep an eye to the ground to work out what people in their market are talking about. Through the Social Engagement interface, users can respond to interactions, create and assign cases or sales leads in Dynamics 365, and analyze sentiments.
Social Engagement is included with Sales, Customer Service, Field Service, and Project Service Automation subscriptions, though it can be used as a standalone social media management app, without being connected to Dynamics 365.
Dynamics 365 for Customer Insights
Big data isn't just a buzzword; if businesses want to succeed in the digital era, they need to be able to gather real, actionable insight from their data.
Customers today expect personalized interactions and marketing to help them get exactly what they want, through the most relevant channels to them.
Dynamics 365 for Customer Insights is an Azure service that aims to help businesses collate, digest, and gain value from their data in a clear, user-friendly way.
Customer Insights helps pull together customer data into useful dashboards, powered by customizable, turnkey analytics and reports that offer practical insights and next steps.
By providing a centralized location which brings together customer data from across many sources, Customer Insights allows businesses to build a true, 360° picture of their customers and their buying habits, and use that information to predict future outcomes and make more-informed decisions.
In Customer Insights, each customer has a Profile, which presents an aggregated view of customer data. The customer's interactions with the businesses, from buying activities, communications, service cases, and responses to surveys, are compiled in the Interactions section, and connections between Profiles are mapped in the Relationships section.
To help businesses target the right audience for their service, and ensure they're hitting the right customers with their messaging, Customer Insights can automatically generate and update Segments, adding or removing customers based on events or actions.
What next?
Hopefully, you'll now have a good idea of what each cog in the Dynamics 365 machine does, how they fit together, and which apps and products you'll need to put together the ideal solution for your business.
The next questions you're probably asking yourself are how much will it cost you, and how will you deploy it?
For comprehensive, up-to-date information on Dynamics 365 pricing and licensing, check out our pricing guide. Remember, when implementing a new software solution it's not only the price tag of the software itself that you should consider in your project costings. Our guide to the total cost of Dynamics 365 ownership looks into some of the areas of Dynamics 365 ownership that you might not've considered, and helps you accurately plan for your implementation
There are a number of options when it comes to Dynamics 365 deployment. Although it was initially built with the cloud platform in mind, it can also be implemented on-premise, or as part of a hybrid deployment.
Which option is best for you will depend on your organization's needs, plans, and circumstances. We've put together a guide to Dynamics 365 deployment to help you decide which option will best suit your requirements, and help you get the most out of your new Dynamics 365 solution.
Busy bee? Visual learner? No problem—we've summed up the key points from this post into a handy infographic.
Dynamics talent you won't find anywhere else
Take a look at our database of pre-screened Dynamics professionals and take the first step toward hiring the best administrators, developers, and consultants in the market.