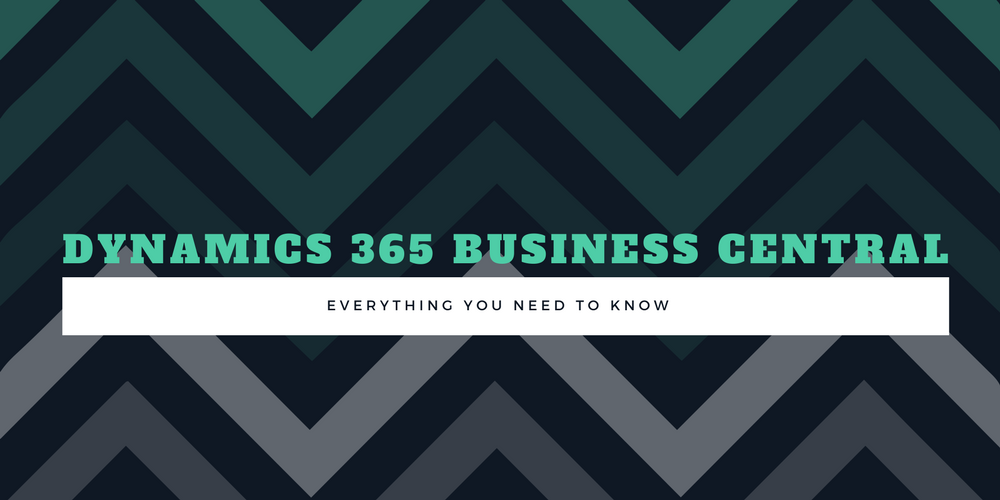 In late 2017, Microsoft announced that it was to pull the Business Edition of Dynamics 365 for Finance and Operations, the SMB-targeted version of the suite's flagship ERP app.
The company promised that this ERP-shaped hole would be filled with a new app, specially designed for smaller organizations that might have outgrown their entry-level accounting software, and were looking for a more robust program to manage their back-end business processes.
Now, that new app has finally arrived. Dynamics 365 Business Central — a much snappier moniker than Dynamics 365 for Finance and Operations Business Edition — hit general availability on April 2nd 2018, armed with significantly expanded capabilities compared to its predecessor.
Modeled closely on Microsoft's popular ERP for SMBs, Dynamics NAV, Business Central boasts new features including warehousing, service management, and manufacturing.

Encompassing all the functionality you'd expect from a leading ERP app, Business Central is being touted by Microsoft as a "single, end-to-end solution for managing finances, operations, sales, and customer service."
Like other apps in the Dynamics 365 suite, Business Central will be subject to small-scale automatic updates every month, with more-major updates rolled out twice a year.

Dynamics 365 Business Central Features
It's important to note that licenses for Business Central come in three types: Team Member, Essential, and Premium. Which license you choose will dictate which features you have access to; unsurprisingly, the Premium license includes more capabilities than the Essential.
We'll cover the two sets of features separately, for clarity, but first, let's take a look at some of the basic features that you'll get to enjoy no matter which license you choose.
New user interface
In an effort to unify the look and feel of all Dynamics 365 products, Business Central features a modern, intuitive, and — if you've used any other Microsoft products recently — familiar interface. The UI is customizable, with role-specific views, personalized feeds, and smart notifications all making an appearance.
Mobile-enabled
The app is fully equipped to give users access to its rich functionality across Windows, iOS and Android desktops, phones, and tablets.

Integration with other Microsoft services
Being as it's based in the cloud, Business Central works seamlessly with not only other Dynamics 365 apps, but Office 365, PowerApps, Microsoft Flow, and Power BI. The new app will also feature extended integration with Outlook, which will allow users to utilize Business Central's quote-to-cash features from within their inbox, including the ability to generate quotes based on the content of an email, and submit invoices.
Native intelligence

Business Central will benefit from Microsoft's mammoth investments in AI and machine learning, which will be applied to give more accurate forecasts, better next-step recommendations, and more profound, valuable analytical insights.

Simple customization and extension options
Business Central's in-client visual designer will help users customize their solution to better meet their unique business needs, and PowerApps and Microsoft Flow will be available to enable the creation of custom business apps and workflows using the Common Data Service for Apps.
Let us do the searching for you
Register today and our expert Microsoft recruiters will find the right job for you.
Dynamics 365 Business Central: Essential
The Essential license gets users access to the majority of Business Central's features. These include everything previously found in Finance and Operations Business Edition, plus a few new tricks that help bring the new app in-line with NAV 2018's functionality, including extended human resource and project management features. Here's an overview of what you can expect from Business Central by operational area:
Financial Management
Pegged as a step-up from entry-level business accounting software, Business Central features a range of financial management capabilities at the core of its functionality. This includes all the basic features you'd expect from an ERP, such as managing payables and receivables, overseeing cash flows, preparing VAT reports, and performing year and period closes.
Business Central's basic general ledger allows users to quickly set up and start posting to chart of accounts, general journals, and recurring journals. Business Central can also help manage inventory costs, and operational and departmental budgets. Users can also easily keep track of fixed assets and related transactions like acquisitions, depreciations, write-downs, appreciations, and disposals.

Business Central makes auditing more intuitive by automatically assigning audit trails and descriptions to every transaction. Users can further strengthen their audit trails by defining transactional reason codes to be added to ledger entries. The app facilitates the amalgamation of financial data from multiple companies, so organizations can get a centralized view of all their arms for financial analysis. Bank statements can also be imported and automatically reconciled in Business Central.
Businesses operating multiple bank accounts can create and manage accounts within Business Central, helping to cater for diverse business needs across a multitude of currencies. The system supports multiple currencies throughout, including in payables and receivables, general ledger reports, and resource and inventory items, and automatically updates currency exchange rates.
The app also aims to help users get better results from their business intelligence by allowing them to set up "dimensions". Dimensions are essentially tags that can be assigned to entries so that they can be easily categorized and tracked.
Relational Management
Though it's not a fully-fledged CRM solution, Business Central does contain some core relationship management features to help businesses organize and optimize their sales efforts.
Through Business Central, users can record and manage contact information for all their business relationships. These contacts can be segmented and used to target marketing campaigns.
Leads and opportunities can also be inputted and tracked, so sales teams can see exactly where opportunities are in the pipeline, and where to best focus their efforts.
For businesses that need more-robust CRM features, Business Central integrates with Dynamics 365 for Sales in just a few steps, enabling users to sync information such as inventory levels and sales orders with their customer-facing operations.

Supply Chain Management
Having an accurate, up-to-date overview of the supply chain is essential to businesses that deal with logistics. Business Central helps organizations keep track of their supply chain cycle, from managing orders and overseeing inventory, to getting products where they need to go.
With Business Central's supply chain management tools, companies are able to process sales orders, and post and manage transactions and receivables.
Whether inventory is located in a plant, distribution center, warehouse, showroom, brick-and-mortar store, or spread across a number of sites, Business Central helps manage inventory levels, and even tracks and accounts for inventory in transit.
The app's stock reporting features help optimize warehousing and picking from the moment inventory is received, through to put-away, moving, picking, and returns.
Warehouse management through Business Central can be implemented on several complexity levels, depending on how a business processes orders, and the volume of orders they receive.

Human Resources
Significantly upscaled from Finance and Operations Business Edition are Business Central's Human Capital Management features.
Business Central allows users to keep detailed employee records such as contacts, qualifications, and contract information. Codes can be assigned to employee records to enable managers to group and track employee information according to factors such as experience, skill sets, training, and union membership.
Similarly, employee absences can be logged, tracked, and tagged using reason codes.
The app also helps manage expenses. Employee expenses can be posted to the general journal, and employees can be reimbursed easily using the same method used to pay a vendor.
Project Management
For larger businesses, or those that require comprehensive project management software, there's Dynamics 365 for Project Service Automation. However, being as it is an end-to-end business management app, Business Central covers many of the necessary bases a business might need to thoroughly oversee their projects.  
The app features tools for core project management tasks such as configuring jobs, scheduling resources, managing budgets and monitoring progress.
Business Central enables project managers to register, group, and sell resources, as well as monitor and analyze usage to help inform estimates, manage costs, and plan projects based on resource availability.
Jobs can also be tracked through the app, with PMs able to manage fixed-price jobs and time-and-materials jobs, and generate customer invoices based on tracked costs.
Timesheets allow users to track hours logged for both employees and equipment, and keep track of allocation of resources by requiring manager approval.
Dynamics 365 Business Central: Premium
Premium licenses include everything available to Essential license holders, plus access to Service Order Management, and Manufacturing features.
Service Order Management
Business Central's Service Order Management module allows companies to provide excellent service to their customers, helping to boost customer satisfaction and brand loyalty in the process.
Built to support repair shop and field service operations, Business Central enables businesses to oversee their service management operations, from processing orders, to issuing contracts, and managing technicians.
The app features tools to register and track post-sales issues, including new service requests and routine maintenance, and set and update service prices. It also enables users to manage key components of their service operations, such as contract information, components, and warranty information.
Service KPIs can be monitored through Business Central, which allows users to record and track information on service levels, response times, and service history of each contract.
The logistics of completing service orders can also be managed from within the app, from which users can assign personnel based on skills and availability, log handling details, and update the order status.
Manufacturing
The addition of manufacturing tools to Business Central brings the new app up to speed with NAV 2018, offering a range of features to help production businesses manage and streamline their output.
Users in the manufacturing industry can create production orders, produce and manage alternative versions of production bill of materials, and outsource particular operations within a production order to subcontractors.
The app also helps businesses plan for and manage demand, with master production scheduling and materials requirements planning tools, and create production and purchase orders based on demand forecasts and inventory levels.
Machine centers can be managed through the app, and be aggregated into work centers to allow users to control capacity levels, and ensure work centers are operating at an efficient level.
In addition, Business Central supports agile manufacturing, enabling businesses to plan for peak times, and make eleventh-hour alterations to processes to facilitate changes.
Here's Dynamics 365 Business Central general manager Marko Perisic with a first-hand look at Business Central.
Is Business Central just Dynamics NAV?
Yes and no. Business Central shares the same code base as Dynamics NAV 2018, the latest version of the popular ERP app, and includes all the functionality currently seen in NAV. However, it also has some new features.
In many ways, Business Central is "the new NAV"; now that Business Central is on the scene, there will be no more releases under the NAV name going forward, and from Fall 2018, the only remaining instances of NAV will be the pre-2018 on-premise versions.
How much will Business Central cost?
Like Dynamics 365's other ERP apps, Business Central has three licensing options to choose from. Depending on the levels of access and functionality each user requires, businesses can select a Team Member, Essential or Premium license.
| | | |
| --- | --- | --- |
| License | Price | What's included |
| Team Member | $8 per user, per month | Read, approval, and reporting access only, plus use of employee self-service features. |
| Essentials | $70 per user, per month | As above plus invoicing, purchasing, opportunity management, budgets, finance, fixed assets, purchasing order management, resource management, workflow, contact management, simple inventory, advanced inventory, and distribution. |
| Premium | $100 per user, per month | As above plus service management and manufacturing modules. |
Business Central is only available to purchase through licensed Microsoft Cloud Solution Providers, and cannot be licensed as part of one of Microsoft's pre-set plans.
However, vending partners may opt to deliver Business Central as part of packages of their own creation, alongside their own software add-ons or additional services.
Will Business Central be available on-premise?
Yes, an on-premise version of Business Central will be available Fall 2018.
Though there were originally plans to release an updated version of Dynamics NAV 2018 for on-premise users, known as NAV 2018 R2, these plans have now been shelved. NAV 2018 on-premise users will see the name of their app switch to Business Central when they roll out the Fall update.
What happens to Finance and Operations Business Edition users?
Users who currently license Dynamics 365 for Finance and Operations Business Edition will be automatically upgraded to Business Central.
Will Dynamics NAV users need to upgrade?
Those customers who are currently using Dynamics NAV 2018 will continue to receive updates as normal until Fall 2018. At this point, Dynamics NAV will be rebranded to Dynamics 365 Business Central.
This rebrand will affect both cloud and on-premise versions of NAV 2018, so whichever deployment option customers are currently using, they will see the same name, features, and interface across the board.
Microsoft will continue to update and support Nav 2018/Business Central on-premise, so non-cloud users will not have to switch to the SaaS version if they don't feel it's the best solution for their needs.
Ready to get started with Dynamics 365 Business Central?
Browse our free database of qualified Dynamics professionals, and find your next consultant, administrator, or developer today.