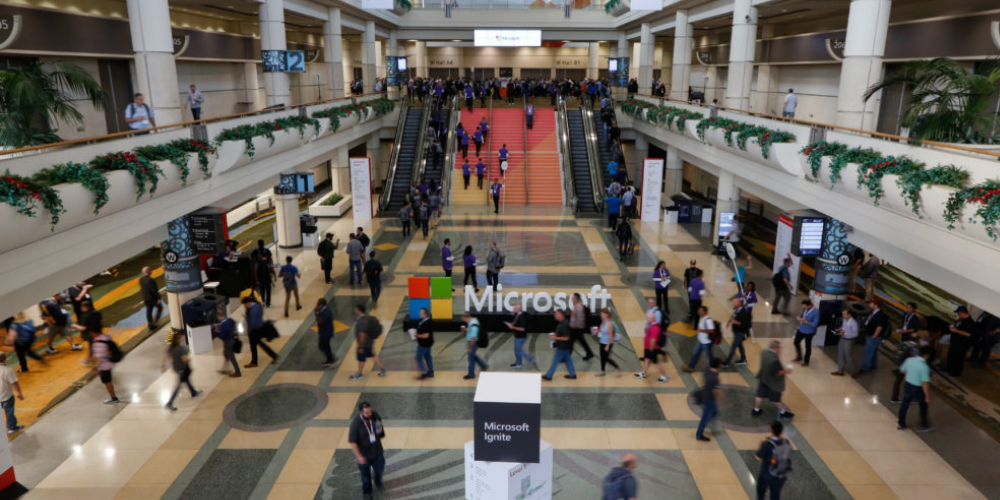 Image property of Microsoft.
Microsoft's largest partner event of the year is returning for another virtual event this week.
Over the years, the Inspire conference has become a hot ticket event, packed with legendary speakers, revolutionary keynotes, and innovative cloud-first strategy advice to help partners advance their knowledge and stay up to date with the latest news and products from the tech giant. 
The conference, which usually welcomes 15,000 partners through its doors each year, offers unlimited opportunities for advancing your business, through interaction with everyone from partners to industry leaders, and Microsoft experts.  
Despite an in-person event not going ahead in the name of health and safety again this year, there's still much to look forward to in the upcoming schedule. Stefano Demiliani, CTO for EID/Navlab had this to say about taking the conference online: "Going virtual isn't always a bad thing as it means more people can attend than live events that would have otherwise been limited by venue capacity.  
"In the case of Inspire specifically, it means partners like myself can benefit from hearing more talks shared by experts at Microsoft, and we can follow them whether we're in the office or on the go. Of course, it's disappointing that there isn't an opportunity for in-person networking, but hopefully we'll be able to do that safely again soon." 
So it's not all bad! The virtual version of the conference, which first took place last year, allows attendees to have even more control over their own schedule, so they can flexibly dip in and out of the keynotes that apply most to them.  
The line-up of speakers this year includes many inspiring faces from Microsoft, including CEO, Satya Nadella, CCO, Judson Althoff, and President, James Philips, all of which are proving popular with the many partners already signed up to the event.  
On the impressive line-up, Nishant Rana, MVP, MCC and Technology Lead at Microsoft Dynamics CE said: "I'm really looking forward to hearing from Satya Nadella as his talks are always great and insightful, but also James Philips as my primary skill is in Dynamics CRM.  
"I'm particularly keen to hear where Microsoft is headed next, and what the key points are with regards to Business Applications, as that'll directly feed into my main area of interest and expertise." 
For Microsoft Azure MVP, Jaap Brasser, Donovan Brown is the one to watch. Speaking exclusively to Nigel Frank, Brasser said: "I first had the pleasure of seeing [Donovan Brown] present in person at a small event in Amsterdam a couple of years ago.  
"He carries the DevOps message with great expertise and his sessions are always entertaining. There's plenty to learn from them." 
This year's Inspire agenda is set to cover everything from how Microsoft cloud enables digital transformations, to how it supports the new world of work, as well as tips for building a better foundation of trust and security within your IT systems. 
Andrey Baludin, Microsoft MVP and Solutions Architect at Awara IT said: "Partners working in businesses around the globe will want to pay close attention to themes around remote work organization, and how Microsoft are enhancing the technology of this in Windows 11. 
"Microsoft Teams is coming on leaps and bounds each month. It has been our main tool at Awara IT during COVID and now it's integrated with ERP systems like Business Central which is a focus of my work, so it's doubly as important. On that same note, I'd advise partners take note of sessions around Viva as it seems like that will be a must-have platform for us to use in future." 
Adding to this, Jaap Brasser said: "I predict that there will be a lot of discussion around the significant rise in cyberattacks over 2020, and perhaps even more so in 2021. 
"The business models of attackers seem to be more ironed out these days, and more parties are seeing evidence of the type of money they can gain by being involved in a well-executed attack on an organization. So, I believe Microsoft will have plans in store for not only collaborating better, but also making operations extra secure against this." 
Whether it's your first time attending Inspire, or you've not missed one yet, this years' keynote line-up is sure to pack a punch so make sure to get registered before Wednesday 14 July 2021 to learn the latest from the experts at Microsoft.  
Ready to take your career to the next level?
Check out our latest Microsoft technology job roles and make your move.