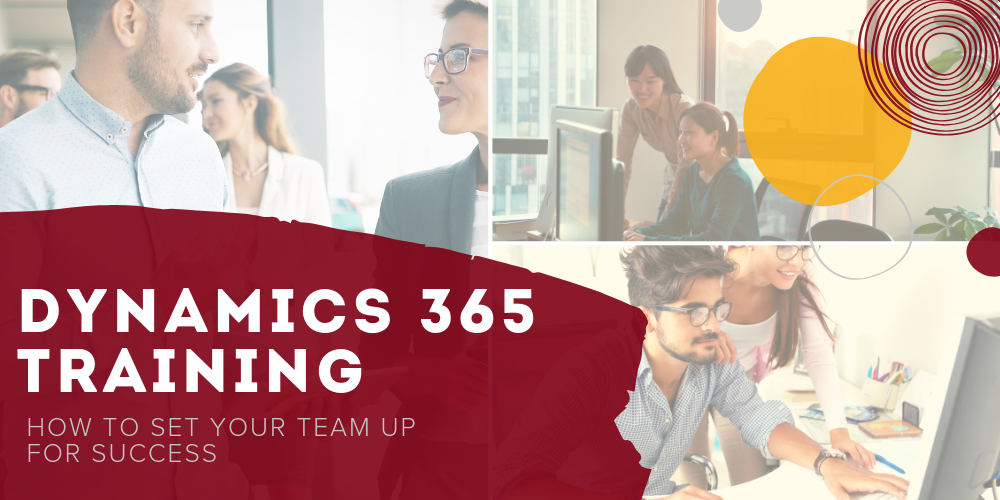 Since Dynamics 365 was rolled out in November 2016, businesses have been utilizing the cloud suite to overhaul the way they run both their back and frontend processes.
The benefits of digital transformation are obvious but rolling out a new system can seem like a mammoth task; one which requires a massive amount of planning, implementing and testing. Getting the new system up and running might seem like the greatest hurdle on a businesses' path to its digital makeover, but, in reality, it can be a breeze compared to the next step; user adoption.
Upgrading to a new system can do wonders for your organization's efficiency, productivity, and bottom line, but having valuable, innovative technology at your fingertips means nothing if your people aren't using it correctly (or at all).
People are often naturally resistant to change. If they spend their days using a certain system, they get used to that system, and can view any attempts to change the way they work as an inconvenience; something that might impact their productivity.
It's hugely important when implementing a new technology that action be taken to reduce this resistance; according to research by Forrester, lack of user adoption is responsible for 70% of failed CRM projects.
There are a number of ways to aid user adoption, and therefore avoid a potentially catastrophic waste of time, money and resources, but there's one step in particular that can make or break your new system; training.
If you're planning to kick off your business's digital transformation by revamping your CRM or ERP processes, not offering the right Dynamics 365 training to your employees could throw your entire plan off the rails.
Training is the foundation on which the success of a business solution is built, and not offering enough training can have a severe knock-on effect on your business. Not only will the new system not drive the results it could and should, if your people aren't properly engaged with the systems they use every day their overall engagement is likely to slump too. Unengaged employees can be hugely expensive, leading to lower productivity and high employee turnover.
Good training is not a cost, but an investment; how well your employees are using your new system is critical to your business results. Luckily, there are a number of places to find great Dynamics 365 training, whatever your circumstances.

Dynamics 365 classroom training
The traditional way of training up your team is to learn from a real live expert. Instructor-led, classroom-based training can give your employees hands-on product experience, with the added benefit of having a specially trained expert on hand to answer questions. Classroom training often features group activities and discussions, which can also be useful for getting the skills learned in training to stick.
There are several companies out there which offer instructor-led end-user training for Dynamics 365. A good training company will work with you to identify your training needs, and plan a bespoke training program around your team. Some companies such as DynamicsEdge will also send instructors to you for on-site training, if travelling off-site isn't an option. If you're looking for an official Microsoft Learning Partner to lead your Dynamics 365 classroom training, Microsoft has a list so you can find a trainer in your area.
Which type of training is right for your organization will depend on how many people you're needing to train, and the type of learning they're most comfortable with.
Many training companies recommend small groups of no more than six be trained at any one time so ensure trainees get the most out of the session. If you have a lot of employees, live instructor-led training may not be the best option.

Dynamics 365 online training
Another popular training option is e-learning. E-learning offers a huge number of benefits, including reduced costs and expenses, and the convenience of learning in your own time.
Microsoft offers online courses as part of its Microsoft Virtual Academy program, where users can view a series of short, informative videos and download transcripts of the training guides.
Most of the Dynamics 365 MVA guides are geared towards beginners, covering the basics of the major Dynamics 365 apps, but there are also some deeper-dives into areas such as reporting, integration with other Microsoft products, and even a special user adoption guide.
All courses on the MVA are free and available to anyone, and once you're registered you can take quizzes and assessments to test your new skills. Supporting materials for each video course can be downloaded for additional training and reference.
If you're already a Dynamics customer, you can also access additional Dynamics 365 training through CustomerSource. The Dynamics 365 CustomerSource site provides Dynamics users with fact sheets, presentations, learning plans, training materials, and how-to videos, as well as information on Microsoft certified classroom training and product user groups.
Online course provider Udemy has some low-priced Dynamics 365 training courses at around $20/£15 each. These introductory courses cover the basics of getting to grips with Dynamics 365, with some courses having a focus on either the CRM or the ERP side of Dynamics 365.
Using a similar on-demand video setup to Udemy, LinkedIn Learning's training library also has several Dynamics 365 training courses available. Ranging from "first look" introductory level guides, up to advanced techniques, two of these courses feature a focus on LinkedIn's integration with Dynamics 365. Unlike Udemy, which sells its training courses individually, LinkedIn Learning requires organizations to sign up to a plan, the cheapest of which costs $25.00/£12.95 per month, that gives users unlimited access to over 6,000 courses.
If you're looking for native, long-term support for your Dynamics 365 users, digital adoption software such as Iridize, Toonimo, or WalkMe could be an option. Built to help users get to grips with new platforms on the job, these programs provide Dynamics 365 provides users with walk-thrus, giving contextual, step by step instructions on how to use features, and help to complete tasks in real-time.
The platforms work by overlaying assistance interfaces on top of Dynamics 365, simplifying the user experience without affecting the underlying systems. Pop-ups point users in the right direction when requested, making either platform a great option for ongoing training, and allowing users to take charge of their own learning as they go.
Personalized training and engagement platforms such as these can massively reduce support requests by new users, and both platforms feature analytic capabilities which can help highlight successes and shortcomings in user training.
Pricing for such software will depend on how many users you have and how often they'll need access, but there are also free versions so you can try them out before you commit.
If you like the idea of instructor-led training, but can't get to a training location, or employ remote workers, you can opt for instructor-led online training from companies such as Koenig. ILO training allows participants access to a certified professional trainer, with the added flexibility of selecting a time and place to suit your whole team.

Free Dynamics 365 training
As well as the video guides featured on the Microsoft Virtual Academy, Microsoft also provides free, extensive training and adoption guides for Dynamics 365.
With editions covering Customer, Engagement Basics, Dynamics 365 for Sales, Dynamics 365 for Service, Dynamics 365 for Field Service, and Dynamics 365 for Project Service Automation, these guides come in the form of Word documents, so you can edit and adapt them for your organization.
In-person user groups and events, online forums such as Reddit, Dynamics Community message boards, YouTube videos, and countless Dynamics 365 Facebook and LinkedIn groups can also offer free support.

Dynamics 365 certifications
Of course, it's not viable to get all of your Dynamics 365 users certified, but certification could be a good option to bolster your organization's in-house knowledge library.
If you've got a tech-savvy employee who's willing to take the lead on helping their colleagues on their user adoption journey, supporting your 365 champ through the certification process is a great way to not only empower your most skilled employees, but also helps carry specialist expertise back to your team.
While all employees should have access to training that allows them to do their jobs, having a designated superuser in your organization essentially allows you to funnel additional knowledge to your team, without having every employee go through training.
A superuser will know your organization better than any outside trainer could, and can help trickle-down skills to their colleagues over time, allowing employees to learn from someone they might be more comfortable with, at their own pace. There's even an add-in for Dynamics 365, which allows more experienced employees to disseminate their know-how to their teams through the app interface itself.
Coaching from Microsoft Labs enables users to create knowledge guides and attach them to certain areas of the interface, offering contextual assistance when it's required. So, rather than having each member of your team asking your super-user questions each time they hit a particular area of the system they're unsure of, they can simply click on the knowledge guide attached to that particular feature or process, and get guidance on the task at hand.
At the time of writing, there are a number of Dynamics 365 certifications available: one Fundamental-level certification that covers the basics of the Dynamics product family, a mid-level MCSA focusing on Dynamics 365 for Finance and Operations, a top-level MCSE covering multiple products, and seven app-aligned badges designed for Functional Consultants.
If you're looking to certify your superuser, the best bet would be the Microsoft Certified: Dynamics 365 Fundamentals, which verifies a wide range of knowledge including cloud computing concepts, licensing, onboarding processes, deployment, release options, and support.
More Microsoft technology professionals than anyone else.
Browse pre-qualified candidates now and find the talent you need to transform your business.