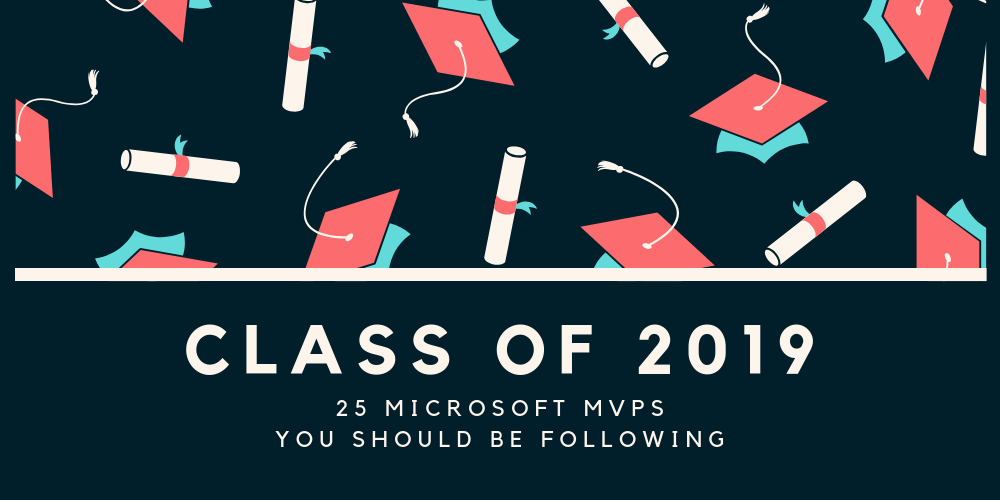 July 1st is one of the most exciting (and stressful) days for Microsoft professionals around the globe.
This hallowed time, bang in the middle of the year, is MVP notification day—the day that those embroiled in the Microsoft ecosystem find out whether they've been anointed, or renewed, as an MVP.
The Microsoft MVP Award is handed out every year to acknowledge the contributions of tech professionals who are making a positive impact in the Microsoft community. The MVP—or Most Valuable Professional—program recognizes those who take time to evangelize, advocate for, and share knowledge of Microsoft products and services.
There's an important distinction when it comes to defining an MVP; they can't be Microsoft employees, and all of their advocacy must be done in their spare time, rather than as part of their day job, for the good of the community.
Active MVPs receive a number of perks in return for their efforts, including early access to new products, access to Microsoft product teams, and an invitation to the annual Global MVP Summit, where MVPs are invited to Microsoft HQ in Redmond, Washington.
MVPs write about the products they work with, answer questions from users on forums and other online channels, speak at tech conferences, host user groups, and contribute to Open Source projects.
Giving back to the community, supporting the ecosystem, and sharing knowledge is a major part of the deal. That's fantastic news for users of Microsoft products and tech enthusiasts at large, who're able to benefit from the work of blogger, speaker, and social media guru MVPs who dedicate heaps of time to helping others make the most of Microsoft tech.
MVP status is a reflection of the efforts that these outstanding professionals put into their ecosystems—so huge congratulations to all the new and renewed MVPs of 2019/2020.
Following MVPs via Twitter, LinkedIn, or on their own blogs is a fantastic way to learn more about Microsoft products and services and stay updated on the latest developments. With 2,634 MVP awards issued in the 2019/2020 cycle, we can't give shout-outs to them all, but here are a few notable pros who've landed MVP status this year that you should be following.

Kyle Ruddy
Award category: Cloud and Datacenter Management
First MVP award: 2018
Twitter: @kmruddy
A Senior Architect and virtualization expert, Kyle Ruddy specializes in vSphere and VMware. Kyle is also a veteran vExpert, and blogs about DCLI, NSX, PowerCLI, and PowerShell among other things. An advocate for automation, Kyle can regularly be found speaking at conferences and user groups; in fact, he's such a staple of the VMware community, he even has his own hashtag #kyleruddyfacts.

Chrissy LeMaire
Award category: Cloud and Datacenter Management
First MVP award: 2015
Twitter: @cl
Chrissy LeMaire is the holder of not one, but two MVP awards; one in Cloud and Datacenter Management, and one in Data Platform. With more than two decades of IT experience and a master's degree in Systems Engineering under her belt, Chrissy currently works as an Automation Engineer, focusing on SQL Server, Security, and PowerShell.
The creator of the popular SQL PowerShell module dbatools, Chrissy holds a range of certifications in areas like SQL Server, Linux, SharePoint, and network security. As well as being a member of PowerShellLive, a Twitch streaming group, she's also the brains behind the number one Cajun recipe website in the world—talk about multitalented!

Zeng Yinghua (Sandy)
Award category: Enterprise Mobility
First MVP award: 2018
Twitter: @sandy_tsang
Zeng Yinghua (also known as Sandy) has been working in the IT sector for a decade. Specializing in Modern Device Management planning and implementation, Sandy has generated heaps of experience with ConfigMgr, MDT, Group Policy, software packaging and workstation problem-solving.
Sandy is also the founder of The SCCM Blog, where she offers troubleshooting advice on subjects like Windows 10 and Microsoft InTune, and also writes at SCConfigMgr.

Ruben Spruijt
Award category: Enterprise Mobility
First MVP award: 2008
Twitter: @rspruijt
Ruben Spruijt is a Senior Technologist, author, and speaker. Formerly CTO at VDI solutions provider Frame and a NVIDIA GRID Community Advisor, Ruben's expertise lies in the End User Computing sector. As the founder of several independent bodies including Project Virtual Reality Check, Team Remote Graphics Experts, WhatMatrix, and AppVirtGURU, Ruben has written many disruptive research papers on the subject.
Ruben doesn't only share his knowledge in writing; he's also an accomplished speaker and has presented more than 450 sessions at major global events like Microsoft Ignite, Microsoft TechEd, Gartner Catalyst, and VMworld.

Thomas Poppelgaard
Award category: Enterprise Mobility
First MVP award: 2015
Twitter: @_poppelgaard
Thomas Poppelgaard is an independent consultant and Technology Evangelist with more than 20 years' experience in the IT industry. Through his own company, Thomas works with businesses across a range of industries to design, plan, and implement solutions using Citrix, VMware, and Microsoft tools.
Thomas is also an expert in augmented, virtual, and mixed reality solutions like Microsoft HoloLens. He regularly speaks at worldwide tech conferences and is a go-to professional for sessions on things like graphics and virtual reality, and removing boundaries in AR and VR technology. He also regularly blogs about Azure virtualization over on his website.

Ragnar Heil
Award category: Office Apps and Services
First MVP award: 2017
Twitter: @ragnarh
An Office Productivity specialist with decades of experience with products like SharePoint, Office 365, Skype, Teams, and Yammer, Ragnar Heil is a former Microsoft employee currently working as an account manager.
As well as blogging about Microsoft 365 and everything it entails, Ragnar also reviews all kinds of tech hardware, and is a founding member the Working Out Loud community in Germany, which promotes an innovative approach to achieving goals by fostering collaboration in enterprise social networks.

Martina Grom
Award category: Office Apps and Services
First MVP award: 2011
Twitter: @magrom
Martina Grom is a consultant specializing in Office 365, Microsoft 365 and Azure, and has worked in IT since 1995. She is also the co-founder and CEO of Microsoft Gold Partner atwork, and contributes to the organization's blog offering advice on all aspects of Windows and Office 365 administration and governance. Recognized as an expert in Microsoft Office Online Services, Martina was one of the first MVPs to be awarded for their expertise in Office 365.

Matt Wade
Award category: Office Apps and Services
First MVP award: 2018
Twitter: @thatmattwade
Well-known for his Periodic Table of Office 365, Matt Wade is a former engineer and current IT nerd who began his career designing mechanical systems for US Navy nuclear reactors. He got the Microsoft bug when SharePoint 2007 arrived on the scene, and Matt used the platform to organize content, becoming a SharePoint superuser in the process.
After leading on SharePoint user adoption for several years and taking part in a number of migrations, Matt now consults around the world on Office 365 migration and adoption. He also specializes in AI and bots.

Erica Toelle
Award category: Office Apps and Services
First MVP award: 2018
Twitter: @EricaToelle
A Product Evangelist and an internationally renowned speaker, Erica Toelle has been helping users get more out of SharePoint for almost 15 years.
Erica regularly shares her expertise on SharePoint, Office 365, Microsoft Teams and other productivity tools at conferences and user groups, through webinars, and over on her blog.
As a consultant, Erica has worked with more than 50 of the Fortune 500, Microsoft's own SharePoint and Teams Product Groups, and Microsoft IT, and came in at number 13 on the 2018 International SharePoint Influencer list.

Nishant Rana
Award category: Business Applications
First MVP award: 2017
Twitter: @nishantranaCRM
Nishant Rana is a Microsoft Business Solutions MVP with over ten years' experience in analyzing, designing, and developing Dynamics CRM.
An avid blogger and contributor to the Dynamics community, he recently co-authored a book on Dynamics 365 titled Dynamics 365 Application Development. Nishant also holds certifications in SharePoint and .NET.

Jukka Niiranen
Award category: Business Applications
First MVP award: 2013
Twitter: @jukkan
Jukka Niiranen is a Product Lead specializing in Microsoft Business Applications. Jukka first encountered the Dynamics family of products in 2005, when he worked for an end user who was implementing CRM 3.0. After learning more about Dynamics CRM, Jukka joined a Microsoft partner organization and undertook a role as a senior CRM consultant.
With more than 15 years' experience helping Dynamics users improve how they manage customer data, build loyalty programs, and market their businesses, Jukka now focuses on delivering Dynamics 365 Customer Engagement solutions. Jukka is extremely active in the Dynamics 365 community, regularly sharing news, tips and advice on social media and his Surviving CRM blog.

Melissa Hubbard
Award category: Business Applications
First MVP award: 2017
Twitter: @melihubb
Digital workplace guru Melissa Hubbard is an expert in all things Microsoft productivity, including Office 365, Flow, Teams, and SharePoint. Not only is she a Business Applications MVP, but she's also this year been bestowed with a second MVP award in the Office Apps and Services!
A talented speaker and author of the book Mastering Microsoft Teams, Melissa blogs about driving productivity and boosting collaboration, covering topics like user adoption, governance, and training. Melissa is also a semi-retired amateur Muay Thai fighter!

Kylie Kiser
Award category: Business Applications
First MVP award: 2019
Twitter: @KylieKiser
A first-time MVP for 2019, Kylie Kiser a Dynamics CRM Product Owner and all-around CRM enthusiast. Since starting work with Dynamics in 2010, Kylie has participated in implementations, upgrades, and customizations for countless customers, and often shares her expertise in webinars and blog posts.
Kylie is a regular speaker at Dynamics events and user groups (usually accompanied by her furry companion, Hashtag the Monkey). She's also been the chapter leader of Washington DC's D365/CRM User Group since 2013.

Malin Donoso Martnes
Award category: Business Applications
First MVP award: 2019
Twitter: @MalinMartnes
Malin Donoso Martnes is a Dynamics 365 for Talent expert and ground-breaking Dynamics professional: the only female Business Applications MVP in Norway, Malin was also the second person in the world to earn Microsoft's MB6-898 Dynamics 365 for Talent certification. Currently working as a senior Dynamics 365 Consultant, Malin first began working with Dynamics CRM back in 2009, before becoming a CRM Consultant in 2014.
A huge sharer of knowledge, Malin shouts about Dynamics 365 for Talent wherever and whenever she can—she's a prolific blogger and between October 2018 and March 2019, she wrote and published at least one blog post every working day. That's 140 posts in 133 days! Malin regularly shares advice not only about the technical workings of Dynamics 365 for Talent, but how to utilize it in wider hiring strategies to improve HR procedures.

Mike Benkovich
Award category: Microsoft Azure
First MVP award: 2016
Twitter: @mbenko
A software architect, Azure expert, and former Microsoft evangelist, Mike Benkovich dedicates huge amounts of his time to helping his fellow developers and burgeoning programmerss learn about new technologies and platforms.
Mike's website equips developers with tips and resources to help them get to grips with technologies including cloud, data and devices, and produces online courses covering areas like Azure enterprise development and serverless computing. Mike is also a chronic sharer of puns, so head over to his Twitter feed if you're after a laugh (or a groan).

Tomasso Groenendijk
Award category: Microsoft Azure
First MVP award: 2016
Twitter: @tlagroenendijk
A Solution Architect and Azure expert, Tomasso Groenendijk has 20 years' experience in software development, having begun his career developing applications and websites. After going on to specialize in application integration, he developed a strong interest in Microsoft Azure. Tomasso is a frequent contributor to the BizTalk community, and blogs on his itHero website.

Dan Toomey
Award category: Microsoft Azure
First MVP award: 2017
Twitter: @daniel2me
Dan Toomey is a blogger, author, speaker, webcaster and a Specialist Senior Manager at Deloitte Consulting. Specializing in middleware platforms like BizTalk Server, Windows Communication Foundation, and Azure technologies such as Service Fabric, Logic Apps, and Service Bus, Dan has more than 15 years' experience integrating communication systems for enterprise businesses.
Dan is also a Microsoft Certified Trainer, spending a lot of time helping others get to grips with Microsoft tech. In 2005, Dan founded the Brisbane BizTalk User Group, and became chapter leader of Brisbane's Azure User Group nine years later. Dan can often be found presenting sessions at events like Integrate, Microsoft Ignite, and Global Azure Bootcamp.

Jaap Brasser
Award category: Microsoft Azure
First MVP award: 2015
Twitter: @Jaap_Brasser
A Technical Marketing Engineer with more than a decade of IT experience, Jaap Brasser is a PowerShell champion and automation enthusiast.
Jaap specializes in designing infrastructure, carrying out migrations and using Microsoft solutions to solve business problems.
A regular face at Azure and PowerShell events, Jaap often posts his sessions on his blog to help the community learn more about how to automate processes using Microsoft tools.

Aram Koukia
Award category: Microsoft Azure
First MVP award: 2015
Twitter: @aramkoukia
An architect and software developer with more than 15 years under his belt, Aram Koukia is an Azure pro with experience in areas like API, storage, and Active Directory.
If you're looking for tips on developing for Azure and advice on general Azure functionality, Aram's blog is a great resource. Aram has also authored online courses for Azure Developers, and often contributes to and shares projects on GitHub.

Sarah Dutkiewicz
Award category: 2009
First MVP award: Developer Technologies
Twitter: @sadukie
Sarah Dutkiewicz, better known in tech circles as Sadukie, is a cross-platform tech whizz who specializes in onboarding, UX, and user adoption across a range of technologies. Sarah's expertise is especially strong in areas like Azure DevOps, Python, Data Science, as well as community-wide issues like leadership, diversity, and mentoring.
A published technical author and blogger, Sarah is also a regular contributor to—and organizer of—tech events and conferences, as well as being an experienced software developer.

Deborah Kurata
Award category: Developer Technologies
First MVP award: 2004
Twitter: @DeborahKurata
Software developer, independent consultant, author, speaker, and prolific creator of online courses, Deborah Kurata does it all. Concentrating on web and .NET development using tools like Angular, C#, and VB.NET, Deborah has authored 16 programming courses on Pluralsight, as well as several books on development including the well-known Doing Objects series.
She's also a regular speaker at events like VSLive! and TechEd, and acts as co-chair of the East Bay.NET user group in the San Francisco Bay/Silicon Valley area.

Fanie Reynders
Award category: Developer Technologies
Award category: 2014
Twitter: @FanieReynders
Fanie Reynders is an architect and technology evangelist who's big into coding, architecture, and cutting-edge tech of any and every kind.
A Microsoft C# pro, Fanie is a huge advocate of social coding, and is a regular contributor to platforms like GitHub and CoderBits.
He's also an avid streamer, and often shares live coding sessions and programming advice on his YouTube channel. Via his blog, Fanie offers tips and techniques to fellow programmers to help them get the most out of .NET and ASP.NET. He even wrote a book on using ASP.NET Core 2 to create web APIs.
Evelina Gabasova

Award category: Developer Technologies
First MVP award: 2016
Twitter: @evelgab
Dr. Evelina Gabasova is a Principal Research Data Scientist at The Alan Turing Institute, the UK's national institute for data science and artificial intelligence. A massive advocate for making data science accessible, Evelina works to map academic research to real-life use cases.
Evelina began her career as a software developer before getting the machine learning bug, and is an active member of the F# open source community.
She's a regular speaker at developer events and has spoken at a huge number of international conferences in the past five years. As well as being a contributor to GitHub, and author of academic papers, Evelina also has a blog where she publishes fascinating data deep dives, like her exhaustive and mind-blowing data analysis of social connections within the Star Wars universe (do not click this link unless you have several hours spare to go down an analytical rabbit hole).

Leila Etaati
Award category: Data Platform and AI
First MVP award: 2016
Twitter: @leila_etaati
Leila Etaati is another double-MVP, having landed awards in both the Data Platform and AI categories. A Ph.D., mentor, trainer, consultant, and world-renowned speaker, Leila has presented at some of the Microsoft community's biggest events, like Ignite, Data Insight Summit, and SQL PASS.
With over ten years' experience with SQL server, Leila has become an expert in business intelligence and machine learning. The author of Analytics with Power BI and R, and the founder of data analysis superstar consultancy RADACAD, Leila is a regular sharer of knowledge through the RADACAD blog, covering everything from automated machine learning to Power BI tips and tricks.

Paul Andrew
Award category: Data Platform
First MVP award: 2017
Twitter: @mrpaulandrew
A big data guru, principal consultant, and architect, Paul Andrew knows Microsoft Azure. Paul shares his expertise through his blog, and as a speaker at and organizer of worldwide tech events. Specializing in all things data on Azure—from Azure Data Factory and Data Lake to IoT, Functions, and Automation—Paul is also well-acquainted with the SQL Server business intelligence stack.
Paul is a big advocate for the STEM sector, and an active member of the data platform community, including contributing to GitHub and Stack Overflow. He regularly delivers training and tech sessions at conferences and user groups, as well as sharing advice and big data how-tos on his blog.
Ready to take your career to the next level?
Check out our latest Microsoft technology job roles and make your move.