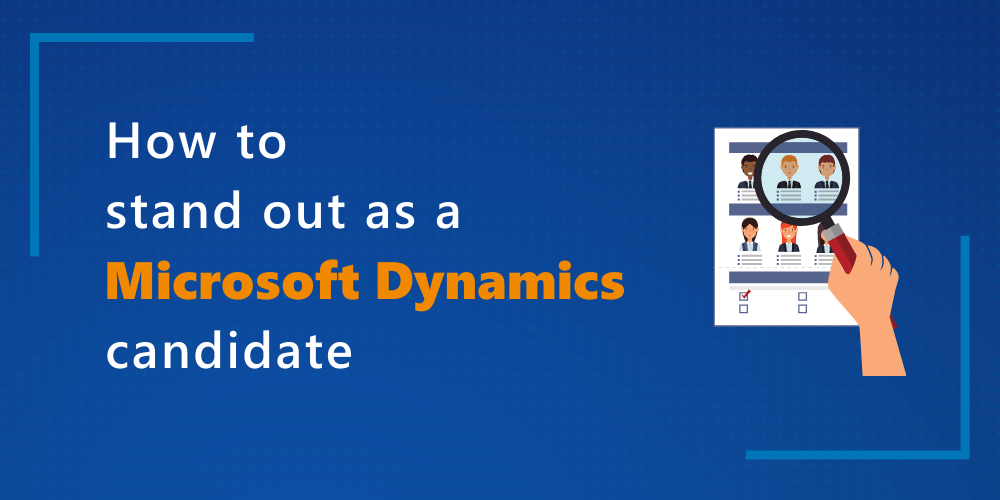 Standing out during the recruitment process is tough – particularly in an increasingly competitive job market. So, whether you're looking for your first job, a new role, or even looking at progressing in your current one, discovering what makes recruiters sit up and notice you from your peers is vital.
This is why we've put together some of our top tips that will help you stand out as a Microsoft Dynamics candidate.
Know your competition
If you want to set yourself apart from your peers – you need to know what they can offer, particularly what experience they have and which certifications they hold. Through our latest salary survey, we've learned that when it comes to the Microsoft Dynamics ecosystem, there seems to be a good spread in terms of general tech background, with an average of between 6 and 20 years.
There's also a good mix of platforms candidates have worked with before organically moving towards a Dynamics specialism, although the overwhelming majority of people entering have at least one years' experience of the platform. This means that if you haven't been working with Dynamics for long, then you really need to pay attention to what is going to make you stand out when it comes to applying for new roles.
Get certified
Certifications matter, particularly in the recruitment process. Apart from being a benchmark for employers, they're also one way of measuring your commitment to learning about Microsoft Dynamics, as well as a way of staying up-to-date with the platform.
When it comes to Dynamics, Microsoft offers its own learning platform, which is perhaps the most recognizable way of getting certified. The learning pathways on Microsoft Learn are designed to demonstrate skills rather than just to assess your knowledge about them, which really helps bridge the gap between training and real-life experience.
If you're still at the start of your career with Dynamics, consider the Fundamentals Certifications, which equips you with the foundational skills and requires no previous experience. These serve as a foundation to the Role-based Certifications, which focus on preparing candidates to perform industry job roles on Microsoft platforms and technologies. Finally, Speciality Certifications validate deep technical skills as well as the ability to manage industry solutions. If you're unsure which Dynamics 365 certification is right for you, you can find more information on this Microsoft Learn Blog post.
Whichever you choose to go for, certifications make you stand out, demonstrate your knowledge, and highlight your desire to improve. And, with 54% of respondents to our Dynamics Salary Survey holding at least one Microsoft certification, and 9% currently working towards one, getting certified is essential if you truly want to remain competitive within the hiring market. Whether you're part of the 68% of professionals whose employers paid in full for their certifications or not, investing in your career development will prove to be priceless going forward.
One way of arming yourself with the necessary skills to stand out is self-learning. The following are some of the best resources you can use to increase your Dynamics knowledge, as well as stay up to date with the latest news in the industry.
Self-learning is a tangible way of demonstrating soft skills, that are by nature harder to showcase than hard and technical skills. Potential employers not only see the skills you've learnt through self-learning but also a hunger to learn and develop, as well as resourcefulness and self-discipline – all of which are traits that'll set you apart from the competition and can improve the likelihood of getting hired.
Looking for your next great Dynamics job?
More choice than anyone other agency. Browse our jobs and find your dream role today.
Match the supply with demand
If you are thinking about certifications, but you're not quite sure on where to begin or which products to focus on, take some time to look at which are the most used Dynamics products around the ecosystem. We asked Dynamics professionals which products they used in our Microsoft Dynamics Salary Survey:
Which Microsoft Dynamics products do end-users in particular use?
Microsoft Dynamics AX (48%)
Microsoft Dynamics CRM (44%)
Microsoft Dynamics NAV (34%)
Microsoft Dynamics 365 for Finance and Operations (30%)
Microsoft Dynamics 365 Sales (18%)
What is the most in-demand Microsoft Dynamics product with partner clients?
Microsoft Dynamics 365 for Finance and Operations (43%)
Microsoft Dynamics CRM (29%)
Microsoft Dynamics 365 Business Central (26%)
Microsoft Dynamics 365 Sales (25%)
Microsoft Dynamics AX (22%)
These products are usually the ones that employers are most probably looking for candidates to have experience with or the products that will be mentioned in job ads – usually a good indicator as to which skills candidates must have. So, it's highly recommended to look at these products and invest time into learning those you're unfamiliar with. If you want to get ahead of the curve, try looking into which Dynamics products organizations are planning on upgrading to. Getting started on these products now will give you an edge over your peers. These past months have taught businesses the importance of forward-looking, so having someone on board that already knows these products will make you much more valuable to employers in the long run.
Optimize your Microsoft Dynamics resume
The number of candidates who do not get invited to interview despite having the experience and skills for the role is astounding – and most times, a candidate's resume is what makes the difference. This is where hiring managers get their first impression of you, so you'll want to make a good one. A strong resume should be clear, concise, and inclusive of all the skills and experiences relevant to the position – including anything that went beyond your original job description. Often, candidates are reluctant to mention that they covered two or three roles because the company they worked for was understaffed, or that perhaps they were exposed to big projects solely because they were the only person with the right competencies in the company.
One other crucial factor is choosing the right wording. Before sending your application, check that the skills listed on the job ad are included in your resume. Hiring managers are said to spend an average of 5-7 seconds looking at a resume, so you'll want to make sure that yours stands out from the rest and presents them with what they're looking for at a glance. It is highly unlikely that they'll have the time to guess what you might know, so if you do have the right skills and experience, spending those extra five or ten minutes comparing your resume to the job description will highly increase your chances of getting called in for an interview.
You can find more tips and tricks on how to stand out on our latest webinar. Led by Dynamics recruitment expert Michael Day, Senior Vice President at Nigel Frank International, and Nancy Tandy, Go to Market Lead for Business Applications, Certification, and Training at Microsoft, we discuss the best ways to develop your skillset, certifications, and more.
---
Want to see the latest Dynamics salaries?
Get the inside track on compensation, market trends, and desirable skills in the Dynamics ecosystem with our Microsoft Dynamics Salary Survey.