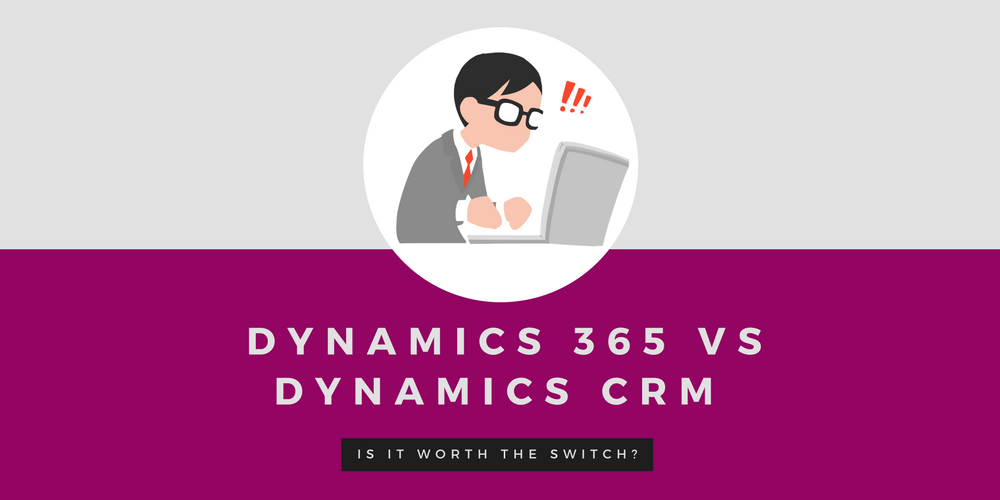 If you're a Dynamics CRM user, by now you'll undoubtedly have heard about Dynamics 365.

Since its grand unveiling in late 2016, Dynamics 365 has been picking up steam, with both new and loyal Dynamics users beginning to shed their hesitancy of adopting such a green product, and taking advantage of the suite's functionality, flexibility, and cost-effectiveness.
It's clear that Dynamics 365 is the future of Microsoft's business applications wing, and the company has already made amendments to the way the product is deployed and licensed to make Dynamics 365 as appealing to as many businesses as possible.
But if you're already using Dynamics, is it worth making the switch?
Dynamics CRM vs Dynamics 365: what's the difference?
Let's start with the basics; what's the difference between Dynamics CRM and Dynamics 365?
Launched in 2003, Dynamics CRM was created to act as the customer relationship management arm of Microsoft's new Dynamics suite of business software, assisting organizations with front-of-house operations such as sales, customer service, and marketing.
Over the next fifteen years, Dynamics CRM enjoyed many major updates, amassing over 40,000 customers in the process.
Intended to be the new face of Microsoft's Dynamics suite, Dynamics 365 was released in November 2016 and rolled together new versions of previous Dynamics programs under one umbrella brand.
Under the Dynamics 365 standard sits several apps offering both CRM and ERP functionality, meaning businesses can operate all of their front- and back-end operations from a single, unified platform. Dynamics products CRM, AX, and NAV formed the basis for the new Dynamics 365 apps, being updated and rebranded as part of the new suite.
Dynamics CRM, for example, was revamped and split into two modular apps; Dynamics 365 for Sales, and Dynamics 365 for Customer Service, with a third app, Dynamics 365 for Marketing, set to be released early in 2018. Social media features are contained within an integrated app, Microsoft Social Engagement, which comes free with any Sales or Customer Service license.
Dynamics 365 for Sales features the same core sales and marketing features seen in the most recent version of Dynamics CRM, including management of leads, quotes, orders, and invoices, and the ability to construct and execute marketing campaigns.
The customer service functionality of Dynamics CRM is now housed within Dynamics 365 for Customer Service, and includes aspects such as case management, entitlements, Service Level Agreements, Unified Service Desk, queues and knowledge bases.
The as-yet-unreleased Dynamics 365 for Marketing will capitalize on Microsoft's partnership with Adobe Marketing Cloud to offer more in-depth marketing functionality and campaign management.
Dynamics 365 also features many new apps that complement its CRM offering.
Dynamics 365 for Project Service Automation aims to help project-based businesses work more efficiently by offering project and resource planning and scheduling, time and expense management, and service analytics functions alongside automation technology.
Dynamics 365 for Field Service is intended for organizations that have operatives who work in the field, and includes features such as work order management, scheduling, invoicing, time management, inventory management and territory management.
The original Dynamics CRM software was taken off the shelf in July 2017 — although existing Dynamics CRM customers can still use and purchase additional user licenses for the software up until their annual renewal date, it is no longer available to new customers. Any organization wishing to buy a Dynamics CRM solution must now choose from the new Dynamics 365 apps.
Want the inside scoop on the Dynamics industry?
Nigel Frank International's annual Microsoft Dynamics salary survey report examines salaries, benefits, skills, motivations, sentiments, and movements across the global Microsoft Dynamics partner, ISV, and Microsoft Dynamics customer communities.
How do the features compare?
Dynamics 365 for Sales, Customer Service, Marketing, and Microsoft Social Engagement — which we'll collectively refer to as Dynamics 365 CRM for brevity — are based closely on the original Dynamics CRM software.
All features previously seen in Dynamics CRM are present in Dynamics 365 CRM, and though Dynamics 365 was only released in late 2016, there have already been new features added. Below are just a few of the current features and services exclusive to Dynamics 365:
Deeper LinkedIn integration
Dynamics 365 users will benefit enormously from Microsoft's 2016 acquisition of LinkedIn, and are already beginning to see how data from LinkedIn's 500m users will integrate with Dynamics 365's CRM apps. With LinkedIn data natively built into Dynamics 365 via Microsoft Relationship Sales, users can find and build relationships with the right people more efficiently.
Power BI
Dynamics 365 users can visualize their data and generate more in-depth reports by adding Power BI to their CRM interface. Once connected, all of Power BI's capabilities are accessible without ever having to leave Dynamics 365.
Microsoft Flow and PowerApps
Microsoft PowerApps and Microsoft Flow are new tools designed to help users create and customize within Dynamics 365, with no coding required. PowerApps is a drag-and-drop app builder that allows users to create new apps that connect to your systems, generate new data, and can be used on web or mobile without any specialist development knowledge.
Flow enables users to create automated workflows between programs, including third-party apps. For example, you could set up a workflow that looks out for people tweeting about your brand. When a new tweet is sent, the workflow sends you an email notification, adds the tweet to a spreadsheet, and adds a new customer record to Dynamics 365.
AI and machine learning
Dynamics 365 is infused with machine learning capabilities that allow the software to learn without having to be explicitly programmed to do so. By learning from the data it holds and the processes it carries out, Dynamics 365 can not only offer more intelligent, contextual analysis, but also make predictions and offer actionable next steps.
Business Process Flow Enhancements
Business Process Flows will be familiar to Dynamics CRM users, but in Dynamics 365 they've had a bit of a revamp. Among the new features available is the ability to set BPFs to Active, Inactive, or Abandoned, and build new workflows using a drag-and-drop designer.
Editable Grids
New editable grid functionality makes manually updating records much simpler by allowing users to perform inline editing of records both in the web interface and on mobile.
Email Engagement
The new Email Engagement features enable users to track emails sent through Dynamics 365, and see whether, and when, the recipient has opened an email, clicked a link, or viewed an attachment.
Relationship Insights
Relationship Insights analyzes data from both Dynamics 365 and Exchange to offer actionable information about your customer relationships, making sure no useful data from your emails falls through the cracks. This new feature scans emails to remind you of upcoming deadlines and meetings, identifies opportunities, and prompts you to follow up on any leads or conversations you might have missed.
Mobility enhancements
Improved integration with mobile devices allows Dynamics 365 to access mobile features like cameras, and data such as geolocation. There's also enhanced access to CRM functions on mobile, including editable grids, new layout and views, and Power BI.
Relevance search enhancements
Improved global search features allow you to perform searches not only of your own records, but also shared records, notes, emails, and appointments; results of which can then be filtered down to find what you're looking for quickly.
Learning Paths
Dynamics 365's Learning Path feature enables users to create guided learning for new users throughout the solution. Customizable help windows and pop-ups help point users in the right direction from within the interface, improving user experience and helping boost adoption.
What's coming up in Dynamics 365 for CRM?
Although Dynamics 365 CRM boasts a number of features that set it apart from its most recent predecessor, Dynamics CRM 2016, it's what the future holds for Dynamics 365 that makes it really exciting.
Dynamics 365 is frequently updated, ensuring users are always party to the latest developments and features. The most recent update, Dynamics 365 v9.0, gave the product a facelift, bringing a slicker, more user-friendly look to both the web and mobile interfaces. It also included new customer service tools, a new Dynamics 365 app for Outlook, and improved connectivity between Sales and LinkedIn.
Some updates in Dynamics 365 are mandatory, but most of the time admins will need to approve any updates before they take effect.
Though Microsoft will continue to provide support for Dynamics CRM, its focus on updates and new features sits squarely with Dynamics 365. Users wanting to get the most out of these new developments will need to switch to Dynamics 365 sooner rather than later; further updates will be rolled out to Dynamics 365 long before they reach older versions of Dynamics CRM, if they are included at all.
Microsoft's product roadmap for Dynamics 365 shows a vast array of features that the Dynamics team is currently working on bringing to Dynamics 365 CRM. Here are just a few examples:
Digital assistant
Microsoft is working on delivering a scalable digital assistant experience into Dynamics 365, allowing users to utilize a Cortana-like AI assistant to help them manage tasks and reports within the product.
Backup and restore
Dynamics 365 online customers will soon be able to perform their own secure data backups and restores in accordance with their own individual data recovery plans. Users will also be able to backup to an on-premise environment.
Attachments to knowledge articles
CRM knowledge bases will get an enhancement when the ability to add notes and attachments to articles is added.
Workflow features
New automation features which trigger on-demand tasks and actions when certain buttons in the interface are selected.
LinkedIn Lead Gen Form integration
The Microsoft Dynamics 365 Connector for LinkedIn Lead Gen Forms will allow users to automatically sync leads from multiple LinkedIn accounts with Dynamics 365, so that they can be bettered tracked, nurtured and analyzed.
New design features
Users will soon be able to more extensively customize the Dynamics 365 interface to their preference, with newly supported design features such as modern vector icons, intelligent theming, timeline views, improved forms, grids and lists, and a new sitemap.
Relationship Analytics
The Relationship Analytics feature will continuously analyze your customer data to give you a better picture of your business relationships. The new function will help pinpoint customer relationships that need extra attention, identify your most active salespeople and customers, and view KPI data like the volume of communications, response rate and response time to make sure you're using your time efficiently.
How does the licensing and pricing differ?
With the original Dynamics CRM program, users would purchase a single app, meaning if they only wanted sales functions, or used another platform for their marketing, they were ostensibly paying for features they didn't use.
There are also four different levels of access with Dynamics CRM; with Dynamics 365, there are only two, Full User and Team Member, giving full users more access for less cost, and saving customers money on licenses for light users.
Dynamics 365 splits the three critical aspects of customer relationship management into three chunks, so users can pick and choose the functions they need. Users choosing to license all three apps can do so at a discounted rate by selecting a bundle.
To purchase licenses for each CRM app separately would total $380 per Full User, and $32 per Team Member. All of the below apps are included in the Customer Engagement Plan, which costs $115 per Full User, and $8 per Team Member.
Customers that opt for a cloud-based version of Dynamics 365 will benefit from tiered pricing options, which give a further discount based on how many user licenses are purchased.
Dynamics CRM
License
Price
Enterprise
$200
Professional
$65
Basic
$30
Essential
$15
App
Full User price
Team Member Price
Sales
$95
$8
Customer service
$95
$8
Project Service automation
$95
$8
Field Service
$95
$8
Social Engagement
Included with Sales and/or Customer Service
Dynamics 365 Customer Engagement Plan
License
Price
Full User
$115
Team Member
$8
What else is new?
There are a number of other advantages that Dynamics 365 has over Dynamics CRM:
Sandbox included — Dynamics CRM only provides a testing and development sandbox for customers with 25 or more licenses; customers with less than 25 licenses would have to purchase a sandbox if they required one. With Dynamics 365, every customer receives one sandbox as standard, no matter how many licenses are purchased. Dynamics 365 also comes with one self-service portal included.
More storage — Dynamics CRM provides 5GB per license as standard. Users also receive an additional 2.5GB of storage for every 20 full licenses, but only to a maximum of 50GB. Dynamics 365 provides 10GB of storage, and an extra 5GB for every 20 full licenses, with no upper limit.
Customer surveys as standard — Dynamics 365 also includes Voice of the Customer surveys with all licenses; a service which Dynamics CRM users are required to have an Enterprise license to access.
Device licensing — Dynamics 365 supports device licensing for call center and similar shared device scenarios.
Can I get Dynamics 365 CRM on-premise?
Yes; in July 2017, Microsoft made Dynamics 365 available for on-premise deployment.
However, using Dynamics 365 on-premise means you won't have access to all of the same features that are available to customers who use a cloud-based instance of Dynamics 365. Certain apps, including Field Service, Power BI, POS, Flow, Project Service, and PowerApps, are also exclusively available to cloud users.
Below are some of the features that are unavailable to Dynamics 365 on-premise users:
Company News Timeline solution
Customer backup and restore
Data Export Service
Dynamics 365 admin role in Office 365
Gamification
LinkedIn Connector Solution
Learning Path guided help
Logic apps connector
Microsoft Cognitive Services integration
Office Delve integration
Office 365 Groups integration
OneDrive for Business integration
Portal capabilities
Relationship Insights
Voice of the Customer surveys
When will support for Dynamics CRM end?
What's included with Mainstream Support:
Paid support (per incident, per hour, and others)
Security update support
Non-security hotfix support
No-charge incident support
Warranty claims
Design changes and feature requests
Product-specific information that is available by using the online Microsoft Knowledge Base
Product-specific information that is available by using the Support site at Microsoft
Help and Support to find answers to technical questions
What's included with Extended Support:
Paid support (per incident, per hour, and others)
Security update support
Non-security hotfix support (Requires extended hotfix agreement, purchased within 90 days of mainstream support ending.)
Product-specific information that is available by using the online Microsoft Knowledge Base
Product-specific information that is available by using the Support site at Microsoft
Help and Support to find answers to technical questions
| | | |
| --- | --- | --- |
| Version | Mainstream Support End Date | Extended Support End Date |
| Dynamics CRM 4.0 | April 9th 2013 | April 10th 2018 |
| Dynamics CRM 2011 | July 12th 2016 | July 13th 2021 |
| Dynamics CRM 2013 | January 8th 2019 | January 9th 2024 |
| Dynamics CRM 2015 | January 14th 2020 | January 14th 2025 |
How do I switch to Dynamics 365 from Dynamics CRM?
If you're using Dynamics CRM on-premise, you can carry on using your current software for as long as you like. If you want to switch to Dynamics 365 but remain on-premise, you can do so. Alternatively, you can migrate to a cloud-based instance of Dynamics 365.
If you're a Dynamics CRM Online user, you'll transition to Dynamics 365 once your renewal date arrives. As the licensing levels have now changed, you'll need to assess the needs of your current CRM users and decide whether they'll need a Full User or Team Member license going forward.

Want the short version of this blog to take away? No problem; we've summed up the key points from this post into a handy infographic:
Need a helping hand to make your move to Dynamics 365?
Browse our bank of pre-screened, qualified Dynamics 365 professionals for free today, and find the experience you need to make your switch a success.